by
posted on January 17, 2019
Support NRA American Rifleman
DONATE
High-quality firearm customization projects are best accomplished by a crew of gunsmiths with a unique blend of skill, experience and passion for the guns they specialize in. These were the qualities I noticed right off the bat when a friend introduced me to the Joe Firearms team a couple of years ago. Working out of Sandy, Utah, the AK-pattern rifles the shop had on display were slicked up, tricked out and configured with features and finishes I hadn't seen applied to this particular platform before. I saw AKs converted into high-speed, low-drag race guns, accurized models tuned for long-range shooting and some that were highly stylized and finished in exuberant color schemes, just like customers wanted them to be.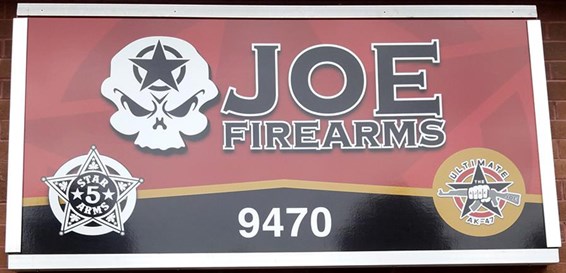 Since that first meeting, I've been searching for an opportunity to team up with Joe Firearms to trick out an AK. However, I wanted to make sure that the project started off with a well-made base gun that was worth the investment. I knew I had found the right rifle for the job while testing the Arsenal Inc. Bulgarian SAM7SF-84G last year.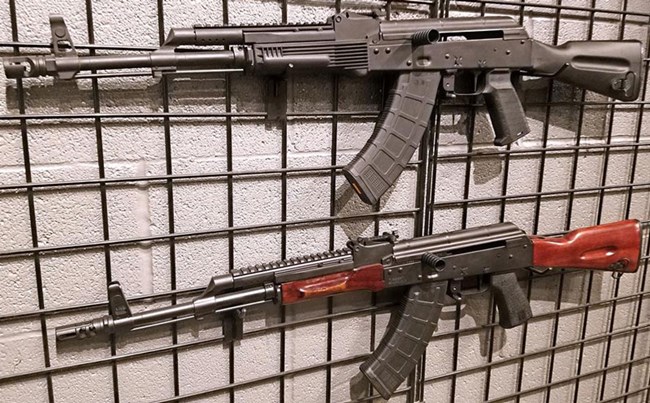 These milled-receiver rifles are wholly constructed of new-production components by Arsenal in the company's Bulgarian plant. The rifles are then transferred directly to the Arsenal facilities in Las Vegas, Nev., where they are re-manufactured by the company's trained technicians to meet 922r compliance. All operations are conducted in-house, resulting in consistent, top-quality guns. The feature set was right up my alley and the performance was rock solid.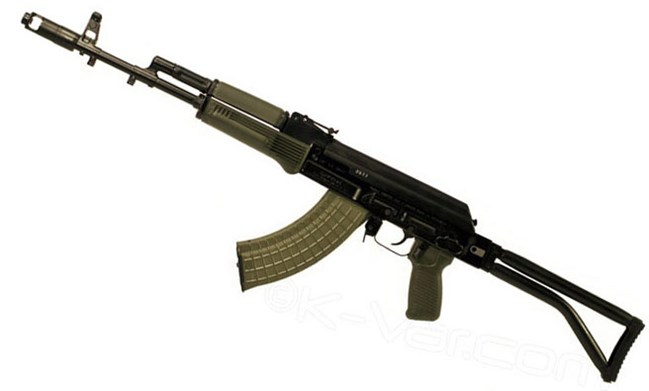 With the rifle in hand and Joe Firearms on board, I had to make several decisions about what modifications to pursue and which features would be left in the factory configuration. Generally speaking, custom work tends to fall into two categories: tune-it work and personalization. Tune-it work corrects something about the gun which is not a good fit for the owner, such as stock length, trigger pull and felt recoil, to name a few. Personalization focuses on modifications that give the gun a unique appearance and features to suit a particular person's preferences, shooting style and requirements.

In this case, I wanted the SAM7SF converted into what I would call a "desert scout" rifle for use in the arid wilderness areas found around Wyoming, Utah and Idaho. The goal was to make it blend in to these surroundings while making it stand out from the AK crowd. Once completed, it would be a top notch tag-along rifle for use as a mid-range hunting platform, plinking and, in a pinch, as a survival or defensive rifle. Here is a look at what changed and what stayed the same as the desert scout came together.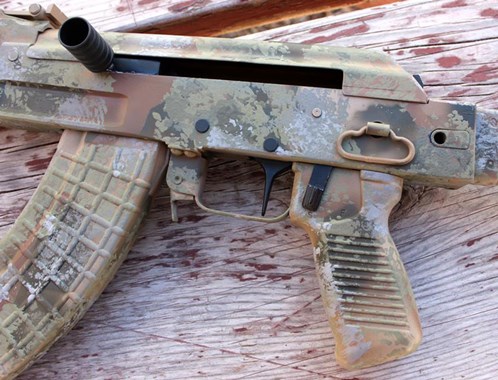 The most noticeable change is a full-coverage tan Cerakote treatment of the rifle, and one magazine, with a multi-color camouflage hand applied over the top of it. The colors and pattern of the camouflage were selected to match the grays and greens of the regional ground plants and sagebrush. Nearly all of the exterior surfaces, steel—aluminum and polymer—were treated with this finish.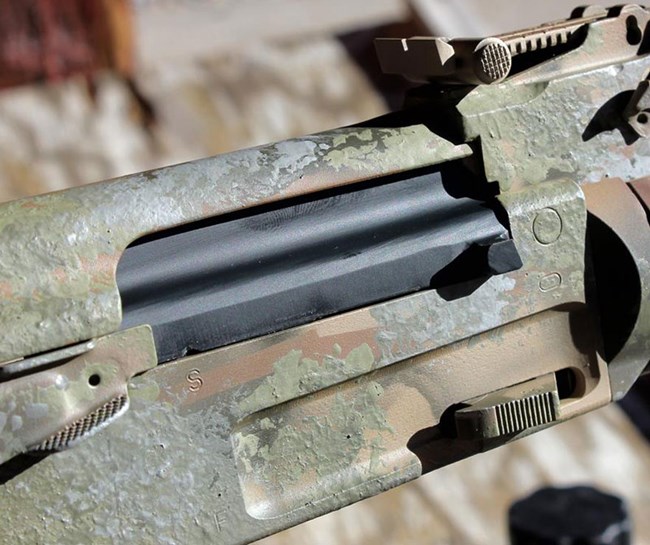 The rear sight, front sight and muzzle brake were left unmodified. The AK-74-style muzzle brake works nicely and it's compatible with surplus Bulgarian Circle 10 bayonets, which are available from K-VAR Corp., a distributor for Arsenal Inc. compatible components. This company also offers waffle pattern magazines and the drop-in Arsenal Inc. aluminum PR-01 railed handguard, for those who would like to install a forward-mounted optic without the assistance of a gunsmith.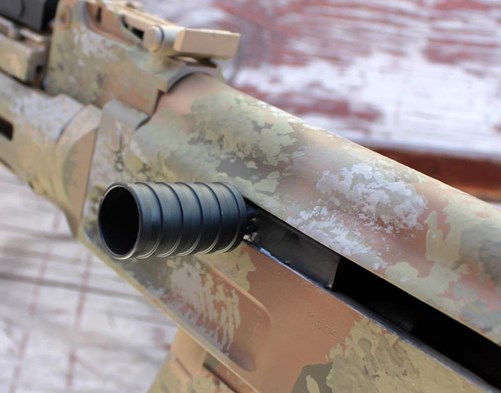 One of the Joe Firearms' in-house features I was looking forward to working with is the left-side AK extended charging handle. The factory standard right-side steel bow charging handle is ground down to a small extension just large enough to engage the safety. The dust cover was cut along the left side to form a channel for the 1.35" long barrel-shaped charging handle which is welded directly to the bolt-carrier assembly. Typically used as a competition upgrade, this left-side handle is faster and more intuitive to use for right-handed shooters. It felt much better at the range not having to break the cheek weld and shooting-hand grip when conducting speedy reloads.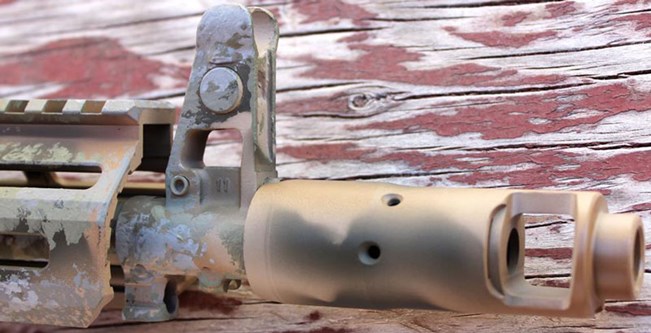 However, the left-side charging handle comes at the cost of the receiver-mounted optics rail. Because the reciprocating handle would be blocked from cycling by a scope mount, the optics rail had to be removed completely and replaced with a different system. In this case, an UltiMAK M1-B "Scout" AK Forward Optics Rail was installed. Replacing the upper handguard, this rugged, low-mount milled-aluminum rail system can be used to co-witness 1X optics, including red-dots with iron sights.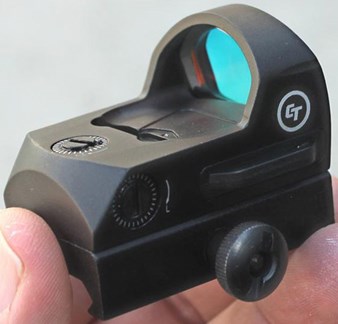 For all informal and formal testing, the M1-B rail was topped with a recently released Crimson Trace CTS-1300 red-dot optic. Among the very first red-dots to ever be offered by Crimson Trace, this model is designed for use with rifles and shotguns making an ideal fit for this configuration. The 3.25 MOA LED round aiming dot shines in a lens which is wider than some red-dot optics for a greater side-to-side field of view. The durable anodized aluminum housing arrives outfitted with a low-profile M1913 Picatinny mount. Other features include an externally accessible battery compartment, seven brightness settings, easy to use brightness control buttons and this model is included in the company's Free Batteries For Life program.

The SAM7SF's lower polymer handguard was replaced with Troy Industries' 13.5" Long M-Lok Handguard. Based on the company's popular M-Lok AR-15 models, this handguard is machined from hardened aircraft aluminum, treated with a MIL-SPEC hardcoat anodized finish and outfitted with stainless-steel mounting hardware. It provides a 2.85" sight rail near the muzzle with cutouts for the forward sling mount and cleaning rod supports. Although this is a drop-in component for a variety of stamped-receiver AKs, it was hand-fitted to the milled receiver of the SAM7SF.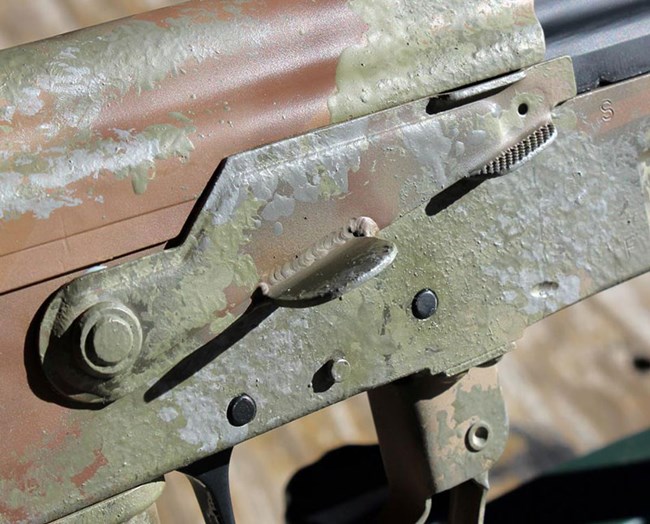 The action was given a performance tune-up, including a competition-type flat trigger. Afterward, all of the controls were smoother, including the left-side, grip-mounted safety lever. The trigger pull was already a smooth 3 lbs. but it was refined to an exceptionally clean 2 lbs. 2 ozs. The right-side safety lever was enhanced with an extension for easier manipulation. Although Joe Firearms offers some slick competition-grade extended magazine well and magazine-release packages, I opted to stick with the factory configuration for this rifle. It wasn't really needed for this field rifle and the extended magazine well is not compatible with some types of magazines.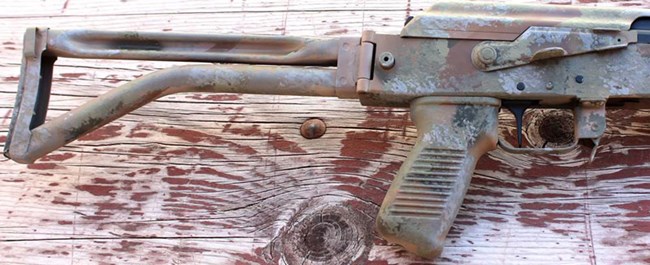 The factory installed right-side folding stock and locking mechanism were left intact. The SAM7SF has one of the best folding tubular-steel stock systems for a battle rifle that I've worked with. It deploys from the folded position quickly and easily and has just enough of a rubber butt pad to give it purchase on the shoulder. I saw no need to alter it beyond the Cerakote finish it received.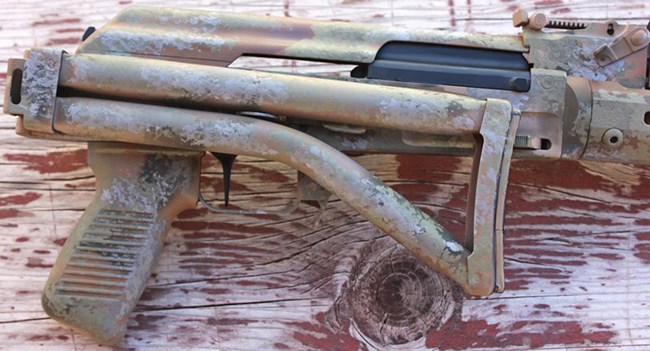 At this point, one or more of my steely-eyed readers is going to point out a possible hiccup with this custom package. With the tubular shoulder stock folding to the right side of the receiver, and the right side safety selector now fitted with a sheet metal extension, where exactly does that extension go when the stock is folded? The answer is: It fits between the two tubes of the stock when the lever is set half way between the Safe and the Fire positions, allowing the stock to be folded completely and locked in place. Is that a problem? It depends.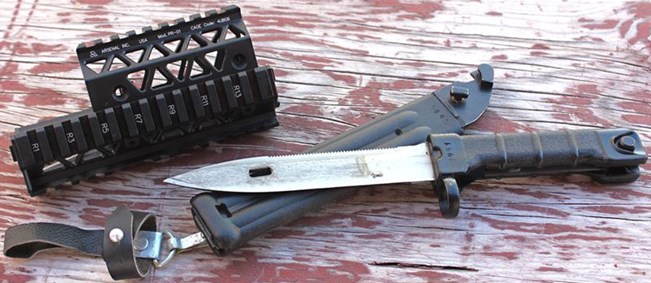 I didn't try firing the rifle with the safety selector set at the half-way point in case it resulted in damage to the freshly tuned-up action. No one should ever assume that a gun safety is going to work as intended when it's not locked in position. This means the gun cannot be fully loaded unless the stock is locked open. I have no problem with that since that's how I plan to shoot the rifle anyway. However, the folks at Joe Firearms said that if I'm not happy with this configuration I can bring the rifle back to the shop to have the lever extension removed.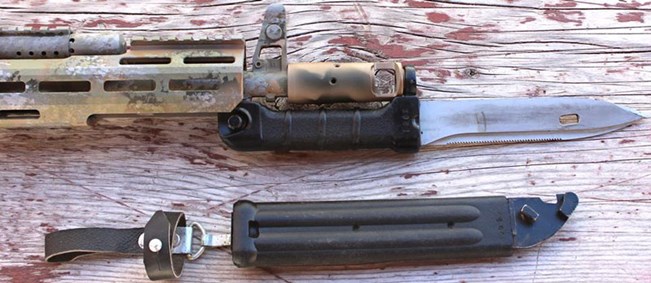 The results of Joe's custom work exceeded my expectations. The rifle looks and feels fantastic! Photographs simply don't do the hand-applied custom camouflage justice. In fact, I had a hard time getting clear images of it at the range since it tended to blend in with the background. I hope I never drop it out in the desert, because I may not be able to find it again!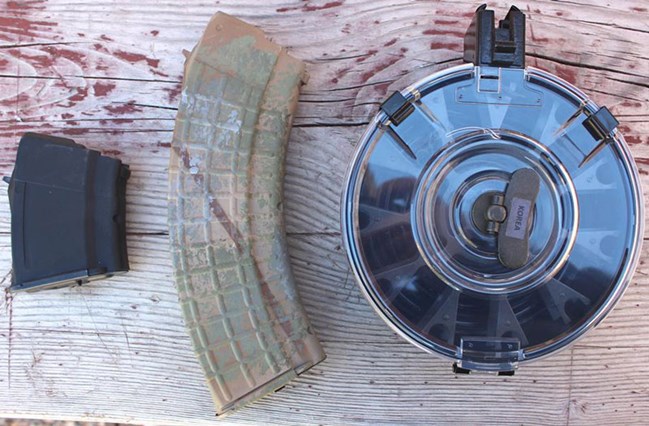 The controls were silky smooth, a description I never planned on using with an AK, and the gun proved to be utterly reliable with all of the ammunition and magazines tested. To really put the rifle through its reliability paces, I ordered a 75-round drum magazine from KCI USA. A bayonet and a drum magazine? Isn't that a bit over the top even for a custom rifle work up? You bet! The Circle 10 bayonet completed the accessory set that came with the rifle.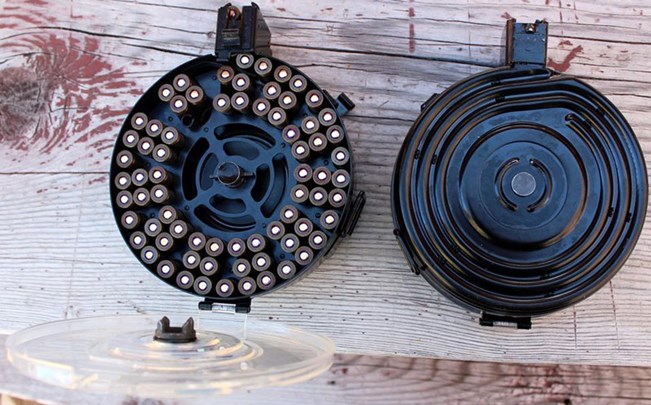 As for the KCI drum, which is made in Korea, I got to handle the company's magazines at a trade show a few months back. The representatives I met with said the company suffers from poor press because of inferior products being sold, falsely, under the KCI banner (they showed me the markings to look for to verify genuine KCI products). The drum features an all-steel construction with the exception of the clear plastic cover which allows operators to keep track of how many rounds have been fired. The drum I examined at the show looked well made, so I requested one for testing. KCI sent two. The magazines pounded through several boxes of steel cased ammunition without a hitch, just like the rifle. Customers do need to read the manual included with these drums in order to operate them properly, but they're pretty easy to work with after loading them a time or two.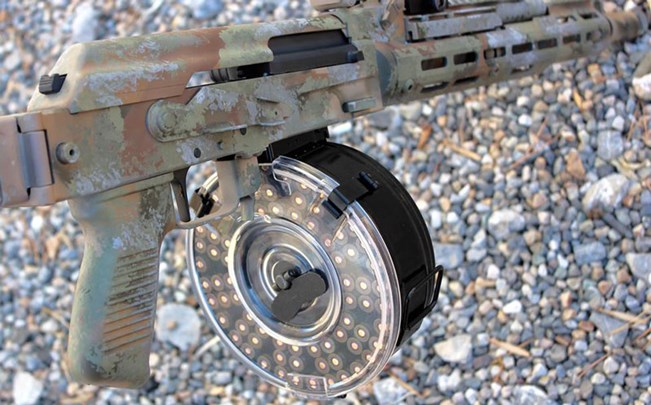 Along with knocking down the mountain side 75 rounds at a time, I was curious to see how the accuracy of the SAM7SF had been affected by the custom work and change in optic. On the one hand, the action and trigger had been tuned to competition levels, which should improve the accuracy to some degree. On the other hand, I had replaced the adjustable magnified sporting rifle scope with a 1X red-dot, which does not have the same advantages when working out to or past 100 yds.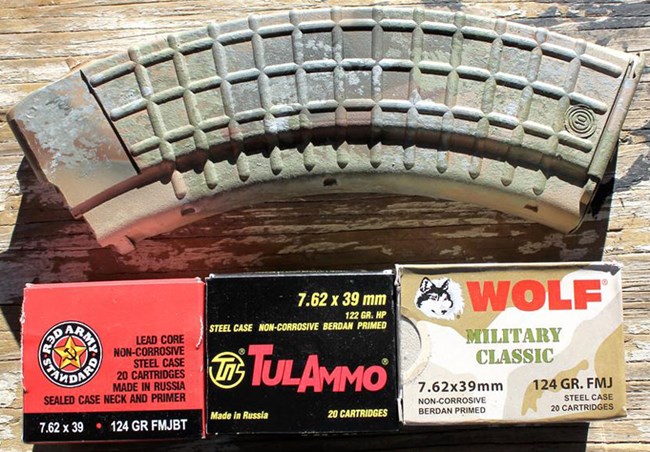 Using the exact same ammunition set that was fired with the SAM7SF in its factory configuration, the accuracy was better across the board, but only by a bit. The Red Army Standard 124-gr. full-metal jacket boat tail load averaged 3.36" for five 5-shot groups at 100 yards from a bench rest. On average, that was 0.21" tighter than the first test. TulAmmo's 122-gr. jacketed hollow points averaged 2.62" for a 0.29" improvement in group size. Wolf Ammunition's Military Classic 124-gr. full-metal jacket averaged 1.91" making its group average about 0.19" tighter.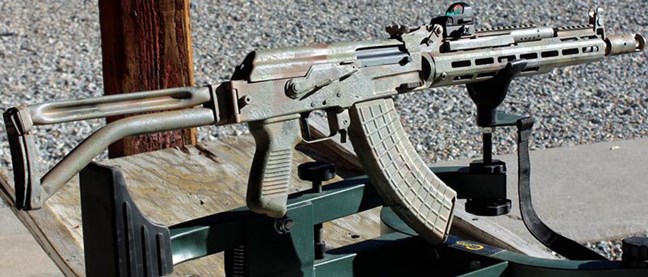 Gun customization is all about skilled artisans bringing a customer's vision to life. Joe Firearms took a great rifle that I already liked and turned it into exactly what I wanted it to be. The team's craftsmanship was top-notch and I thoroughly enjoyed shooting it on and off the bench. The configuration I selected represents just a portion of the slick, useful and cool features and upgrades the company has to offer. If you are looking to trick out an AK, then Joe Firearms deserves your consideration.



Specifications:
Custom Shop (Service Provider): Joe Firearms
Base Rifle: Arsenal Inc. Bulgarian SAM7SF-84G
Cerakote 1-Color Base, Complete Coverage
Cerakote Special Order Graphic (Camouflage)
Left-Hand AK Charging Handle Conversion
UltiMAK M1-B "Scout" AK Forward Optics Mount
Troy Industries M-Lok Long Handguard (SRAI-AKM-LBBT-00)
Enhanced AK Safety Lever
AK Performance Tune-Up with Flat Trigger
Trigger Pull: 2-lbs. 2-oz.(As Tested)
Total Component and Service Package Suggested Retail $1100
Crimson Trace CTS-1300 Rifle and Shotgun Red Dot Sight $299
KCI USA 75-Round Steel Drum Magazine with Clear Cover $119.99
K-Var Corp. Circle 10 "Waffle Pattern" 30 Round 7.62x39 Magazine (M-47W)  $44.99
K-Var Corp. Used Bulgarian Circle 10 Bayonet $59.99  
K-Var Corp. Arsenal Inc. Precision Picatinny Quad Rail Handguard System (PR-01) $199.99