Support NRA American Rifleman
DONATE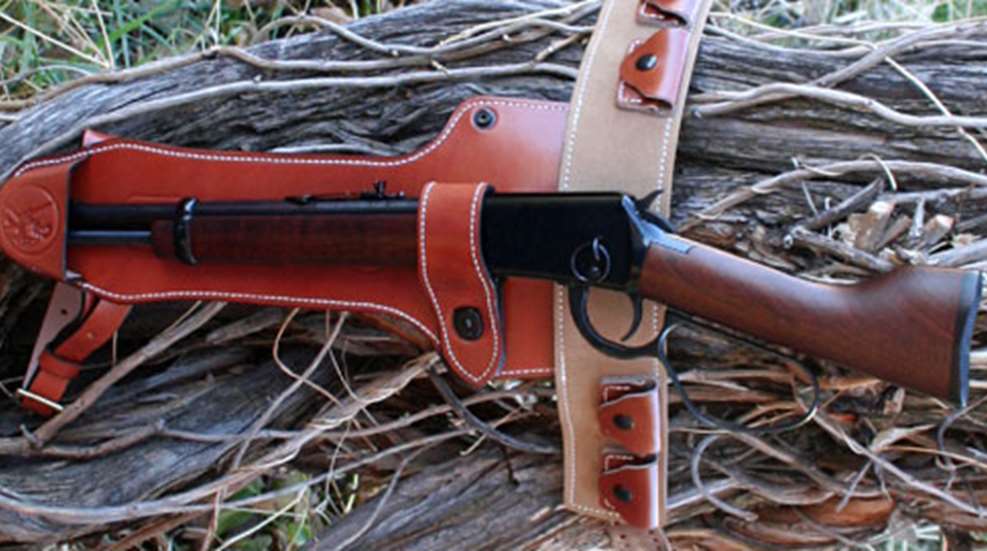 Sometimes you just have to admit your older brother is right. I have two older brothers, so it's an admission I have to make more often than I prefer. In this case, Brother 2 purchased a Henry Repeating Arms lever-action .22 rifle before the rest of us got around to it. The price was reasonable, the time was right and it was just what he had in mind, so this classic lever-action joined his collection. After looking over my brother's model H001, and finding it to be a very slick little rifle indeed, I got online and went to Henry's website to learn more. In reviewing its catalog, I found a gun I didn't even know they made.
Not too long ago, the industry saw the release of a variety of factory-production Mare's Leg lever-action pistols. These handguns enjoy a high level of cool factor thanks to notable appearances in TV shows like "Wanted: Dead or Alive," "The Magnificent Seven" and "Firefly." Factory models from Rossi and Legacy are currently available, and Henry makes a beautiful example of this gun based on its brass-receiver Big Boy rifle. It was a happy discovery to find that not only does Henry have pistols chambered for .357 Mag., .44 Mag. and .45 Colt, the company also has a trimmed-down model H001 chambered for .22 caliber ammunition.
Although some shooters insist on only owning utilitarian firearms for hunting or self-defense, I am a believer in just-for-fun guns. The Mare's Leg falls nicely into this category, providing a unique shooting experience and a set of ergonomics to challenge new and seasoned shooters alike. However, the relatively steep price tags attached to full-bore lever-action pistols, as well as the substantial cost to keep them properly fed, has kept my gun funds earmarked for other acquisitions.
Henry's .22 Mare's leg is, if you'll forgive the pun, a horse of a different color. To begin with, the purchase price is significantly less than its big-bore counterparts. As fun as range toys can be, it never hurts to save upwards of $300 to $800 on the base price of the gun. Secondly, it's a .22 caliber pistol. A Mare's Leg is going to take some getting used to, so having one chambered for the most plentiful, affordable and diverse rimfire cartridge available makes sense. Lastly, it's a 100-percent American-made handgun from a company with a reputation for quality and customer satisfaction. Intrigued, I wasted no time in placing a request for a .22 Mare's Leg to test drive.
First Impressions
The pistol arrived free of the dings, scratches and tool marks some gun companies believe their customers will settle for because the gun costs less. Henry's attention to detail and high-quality craftsmanship are easy to see. The bluing of the steel components is rich and even. The American walnut stocks are smooth, handsome and properly fitted. The textured polymer butt cap on the grip is polished around the edges to create a seamless fit with the wood.
The barrel is 12.875-inches long and topped with a fully adjustable rear and hooded front rifle sight. Because this pistol is a lever action, it will reliably feed and fire a wide variety of .22 Short, .22 Long (if you can find it) and .22 Long Rifle ammunition. The tubular magazine located below the barrel holds 10 rounds of .22 Long Rifle or 15 rounds of .22 Short. The black-finished aluminum receiver is fitted with a saddle ring and the pistol tips the scales at 4.45 pounds when unloaded.
Cycling the action of the .22 Mare's leg can be summed up in one word: smooth. The trigger, hammer and lever are all silky smooth to operate. The grooved single-action trigger has a trigger pull of 3 pounds, 6 ounces with a bit of over travel after it breaks. The hammer is easy to thumb back and produces clear, audible clicks as it crisply locks into the half-cocked or fully cocked position. The large loop of the lever leaves plenty of room for the shooting hand knuckles and allows the use of gloves. The external safety for this pistol is the hammer's half-cock position, which locks the trigger until the hammer is fully cocked.
Breaking in the Mare
When I arrived at the range, I wanted to get the formal bench-rest accuracy testing completed first for two reasons. First, the barrel length and added weight of the .22 Mare's Leg makes it comparable to other bench-rest pistols like the Ruger Charger .22 and Thompson/Center Encore. Since the receiver is milled to accept scope mounts, just like the H001, there's no reason why it couldn't fill this role. The other reason for bench work first is some that folks say the Mare's Leg is an inherently inaccurate handgun. Since there is really nothing else quite like a Mare's Leg to compare it to, it seemed sensible to eliminate as much human error as possible in order to ascertain what the real accuracy potential might be.
With targets set at 25 yards, the .22 Mare's Leg produced its best five-shot group of 1.25 inches using Winchester Super X 40-grain copper-plated hollow points. The Winchester load also produced the best five-group average of 1.7 inches. Federal American Eagle brand 38-grain copper-plated hollow points yielded a best single group of 2 inches, with an average of 2.5 inches.
This pistol provided an excellent opportunity to try out the new CCI Quiet .22 Long Rifle cartridge. Designed to yield a noise level of only 68 decibels, which is 75 percent quieter than most .22 loads, CCI Quiet can be safely fired without hearing protection. While the reduced velocity of this round might not produce enough energy to cycle the action of a semi-automatic, it performed swimmingly from the lever-action Mare's leg. The CCI Quiet produced a best single group of 1.5 inches at 25 yards, with a group average of 2.3 inches. Since a handgun is considered accurate if it can produce 3-inch groups at 25 yards, this Mare's Leg is doing just fine. I'm looking forward to softly knocking over every soda can possible with this new load.
Informal testing was just as fun as I had hoped it would be. The .22 Mare's Leg had no malfunctions of any kind with the wide variety of ammunition it was fed. This included .22 Shorts, CCI shot shells, bulk rounds, high-quality hollow points and standard velocity loads. The most accurate hits were produced by holding the pistol up to form a cheek weld with the stumpy grip and looking down the barrel to line up the rifle sights. This shooting technique is only possible with the .22 Mare's leg because of its exceptionally low recoil. Holding a big-bore Mare's leg in this manner is likely to result in a trip to the doctor or the dentist.
Final Thoughts
The day after putting the Henry Repeating Arms .22 Mare's Leg through its paces, I joined my brother for a lunch-time shooting session. He showed up with his Henry rifle and I brought this Henry pistol. We each took turns running both guns and had a terrific time together. We agreed that when it comes to Henry-built guns, you're going to run out of ammunition or range time before you run out of shooting fun. And isn't that the best part of what shooting is all about? Brother 2 wisely secured a Henry .22 for his shooting set. I'm planning to talk with the good folks at Henry about purchasing this unique little lever-action pistol to add to mine.
Manufacturer: Henry Repeating Arms; henryrepeating.com
Model: H001ML
Action: Lever Action
Caliber: .22 Long Rifle, Long, and Short
Finish: Blued
Stocks: American walnut
Sights: Fully Adjustable Rear Sight, Hooded Front Sight
Barrel Length: 12.875"
Overall Length: 25"
Width: 1.25"
Weight: 4.45 lbs.
Capacity: 10 Rounds
Twist: 1:16" RH
Accessories: Custom Leather Leg Holster with .22 Caliber Ammunition Pouches
Suggested Retail Price: $360