by
posted on November 2, 2018
Support NRA American Rifleman
DONATE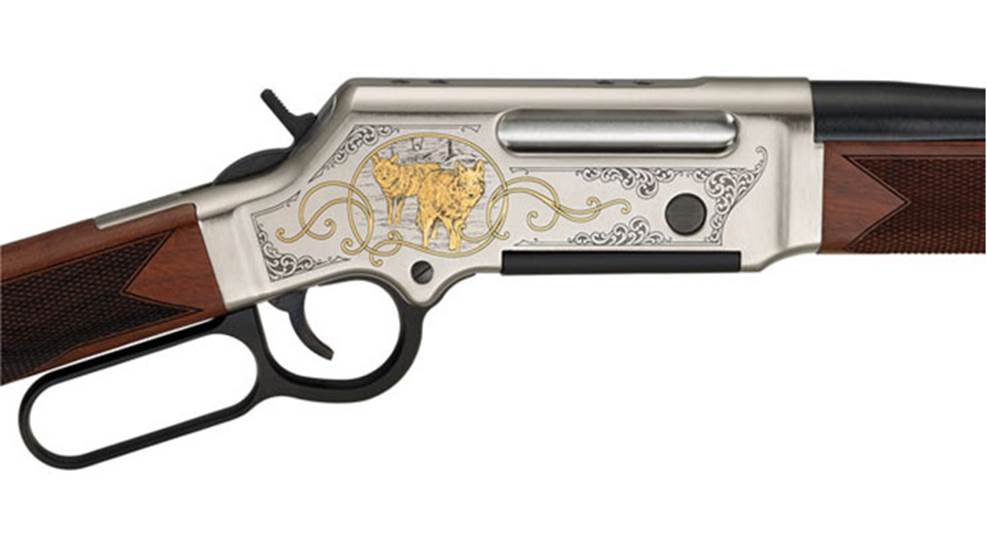 Henry Repeating Arms, longtime manufacturer of classic American lever-guns, has released new models in four different rifle series.
First is the Long Ranger Deluxe Engraved Edition. Built to the same specs as the original Long Ranger rifles, the main difference with this new model is a lightweight alloy receiver finished with nickel plating, intricate scroll engraving and light accenting with 24K gold inlay. The Deluxe Engraved Edition is available in .223 Rem., .243 Win. and .308 Win., with an MSRP of $1,850.





Meanwhile, the Long Ranger Wildlife Engraved Edition will provide another variation to the Long Ranger line, with intricate engravings paying homage to some of North America's most revered game. The .223 Rem. version features a coyote head on the left of the receiver, and a pair of the animals on the right. The .243 Win. shows a pronghorn head against a backdrop of rolling hills on the receiver's left, and a pair on the prairie on the right. Finally, the .308 Win. depicts a bull elk in the mountains on one side, and a grazing pair on the other. Long Ranger Wildlife Engraved Edition have an MSRP of $1,850.






Moving away from Henry's well-known lever-actions, the company is adding a .30-30 Win. and a .357 Mag. to its line of break-action single shots. The .357 will come with either a hardened brass or a blued-steel receiver, while the .30-.30 Win. will be available only in the blued steel. The MSRP for the brass receiver .357 Mag. is $576, while the MSRP for both steel versions is $448.




Lastly, Henry will be giving its youth shooters a few more options. Previously, Henry's youth-sized offerings only came in .22 cal., the new Single Shot Youth Rifle and Single Shot Youth Shotgun offer younger hunters with their choice of a .243 Win., and a 20-ga. shotgun. Both models are finished with blue steel and American walnut stocks, with a length of pull one inch shorter than their full-size counterparts. MSRP:$448.





For more, please visit henryusa.com.