Support NRA American Rifleman
DONATE
Announced at the 2019 NRA Annual Meetings & Exhibits, Marlin Firearms' newest line of rifles—the Dark Series—incorporates a tactical aesthetic with a matte black parkerized finish and black-webbed hardwood stock and fore-end. Based on standard Marlin lever-actions, the first models introduced in the Dark Series line are the 336 Dark chambered in .30-30 Win and the 1895 Dark chambered in .45-70 Gov't.
No doubt the Dark Series will have some lever-action purists clutching at their chests and muttering, "Damned tactical's a disease!" Yet, it's also likely the Dark Series will attract shooters and hunters who are looking for something more modern in a rifle still built around the classic American lever-action.
Recently I received a new production-made 336 Dark, and went through a couple hundred rounds with it at the range. It's a quality rifle and the tactical accessories—including rails, threaded barrel and a black painted finish on the stock—are actually quite functional.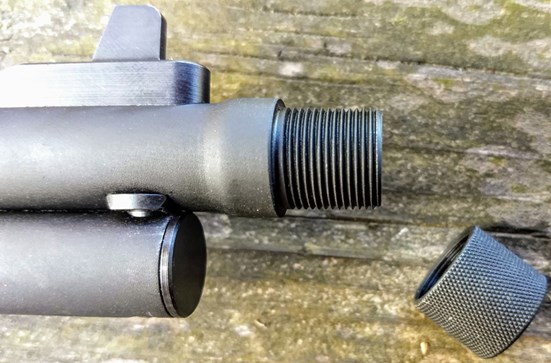 All Marlin Dark Series models are threaded for suppressors and come with thread cap.

The Dark Series 336 will be a great brush rifle, a solid truck gun and, given its nimble length, would do well as a home-defense rifle. It could, however, stand some trigger work.
To break in the 336 Dark, I went through a box and a half of Remington Core-Lokt .30-30 Win. firing a 150-gr. bullet. I also used a brass brush and Super NANO Bore Cleaner to clean the barrel after every fifth shot.
I started off firing with the open sights that come standard with the rifle—a tall front post paired with an XS Ghost Ring peep sight.  
I sighted in the rifle at 50 yards. Once I was able to nail two three-shot groups at about 1.5", I attached a red dot. There was no problem with the open sights. But my eyes have not become stronger with age, and even with my prescription glasses, a peep sight like the XS Ghost Ring is tougher going for me than it was 30 years ago.
I attached a Vortex Crossfire red-dot to the receiver rail, just past the peep sight, which was easily done given the rail atop the Dark Series receivers.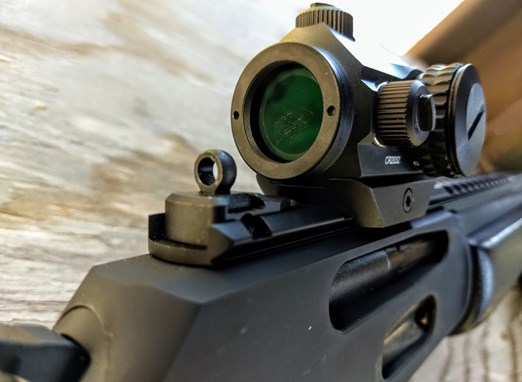 A Vortex Crossfire red dot mounted easily onto the 336 Dark thanks to a rail mounted atop the receiver.

For accuracy testing at 100 yards, I used three different brands of .30-30 Win.: Browning BRW firing a 155-gr. Rapid Expansion bullet; Hornady American Whitetail launching a 150-gr. InterLock projectile; and Winchester's Ballistic Silvertip with a 150-gr. Rapid Controlled Expansion Polymer Tip bullet.  
Accuracy wasn't optimal. Not that I expected half-inch groups from a lever-action in .30-30 Win. with a 16.25" barrel. Certainly, the accuracy I recorded at 100 yards and shooting from sandbags was sufficient for close- to mid-range hunting, for a truck gun and for a home-defense rifle. Still, I was somewhat disappointed.
Despite many tries, I couldn't get five-shot groups at under 2" with the 336 Dark. I could and did shoot 1.5" groups of three and four shots, numerous times, including 1.57" and 1.60" groups with the Hornady, and 1.66" with the Winchester. But five-shot groups with all ammunition were around 2.0" or better.
I think the accuracy suffers on the 336 Dark largely due to a mediocre trigger. As measured by my Lyman Digital Trigger Pull Gauge, the pull weight on the trigger averaged a respectable 4.83 lbs. But that doesn't tell the whole story. Actually, the pull weights I recorded skipped around from anywhere from approximately 4 lbs. up to 5.5 lbs.
In fact, the trigger on the 336 Dark I tested breaks so very hard, pulled shots are common. If this were my rifle, I'd find a qualified gunsmith to smooth out the trigger or to replace it with a better after-market option. I assume the factory trigger will loosen up with use, but I'd still go the gunsmith route if I owned the rifle.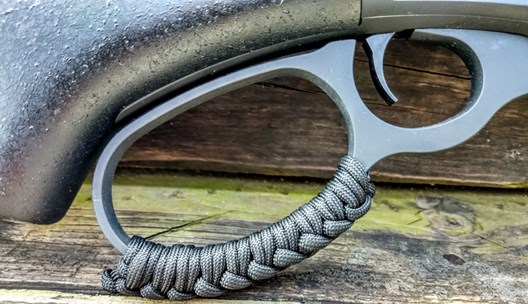 The large loop on the 336 Dark is wrapped in black paracord.
The 336 Dark's lever-action works well, smoothly cycling in live rounds and nicely ejecting spent brass. The larger lever loop adds to the leverage, and the paracord wrapping on the loop provides a comfortable surface for the back of the fingers when cycling rounds. Ammunition moved easily into the side-loading gate and up and into the tubular magazine under the barrel.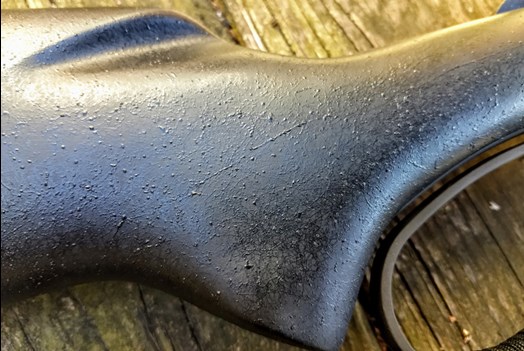 The painted finish on the 336 Dark stock (shown here) and fore-end sport a grippy webbed texture.

The hardwood stock and fore-end are painted with a textured black finish that provides a grippier surface than wood alone. I wet my hand under the cold faucet at my kitchen sink, then grasped the rifle with my wet hand, and found very good purchase on all stock and fore-end surfaces.
Of course, my kitchen faucet "test" isn't the same as getting rained on in 40-degree weather in a deer stand. I hope to run such a test this fall, but I think it's a good indication the black web-textured finish is functional versus just for aesthetics.
Adding to the rifle's functional qualities, the barrel on the 336 Dark is threaded for a suppressor. The rail atop the receiver and XS Lever Rail that extends over the rear half of the barrel provide for easy attachment of a variety of optics and accessories.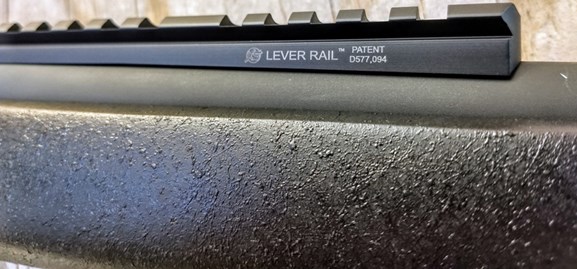 The XS Lever Rail extends about halfway down the rear length of the barrel, providing ample surface to mount a wide variety of optics, plus accessories like a thermal scope attachment.

I like the look of the 336 Dark. Truth is, I've always liked the appearance of AR-style rifles. The AR look doesn't appeal to everyone, nor will everyone appreciate the new visual Marlin has created with the Dark Series. No doubt these same folks will keep shaking their heads as Marlin rolls out a handful of other Dark Series models chambered in different calibers during 2019.
But I suspect a good number of hunters and shooters will be carrying Dark Series lever-actions soon, as much for its aesthetics as the rifle's solid functionality.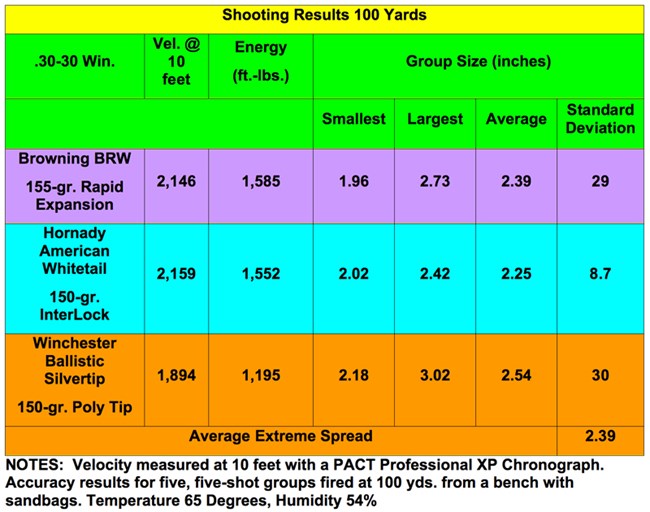 Specifications: 
Manufacturer: Marlin Firearms
Model: Dark Series Model 336
Action:  Lever
Caliber: .30-30 Win.
Magazine Capacity: 5+1
Barrel: 16.25", Parkerized Finish
Stock: Hardwood, Painted Web-Textured Black
Sights: XS Ghost Ring rear peep, Large Front Post
Length: 34.5"
Weight: 7.65 lbs.
Features: XS Lever Rail, Paracord-Wrapped Big Loop Lever, Paracord Sling, and Muzzle Threaded for
suppressor 5/5"x24, Detachable Hammer Spur.
MSRP: $949.00
Website: www.marlinfirearms.com