5.11 Tactical launched a "Passion Forward" initiative in July dedicated to women and their surge in participation in shooting, hunting, public safety and tactical preparedness. It's the kind of good, solid stuff designed to showcase this equal opportunity sport, but it gets better when one of the program's ambassadors is an amazing 16 year old.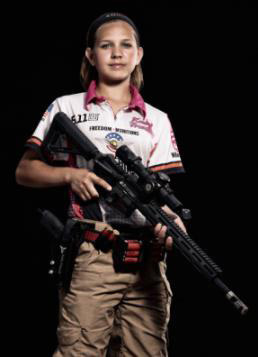 I've interviewed a lot of people over the years, but teenager Katelyn "Katie" Francis has a polish, poise and politeness that put the others to shame. At 16 years old—just diving into her junior year of high school—she brings a sincere enthusiasm for "Passion Forward."
"I'm really excited to join 5.11 Tactical and be a part of their new Passion Forward campaign," she said. "The campaign was created to inspire and motivate women to pursue their dreams, and it's a big honor to be an ambassador for their efforts. There aren't a lot of women in my sport especially, and it's been an amazing opportunity to work with the 5.11 Tactical team to encourage and promote women for this movement."
The Missouri resident knows a thing or two about shooting. She started with a .22 revolver at the age of 5, by 8 had graduated to a 9 mm and at 10 was already competing in local United States Practical Shooting Association (USPSA) matches. Her father was the first to put her behind the trigger, but he probably never imagined she'd be representing the United States at the International Practical Shooting Confederation Shotgun Match last month.
She's spent a lot of time behind the trigger of the Benelli M-2 she used in Italy, but nearly everything else is going to be new. She's never been there and, "I've never shot anything close to 30 stages." She hopes the firing-line marathon doesn't drain all her energy, though, because there is one day open for sightseeing.
Practicing, traveling, competing and talking to nosey reporters takes a toll on time management, so I asked about grades. It turns out she's a straight A student with an avid interest in all things math and science. "I've always wanted to be a doctor," she said. "Right now I'm stuck on becoming an anesthesiologist."
Francis explained her involvement with one of the industry's leaders started because the clothes she first wore to the firing line were tailored for men. "When 5.11 Tactical came out with their women's line, it helped a lot because I looked feminine and it felt a lot more comfortable."
Perhaps one of the reasons she's so dedicated to the "Passion Forward" campaign surfaced when she said, "None of my friends shoot competitively." Her advice for anyone who hasn't given the sport a try is wise beyond her years. "I think you should just go out and try it," she said. "If you have fun, then great, if not, that's OK, too."
What's the real attraction for her? "I just like the adrenaline rush. And it's really nice bonding time with me and my dad."