by
posted on March 10, 2017
Support NRA American Rifleman
DONATE
Last year, after building a few AR-15 pistols and testing their potential usefulness as defensive tools, I was left with a niggling question that wouldn't leave me alone.
Although I've been a fan of big-bore revolvers and long-slide semi-automatics for quite some time now, I think we can all agree that AR-15 pistols are larger than most. With overall lengths of 25" or more and unloaded weights greater than 5 lbs., they push the limits of any big handgun standard one may choose to apply. So, I found myself wondering if it might be possible to build an AR pistol that's more compact. If so, exactly how handgun-ish can an AR pistol possibly be?
Before striking out on the information highway to research this question, I took some time to think about what I wanted this new pistol to be. Smaller for sure but I wasn't going to settle for a gun that was just a gimmick or a range toy. The components would need to demonstrate the same level of fit, finish and quality as expected for any other custom AR-15 build.
Next was the question of caliber. Installing a rifle-caliber pistol barrel much shorter than 7" is a challenging proposition. Not only is there not enough space for the gas-impingement system, rifle cartridge performance is likely to be less than stellar since there's not enough barrel length to allow the relatively slow burning propellants to develop sufficient levels of bullet velocity. However, pistol-caliber cartridges are filled with fast burning propellants designed to operate in short barrels. The best option for this build would be to set aside gas-impingement operated rifle-caliber platforms in favor of a blow-back-operated pistol-caliber configuration.
The 9 mm is among the most popular pistol-caliber cartridge options available for AR platforms. Home builders can choose from caliber conversion kits for 5.56/.223 lower receivers or dedicated 9 mm-only lowers. The two most common magazine options include Colt-type metallic stick magazines or Glock polymer pistol magazines. Each magazine type requires a bolt assembly and magazine well designed specifically for that magazine. I decided to look for a dedicated 9 mm lower and bolt assembly configured for Glock magazines because they are much easier to acquire than Colt magazines. 
Because mil-spec pattern AR-15 receiver sets are all the same length, trimming down this 9 mm AR pistol's overall length and height would require a cropped buffer assembly, a significantly shortened barrel and a compact grip. Here are the parts I opted to work with:
MVB Industries' Micro Pistol Kit (MPK)
In my mind, the success of this unorthodox pistol build hinged on finding a reliable compact recoil buffer assembly. I couldn't claim to have successfully assembled a compact AR pistol if it had the typical 7" of buffer tube trailing behind it. Unfortunately, several of the shorter pistol tubes I found looked like standard tubes that had suffered through an uncomfortable conversation with a hack saw. I wanted something more sophisticated.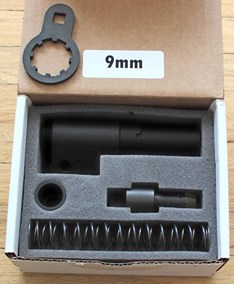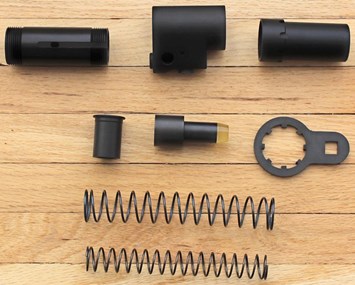 MVB Industries makes the tail section I was looking for. The Micro Pistol Kit (MPK) is one of the shortest complete aluminum buffer assemblies on the market with an installed length of 4.875". This kit employs the same patented buffer and dual springs as the company's ARC rifle stock system.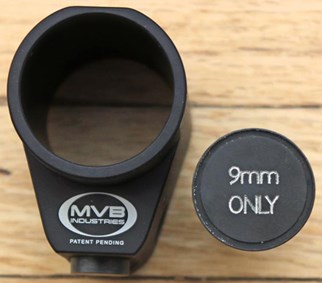 The milled aluminum base section, which fits flush against the lower receiver, has right and left side QD sling swivel ports. Along the bottom of the base section is a buffer retention button used to hold the buffer in place when separating the receivers. The kit used for this build shipped with a 5.3 oz. 9 mm Only buffer and the round wrench extension needed to install it.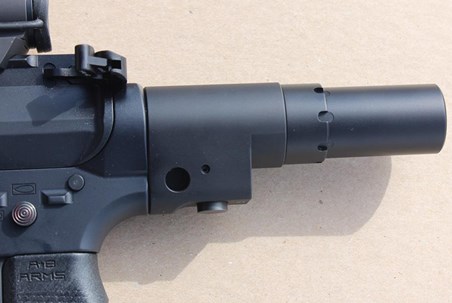 Quarter Circle 10 Pistol-Caliber Components
While researching receivers, bolts and barrels from several different manufacturers, an associate of mine suggested I check in with Quarter Circle 10 (QC10). This company specializes is pistol-caliber ARs with the motto "Made For, Not Modified". The staff's passion for the platform was clearly evident in the options they have to offer. Once I found their site, I stopped shopping around and settled down with QC10 to organize the remaining major components.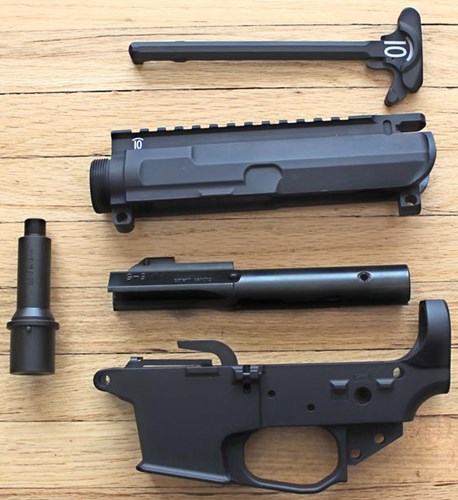 QC10's stripped Glock Small Frame receiver set is designed to work with 9 mm and .40 S&W Glock magazines. Both receivers are milled from 7075-T6 aluminum billet and treated with a matte black Type III hard-coat anodized finish. With the exception of the magazine well and factory installed magazine release lever, both receivers have standard dimensions that are fully compatible with mil-spec components including charging handles, trigger groups, buffer assemblies, lower-parts kits and AR grips.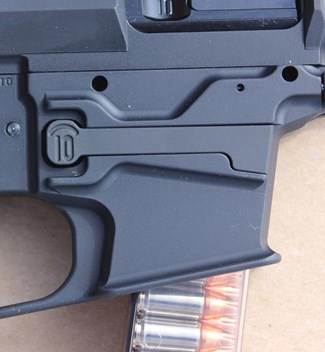 The flat top upper receiver sports an integral 6" Picatinny optics rail while the gas tube port, forward assist and dust cover have all been omitted. The lower receiver has an undercut integral trigger guard and the magazine well is beveled for easier loading. The lines of this QC10 receiver set are lean and sleek, providing a more elegant profile than your average forged options.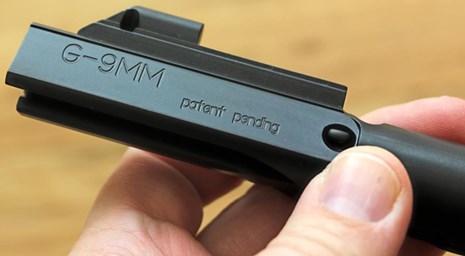 QC10's drop-in G-9 mm bolt assembly for use with Glock magazines is constructed of Nitride treated 8620 steel with a heavy-duty large claw extractor. The sturdy QC10 medium-latch charging handle features an 7075 T6 aluminum body, a mil-spec hard-coat anodized finish and a design that redirects charging forces from the latch's roll pin into the handle body.
I spent a lot of time considering the barrel length for this pistol. I found a company that offers a barrel that's just 3" long from chamber mouth to muzzle! But if the barrel was too short, it would have no practical applications. Then again, a barrel that's too long would defeat the purpose of the build. The other options I considered ranged from 4" to 6" with half inch increments in between.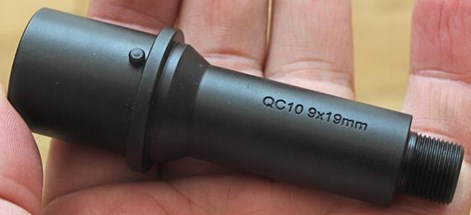 A member of the QC10 team suggested the company's 3.5" barrel. She said it's a popular option with tactical guys who work with sound suppressors. Constructed of 4150 CMV steel with a QPQ Nitride finish, this stumpy looking medium profile (.75″) barrel features 1:10" rifling and a ½-28 threaded muzzle for attaching accessories. It turned out be the just-right fit I was hoping for. It was about as short as possible while providing just enough space that the muzzle device and barrel nut didn't conflict with each other.

Additional Components
Because this is a blow-back-operated pistol, the barrel assembly called for two more parts. I could have twisted all kinds of devices on to the muzzle but thought the best fit for this gun would be the light weight KAK Industry 9 MM Micro Slimline Flash Can. Weighing in at just 3 oz., this 1.75" long gas-forward device is made of 6061 aluminum with a hard anodized finish. The KAK muzzle device paired with a slim profile aluminum barrel nut provided by Ground Zero Precision (GZP) meshed with the sleek lines of the QC10 receivers to give the pistol a vintage, sci-fi laser blaster appearance that I found appealing. For those who would prefer a handguard, the UTG Pro is available in a 4" configuration.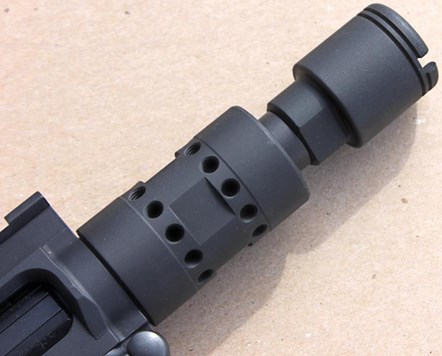 I've heard through the rumor mill that some drop-in trigger groups might not function reliably with certain types of 9 mm bolts. Rather than spend time experimenting, I went with the smooth and reliable hand polished stainless steel Ground Zero Precision AR Enhanced Fire Control (EFC) that exhibited a 5-lb. 12-oz. trigger pull. The U.S. made GZP Customizable Nitride Enhanced Mil-Spec AR-15 Lower Parts Kit provided a high quality set of small parts minus the trigger group and grip.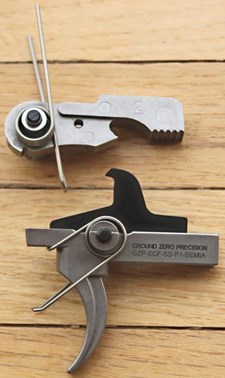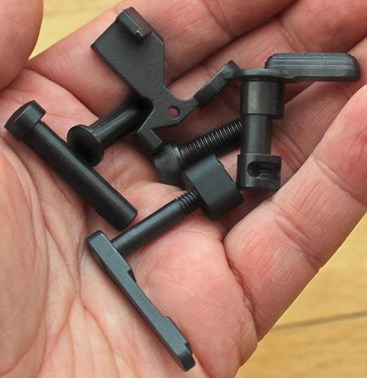 I used this pistol to test drive an Elftmann Tactical push-button safety Selector for the first time. Available in either a black oxide or polished stainless steel finish, this safety selector fits mil-spec AR-15 lowers. Instead of having a lever that swings from Safe to Fire, this safety selector button moves side-to-side, just like the cross bolt safeties often found on hunting rifles. When the button is pressed from the left side of the receiver so that the red rubber gasket is visible on the right side of the receiver, the safety is in the Fire position. This Elftmann safety proved to be quick and easy to use.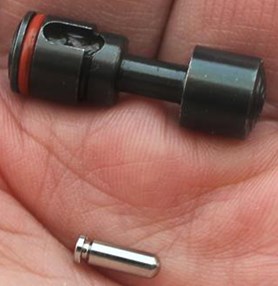 American Built Arms SBR P*Grip satisfied the need for a polymer grip that's light, compact and comfortable to work with. Molded from heat-resistant, fiber-filled nylon, this grip has a slide-covered battery storage compartment which will accommodate AA or CR123 batteries.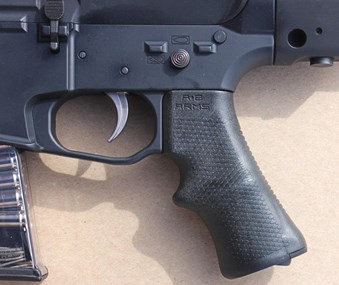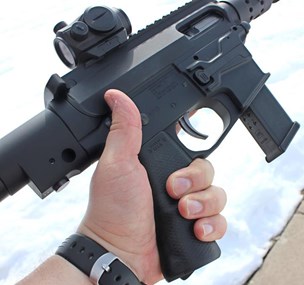 Assembling the upper was quite simple. The barrel nut and muzzle device were tightened down, the charging handle and bolt were dropped into place and it was complete. Building the lower followed a typical mil-spec set of steps for the most part with some important exceptions. The QC10 upper uses a factory installed screw instead of a roll pin to secure the bolt catch. The MVB buffer system follows a unique set of assembly steps and the Elftmann safety button requires a specialized detent. In all three cases, the manufacturers provided the tools, parts and instructions required to complete the work. 
The total build time for this pistol was about an hour and a half. Fully assembled it has an overall length of 16.75" and an unloaded weight of 4 lbs. without a magazine or optic. It's not a purse gun by any means but it will fit into a large handgun case. Compared to a typical AR pistol such as the PSA Pistol Kit (Middle: 26.5", 5 lbs. 12 oz. ) or a mil-spec AR-15 carbine such as the Ruger AR-556 (Top: 35.5", 6.50 lbs.), this 9 mm build definitely qualifies as "compact". It's also unique in that I haven't seen any factory built ARs trimmed down to this size.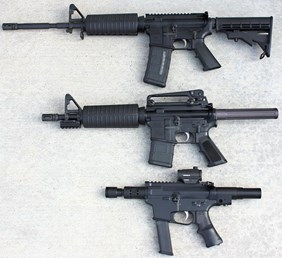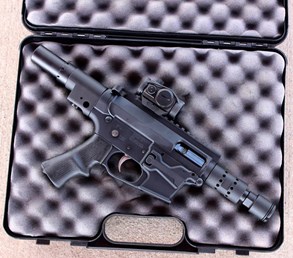 Range Time
Because this pistol is a blow-back-operated AR-15, the weight of the buffer plays an important role in controlling how fast the bolt cycles. This in turn determines which loads can be used. In this case, the QC10 and MVB components are strong enough to handle standard velocity, +P and even +P+ ammunition. However, the compact 5.3 oz. buffer is relatively light. This means the bolt is going to slam back fairly fast and hard with the potential of increasing wear and tear to the gun if a lot of +P or +P+ loads are fired. If you're going to run hot most of the time, it would be advisable to switch over to a heavier buffer. If the gun's regular diet is going to be primarily standard velocity fair with moderate +P use, then the 5.3-oz. buffer used in this pistol will hold up nicely.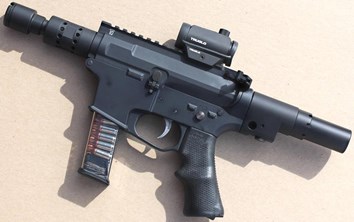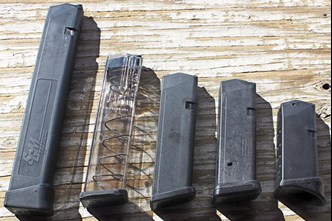 Along with a mix of 9 mm ammunition ranging from bulk box practice grade to premium defense loads, I broke out every brand of Glock-compatible magazine I could lay my hands on with capacities ranging from 10 to 33 rounds. The Elite Tactical Systems (ETS) translucent GLK model 9 mm magazines were requested specifically for this test because I've heard good things about them and I thought they would finish off the pistol's retro/futuristic look nicely. The ETS magazines proved to be utterly reliable with all of the ammunition tested and locked the slide open on the last shot just like they were supposed to. The other magazines tested, including Glock factory manufactured, Magpul PMAGs and SGM Tactical options all fit, fed, fired and ejected without any malfunctions.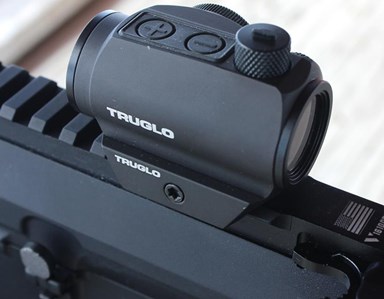 Range tests were conducted with a Truglo TRU-TEC 20 mm 2-MOA red dot mounted to the pistol using the optic's low profile base. Off the bench this pistol balances quite nicely and can be comfortably fired with both hands wrapped around the pistol grip. Although the level of felt recoil is mild, using a two-handed grip results in something of a rollicking ride. The rearward movement of the buffer assembly causes the muzzle to pop up as if the gun were producing a more stout level of recoil. Wrapping the support hand around the magazine well or using a single point sling reduces the muzzle flip considerably.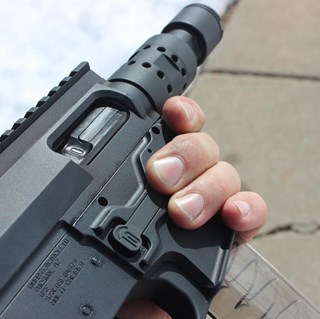 Settled into a benchrest for formal accuracy testing at 25 yards, this pistol became a real sweetheart to shoot with standard velocity ammunition. The recoil became quite tame, the KAK gas-forward device focused the muzzle blast forward and the short barrel dropped bullet velocities to sub-sonic levels suitable for sound suppressors.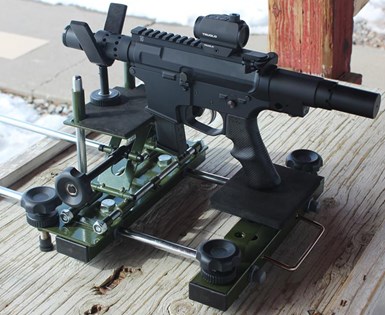 A Lab Radar chronograph was used to confirm the slower bullet speeds. With only about 2.75" of rifled bore inside the 3.5" barrel the group sizes were surprisingly tight. When I can keep 5-shot groups down to around 3" to 3.5" with a typical 9 mm pistol at 25 yards, the gun, ammunition and trigger operator are all doing their job. Some of the groups produced by this compact AR were half that size.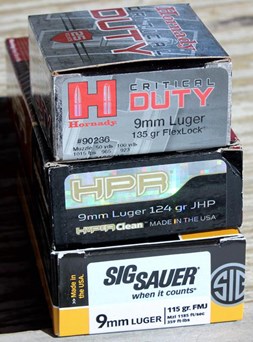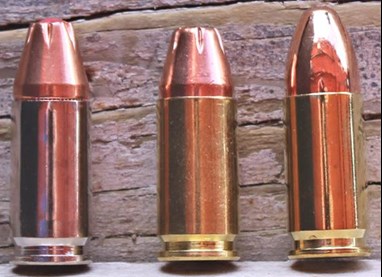 Sig Sauer Elite 115-gr. full-metal-jacket loads were the fastest with a 10-shot average muzzle velocity of 1118 fps. This load produced a respectable best single 5-shot group of 2.34" and an average of 2.51". Hornady's Critical Defense 135-gr. Flextip flew at 998 fps. with a best group of 1.99" and an average of 2.14". The soft shooting HPR HyperClean 124-gr. jacketed hollow points traveled at the slowest speed of 989 fps but it produced the tightest groups of the test with a best group of 1.46" and an average of 1.60".
Parting Thoughts
Thanks to the high-quality components from dedicated manufacturers who take their work seriously, this unorthodox project produced a sleek, reliable and accurate handgun with a look all its own. I'm going to mark this exercise down as a success. You may not be as interested in shrinking an AR pistol as much as I did. But if you're planning to assemble an AR any time soon, then the companies that helped bring my build to life certainly deserve your consideration.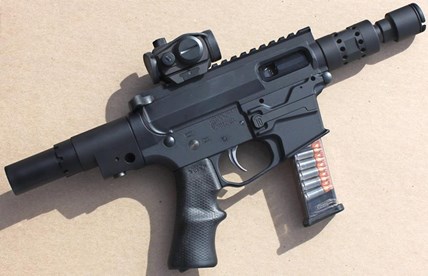 Specifications
Model: Custom Compact AR-15 Pistol Build
Action: Blowback-Operated Semi-Automatic
Caliber: 9 mm
Stripped Receiver Set: QC10 Glock Small Frame, Milled 7075 T6 Aluminum Billet, Hard Anodized Finish: $440
Complete Buffer Assembly: MVB Industries MPK (Micro Pistol Kit), 9 mm (5.3 oz) Buffer $189.95
Charging Handle: QC10 Medium Latch $55.95
Complete Bolt Assembly: QC10 Glock Style Bolt $235
Barrel: QC10 10 3.5" Medium Profile (.75″), 4150 CMV Steel, Nitride Finish $170
Rifling: 1:10" RH
Grooves: 6
Muzzle Threading: ½x28 TPI
Muzzle Device: KAK Industry 9 MM Micro Slimline Flash Can $25
Barrel Nut: GZP OEM Slim Profile Aluminum, Hard Coat Anodized $29
Lower Parts Kit: GZP Nitride Enhanced Mil-Spec (No Grip or Fire Control Group) $42.95
Magazine Release: QC10, Factory Installed
Safety: Elftmann Tactical Push-Button Safety Selector $39.95
Trigger Group: GZP AR Enhanced Fire Control (EFC) Group $34.49
Trigger Pull: 5 lbs. 5 oz., Single-Stage
Pistol Grip: American Built Arms SBR P* $19.99
Capacity: 10+1 to 33+1 Rounds
Magazine: Accepts Glock Type 9 mm Magazines
Overall Length: 16.75"
Weight: 4 lbs. Unloaded, No Magazine
MSRP: $1,282.28 (excluding taxes, shipping, labor and magazines)
Optic: Truglo TRU-TEC 20 mm 2-MOA Red Dot Optic $221