Support NRA American Rifleman
DONATE
Every Fall the National Association of Sporting Goods Wholesalers (NASGW) hosts a trade show that offers attendees a sneak peek at some of the products slated for release in the new year. With national firearm sales leveling off, thanks to a gun-friendly administration taking office this year, manufacturers are dusting off some new and interesting models that have been tucked away for a time such as this. Here is a quick look at just some of the new guns on the way for 2018:
Bersa TPR Pistols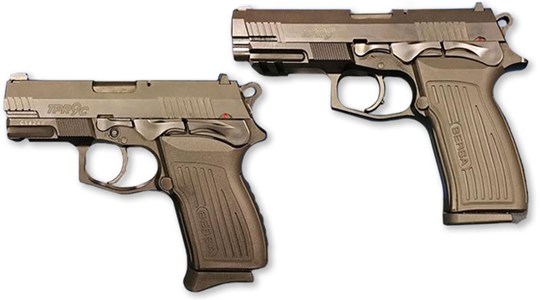 Eagle Imports is introducing the double action/single action Bersa TPR line of pistols to the U.S. market this next year. These pistols represent the next evolution of the Thunder Pro HC series originally developed for law enforcement and military applications. Available in Standard 4.25" barrel and Compact 3.25" barrel configurations, these semi-automatic pistols feature interchangeable SIG Sauer-type sights, an improved Browning Petter locking system, lightweight aluminum alloy frames, Picatinny accessory rails and loaded chamber indicators. The elegantly designed ambidextrous slide catch and thumb safety, along with a reversible magazine release, makes the pistol accessible to right and left handed shooters. Caliber options will include 9 mm (TPR9), .40 S&W (TPR40) and .45 ACP (TPR45). MSRP: $508-$528 
Caracal USA Enhanced F Pistols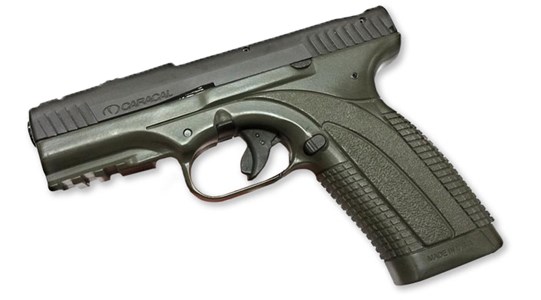 When the 4" barrel striker-fired Caracal F 9 mm pistol first arrived on the U.S. market from the United Emirates in 2012, I was glad to be one of the writers who had an opportunity to review it. The pistol's design seemed ahead of its time with its sleek reduced mass slide, lowered bore axis for reduced felt recoil and comfortable grip that fit a wide range of hand sizes. Just as Caracal was poised to give Glock, Springfield and Smith & Wesson a run for their money, the company enacted a voluntary safety recall that caused the pistol, much like its namesake, to slip quietly out of sight and off the market until now. 
A new American-made series of Caracal USA Enhanced F pistols, with the safety issues resolved, will be shipping soon. These pistols maintain the positive qualities of the original models with three different sight system options, including the company's proprietary Quick Sight System, 3-Dot and night sights. Customers will have a selection of new polymer frame colors to choose from including black, tan and OD green (shown). MSRP: $599-$699
Charter Arms Target and XL Models
This year Charter Arms is stretching the accuracy and performance potential of its center-fire revolvers with the addition of three new stainless steel 6" barrel target models with adjustable sights. Models will include the five-shot .44 Spl. Bulldog, .357 Mag. and 9 mm Pitbull. The .22 Long Rifle Pathfinder Lite with its aluminum frame (shown) will also be available in three different target models. MSRP: TBA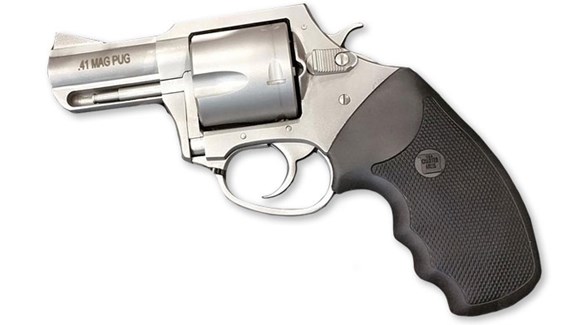 The company's flagship five-shot Bulldog .44 Spl. series will be joined by the new Bulldog XL. The XL's frame has been enlarged to handle bigger and more powerful cartridges. The Bulldog XL chambered in the popular .45 Colt offers customers a broad ammunition selection ranging from soft shooting cowboy loads to high-quality defensive hollow points. The real surprise of the show was the Bulldog XL chambered in .41 Rem. Mag. (shown). Considering what a handful the Bulldog can be when loaded with .44 Spl., it will be interesting to see how the XL handles when stocked full of magnum cartridges. MSRP: TBA
Cimarron Firearms Bad Boy .44 Mag. Revolver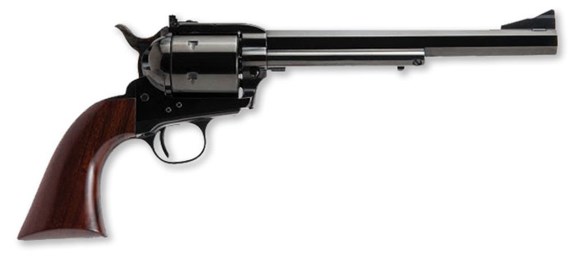 The Cimarron Firearms Company Bad Boy .44 Mag. is a modern take on a classic single-action revolver design. Constructed of polished blued steel around a Pre-War frame with an Army-style grip and an octagonal barrel, this revolver arrives ready to go to work as a hunting handgun, a steel-plate and paper-target revolver or to be used for protection from dangerous game of the four- or two-legged varieties when enjoying the great outdoors. Other features include a non-fluted cylinder, adjustable target sights and smooth hardwood grip panels. When I handled the 6" barrel version of the Bad Boy at this show, I was impressed by how light and well-balanced it feels for an all-steel big-bore wheelgun. The trigger was light and smooth too. This revolver will also be available with an 8" barrel. MSRP: $687
FightLite Industries SRC Raider Pistols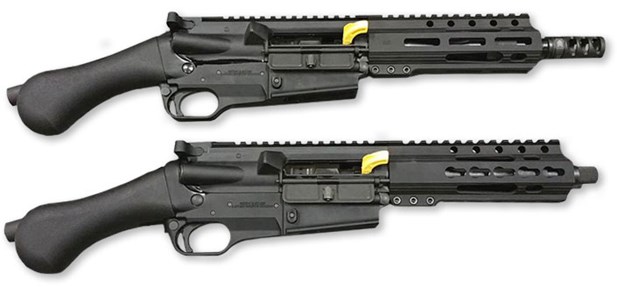 This year's enthusiasm for Mossberg's pump-action Shockwave 12-ga. has encouraged other manufacturers (like Remington) to look for ways to install a Shockwave-type grip on its guns. But who would have guessed that FightLite Industries would find a way to use this grip configuration on an AR pistol? 
With an appearance reminiscent of a Star Wars movie blaster, the new Raider pistols are possible because they are based on the company's SRC action system which was originally designed as the foundation for a 50-state's legal AR platform. This configuration eliminates the typical AR buffer tube by attaching a hinged extension to the bolt carrier group, much like those found in some semi-automatic shotguns, that moves down at an angle into the shoulder stock. So, the same system that allows an AR lower to sport a traditional fixed hunting stock also works with an abbreviated Shockwave-style grip.          
Raider pistols ship with a 7.25" barrel chambered in 5.56 NATO/.223 Rem. or .300 BLK with an overall length of 20.25", an unloaded weight of 3.9 lbs. and the customer's choice of a Keymod or M-Lok handguard. It will be interesting to see how these guns handle. I'm guessing a single point sling, attached to the grip's QD sling port for added stability, will make a difference when shooting off the bench. MSRP: $865 
Heizer PKO9 Pistol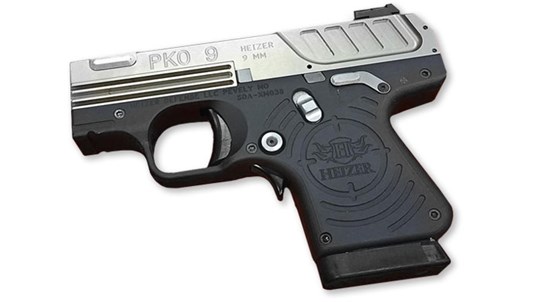 Although we are still waiting to get our hands on the super slim 0.80" thick Heizer Defense PK0-.45 semi-automatic pistol chambered in .45 ACP (which was announced last year), the company is preparing to launch a 9 mm version called the PKO-9. Featuring a proprietary aerospace-grade aluminum frame and a stainless steel slide, the recoil assembly is set above the barrel to lower the bore axis for reduced felt recoil. Other features include a single-action trigger, drift adjustable sights and a grip safety. These pistols will ship with a flush-fit seven-round magazine and an extended 10-round magazine. Color options will include all black, two tone and custom Hedy Jane finish options. MSRP: $699 
Hi-Point Firearms 1095TS 10 mm Carbine

Hi-Point Firearms makes no bones about offering some of the lowest priced American-made firearms on the market. Even though this company's offerings won't win any beauty contests, I found two of the .45 ACP models to be utterly reliable when I tested them a couple of years ago. This year, Hi-Point will be ramping up the potency of its carbines with a new 10 mm version that accepts a 10-round single-stack magazine. The 17.5" barrel has a threaded muzzle with a sight rail for optics and a lower rail for accessories. The rubber cheek rest, recoil absorbing stock and smooth trigger will all contribute to more comfortable shooting sessions. MSRP: $389.99 
Inland Manufacturing M30-P and M30-I.M.P. Pistols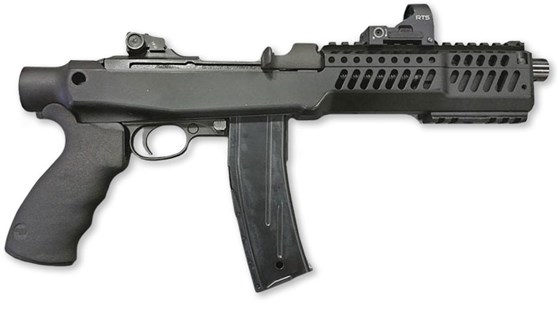 Inland Manufacturing, known for its series of modern World War II era M1 Carbine and M1 pistol replicas, is launching a new series of highly modified tactical pistols built around the M1 action and chambered in .30 Carbine. The new M30-P pistol is fitted into a special Sage Enhanced Battle Rifle tactical carbine stock and features a Gear Head Mod II Tail Hook arm brace. Other features include an Ergo Sure Grip pistol grip, a handy 1/2x28 TPI threaded 12" barrel and optics rail. The M30-IMP, which stands for Inland Motor Patrol, is even more compact with no arm brace extension and a 7.5" threaded barrel. Like all Inland .30 cal. carbines and pistols, the magazine catch fits higher-capacity military and civilian magazines. MSRP: M30-P Pistol $1,699; M30-IMP Pistol $1,399 
IWI TAVOR 7 Rifle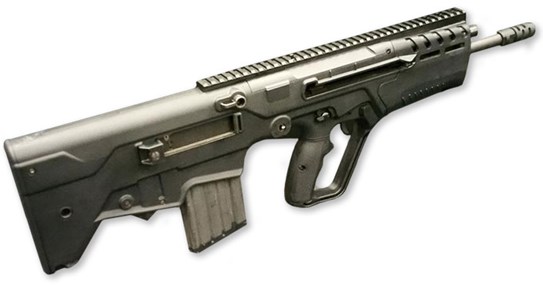 Israel Weapon Industries (IWI), has launched the newest member of the Tavor bullpup rifle family, the TAVOR 7 chambered in 7.62 NATO/.308 Win. with an overall length of 28.4" and an unloaded weight of 9 lbs. The rifle's body is built from high-strength, impact-modified polymer and has a hammer-forged, chrome-lined, free-floating barrel for enhanced accuracy and life cycle. Designed for military and law enforcement markets, this rifle is a fully ambidextrous platform. The ejection side and the charging handle can be switched from one side to the other quickly and easily by the user. Additional ambidextrous features include the safety lever, magazine release, and a bolt catch similar to that of the X95. 
Two M-LOK slots are located at the 3 o'clock and 9 o'clock positions along with a MIL-STD 1913 Picatinny rail at the 6 o'clock position for the use of multiple devices and accessories. Other features include a short-stroke gas piston with a four-position variable gas regulator, a rotating bolt system, and an interchangeable pistol grip. The Tavor 7 will be available in four colors: Sniper Gray, OD Green, Black, and Flat Dark Earth, with replaceable barrels available in 17" and 20" lengths. This rifle is slated to ship the first quarter of 2018. MSRP: TBA 
Just Right Carbines JRC 9 mm Pistol

Just Right Carbines is known for its blow-back operated pistol-caliber takedown carbines and rifles designed to accept popular double and single-stack magazines produced for Glocks and 1911s. This year the company is expanding its line-up to include pistol versions of its platform that offer the same modularity and takedown features as the rifles. The Model 1 version of the pistol (shown) features a foam padded Gearheadworks Mod1 Tail Hook buffer assembly and takedown fore-end. Model 2 is dressed up a bit more with a Gearheadworks Mod2 adjustable arm brace and a quad rail fore-end. MSRP: Starting at $699 
Keystone Sporting Arms PT Rimfire Rifle

Keystone Sporting Arms has blended the best features of a precision rifle chassis and an enjoyable .22 Long Rifle bolt-action rimfire into the new PT rimfire rifle platform. The Keystone 722 action is paired with the customer's choice of a 16.5" or 20" threaded heavy bull barrel. The action is tucked into an American Built Arms (A*B Arms) MOD*X PTTM aluminum chassis. The chassis is made from 6061 T6 aluminum and treated with a Class 3 hard-coat anodized finish. The A*B Arms Urban Sniper shoulder stock provides an adjustable length of pull ranging from 10.5" to 13.75" while the A*B Arms P*Grip is compact and comfortable to work with. The PT rifle ships with one seven-round Keystone 722 magazine. MSRP: $599.96
Mossberg 20-ga. Shockwave Pump-Action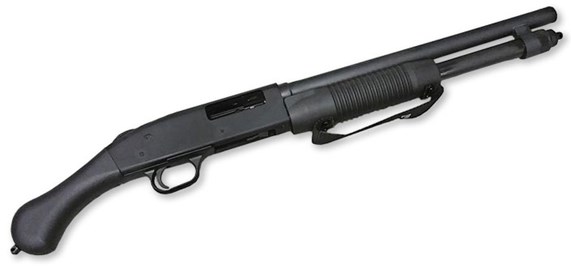 Released in January 2017, Mossberg's non-NFA 14" barrel Shockwave 12-ga. pump-action has been one of the hottest selling guns of the year. So much so, that it garnered the company two NASGW/POMA Caliber Awards at the NASGW Expo this year, including the "Innovator of the Year" and "Best New Overall Product." So it shouldn't come as much of a shock (pun intended) that Mossberg is expanding the Shockwave line up for 2018. Along with new finish (Flat Dark Earth) and package (JIC water resistant storage tube) options for the 12-ga. model, the company has developed a new 20-ga. 590 version. 
The 20-ga. Shockwave is a more important release than some folks may realize. This is the first time the company has offered a 20-ga. in a tactical 590 configuration. All of the components have been properly scaled down to fit the smaller cartridge while preserving important features like the drilled and tapped receiver and the removable magazine tube cap. This makes the overall package slimmer and lighter than the 12-ga. model while providing a lower level of felt recoil. With all the hard work of resizing the 590 platform already complete, it's likely that we'll see long gun versions before too long. As for a .410 Bore Shockwave, we'll just have to wait and see. MSRP: $455
Magnum Research Desert Eagle L5 .50 AE Pistol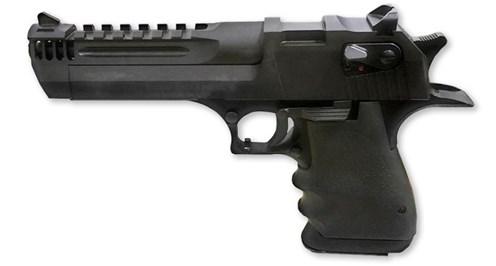 I'm not sure why Magnum Research customers have been chomping at the bit for a Desert Eagle L5 lightweight pistol chambered in .50 AE. Trust me when I say the Standard XIX model, which weighs about a pound more, has a level of felt recoil that will still blow your hair back when chambered in this cartridge. Nevertheless, since the arrival of the .357 Mag. L5 about two years ago and the .44 Mag. version, folks have been asking for a .50-cal. option. This model sports the same reduced-weight aluminum frame, 5" barrel, integral muzzle brake and accessory rail as the other two calibers. MSRP: TBA
North American Arms Mini Revolvers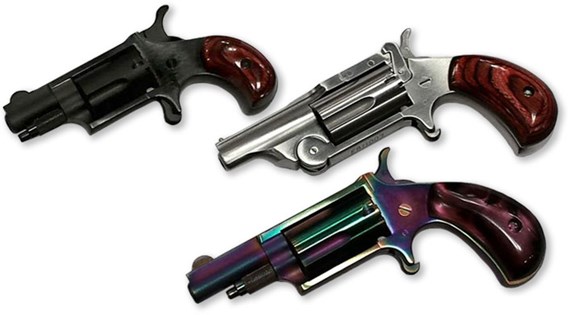 In 2012, North American Arms (NAA) released what turned out to be a limited run of the Ranger break-top Mini revolver. Inspired by the Navy Schofield Founder's Model .45 Colt, it was a hit with critics and consumers alike. When it proved to be too expensive to produce at prices the market could bear, the Ranger was discontinued and work began on a simplified and less expensive Ranger II (center). This long awaited break-top, slated to arrive in 2016, is finally in production as of the NASGW Expo. We hope to have one for review soon. Also keep an eye out for a Davidson's exclusive matte black titanium oxide finished Mini (top) and a Talo exclusive .22 Mag. with a rainbow hued titanium oxide finish with purple Pearlite grips (bottom). MSRP: TBA 
TriStar Arms
This year I got a quick look at three new models on their way into the country from TriStar Arms. After years of development to scale it down properly, the handsome Viper G2 Bronze semi-automatic shotgun will be available in .410 Bore in addition to 12, 20 and 28-ga. models. It will be available with either a bronze or blued receiver with high-grade Turkish Walnut stocks. Chambered for both 2½" and 3" shells, this Viper G2 will ship with three removable chokes and fiber optic sights. MSRP: Starting at $569

The new SPA .22 rimfire rifle features an Olympic style cammed action with a T-shaped toggle bolt handle in place of the usual up-back-forward-down bolt configuration. Favored by Olympic biathlon competitors, this straight-back-straight-forward T-Bolt is quick and easy to cycle. Other features include a lightweight synthetic stock, soft rubber recoil pad, threaded muzzle and removable box magazines. MSRP: $469           

Modeled after the popular Glock G19, the new TXI .22 Long Rifle pistol is manufactured for TriStar by ISSC of Austria. What sets this version apart from previous ISSC offerings is the new lightweight aluminum slide. It allows the pistol to cycle reliably with most of the subsonic .22 loads currently available on the market. MSRP: $329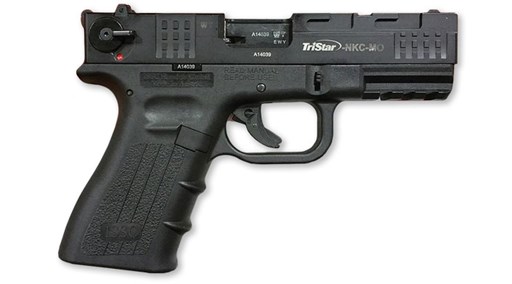 Troy Industries SideAction Rifle

In order to help shooting enthusiasts keep running their preferred AR-type platforms in as many states as possible, Troy Industries released the 223 National Sporting Pump-Action rifle a couple of years ago. Many of the state regulations that ban certain rifle features on semi-automatic platforms do not apply those same restrictions to pump-actions. This year the company is adding the SideAction rifle to the lineup which employs a bolt action instead of a pump. An A2 flash hider is pinned and welded to the 16" 1:7" RH rifled barrel. The 10.5" SOCC handguard features M-Lok accessory slots. The side-charging bolt handle is topped with a target knob. The pistol grip, controls and trigger are all mil-spec. The folding shoulder stock is machined from aluminum billet. MSRP: $899
Walther PPQ M2 Q4 TAC Pistol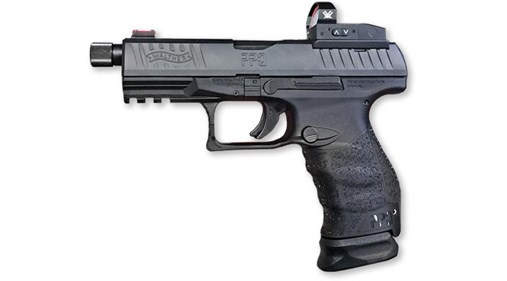 Building on the award-winning PPQ platform, Walther Arms has announced the arrival of the new PPQ M2 Q4 TAC which is both optics and suppressor ready from the factory. "The Q5 Match has been very popular and we have had a lot of interest in a 4" more tactical version. We are excited to combine a suppressor-ready and optics-ready pistol into a best-of-both worlds platform," said Luke Thorkildsen, vice president of marketing & product development of Fort Smith-based Walther Arms, Inc.
The 9 mm Q4 TAC arrives with a 4.6" 1/10 twist polygonal rifled barrel and a muzzle threaded at ½x28 TPI. The gun arrives with a second recoil spring weighted specifically for use with sound suppressors, one 15-round magazine and two 17-round magazines. The optics-ready slide features an LPA sight system with a fiber optic in the front and competition iron sight at the rear. The Q4 TAC shares the same optics mounting plate system as the Q5 Match. The plates are compatible with a variety of popular optics including options from Trijicon, Leupold, and Doctor. The PPQ Quick Defense trigger provides a smooth 5.6-lb. trigger pull and a short 0.1" reset. The Q4 TAC is backed by Walther's lifetime warranty. MSRP: $799
Winchester XPR Sporter Rifle

Winchester Repeating Arms is challenging the modern-day manufacturing practice of producing moderately priced bolt-action hunting rifles with polymer shoulder stocks as the only option. The latest version of the XPR rifle line up, called the Sporter, is fitted with a classically styled checkered close-grain Grade I walnut stock that only costs $50 more than its polymer stocked compatriots. Offered in barrel lengths ranging from 22" to 26" (depending on the caliber), this rifle's Perma-Cote treated milled steel receiver houses a nickel Teflon coated bolt body. The MOA trigger system provides zero creep and no over travel for a crisp, clean trigger pull. The three-round magazines are detachable. The XPR Sporter's twelve caliber options include .243 Win., 6.5 Creedmoor, 7 mm-08 Rem., .30-06 Sprg., 7 mm Rem. Mag. and 300 Win. Mag. MSRP: $599