by
posted on December 16, 2014
Support NRA American Rifleman
DONATE
The Inland Manufacturing Division of General Motors, originally established in 1922, became one of the largest firearms manufacturers in the United States during World War II. Located in Dayton, Ohio, Inland is best remembered for producing the "U.S. Carbine, .30 Caliber, M1 rifle," which is more commonly known as the M1 Carbine. In 1941, Inland started production of this light rifle in addition to manufacturing most of the tooling used by other companies building its versions of the carbine. By the end of 1945, Inland had produced more than 2.5 million rifles for the war effort.
As time passed, the Inland Division returned to automotive manufacturing, merged with other General Motors-associated companies and eventually left General Motors all together in 1999. But Inland's historical contributions to World War II were not forgotten.
In 2013, a brand-new, privately owned gun manufacturing company was organized under the name of Inland Mfg., LLC. Although this company has no formal ties to General Motors, it established its headquarters just a few miles away from where the original Inland Division once stood. The company has teamed up with MKS Supply to provide distribution and marketing for its products.
Inland Manufacturing's plan is to launch a line of American-made firearms composed of 100 percent U.S.- made parts. It should come as no surprise, considering the company's name and location, that the first two rifle models off the production line are replicas of the M1 Carbine, including what the company calls a 1945 version of the fixed-stock M1 Carbine and the folding-stock M1A1 Paratrooper model. This review takes a closer look at the new 1945 M1 Carbine.
Pulling together a working replica of a WWII-era rifle that meets the demands of discerning collectors and the expectations of modern shooters is no mean feat. It requires a close attention to historical details while taking advantage of up-to-date production methods and materials in order to construct a gun that is, when possible, an improvement on the original.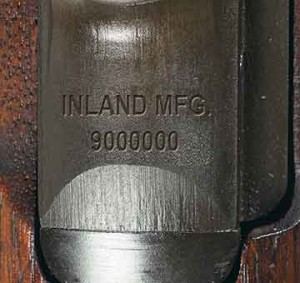 In one of its early press releases, Inland wrote,"[T]hese carbines are so precisely copied from the original specifications that the company marks the underside of the barrel and the inside of the stock of these current models to prevent potential fraudsters from passing these new carbines as mint WWII originals... ." This sounded like the kind of bold statement one expects from marketing material. That is, until I had the opportunity to examine the new M1 Carbine clone side-by-side with a mint-condition vintage model at the NASGW trade show this year. They really did look as if they came off the same production line.

The Inland M1 Carbine is manufactured using new steel components and stocks that meet GI specifications. This means the parts are interchangeable with WWII-era carbines. However, a few of the non-essential accessories, such as the oiler, are military surplus items.
Just like the original rifle, this clone of the M1 Carbine employs a short-stroke piston semi-automatic action. Gases siphoned from the barrel push the piston back a fraction of an inch driving the operating slide to the rear. This, in turn, cycles the rotating bolt in order to eject the spent cartridge case. The coil-spring recoil assembly then drives the bolt forward to load a fresh round from the removable box magazine and to reset the gas piston. It's a simple, rugged action with a battle-proven reputation for reliability.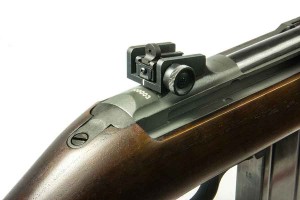 The WWII-era M1 Carbine had a forged receiver but this rifle is fitted with a cast receiver precision machined for tight tolerances. Although one can argue over which process is superior, there's little doubt that today's cast components, when properly made, can be consistent, reliable and last a long time.
Most of the rifle's steel components sport a matte-black Parkerized finish. The 15-round sheet-steel removable box magazine is blued. The 18" barrel features four-groove rifling with a 1:20" right-hand twist, and has been stamped "Inland Manufacturing Dayton Ohio" about 2-inches from the muzzle. The 3rd Style bayonet lug barrel band is stamped J.M.Q. on the left side next to the sling mount.
The front sight is a fixed blade with protective extensions on either side. The rear sight is a sliding peep aperture for use out to 300 yds. with an adjustment knob for windage. The rounded bolt is cycled by a slide arm with a right-mounted, curved operation handle and an angled face to deflect ejected cartridge casings. Although the slide does not automatically lock open when the last shot is fired, a bolt hold pin located by the slide handle allows the bolt to be locked open manually.
The rounded trigger guard protects a smooth-faced steel bow trigger and houses the push-button cross bolt safety. The magazine release is stamped with an underlined capitol M to indicate it is one of the later Modified types of releases. It has a support arm designed to work with the heavier 30-round magazines.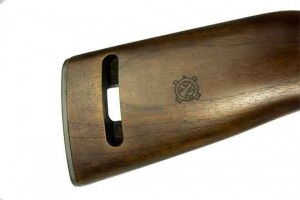 The shoulder stock and hand guard are made of a relatively plain grade of walnut, which was typical for GI issue carbines. The shoulder stock features an oval shaped cutout for the sling and oiler can, a 'low wood' channel for the slide and an arsenal stamp (cartouche) on the right side in front of the sling cut out. A lightly textured steel butt plate is held in place by a single screw. The Inland M1 Carbine ships with one historically-correct 15-round magazine, an oiler and a GI sling.
At the shooting range, the Inland M1 Carbine exhibited the same handling characteristics and reliability that has made this design a popular option with civilian shooters for more than 70 years. The rifle is light weight and well-balanced. The controls are simple to operate and the magazine slides straight into the magazine well. The slide was smooth and easy to cycle. The trigger demonstrated a 5 lbs., 14 ozs. pull with a crisp, clean break and short travel distance.
The M1 Carbine is chambered for the .30 Carbine cartridge which was developed by Winchester for the U.S. Army. This rimless round originally launched a .308 cal. 110-gr. bullet at around 1970 f.p.s. with a muzzle energy of 947 foot-pounds of energy. When fired from the M1 Carbine, it produces a modest level of felt recoil that is all-day comfortable to work with.
Although surplus .30 Carbine ammunition is running low, factory fresh rounds topped with full-metal jacket and modern expanding bullets are readily available from American ammunition companies including Federal Premium, Hornady, Remington and Winchester as well as a variety of imported brands. I had to conduct this test in a relatively short period of time since there were only a handful of production-grade rifles available. I would like to thank Federal Premium for quickly sending out a well rounded set of test ammunition to give the rifle a proper workout while meeting a tight schedule. The M1 Carbine ran reliably without a single malfunction during the course of informal and formal testing.
One of the complaints with the GI M1 Carbine was its inconsistent level of accuracy. Some rifles could manage groups of around 2" to 3" at 100 yds. while others produced minute-of-pie-plate results in the neighborhood of 6". Inland claims on its website that the rifles are capable of 1" to 2" groups. Formal benchrest accuracy testing at 100 yds. using the factory iron sights yielded results that hovered around the 2" mark. The best single five-shot group of 1.80" was produced using the Federal Ammunition (blue box) 110-gr. soft points. This load also had the best five-group average of 2.12". Speer Gold Dot 110-grain soft points had a best single group of 1.92-inches with an average of 2.19-inches, followed by American Eagle 110-gr. full-metal jacket loads with a best group of 2.18" and an average of 2.42".
There is no denying the M1 Carbine's historical significance or its continuing popularity among civilian collectors. Unfortunately, the original rifles are not as easy to find as they used to be. As of this writing, the vintage M1s still on the market tend to be either the well worn or un-shootable variety for around $500, or the pristine collectors items with price tags of $1,500 or more.
The new M1 Carbine from Inland Manufacturing, LLC., offers collectors and folks who want to enjoy the platform a third option. With a suggested retail price of $1,049, it's not the cheapest gun out there. But as an American-made, modern manufacture rifle it provides a tighter level of accuracy and a new-gun level of reliability that may not be available in vintage models still on the market. This version of the M1 Carbine arrives ready to go to work as a historical re-enactment piece, a home or camp defense rifle, or as a fun gun for comfortable shooting at the range. Look for Inland's rifles and 1911 pistols to start showing up on dealers' shelves during the first quarter of 2015.
Inland Manufacturing's 1945 M1 Carbine
Manufacturer: Inland Manufacturing, LLC.
Distributor: MKS Supply
Model: M1 Carbine (1945)
Action: gas-operated rotating bolt semi-automatic rifle
Caliber: .30 Carbine
Finish: parkerized
Shoulder Stock: walnut with steel butt plate
Front Sight: fixed
Rear Sight: adjustable peep aperture
Barrel Length: 18"
Overall Length: 35.75"
Weight: 5 lbs., 3 ozs.
Capacity: 15-round removable box magazine
Twist: 1:20" RH
Rifle Grooves: four
Accessories: One 15-round magazine, shoulder sling, oiler, owner's manual
MSRP: $1,049
Watch a video of the Inland Mfg. M1 Carbine from Media Day at the Range, SHOT Show 2015: