Support NRA American Rifleman
DONATE
Gallery

Windham Weaponry SRC-308 Rifle
Windham Weaponry will be launching its first rifle chambered for the potent .308 Win/7.62×51 mm NATO cartridge this next year. This gas-impingement, semi-auto rifle features a 16.5-inch medium-profile chrome-lined barrel affixed to a forged 7075 T6 aircraft-grade aluminum receiver. The flat-top upper has a Picatinny scope base and gas block for accessory sight systems. The rifle will arrive with a 20-round Magpul PMag magazine.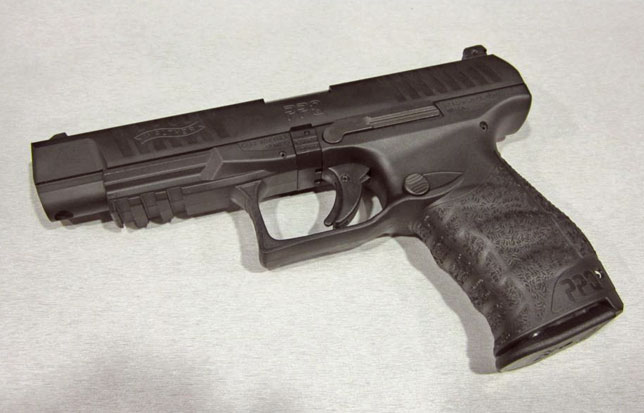 Walther PPQ 5-Inch Pistols
Walther's PPQ series of polymer-framed semi-auto pistols will be expanded to include 5-inch barrel versions in both 9 mm and .40 S&W. In addition to these popular defensive calibers, the PPQ will also be chambered for the more affordable .22 Long Rifle rimfire cartridge. The .22 versions will be available in a variety of barrel configurations. Look for a 4 inch with standard sights, a 5-inch version with a fiber-optic front sight or a 5-inch threaded-barrel version for use with sound suppressors.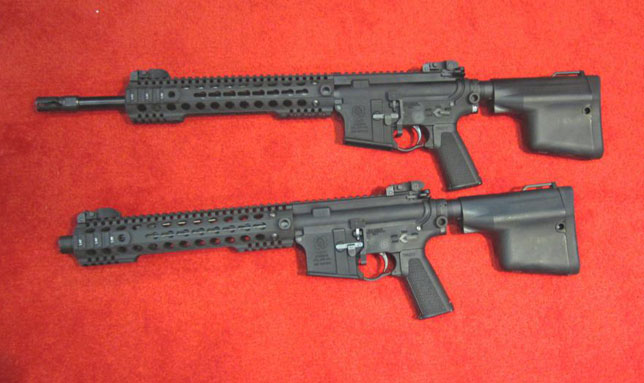 Troy Industries SDMR AR15 Rifles
Troy Industries, known for its extensive line of quality AR-15 rifle components, will be stepping up to the plate with its new SDMR series of .223 rifles. These gas-impingement operated rifles will feature several popular Troy upgrades, including the SDMR fore-end, a Tritium folding front sight, a BattleAx Control Grip and ambidextrous bolt and magazine releases. The SDMR will be available in your choice of a black or flat dark-earth finish with 16.5-inch barrels for civilians, or 14.5- and 10-inch barrels for law enforcement applications. 
PWS T-3 Summit 10/22 Biathlon Action Pistol
Primary Weapons Systems of Boise, Idaho, recently released its T-3 Summit 10/22 rifles with a Biathlon-style bolt. The action's knob is pulled straight back to extract a round and pushed straight forward to chamber the next round. This action provides the accuracy of a traditional bolt-action, while being much faster to cycle. The receiver is styled after the popular Ruger 10/22 rimfire rifle and is compatible with 10/22 stocks and magazines. For 2014, the company will be introducing a pistol version of the T3, with many of the same features found on its rifles. These include a lightweight pre-tensioned carbon-fiber threaded barrel and an adjustable match-grade trigger.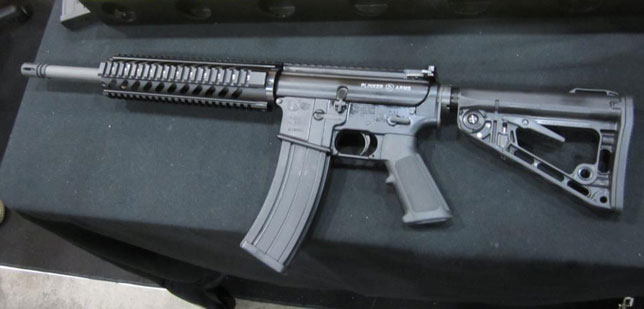 Plinker Tactical .22 Long Rifle AR15 Uppers
Plinker Tactical entered the market in 2011 with a goal to deliver .22 Long Rifle chambered AR-15 rifle enhancements for use by sportsmen and professionals alike. This year the company will be adding a series of complete .22 Long Rifle uppers for use with any Mil-Spec AR-15 lower. These uppers will feature 7075 T6 aluminum receivers, 1:16-inch twist free-floated barrels, standard thread flash suppressors and a Picatinny rail system. The Plinker magazines will hold the bolt open when the last round is fired, which is not a common feature on AR-15 .22 conversions.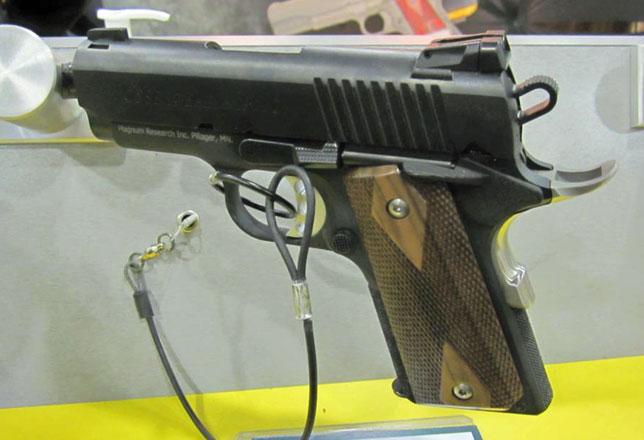 Magnum Research 1911 Undercover Pistol
Magnum Research, Inc. has a reputation for making big handguns, but this year the company will be expanding its concealed-carry line up with the new DE1911U Undercover single-action pistol. This compact, single-stack 1911 .45 ACP features a 3-inch bull barrel with a blued-steel slide and an aluminum frame. The frontstrap and backstrap are checkered for an improved gripping surface and the rear combat sight will be adjustable. Also look for the full-size DE1911 with a milled-in tactical rail and adjustable sights.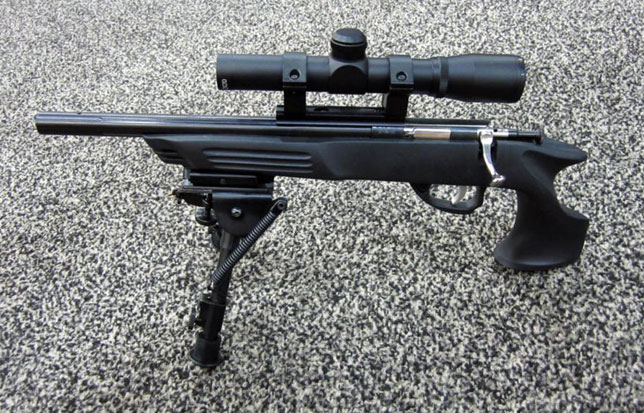 Keystone Arms Hunter Pistol
Keystone Arms quietly released the wood-stocked Hunter, a single-shot, bolt-action pistol. Using the same action as the popular Cricket youth rifle, this pistol was made available in .22 Long Rifle and .22 Mag. for plinking, target shooting and potting small game. For 2014, the company is releasing the Hunter in a synthetic stock version with a target grip. The front of the stock will have a sling swivel mount to allow users to attach a bi-pod. This pistol will be available in either a blued or stainless finish, with the choice of a set of Williams Fire Sights or a scope base.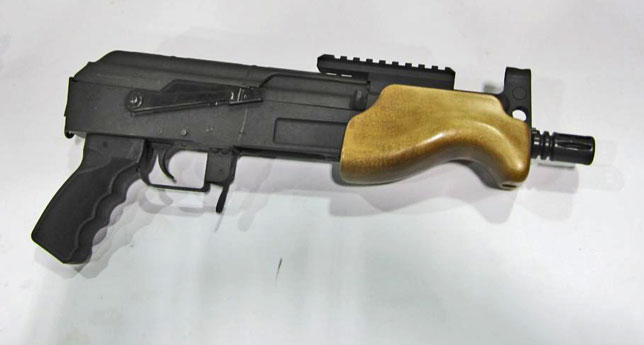 Century International Arms Inc. C39 Micro Pistol
The idea of an AK-action pistol is not new, but Century International Arms keeps finding original ways to make it interesting. The new C39 Micro is one of the most compact pistols of its kind. This American-made semi-auto is chambered for 7.62x39 mm and accepts a variety of AK-47 magazines. What the photo does not show is that the top-mounted optics rail contains two built-in, red fiber-optic sights. These bright dots form a rear pistol sight to use with the hooded front sight. Century will also be offering a new Red Army Standard 180-round ammunition range pack and the SB-47 stabilizing arm brace for use with its AK-style pistols.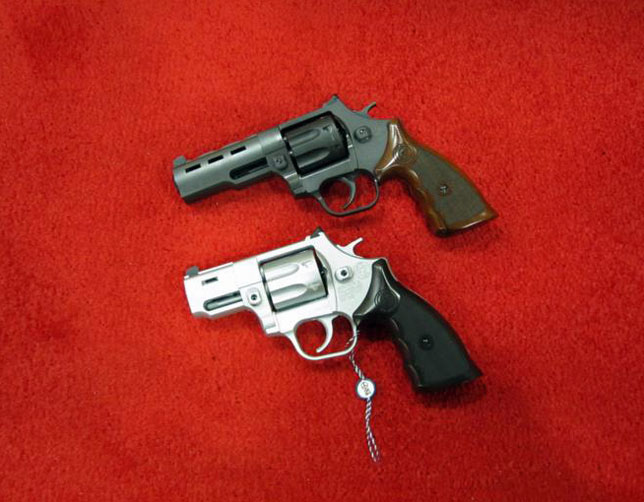 Armi Olmi 963 MF Revolver
For 40 years, the Italian manufacturing company Armi Olmi has been providing high-quality parts to well-known gunmakers, such as Beretta and Walther. This year the company is releasing its first complete firearm, the 963 MF seven-shot .357 Mag. revolver. All of the major components, including the lightweight frame, are milled from solid blocks of aerospace-grade aluminum and steel to ensure material consistency and strength. These feather-weight revolvers will be available with 2-, 4- or 6-inch barrels in a variety of color and finish options. Hopefully, this fine revolver will clear U.S. customs soon.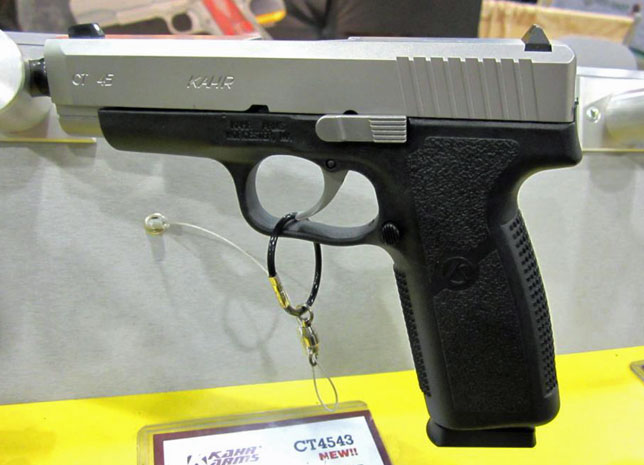 Kahr Arms CT45 Pistol
Over the last few years, Kahr Arms has released reduced-price versions of its popular concealed-carry defensive pistols. In keeping with this trend, the company plans to ship the new CT45 this year, a less expensive version of its TP45. The compact CT45 in .45 ACP will arrive with one single-stack seven-round magazine, a simplified stainless-steel slide and a three-dot sight system. According to the company, this pistol will have an MSRP of $449, which is almost $250 less than the TP45. Also keep an eye out for the CT40 in .40 S&W and the long awaited CW380 pocket pistol in .380 ACP.