Support NRA American Rifleman
DONATE
The last week of October marked the 42nd annual National Association of Sporting Goods Wholesalers (NASGW) meeting, held in New Orleans, La. Gunmakers from all over the country met to show distributors their new wares for 2016. Some companies were hush-hush this year, preferring to launch their products at the 2016 SHOT Show next January. But others gave us a sneak peak at what the new year holds in store for shooting enthusiasts. Where available, MSRPs have been included.
ARES Defense Systems Belt-Fed MCR Lite AR-15 Upper 
ARES Defense built its business around belt-fed rifles and upper receiver assemblies. Designed to fit standard AR15/M4 lower receivers and weighing in at just 8.5 lbs., the new MCR (Mission Configurable Rifle) Lite is one of the lightest and most portable belt-fed models available. Features include a fixed gas port, aluminum feed tray, round feed roller housing and lighter barrel than the MCR. MSRP is $2,995. Like other ARES Defense products, this version of the MCR is 100-percent made in the U.S.A.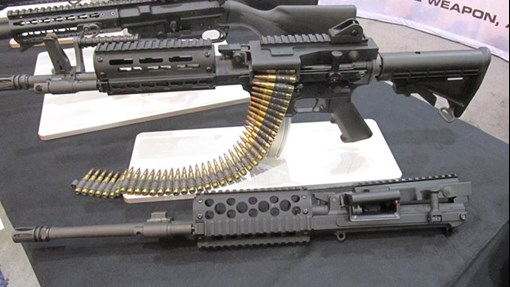 Battle Rifle Company BR4 Trident AR-15 
The Battle Rifle Company BR4 Trident .223/5.56 carbine stands out from the crowd because it's the first AR platform designed and built from the ground up for use in Maritime Security (MARSEC) and shipboard operations. Every metallic component is either constructed from stainless steel or treated with tough corrosion resistant coatings including nickel-boron and high-temperature Cerakote. As a result, there is no direct metal-on-metal contact within the rifle to encourage rust. This makes it an exceptionally durable platform in wet and humid conditions of all kinds. Initial barrel lengths will include 11.5" and 16" models.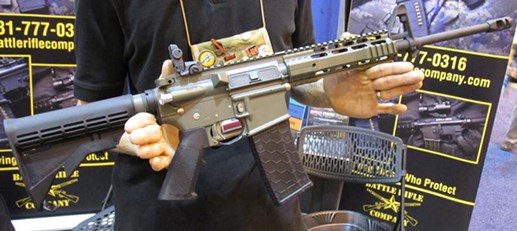 Bond Arms Patriot Defender Pistol 
Chambered in .45 Colt and .410, the new Bond Arms Patriot Defender double-barrel pistol will be replacing the company's USA Defender line. Like other Bond guns, the Patriot is a single action over-under built like a tank from stainless steel. The hinge pin is easily removed to allow the barrel to be traded out with caliber conversion barrels in a variety of calibers and lengths. The extended laminated hardwood grip features an eagle's head and American flag motif with a matching cross draw driving holster. Pricing will be on par with other Defender models.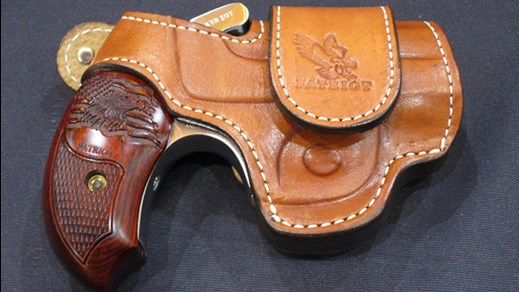 Century Arms: Canik TP-9 and AK Pistols 
Century Arms' launch of the Canik TP-9 9 mm pistol series has gone well this year. But some folks are just not comfortable with the large decocker button on top of the budget-friendly pistol's slide. For 2016, Century will be offering standard size TP-9s with the same single-action trigger without the decocker. The company will also be offering a budget friendly race gun version of the TP-9 with features including an extended barrel, vented slide, fiber-optic front sight and extended magazine.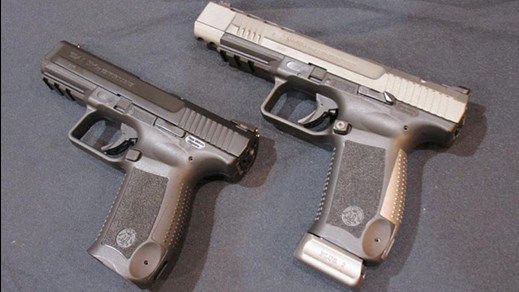 Century has been enjoying healthy sales of their affordable C39v2 and Red Army Standard RAS47 7.62x39 AK-47 rifles. Next year the AK line-up will grow with pistol versions of both platforms. They will use the same ammunition and magazines as their larger compatriots and feature Magpul furniture and receiver-mounted optics rails.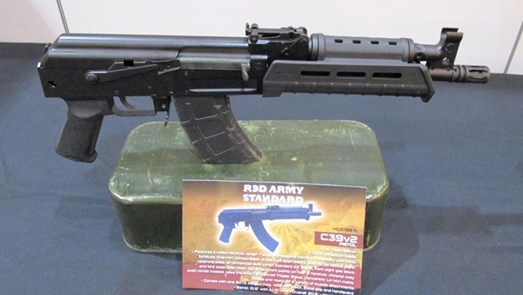 CZ-USA Handguns 
It looks like 2016 will be a busy year for CZ-USA with the release of several new handguns in a variety of configurations. The CZ P-01 O (Omega) 9 mm polymer frame semi-auto (tan) will be available in a sound suppressor ready version with a threaded barrel, tall iron sights and swappable safety. For pistol competition, keep an eye out for the CZ 75 TS in 9 mm and .40 S&W with its tuned action and unique orange aluminum grip panels.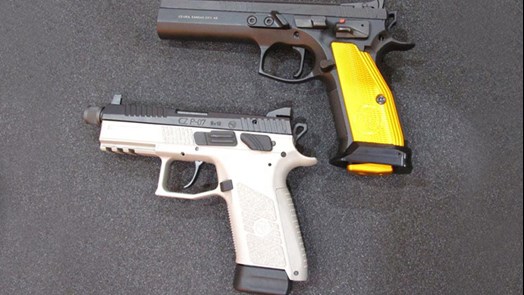 For the revolver fans out there, the all stainless steel Dan Wesson six-shot .357 Mag. revolver will be available in a 3-barrel DW 715 Pistol Pack. This package includes full lug 4", 6" and 8" interchangeable barrels with fixed front sights. Fewer than 1,000 of these excellent revolvers are made each year, so be sure to order yours early.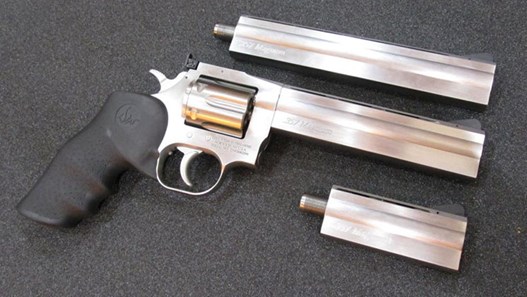 Eagle Imports' Llama Pistols
Eagle Imports is reviving the Llama line of budget-friendly 1911-style pistols. Originally manufactured in Spain before Llama went out of business in the early 1990s, the new pistols will be manufactured and hand-fitted in the Philippines by the same gunsmiths that produce Eagle's American Classic and MAC 1911 pistol lines. New Llama pistols will include the Llama Max chambered in .45 ACP and the diminutive Micro Max .380 ACP with both pistols featuring a Parkerized finish, fixed sights and hardwood grip panels.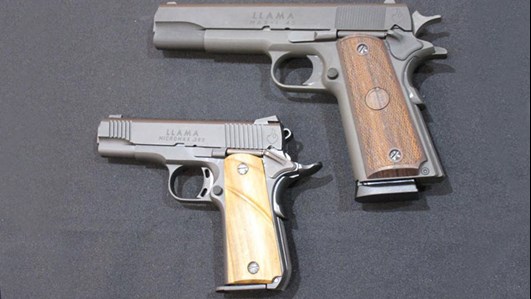 FNH USA Military Collector Series Rifles
Although the following FNH USA rifles were announced at the NRA Annual Meetings & Exhibits last April, we couldn't resist taking another look at the Military Collector Series. The semi-auto M4 and M16 FN 15 rifles chambered in 5.56 NATO feature M4-profile 16" and 20" 1:7 RH, button broached and chrome-lined barrels. Each UID-labeled lower receiver is equipped with an ambidextrous selector switch, just like the select-fire versions.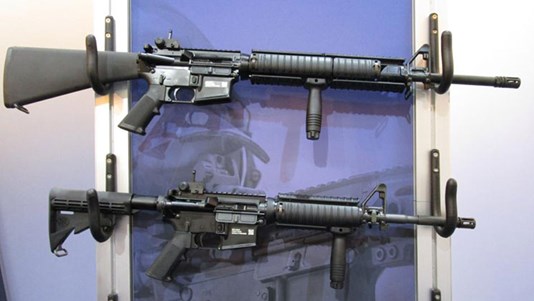 For those who are looking for something that can feed from a belt, FN is offering the M249S, a civilian accessible semi-automatic version of the M249 SAW light machinegun adopted by the U.S. military in 1988. The rifle is fitted with a 20.5" cold hammer-forged, chrome-lined barrel and operates from a closed bolt position. Chambered in 5.56 NATO, the rifle will accept either a box magazine or linked ammunition belts. This gun won't be cheap (think thousands, not hundreds of dollars) but it will certainly set shooters apart at the range.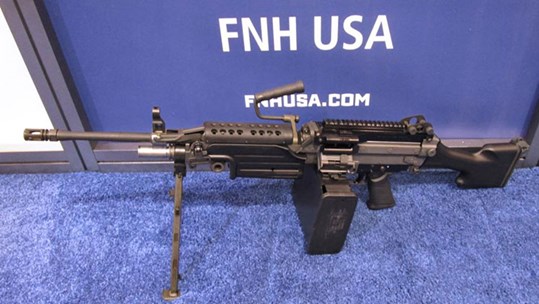 Heizer Defense PKO .45 ACP Pistol
Heizer Defense has been busy this year selling its unusual pocket-sized single-shot derringer platform which employs interchangeable barrels chambered for potent rounds including the .223 Rem. and 7.62x39 mm rifle cartridges. For 2016, Heizer will be offering a new 0.80" wide flat profile .45 ACP semi-automatic pistol with notable similarities to the derringer design. The new pistol will be available in an all stainless steel configuration (a titanium frame is in the works) with five-round flush fit or seven-round extended magazines.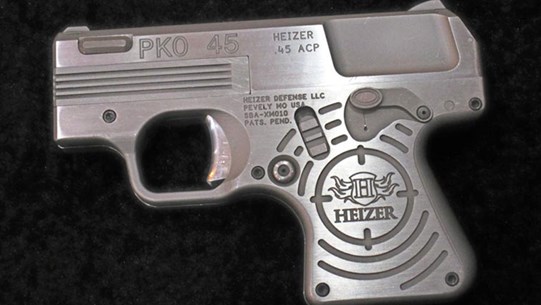 Honor Defense 9 mm Pistols
Not too long ago we posted a detailed news update about the new Honor Defense series of Honor Guard compact 9 mm pistols. But a few minutes handling the pistols on the show room floor told us what we couldn't learn from the numbers alone. The pistols have a solid heft to them, which shows the quality of the slide. The action feels smooth, the trigger is better than expected and the texturing of the frame feels just right for concealed carry. Keep an eye out for a review of one of these pistols in the near future.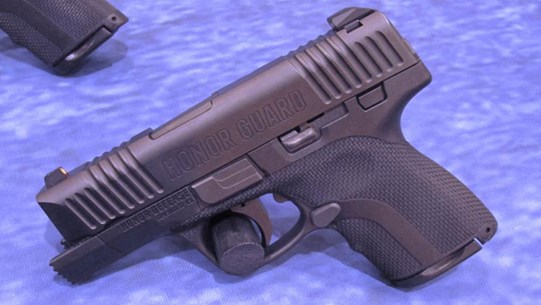 Inland Manufacturing Advisor M1 Pistol
Last year Inland Manufacturing made its debut with an authentic replica of the 1944 M1 Carbine in a fixed stock and Paratrooper folding stock model. This year the company will expand its M1 lineup with an unusual, but historically accurate, pistol version of the M1 called the "Advisor." This rifle-action pistol features a 12" barrel, an era-correct bell-shaped flash hider, a 15-round magazine and a GI sling. The wood furniture is similar to the Paratrooper version but without a shoulder stock or the means to attach one. Because the Advisor is assembled as a pistol at the factory it can be sold over the counter like any other handgun without the need for additional paperwork or tax stamps. Look for a full review to be posted here in 2016.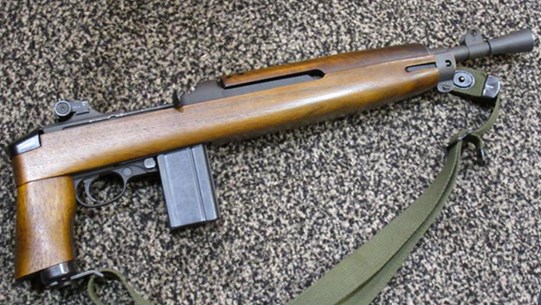 Kahr Arms: Light Weight Desert Eagles and Golden Tommy Guns
At the 2015 SHOT show, Magnum Research Inc. (now a division of Kahr Arms) exhibited a new light weight .357 Mag. version of the Desert Eagle pistol with a 5" barrel and aluminum alloy frame. That pistol was on display at NASGW along with another reduced weight Desert Eagle chambered for the ever popular .50 Action Express cartridge. The new .50 sports a two-tone finish with a stainless steel barrel and slide atop a matte black alloy frame. The barrel is ported to help manage what is going to be a memorable level of felt recoil.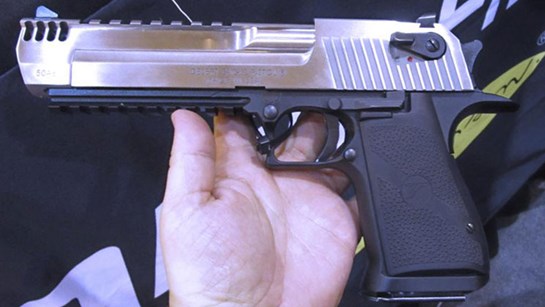 For gun collectors who have everything, the Auto-Ordnance division of Kahr will be shipping a new version of the Thompson .45 ACP T150D with a bright polished golden finish. Inspired by an actual 24-karat gold plated Tommy gun Kahr inherited when the company purchased Auto-Ordnance, the new rifle's bling is actually a fully functional gold-hued Titanium coating (also found on Desert Eagle pistols) which is durable enough for regular trips to the range. This version of the classic wood stocked T150D will ship with a 50-round drum and one 30-round stick magazine plated and polished to match the rifle.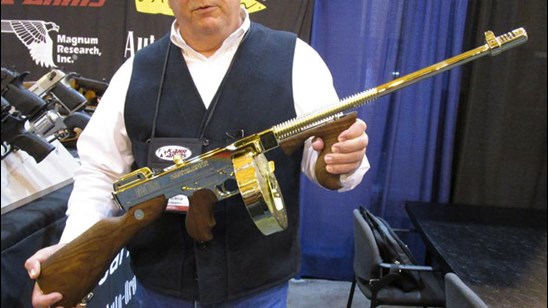 Kriss USA: Sphinx and Vector Pistols 
Back in 2014, we posted a review of Kriss USA's excellent Swiss-made Sphinx SDP Compact Alpha 9 mm pistol. Up until now, only the compact variations of this pistol have been available in the United States. 2016 will mark the arrival of a full size (duty size) version of the gun with all of the same features of the smaller variants but with a longer barrel and slide.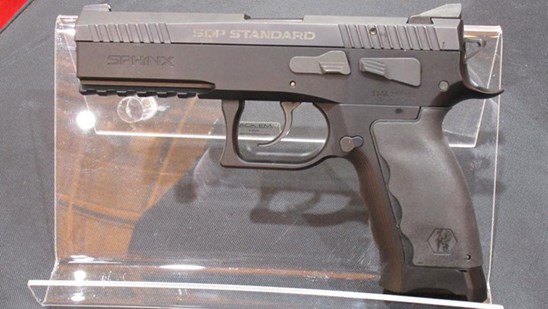 Also, keep an eye out for the new 9 mm versions of the Vector Gen II platforms. Shown here is the semi-auto SDP pistol in and OD Green finish. This 5.5" barrel rifle-action pistol accepts Glock G17 magazines and arrives with low profile folding sights and single-point sling attachment loop mounted above the grip. With a recoil assembly especially designed to reduce felt recoil and an unloaded weight of 6 lbs., this new version of the Vector promises to be a soft shooter.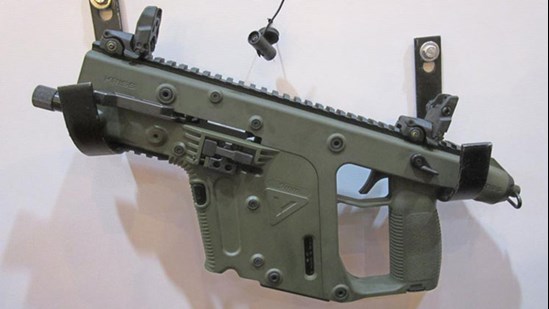 Legacy Sports International Howa Rifles 
Legacy Sports International imports a wide variety of handguns, shotguns and rifles, including new Howa bolt-action offerings. Shown here is Howa Heavy Barrel 20" Varmint TargetMaster Combo package with a Hogue Multicam rubber over-molded synthetic stock. The rifle features a Cerakote finished barrel and action, a Nikko Stirling TargetMaster 4-16 x 44 scope with lockable turrets, a 6-9" adjustable bipod and detachable box magazine. Caliber options will include .223, .22-250 and .308.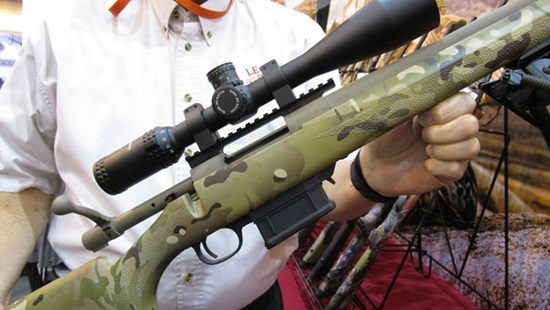 The Howa Mini Action rifles (shown here with a black synthetic stock) feature a bolt throw distance 12 percent shorter than other short-action rifles. This reduces the gun's weight and increases reloading speed. The Mini Actions are currently available with 20" or 22" long #1, #2 or #6 contour barrel profiles. Depending on the barrel, unloaded weight ranges from 5.70 to 7.15 lbs. Other features include a three-position safety, two-stage trigger, a wide view Nikko Stirling Panamax 3-9x40 scope and a removable 10-round magazine. These rifles are available in .204, .222 and .223 with next year's new calibers including 6.5 Grendel and 7.62x39 mm.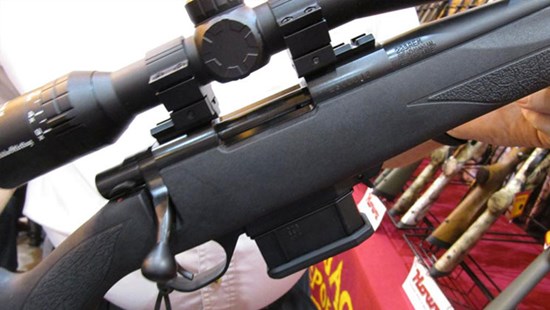 North American Arms Ranger II Revolver 
About four years ago, North American Arms (NAA) released the Ranger Mini revolver. It was a tiny stainless steel break-top .22 Magnum single-action which bore a striking resemblance to the Navy Schofield Founder's Model 45 Colt. Although this revolver was well-received by media members and customers alike, it proved to be too expensive to produce and was discontinued.
Now NAA is ready to take another crack at the break-top concept with the redesigned Ranger II. The Schofield-like release mechanism has been replaced with a sturdy, simplified configuration which is less expensive to produce. A firm release date and retail prices were not available, but it looks like these revolvers will be available in early 2016.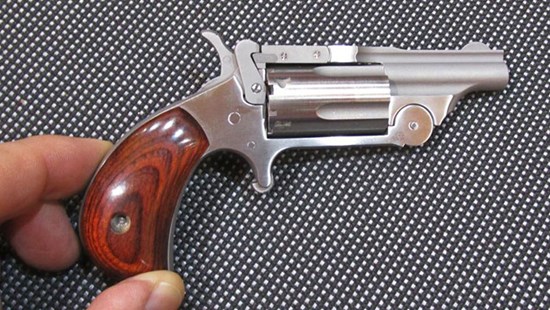 Patriot Ordnance Factory P300 Rifle  
Patriot Ordnance Factory (POF) has yet to be satisfied with the AR status quo. Instead, the company is always looking to take its gas piston-driven rifles in new directions. Next year, the P300 will be hitting dealers' shelves. This semi-auto rifle is chambered in the flexible big game 300 Win. Mag. cartridge. The receivers maintain the same external profile as the company's .308 platforms with the exception of being slightly longer front to back in the magazine well in order to accommodate the longer cartridge. A nine-position adjustable gas block allows this rifle to successfully feed and fire all kinds of ammunition ranging from inexpensive steel-cased imports up to the premium $3 per shot hunting loads. Other features include a three-port muzzle break, six-position shoulder stock, and EFP drop in trigger (4-lb. trigger pull) and ambidextrous controls.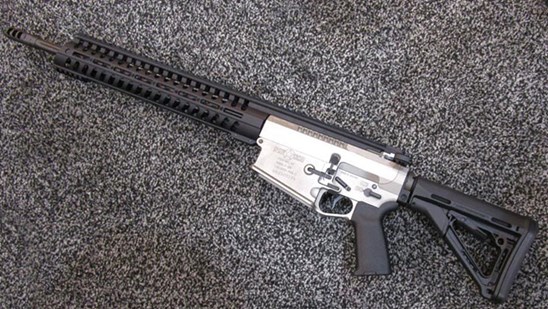 SCCY Industries CPX-3 .380 ACP Pistol 
SCCY Industries has made its name in the market with its CPX series of affordably priced American-made compact double-stack 9 mm pistols. Soon the CPX-1 and CPX-2 will be joined by the new CPX-3 chambered in .380 ACP. The new pistol uses a 10-round double stack magazine like the 9 mms but the grip profile has been reduced to match the size of the shorter .380 cartridges. The result is a reduced recoil defensive pistol with a grip to fit small framed shooters. The company is using the CPX-3 to launch the Roebuck Quad Lock system (which will be installed in all pistols going forward). This system locks the barrel to the slide at four locations for improved, repeatable accuracy.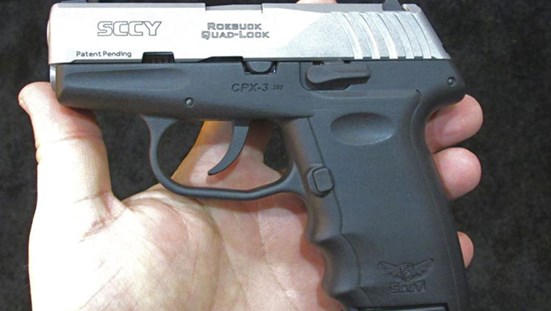 Schmeisser SLP-9 Pistol 
Schmeisser Germany, named after gun designer Hugo Schmeisser, has developed a reputation for producing high quality AR-15 rifles using top quality in-house components and Lothar Walther barrels. Now the company is making a push into the U.S. market with a new polymer-framed striker-fired pistol. Although the SLP-9 looks a good deal like the Austrian competition, it does have a price tag and some notable differences that should make it competitive in a crowded market. Unlike the Glock, the SLP-9 is one of only two true double-action/single-action striker fired pistols on the market (the other is the Walther P99). This translates into a second-strike feature for giving hard primers another tap or two if one chooses to do so. It also eliminates the need for a safely lever in the trigger. These pistols will ship with metallic 3-dot sights and two steel magazines.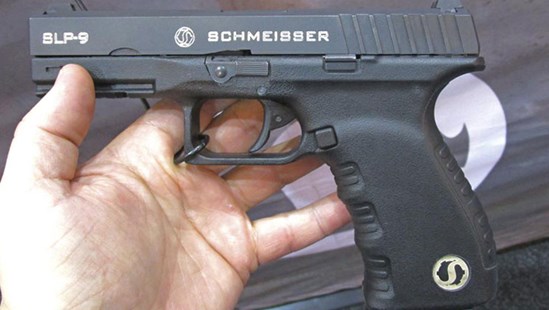 TNW Firearms ASR 10 mm Survival Rifle  
Earlier this year we posted a review of the TNW Firearms caliber-convertible ASR survival pistol chambered in 9 mm, which proved to be a reliable and accurate gun. Designed to feed semi-automatic pistol caliber ammunition using Glock magazines, the TNW survival guns are available with two lower receiver options. The "small" magazine well version is compatible with 9 mm, .357 SIG and .40 S&W uppers. The "large" magazine well version was originally chambered in just .45 ACP. But the latest TNW big-bore platform expands the caliber options to include the potent 10 mm.
The 10 mm rifle at the show was a production level gun (they are shipping right now) with an OD Green finish on the receivers, an integral scope rail, a six-position adjustable shoulder stock, and compact American Built (A*B) AR style grip. The receiver will accept 15-round (G20) and 10-round (G29) magazines. We are looking forward to posting a full product review of this new rifle in the future.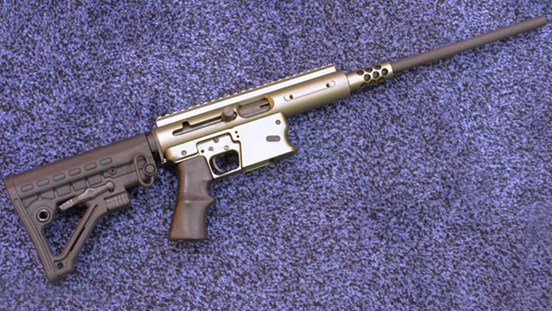 TriStar Arms TT-15 Trap Shotguns 
TriStar Arms is launching a new series of shotguns designed specifically for trap shooters which offer quality Turkish craftsmanship at an affordable price. Designed with the assistance of professional trap shooters, the TT-15 line-up includes top-single, un-single and over/under options. Each model features a Monte Carlo stock and fully adjustable walnut comb with a hand-engraved receiver in a nickel finish. Other features include a high-standing 3-point adjustable rib, auto-ejectors, fiber optic front sight and interchangeable choke tubes. Like other TriStar shotguns, the TT-15 models are covered by a 5-year limited warranty. Suggested retail prices start at $999.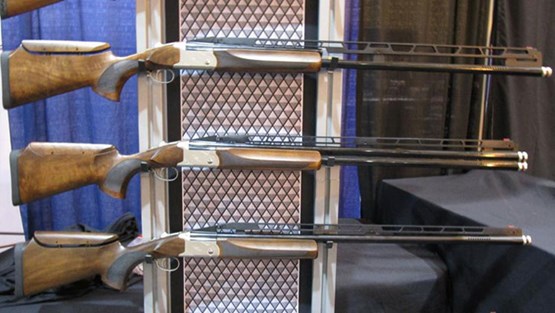 Troy Defense .338 Federal Pump-Action Rifle
Recently we posted a review of the unusual Troy Defense AR-pattern National Sporting Pump-Action rifle. The company is continuing to grow its pump-action line-up with the addition of a new rifle chambered in .338 Fed. with a Mossy Oak camouflage finish. A couple of these rifles have already been to Africa where they ran reliably and successfully harvested a variety of exotic game. Based on the .308 pump platform, features include a two-chamber muzzle brake, 16" stainless steel barrel, TRX2 hand guard with full length top rail, 10-round removable magazine and an adjustable light weight BattleAx CQB stock. Keep an eye out here for a future review of this rifle.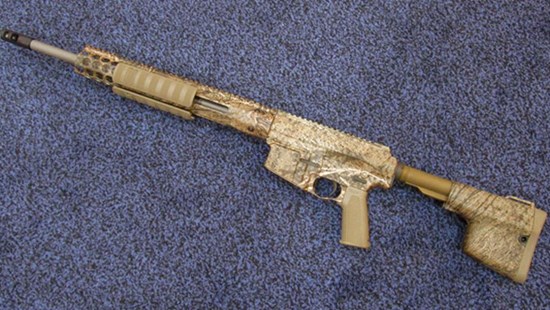 Windham Weaponry MCS Multi-Caliber AR Rifles  
Not long ago, Windham Weaponry announced the release of a new set of MCS multi-caliber uppers for the AR-15 platform. These uppers incorporate a quick release system allowing barrels and bolts to be easily traded out so that a single rifle can fire 5.56 NATO/.223 Rem, 300 BLK or 7.62×39 mm. It should be noted that the fore-end retention system shares distinct similarities to the system developed by MGI and installed in its Hydra series of rifles. Windham representatives confirmed that the Multi-Caliber System does use technology developed by MGI under a licensed agreement with that company. At NASGW, Windham was also showing a lower with an interchangeable magazine well, which means a complete rifle with a fully modular conversion system, will be available in the future.