by
posted on March 10, 2015
Support NRA American Rifleman
DONATE
It was in the early 1990s when TNW Firearms, Inc., now based in Vernonia, Ore., first opened up for business. The company has made a name for itself by producing historically faithful semi-automatic versions of World War II era machine guns. Their classic rifle offerings, including the Finnish Suomi M31 SA, German MG 34, and Browning M2 incorporate in-house manufactured parts with as many original components as possible.   
In 2012, TNW launched its own semi-automatic rifle chambered for pistol cartridges called the ASR, which is short for Aero Survival Rifle. Originally intended as a lightweight survival tool for downed bush pilots, the ASR is a take-down rifle that quickly disassembles to fit into backpack. Thanks to a modular design, the rifle is caliber convertible to 9 mm, .40 S&W, and .45 ACP. Ammunition is fed using plentiful and easy to find Glock factory pistol magazines. Since its release, the ASR has proven to be a useful option for other outdoor applications, such as hiking, boating and camping. This year the company expanded the line by introducing the Aero Survival Pistol (ASP) in the same three calibers. This review takes a look at the 9 mm version. 
The ASP is a blowback operated semi-automatic pistol that borrows and blends ideas from classic and modern gun designs. The result is a pistol that is rugged, lightweight and constructed with as few moving parts as possible for greater reliability in harsh conditions. Like the ASR, the ASP's components are milled, laser cut or lathed from high-quality billet materials. 
The upper single-piece receiver has a tubular shape reminiscent of the M3 'Grease Gun' or STEN sub machine guns of World War II. It's milled from aircraft grade aluminum with an integral full-length M1913 Picatinny optics rail on top and dual left and right side ejection ports. The underside of the receiver, in front of the trigger guard, is drilled and tapped to accept a removable 3.50" accessory rail for mounting lights and lasers. Receiver color options include a hard anodized all-black, black/green, or black/pink variegated finish.
Located at the front end of the receiver is a 3.32" ventilated aluminum barrel nut. A few twists of this nut allow the Parkerized 4140 steel 8.00" barrel to be lifted out of the receiver. Although a quick-release barrel is not needed for packing the ASP (as it is with the rifle), it does play a role in quickly field stripping the pistol for cleaning.
At the rear of the receiver is an AR-15 buffer tube assembly. Instead of using a gas-impingement or gas piston system to cycle the action, the heavy steel bolt (weighing in at 1 lb. 1 oz.) is blown back against the buffer as each round is fired. A cylindrical charging handle is mounted on the right side of the receiver. Although the bolt does not lock open when the last shot in a magazine is fired, the bolt handle can be pulled back and tipped up into a notch in the receiver to lock the bolt in the open position. 
On the rifle version of this platform, the buffer tube supports an AR-style adjustable shoulder stock. But the ASP is legally classified as a pistol. This means it cannot legally be fitted with a shoulder stock without the proper tax stamps, so the buffer tube is wrapped in soft black foam and fitted with a milled end cap drilled to support a quick-release (QD) sling mount instead.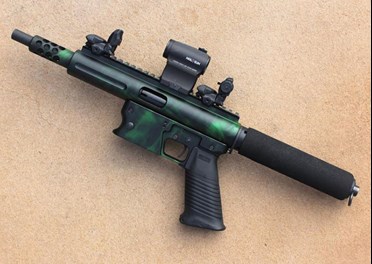 The ASP's lower receiver, which houses the fire control group, is milled from a single piece of aluminum like the upper. It's held in place by two AR-style takedown pins which are pressed out from left to right, using a punch or a bullet tip, in order to separate the lower for routine cleaning or to swap out the caliber-conversion components. A round-button magazine release is located on the left side of the receiver in front of the magazine well and a cross-bolt safety button is located above the trigger housing. The narrow, single-stage trigger had a 0.25" arch of travel and broke cleanly with 4 lbs. 7 ozs. of trigger pull. 
This pistol accepts interchangeable AR-15 grips and ships with a Tapco SAW style grip installed. It arrives from the factory ready to shoot with a set of functional polymer AR-15 folding sights, a QD sling swivel attached to the buffer tube, and one Glock magazine.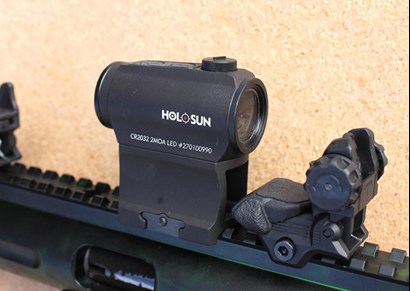 Formal accuracy testing consisted of bench-rested 25-yard groups with an affordably priced Holosun HS403A red dot scope. This particular scope seems like a great fit because it has a simple, rugged design like the pistol. Thanks to the 1.25" see-through base provided with the optic, it could be co-witnessed with the removable AR-15 sights. Every variety of ammunition tested ran without a hitch and all of the Glock 9 mm magazines tested, from the stubby 10-round G26 model all the way up to the extended factory 33-round stick, locked and rocked flawlessly. 
The bench-rest accuracy results were both satisfying and unusual, statistically speaking. In most test cases there's a particular ammunition brand or bullet weight that outshines the rest. However, when it came to the ASP, the groups were not only tight for a semi-auto pistol, they were also nearly identical in size. Remington UMC 115-gr. jacketed hollow points provided the best single group of the test at 1.05" with a five-group average of 1.27". HPR HyperClean 124-gr. jacketed hollow points yielded a best single group of 1.06" with an average of 1.28". Winchester's "T" Train 147-gr. full-metal jacket load is a practice grade round designed to imitate the performance of the 'D' Defend 147-gr. jacketed hollow point. The two rounds' performance was essentially the same with averages of 1.29" and 1.28" respectively. 
It seems likely that conducting additional accuracy testing with the ASP at 50 or 100 yards would result in greater disparity of ammunition group sizes. At the same time, there's no reason to complain about consistently tight groups at 25-yards with a variety of bullet weights.
During off hand shooting drills, the ASP proved to be a well balanced handgun, especially for a rifle-action pistol. AR-15, AK-47 and lever-action variants often demonstrate an appreciable amount of muzzle heaviness due to large magazines, bulky receivers and long barrels that all hang out well in front of the grip and trigger guard. I planned on using a single-point sling to support the ASP. However, it turned out that the pistol didn't need a sling when using a two-handed hold on the pistol grip. Thanks to the low weight of the aluminum receiver, the lighter Glock pistol magazine, and the pound-of-steel bolt resting directly above the trigger group, the ASP balances like a good big-bore revolver. 
Overall, the American-made TNW 9 mm Aero Survival Pistol proved to be a fun and accurate pistol to shoot. The fit and finish were excellent and it was utterly reliable with every kind of ammunition it was fed. The design is simple, reliable, lightweight and yields a modest level of felt recoil with 9 mm ammunition. This pistol will certainly fill the outdoor survival roll it was intended for. It will also serve nicely as a target shooting and Glock-compatible home-defense option. Threaded barrel options and caliber-conversion kits are currently available. 
Technical Specifications
Manufacturer: TNW Firearms, Inc.
Model: Aero Survival Pistol (ASP)
Action: Blowback Operated Semi-Automatic
Caliber: 9 mm 
Receivers: Hard Anodized Aircraft-Grade Aluminum
Receiver Finish: Hard Anodized Variegated Green & Black
Barrel: 8.00", 4140 Chromoly Steel
Grip: Tapco AR SAW Style Pistol Grip
Sights: Removable AR-15 Flip-Up Type
Barrel Length: 6.50"
Overall Length: 18.50"
Weight: 5.50 lbs.
Capacity: 17+1 lbs.
Twist: 1:10" RH
Rifle Grooves: Six  
Accessories: AR Flip-Up Sights, Removable Accessory Rail, QD Sling Swivel, One Glock Magazine, Owner's Manual
MSRP: $799
Caliber Conversion Kits: $205 - $450