Support NRA American Rifleman
DONATE
With autumn's chill in the air and the leaves beginning to fall, it was time once again for the National Association of Sporting Goods Wholesalers (NASGW) to host its annual meetings and trade show. This year, attendees traveled to Pittsburgh, Pa., to get a glimpse of the firearms slated to arrive at the end of this year and into 2019. Along with a solid selection of new additions to existing product lines, there were also new options we haven't seen before. The popularity of short-barreled, non-NFA 12-ga. pump action firearms, including Mossberg's 590 Shockwave and Remington's 870 Tac-14 introduced in 2017, has sent ripples through the industry resulting in a hard to miss theme for 2019. Here is a look at the guns companies are planning to ship in the coming months:
American Tactical Inc. MilSport .410 Bore AR Shotgun


A few years ago American Tactical Inc. launched the Omni Hybrid Maxx 18.5" barrel AR-15 pattern .410 bore semi-auto shotgun built around the company's mixed materials polymer and aluminum receivers. This year the .410 bore lineup will be growing with the addition of the MilSport .410, featuring a stainless steel barrel, a set of forged aluminum receivers, a 13" Keymod handguard and a 6-position shoulder stock. Like the Omni Hybrid version, the MilSport's upper receiver and 5-round magazines are compatible with other Mil-Spec AR-15 lowers. Complete MilSport shotguns will have a suggested retail price of $719.95. Caliber conversion upper kits will also be available.
Anderson Manufacturing Easy Build AR-15 Components
Building ARs at home is an enjoyable hobby but it comes with some challenges. Lining up the gas block to the barrel's gas port can be tricky while getting the twist of the handguard and muzzle device just right can be quite frustrating. Anderson Manufacturing simplifies the build process with three new features. The HT (Hold Tight) gas block system uses a barrel nut and alignment notch to ensure the gas block is always properly positioned. The QL (Quad Lok) hand guard system does not rely on the position of the barrel nut to align the hand guard with the upper receiver. Instead, the QL base coupler provides four connection points that line up with the receiver without any guesswork required. The AMD (Advanced Muzzle Device) system is much like that of the AK platform. A spring loaded pin can be depressed to allow muzzle devices to twist on and off of the barrel without the need for tools. These features will be available for a variety of calibers.
Black Aces Tactical Pro Series Semi-Auto 12-ga.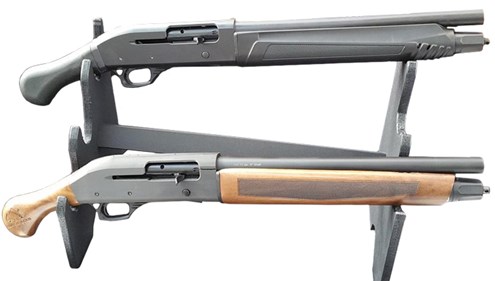 With the Shockwave type pump-action 12-ga. driving so much market share, Black Aces Tactical has decided to up the ante with a new, in-house Shockwave Tactical Pro Series semi-automatic 12-ga., which will be available with synthetic (top) and walnut (bottom) furniture. Fitted with a 14" barrel and an overall length of 26.5", it features a 6061 T6 aluminum receiver, 4+1 ammunition capacity and it will cycle heavy and light loads. Pricing for these new Black Aces options are quite reasonable with the synthetic listed at a suggested retail of $449 and the walnut version at $574.
Bond Arms "Long-Slide" Bullpup 9mm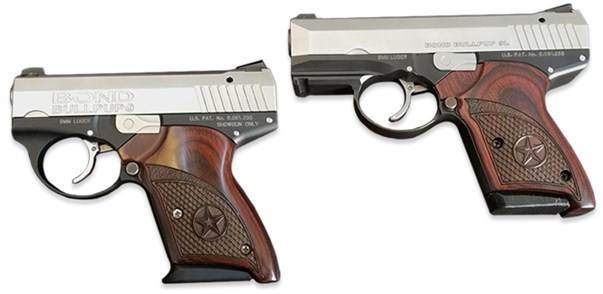 Bond Arms has several exciting projects currently in the works that will take the company's product lines in new and unexpected directions. However, the only one I can tell you about right now is the new "long slide" 9mm Bullpup semi-automatic pistol. I should say a "longer" slide since it will still be easy to conceal at 4.2" long (top) instead of 3.35″ like the current model (bottom). Customer requests have led to the reduction of the bill board sized 'Bond Bullpup' engraving on the slide to a much less intrusive size.
Charter Arms .380 ACP 6-shot Pitbull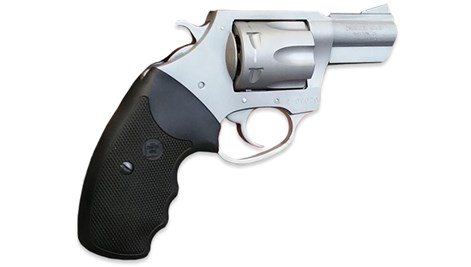 This year Charter Arms will be expanding the company's Pitbull revolver line up with the addition of an uncommon .380 ACP option. Unlike the 5-shot 9 mm version, this new stainless steel double-action revolver is built on the company's Large frame in order to accommodate a sixth shot in the cylinder. A dual coil spring assembly located in the extractor allows spent shell casings to be ejected without the need for a full moon clip. Other features include a hand filling rubber grip, fixed sights and a spurred hammer for single-action fire. The Pitbull is also available chambered in .45 ACP and .40 S&W.
Chiappa Firearms Honcho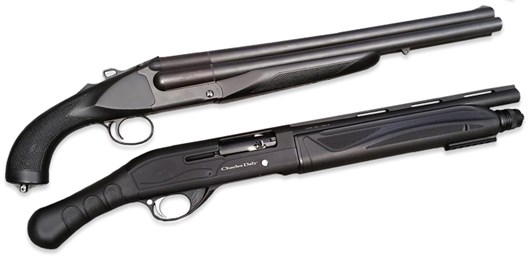 Few companies have diversified their 14" barrel non-NFA shotshell firing firearms with as much enthusiasm as Chiappa Firearms. Last year the company was offering pump-action models in 12-ga. and 20-ga. and was, to the best of my knowledge, the first to market with a .410 bore option. This year the company is expanding the Honcho line up with the 18.5" barrel Tactical Triple 12-ga. (top) and the 14" barrel Tactical semi-auto 12-ga. (bottom). The Honcho will also be available in a pump configured to feed from a removable 5-round box magazine.
DoubleStar Corp. Zero Carbine


Celebrating 40-years in business, DoubleStar Corp. aims to balance weight, accuracy and durability in the recently announced Zero Carbine AR-15 chambered in 5.56/.223. The premium 16" 1:8" twist heavy barrel is topped with an Alpha Compensator for flatter shooting. The slim profile Cloak hand guard features plenty of ventilation with M-Lok accessory slots. Other features include a rubber over-molded Ergo pistol grip, flat-top upper receiver and a rugged SOCOM shoulder stock. Suggested retail for the Zero is $1479.99
FoldAR .300 BLK Double Pistol

The brand new FoldAR product line strives to provide the most compact AR-15 line-up available. The model that caught my eye was the 300 BLK double-fold pistol (shown) which collapses down to an overall length of 10.75" thanks to the company's proprietary folding upper system and the Dead Foot Arms folding pistol brace. Unlike the AR uppers that split completely in half, the gas tube is not exposed with the FoldAR configuration. The recoil assembly is similarly enclosed, which means the platform can be fired with the stock folded. Single-fold pistols and carbines (barrel only) will have a suggested retail of $1495. The double fold models will be $1945. Complete uppers for $850 will also be available.
Full Conceal M3D and CAA USA Dual Folding 9mm pistol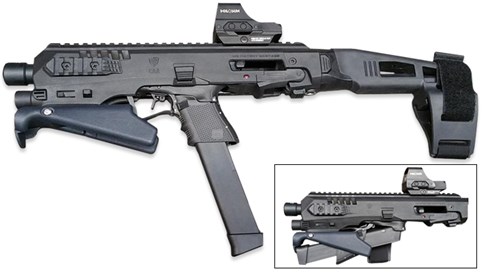 Full Conceal and CAA USA are teaming up to offer a dual folding pistol unlike anything you've seen before. Full Conceal's M3D pistol is a Gen4 Glock G19 with a cut frame and modified trigger that allows the grip, trigger and trigger guard to fold so that this duty-size pistol can be carried in a pants pocket. The CAA USA Viper stabilizer pistol conversion kit provides a framework for the attachment of optics, accessory rails and a folding wrist brace extension. With the M3D's grip and the Viper's stock folded, the pistol becomes a compact, easy to carry package which can be deployed in seconds. The pistol can be quickly and easily installed or removed from the Viper stabilizer in the field. These companies will be offering complete packages or individual components in order to fit their customers' needs. Suggested retail has yet to be announced.
Magnum Research, Inc. 429 DE Cartridge and Pistol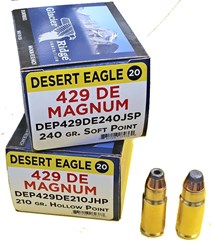 Anyone who has pulled the trigger of a Magnum Research, Inc. Desert Eagle chambered in .50 Action Express (.50 AE) is unlikely to forget the experience. It's a massive semi-automatic pistol pushing a good deal of lead down range. This year the company is launching (literally) a new proprietary cartridge designed specifically for the Desert Eagle called the 429 DE. This round consists of a .50 AE cartridge case necked down to .429 caliber, which is the same size slug fired by the famous .44 Mag. revolver. The first two loads are being manufactured by HSM for distribution by Magnum research. The 240-gr. soft point load leaves the barrel at a listed velocity of 1600 fps. for a muzzle energy of 1364-ft.-lbs. while the 210-gr. hollow point flies right along at 1700-fps. for 1347-ft.-lbs. of energy. The 6" stainless steel Desert Eagle chambered in this new load is in the process of being assembled and both the gun and ammunition are slated to start shipping soon.
Mossberg Retrograde Shotgun Series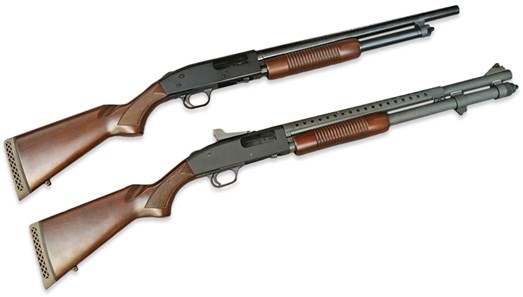 Mossberg takes us back in time with new 12-ga. pump-actions featuring classic dark walnut shoulder stocks and "corncob" style ribbed walnut fore-ends. The Retrograde Persuader (top) is reminiscent of the riot guns used by law enforcement personnel before the advent of hi-impact polymer stocks while the Retrograde 590A1 takes its cues from the trench guns used during World War II. Despite their historical appearance, both models are fully modern firearms that arrive ready to be put to work as defensive tools. We'll also see a 1960s era retro hardwood treatment applied to the popular 590 Shockwave firearm, which will be called the Nightstick. A leather hand strap will replace the nylon strap currently installed on the synthetic stock models.        
Nemo Arms Monark 9mm Pistol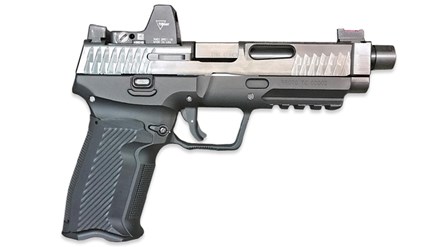 Up until now Nemo Arms has been a rifle company focused on high-end precision chassis and AR pattern rifles. For 2019, Nemo will be introducing its proprietary striker-fired Monark 9 mm pistol. This full-size semi-automatic features a weight-reduced stainless-steel slide with a mini red-dot-sight adapter plate system, a checkered milled-billet aluminum frame and interchangeable backstraps. The milled aluminum trigger is outfitted with a drop safety, milled trigger bar and an over travel adjustment. Customers will be able to choose from plain or threaded barrels with low profile or tall (sound suppressor) sights. Other features include an ambidextrous slide catch, right or left hand magazine release and a milled in accessory rail. Magazine capacities will range from 10 to 32 rounds.
Radical Firearms Light Weight RF-10 Rifle

The semi-automatic AR-10 chambered in .308 Win. is a flexible and powerful platform for hunting, competition and self defense. It's also noticeably heavier than the AR-15. For folks with a smaller stature (like me) the AR-10 can be a bit unwieldy or feel a bit too heavy to lug in the field all day. Radical Firearms has put the AR-10 on a diet with the new 7.5 lb. RF-10. The medium contour 18" 4150V Match barrel features 1:10" twist rifling with 5/8x24 TPI muzzle threading. Both receivers are trimmed down milled billet models. The rifle is outfitted with Mission First Tactical's Minimalist furniture. The suggested retail price for this factory complete rifle, which will also be available in 6.5 Creedmoor, is $1049.95.
Remington V3 TAC-13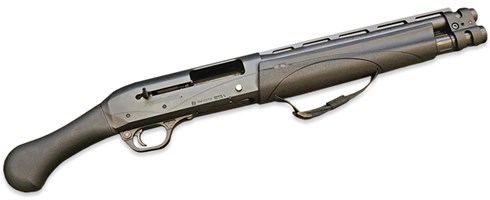 Remington expands its line of short-barrel 12-ga. non-NFA firearms with the arrival of the V3 TAC-13 semi-automatic. This new model has a 13" barrel, Raptor grip, a black oxide finish, measures 26.5" in overall length and boasts a 5-round capacity. The V3 is outfitted with the proven VersaPort gas system which reliably feeds and ejects a wide variety of 12-ga. ammunition ranging from light field loads to full-power hunting, buckshot and slug loads. The mass of the semi-automatic bolt cycling works to mitigate felt recoil resulting in a softer shooting platform than the pump-action models. Unlike some of the more basic semi-automatics arriving this year, the V3 ships with a vented rib barrel, a front bead sight and a barrel clamp which supports accessory rails for laser and light modules. The suggested retail for this semi-auto is $915.
Standard Mfg. Co. SKO Mini 12-ga.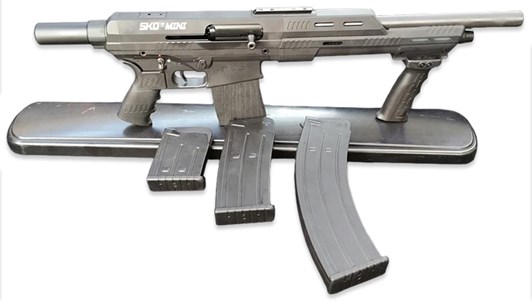 Standard Mfg. Co. has trimmed down its removable box magazine fed, gas operated SKO semi-auto 12-ga. to make the new SKO Mini. The result is a handy scatter gun that can be reloaded more quickly than its tube-fed compatriots using 2-,5- and 10-round magazines or a 25-round drum. Featuring AR pattern controls, the SKO's receivers are machined from 7075 aircraft grade aluminum and treated with a Mil-Spec hard anodized finish. The muzzle is threaded to accept a variety of choke tubes and accessories. A nice touch not found on the other non-NFA models currently entering the market is a vertical foregrip paired with the vertical pistol grip for added control. Priced at $699, Standard Manufacturing is taking orders for the SKO Mini now.
Tactical Solutions Pac-Lite IV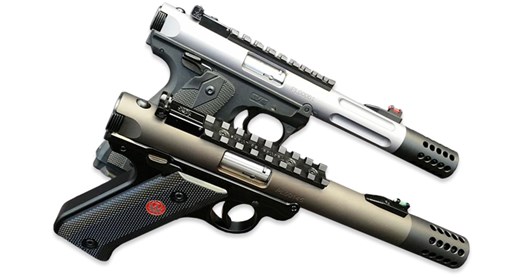 Tactical Solution's reduced weight Pac-Lite barrel assemblies for Ruger .22 semi-automatic pistols are an upgrade that rimfire enthusiasts have enjoyed shooting and carrying in the field for quite some time. In keeping up with Ruger's latest Mark IV models, the new Pac-Lite IV barrel assembly offers the fully adjustable rear sight, ramped target front sight, threaded muzzle, 11-degree muzzle crown and fluted aluminum housing as previous models. A durable stainless steel pivot and breech face ensures years of reliable use. Also keep an eye out for the new X-Ring TD VR takedown rifle which offers an ambidextrous charging handle.
Traditions Performance Firearms 300 BLK Outfitter G2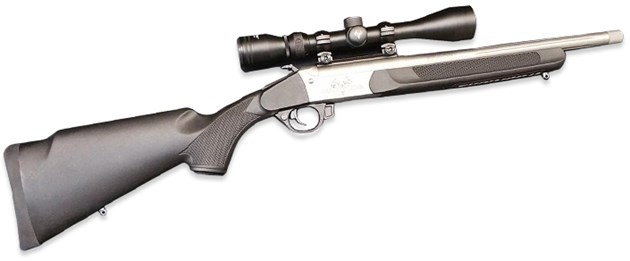 Folks who follow my write-ups on this website know that I like to talk about
survival
and
backpack rifles
. That's why I had to stop and pick up
Traditions Performance Firearms
new compact Outfitter G2 single-shot, break-action rifle. The G2's fluted 22" barrel has been shortened to 16.5" and the muzzle threaded to accept various devices including flash hiders and sound suppressors. The polymer furniture is light weight and the finish weather resistant. The fore-end is fitted with a release lever that allows the barrel to be separated from the receiver to make it even more compact for easy storage. Chambered in 300 BLK, which offers ballistic performance in the same wheel house as the .30-30 Win. and 7.62x39mm, it makes an ideal beginner's deer gun, a subsistence rifle or a serviceable defensive tool in a pinch. Like its larger compatriots, this G2's barrel is drilled and tapped for optics. Install your own base, rings and scope or order the rifle with a complete optics package pre-installed and boresighted at the factory. Suggested retail prices start at $449.
Tristar Firearms TT-15 Field Over-Under

Tristar Firearms will be offering the handy and handsome TT-15 Field over-under shotguns this year with 28" barrels chambered in 12-ga., 20-ga., 28-ga. and .410 Bore. The engraved receivers are complemented by oil finished Turkish Walnut furniture. Bright fiber optic sights make getting on target easy while extended, color-coded chokes allow for quick trade-outs in the field. Other features include automatic ejectors, a single selective safety and suggested retail prices starting at $840. The TT-15s will start shipping early in 2019.
Walther Arms American Made PPK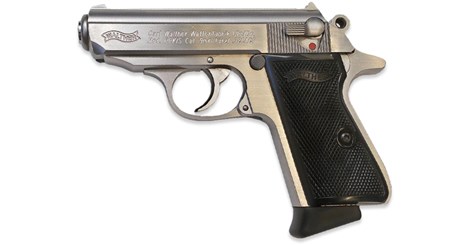 Walther Arms is another company with some slick new models on the way that we can't talk about just yet. In the mean time, we wanted to let folks know that the company is now manufacturing the iconic PPK .380 ACP semi-auto pistol of James Bond fame wholly here in the United States. The pistol, available in blued and stainless steel finishes, is manufactured right here at the company's Fort Smith, Ark., facility. Now you don't have to send your dollars over seas to be an international man of mystery.
Weatherby, Inc.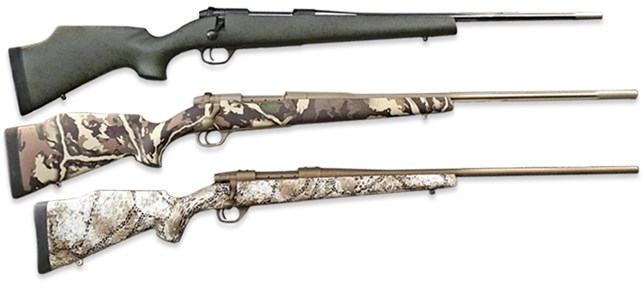 Serious bolt-action hunting enthusiasts continue to look to Weatherby, Inc. for high quality rifles tricked out with the features they need. I whittled down more than a half dozen 2019 offerings to the three models shown here. Designed for women by women, the Mark V Camilla Ultra Lightweight (top) is fitted with a composite, Monte Carlo stock featuring a shorter length of pull, optimal grip angle and contouring throughout designed to better fit the female form. Other features include a full-length aluminum beading block, Pachmayr Decelerator recoil pad and a fluted 24" stainless steel barrel. The five caliber options range from .240 WBY. Mag. to .30-06 Sprg. for a suggested retail of $2,300.
The Mark V First Lite (middle) ships with a hand-laid, raised comb composite stock treated with a First Lite Fusion camouflage finish. A non-reflective Flat Dark Earth Cerakote finish is applied to the receiver and fluted #3 contour barrel. Other features include a recessed target crown, LXX trigger group and the company's Sub-MOA accuracy guarantee. The six caliber options include .257 WBY. Mag., 6.5-300 WBY. MAG. and .300 WBY. MAG. with a suggested retail price of $2,600 - $3100.
For those looking for Weatherby quality at a lower price, consider the Vanguard Badlands (bottom). This is the first production rifle to ship with the popular Badlands Approach camouflage applied to the textured polymer Monte Carlo stock. The receiver and barrel are treated in a complementary Burnt Bronze Cerakote finish. The #2 contour barrel is available in 24" and 26" lengths with six calibers available including .25-06 Rem., 6.5 Creedmoor and 7mm-08 Rem. This model has a suggested retail of $849.
Winchester Repeating Arms

Count on Winchester Repeating Arms to keep shooting enthusiasts happy in the field or at SASS shooting competitions. The 3-½" chamber 12-ga. pump-action SXP Hybrid Hunter (top) sports a non-glare Perma-Cote FDE finish applied to receiver and barrel. The synthetic furniture features textured gripping surfaces, full coverage True Timber Strata camouflage and a rubber recoil pad for the shoulder stock. Choose from 26" or 28" barrels with TRUGLO fiber-optic front sights along with hard chromed chambers and bores. Retail price is just $439.99
Fans of the historical Model 1892 (bottom) will be able to wrap their mitts around a new version of this classic saddle gun with an authentic large loop lever. The straight grip walnut stock sports a satin oil finish. Don't look for any brass, aluminum or polymer on this gun because you won't find any. All of the major components and fittings, including the receiver, barrel, lever, barrel band and carbine strap butt plate are all formed from richly blued carbon steel. Caliber options include 45 Colt, .44-40 Win., .44 Rem Mag. and .357 Mag., any of which can be had for the suggested retail price of $1,259.99.
Windham Weaponry 9mm PCC Carbine and Pistol

Up until now, the only 9 mm AR option available from Windham Weaponry was a caliber-conversion option included in the RMCS-4 Multi-CaliberRifle Kit which uses a Colt magazine. That's about to change. Windham is just beginning to manufacture two new blowback-operated 9 mm pistol-caliber AR-15s that accept Glock pistol magazines, including a carbine (shown) and a pistol platform. Both models will feature flat-top forged upper receivers, milled billet 7075 T6 aluminum lower receivers with integral trigger guards and M-Lok compatible handguards. The carbine ships with a 16" barrel and 6-position shoulder stock while the pistol will have a 9" barrel and an SB Tactical wrist brace. Both platforms will start shipping soon.