by
posted on April 3, 2017
Support NRA American Rifleman
DONATE
A while back, I wrote a piece called 9 Ways to Love the Gun You've Got. The editorial is a walkthrough of steps one can take to bring a so-so or disappointing gun up to snuff. The article you're reading today is evidence that gun writers take their own advice.
Several years ago, I picked up a used police model Remington 7615P pump-action rifle chambered in 5.56/.223 from a local cop shop. It had recently been retired from a department's arsenal in nearly new condition. I hadn't seen a pump gun like this one before and I was intrigued.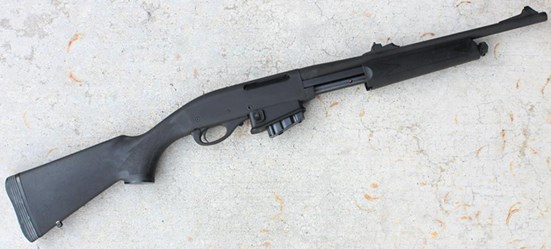 Remington has been making 7600 series sporting rifles that used the same pump action, receiver, and controls as the company's 870 Shotgun for some time. When the demand for .223 carbines increased around the turn of the 21st century, Remington introduced the synthetic-stocked 7615P, the P standing for Police Model and the 15 indicating a magazine well designed to accept AR-15 magazines.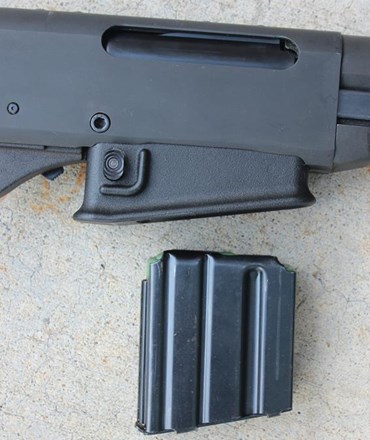 With handy carbines like the AR-15 and Mini-14 readily available, one might wonder what the appeal of a manually cycled .223 Rem. rifle might be. It was based on an utterly reliable and battle-proven action, it cost less than similarly sized semi-automatics (at that time), and it reduced training expenses for those officers who were already qualified with an 870 shotgun.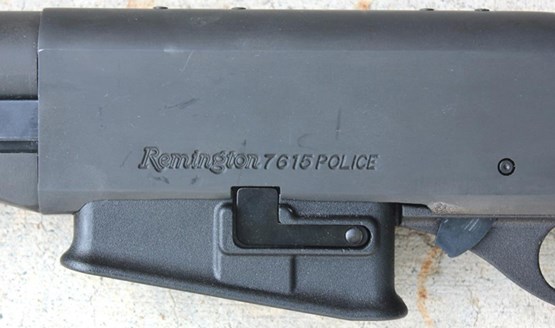 But just as semi-automatic pistols pushed many fine revolvers into early retirement, so too the semi-automatic carbine quickly supplanted pump rifles. However, just because a platform has lost a particular popularity contest doesn't mean it's a bad gun. In fact, trade-in and surplus guns are often some of the best deals on the market. In giving the rifle the once over, I could see its appeal. I learned to run scatterguns using a Remington 870, I didn't have a .223 carbine at the time, and the price was a temptingly low $299.99. So, I cobbled together the cash and took it home.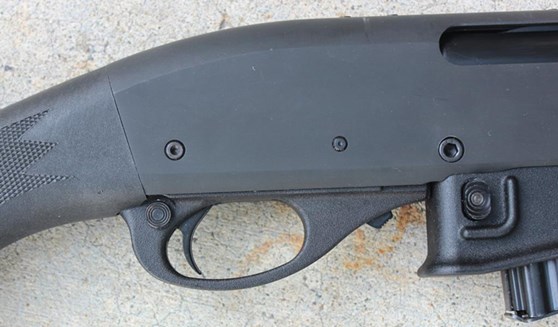 Unfortunately, my first trip to the range with the used 7615P would turn out to be my last for quite some time. The action, stocks and bore were in tip-top shape. The trigger was a little heavy, but smooth, and the pump cycled properly. The rifle fed, fired and ejected without any malfunctions using the factory 10-round magazine. Nevertheless, I couldn't hit a darn thing with it. The broad sides of barns were perfectly safe from this rifle even after burning through a couple of boxes of ammunition. Just to make sure I wasn't completely cross-eyed, I asked my brother to take the rifle out for a spin. His results were the same as mine. The hit ratio was somewhere between Imperial Stormtrooper and shooting-with-eyes-shut on the accuracy scale.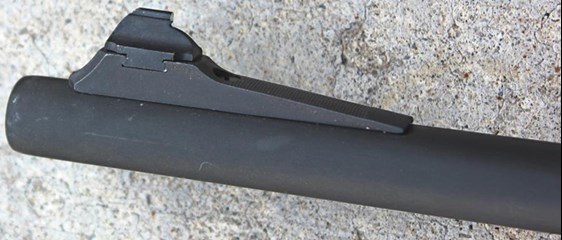 A closer inspection revealed that a previous custodian had completely wrecked the rear sight (and done a good job of hiding it). The rear sight slide had been hammered up the ramp of the rear sight base to something like the 300-yard mark without loosening the small slide retention screw. With the ramp stripped out on one side, the slide screw had then been tightened down with a power tool resulting in the screw head stripping out too. In other words, the iron sights were useless. I had the option of replacing the entire rear sight assembly, purchasing a scope base (the receiver was already drilled and tapped) so that I could attach an optic, or both.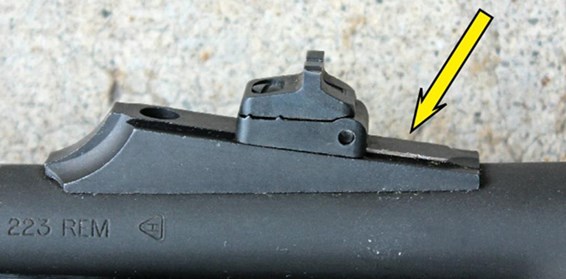 This frustrating range trip, along with my brother's confirmation of the rifle's lack of accuracy, left a bad taste in my mouth. The hit count was so bad that we both wondered if the rear sight might not be the only problem. What if the reason the rifle had such a low price tag was because it was actually a lemon? The shop had an as-is policy so I was stuck with it. Spending more on repairing the sights or buying a relatively expensive scope base just didn't seem like a good use of my limited resources at the time. Thus, the rifle was tucked away at the back of the safe along with its problems to be solved some other day. Time passed and the rifle waited, until now. 
When I pulled the dusty 7615P out of the safe several weeks ago for inspection, I decided the rifle was long overdue for the "love the guns you've got" treatment. It was time to bring the gun back on line or scrap it for parts. Having shot several other new and used rifles while this one was resting, my gut instincts said this gun deserved a second chance. After reviewing the list of nine possible "love it" steps, I picked five and went to work.

1. Give the gun a detailed cleaning.
When I first purchased the rifle years ago, it was given a quick once over before going to the range. The bore looked clean and free of obstructions and the action was cycling smoothly so it seemed ready to shoot. This go-round, I took the time to completely strip the rifle all the way down and examined, cleaned, and lubricated as needed. A deep clean is a good idea for any used gun but it is even more important when it's giving you trouble of some kind. In this case, I didn't find any kind of internal damage. In fact, the interior was exceptionally clean and free of wear.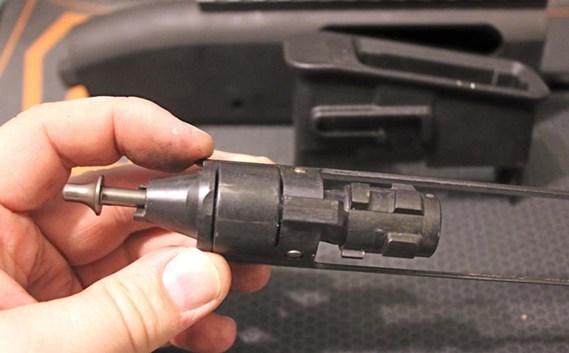 To save time, I lined up all the upgrades for the 7615P before breaking it down for its bath and verified the various installation procedures. This allowed all of the cleaning and new bits installation to be conducted in a single session. This turned out to be a good plan since this particular rifle is not as easy to take apart and reassemble as some models.

2. Swap out the stock or grip.
One of the reasons this old 7615P has remained out of service for so long is that I'm lucky enough to live in a state that allows its citizens to enjoy shooting semi-automatic modern sporting rifles (MSRs) with standard capacity magazines and all the various accessories installed. In short, since I have the option, a semi-automatic just makes more sense for various applications, including target shooting and self-defense.
However, pump guns are still a great option for use in the field, around the ranch, and for hunting. Much like a bolt-action hunting rifle, pump rifle bolts lock up tightly in place for each shot, which can contribute to improved accuracy. That's why I decided to take this rifle back to its sporting roots by replacing the polymer combat stocks with a set of fine wood stocks intended for hunting. 
Boyds Hardwood Gunstocks provides custom stock options for a variety of long guns including the Remington 7600 series pumps. The company's laminated hardwood Remington 7600 Sterling Thumbhole Stock ($65) features a comfortable grip, raised comb, rubber recoil pad, a sling swivel stud, and all the hardware needed to install it. The use of a thumbhole stock, along with the pump action and plain muzzle make this (to the best of my knowledge) a 50-states legal gun. The matching Boyds Remington 7600 Takedown Forend ($49) is sold separately. Each set of stocks is made to order, so I requested a satin water-resistant finish and laser-engraved grip checkering for an additional $25 for each piece.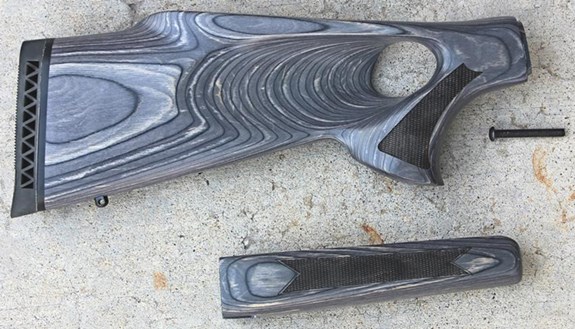 Because these stocks are made of natural substances instead of molded polymer, they required some minor fitting for proper installation. In this case, the work was minor. The joint where the shoulder stock meets the receiver needed to be lightly trimmed with a sharp utility knife to fit snuggly in place. The fore-end proved to be .65" longer than the factory polymer fore-end, resulting in it bumping into the receiver. All I did was use the same utility knife to trim a bit of wood off each side of the receiver well. No sanding was required in either case.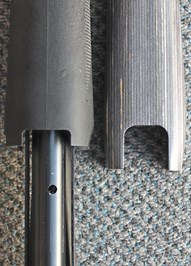 Installing the Boyds stocks increased the length of pull from 13" to 14.25" and added about 10 oz. of weight. Since most of that added weight is back near the shoulder, it serves to improve the rifle's balance. Not only is this stock system tough, useful and carefully crafted, it gives the rifle the handsome hunting-gun profile I was looking for.

3. Upgrade the sighting system.
This was the most obvious fix on the list since the damaged rear sight and the lack of a scope base led to this rifle being shelved all those years ago. I went straight to the Brownells online catalog and wasn't disappointed. A complete Remington factory rear sight assembly (767-103-145WB) was available for $42.99. It should be noted that this sight does not come with the mounting screws that attach it to the barrel, those are sold separately.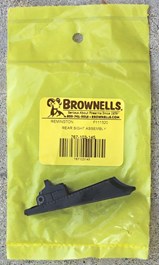 While iron sights are great to have on a hunting rifle as a backup, I knew I couldn't really test this rifle's potential without a good optic atop it. Brownells stocks a variety of high quality hardware manufactured by Warne Scope Mounts. The Warne Remington 700 Short Action Zero MOA Tactical Base (947-000-128WB) for $101.99 was a perfect fit with its one-piece solid steel construction, Picatinny compatible slots and a central groove which allows the iron sights to be used when the optic is removed.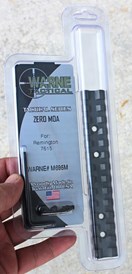 4. Trade out the trigger.
In this case, the trigger wasn't technically traded out, but a small part of it was. Timney Triggers offers what the company calls the Remington 870 Trigger Fix ($101.62), which is compatible with 7600 trigger groups. The kit includes an adjustable replacement for the factory sear, a tiny hex wrench for adjusting the sear, and three springs in different weights. The specifications say the red spring should be installed for a 2.5 to 3-lb. trigger pull, white for 2 to 2.5-lb. or blue for a 1.5-2-lb. trigger pull. Once a spring is installed, the pull weight can be fine tuned by adjusting the sear, which provides about a pound of adjustment.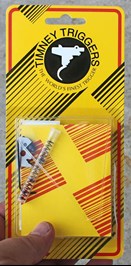 The 7615P's factory installed single-stage trigger had a smooth 5-lb. 3-oz. trigger pull with a short reset. Installing the Timney upgrade using the white spring, the trigger was tuned to a 3-lb. trigger pull with a much more crisp break that felt just right for use in the field.

5. Try different ammunition brands and bullet weights.
With the 7615P cleaned, lubricated, inspected and thoroughly bench checked after installing over $400 worth of upgrades, the moment of truth had arrived.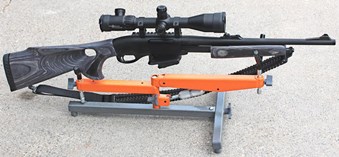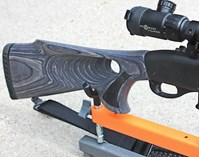 At the shooting range, the rifle was fitted with a Sightmark Core TX 3-12x44 DCR rifle scope with a .223/.308 BDC reticle and tucked into a Champion Targets Varminter Shooting Rest (40204). This minimalist rest was used because it provides plenty of support for sighting in and formal accuracy testing, while allowing free access to the thumbhole stock and pump-action fore-end. This rifle's receiver will accept a variety of mil-spec compatible AR-15 magazines, but I was content to work with the original factory magazine. Although I short stroked the pump a couple of times while getting the feel of this gun, there were no other malfunctions or ammunition related issues. The rifle was mechanically sound and utterly reliable with all of the ammunition tested.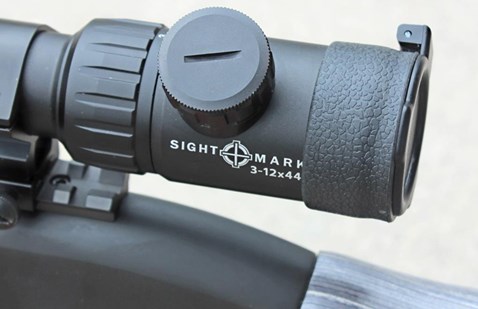 For the formal accuracy testing, three hunting loads that spanned the bullet weight spectrum were selected. The barrel features 6-groove rifling with a 1:9" twist rate, which is a good option for .223 Rem. loads with bullet weights ranging from 45 to 75 gr.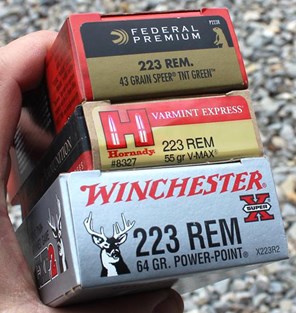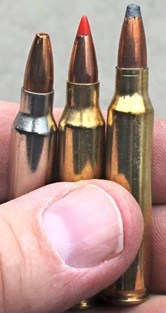 Technically, the all-copper hollow-point bullet of the Federal Premium V-Shok Speer TNT Green load was a little too light at 43 gr., but the rifle didn't seem to mind. This round produced a single best 5-shot group of 0.98" with a five-group average of 1.14". On the heavy end of the scale was the Winchester Super X 64-gr. Power Point soft point, which printed a best group of 1.38" with an average of 1.50". The best performer of the day was the middle-weight Hornady 55-gr. V-MAX ballistic tip with a best group of 0.84" (shown) and an average of 1.03".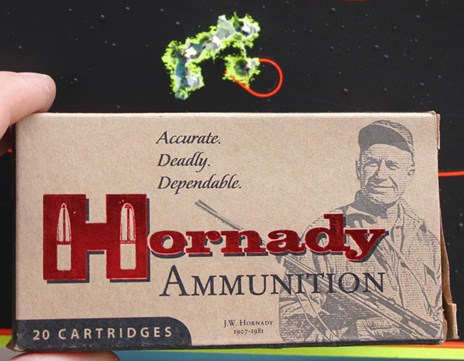 Parting Thoughts
The successful resuscitation of this 7615P pump rifle, which I once believed to be a lemon, has been a satisfying project. Now that it has a 3-lb. trigger pull, a much better looking stock, and the potential to print groups under an inch in size, I can't find any good reasons not to enjoy shooting this rifle on a much more regular basis.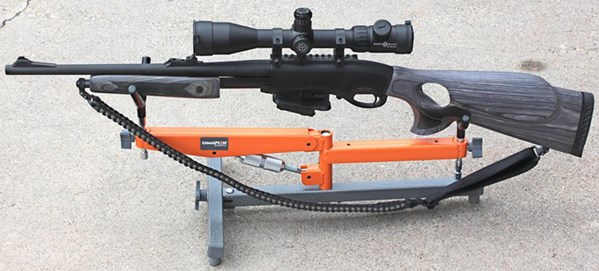 Some folks may say that pouring more time and about $430 into an "obsolete" platform was a waste when the same resources could have been used to assemble an affordable AR-15. Personally, I don't believe that pump-action rifles are obsolete. Like lever-actions and bolt-actions, they still have a home on the sporting side of the shooting bench. I agree that this rifle can't compete with the AR-15's modularity and semi-auto rate of fire. Nevertheless, the 7615p sports familiar pump-action controls, a reliable action, iron sights, scope rail and AR magazine compatibility, all of which make it a solid and useful platform. It has all the features needed for use as an emergency preparedness rifle.
If you have a used gun that's misbehaving or malfunctioning, the best place to start before buying any parts or making any modifications is a visit to a qualified gunsmith. Once a clear diagnosis of the issues is available, you'll have a much better idea of how to proceed.