by
posted on April 14, 2016
Support NRA American Rifleman
DONATE
This year Ruger has released the 10/22 Charger and 10/22 Charger Takedown pistol with sleek, tough polymer stocks.

The Charger (Model 4923, MSRP $309) has a fixed barrel while the Takedown version (Model 4924, MSRP $419) twists apart to make the pistol even easier to store.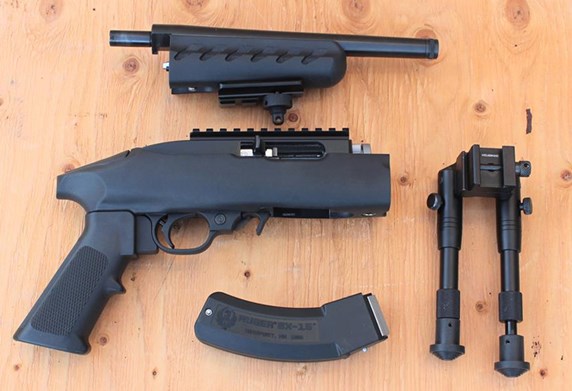 Both pistols have features that make them ideal for benchrest shooting, plinking and small-game hunting. These include a 10" long standard profile ½ x 28 TPI threaded barrel, a removable Picatinny-compatible optics rail, 15-round magazine and an extended magazine release lever. An adjustable UTG bi-pod is provided along with a removable A2 pistol grip which is easily replaced with a variety of AR-15 compatible grips.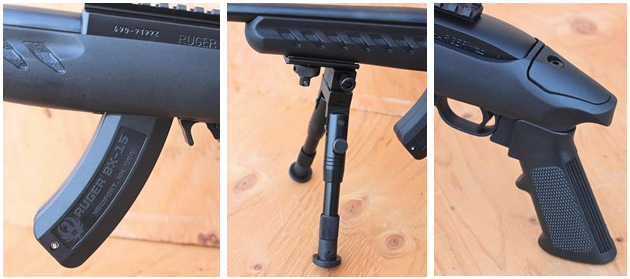 Just like the Ruger 10/22 carbines, the Chargers are modular pistols that are easily customized at home without the need for gunsmithing or permanent alterations to factory parts. Here are a few of the aftermarket upgrades I've had a chance to try that are well worth your consideration if you are looking to spruce up your Charger: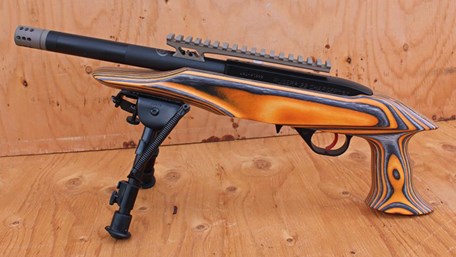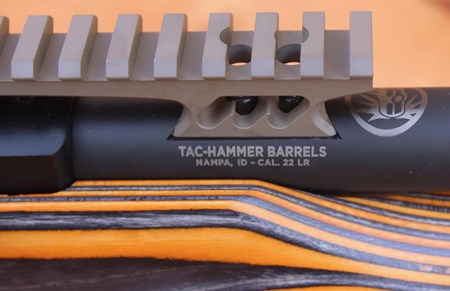 Adaptive Tactical Tac-Hammer Barrels
The Adaptive Tactical Tac-Hammer barrels are constructed using a rigid-core 4140 chromoly steel stepped barrel encased in a post-tension Cerakote coated 6061 aluminum shroud. This combination provides the performance of a 9" long Bentz chamber bull barrel for improved accuracy without the added weight of an all-steel model. The removable threaded compensator (½ x 28 TPI) and cantilevered 6.875" Picatinny optic rail are Cerakoted in a variety of matching colors, including the flat-dark earth option shown here. Tac-Hammer barrels are made in the USA for both Charger and Charger Takedown models. MSRP: $299.99
Boyds Custom Hardwood Stocks

For those who are looking to brighten up a drab pistol, Boyds Custom Hardwood Stocks offers their customers as much character as possible with their sturdy and colorful laminated gun stocks. The Charger version of the SS Evolution stock free floats both factory standard profile and .920" target barrels. The contoured grip is ideal for benchrest shooting and a rifle sling stud mounted in the fore-end makes it easy to attach a Harris-style bipod. Choose from Boyd's standard colors for $129 or select from the custom color options for $16.50 more. MSRP: $145.50
BLACKHAWK! Knoxx Axiom R/F Stock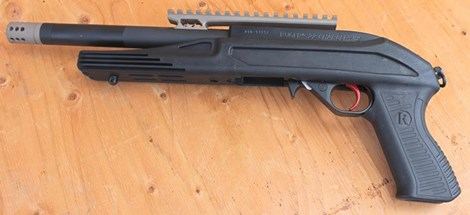 The polymer stocks shipping with the Charger pistols are well-designed but they have two limitations that might not fit your plans. First, the factory the stock only supports the tapering standard profile barrels, so the .920" bull barrel options will not fit. Second, there is no way to attach a single-point sling.
The BLACKHAWK! Knoxx Axiom R/F Charger stock is a handy alternative for folks who want to get this gun off of the bench and into the field. It's compact, light weight and affordably priced. The fore-end does not touch the barrel, so just about any barrel size or style can be installed.  At the rear of the stock is a port for the push-button detachable sling swivel provided with the stock. A front-mounted sling stud supports Harris-type bi-pods for those days you choose to work from a table top. MSRP: $50.95
Copper Basin Ruger 10/22 Low Profile Takedown Backpack
The Copper Basin backpack is one of the best fitting accessories for the unusually shaped Charger pistols that is currently available on the market. The first opportunity I had to work with this low-profile back-pack was in conjunction with a test of the Ruger 10/22 Takedown rifle. Inside is a large pocket especially designed to contain the receiver half of the Takedown rifle.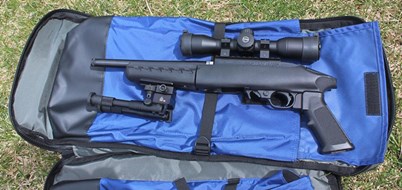 Here's the good news for Charger fans: That same pocket is just the right size for a factory-configured charger with a scope and the UTG bi-pod attached. You can just slip the whole pistol in without removing the accessories. What about the unused pocket intended for the barrel half of the Takedown rifle? Use it for rolled up paper targets, soda cans, or whatever else you would like to take to the range that will fit. The exterior colors, logo and configuration are those of an ordinary day pack. Mesh pouches, zippered pockets, and elastic tie downs provide cargo space for non-shooting items like binoculars, walking sticks and water bottles. MSRP: $99.99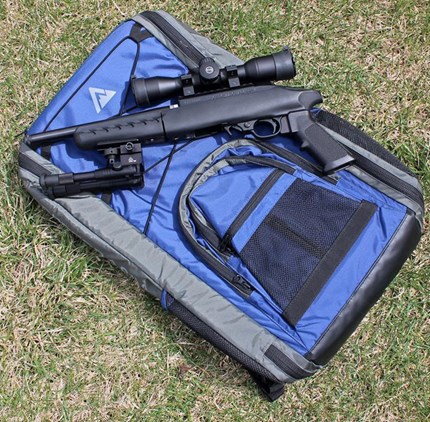 Green Mountain Charger Barrel with Fire Sights
Finding a barrel for the Ruger Charger that provides a set of iron sights is not easy to do. Most barrels are designed for optics only. But Green Mountain provides a top-notch solution with the Model 901823 bull barrel. This 10" long .920" diameter barrel is constructed of solid 416 stainless steel with six full-length flutes, a target crown and a modified Bentz chamber. It's button-rifled with six grooves at a 1:16" twist rate.The Williams Fire Sights provide a bright, easy to see sight picture with an orange fiber optic up front and two green fiber-optic dots in the adjustable rear sight.  MSRP: $178.95

Hexmag Advanced Tactical Grip
The Hexmag Advanced Tactical Grip features XTech Tactical's patented 3-position adjustment, allowing it to be installed at 17-, 25- and 33-degree angles to match your shooting style. Constructed from fiber reinforced polymer with the company's hexagonal texturing, this grip is available in black or flat dark earth. The grip's texture can be enhanced with the addition of Hexmag's proprietary stick-on Grip Tape. One sheet provides 46 precut hex shapes that fit right into the hex-shaped cavities of the grip and Hexmag magazines. Color options include black or gray. MSRP: Grip $27.99; Grip Tape $9.99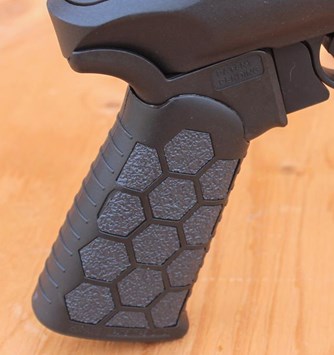 Kidd Innovative Designs
If you're serious about investing in a quality trigger for benchrest shooting, Kidd Innovative Designs offers some of the lightest trigger options on the market. The trigger pull weights for these units are separated by ounces of increase, not pounds. When ordering a two-stage trigger, like the model shown here, customers select the amount of pressure for each stage to be pre-set at the factory before the unit ships. Trigger weights start at an almost unbelievably light 3-oz./3-oz. pull (for benchrest shooting only) and move up to a still low weight of 2.5 lbs. total pull weight.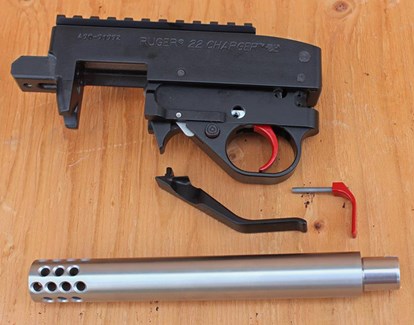 The two-stage trigger I requested for this review was pre-set at 12-oz./12-oz. which translated into 1 lb. 6 oz. of total trigger pull according to a Lyman digital trigger gauge. It is without doubt the lightest trigger I've ever used. But despite the light weight, the two-stage trigger travel provides just enough take-up to control the trigger swing so that the pistol does not go off unexpectedly. Kidd also offers interchangeable trigger blades, safety levers, and a 10" stainless steel bull barrel for Charger pistols.
By the way, the barrel doesn't have an integral muzzle brake, which is how it looks in the photo here. That is a threaded muzzle brake which is sold separately. The machining is so tight that the seam between the barrel and the brake is all but invisible. MSRP: Two-Stage Trigger Group $289.95;
Straight Trigger Blade $16.95; Interchangeable Magazine Release Levers: $15; Stainless Steel 10" Pistol Barrel $130; Stainless Steel .920" Muzzle Brake $45
Ruger BX Trigger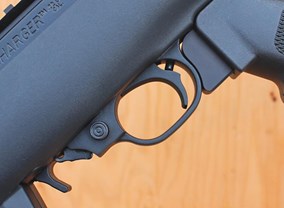 Released in December of 2014, the Ruger BX-Trigger continues to be one of the most affordable trigger upgrades available for 10/22 platforms. The BX unit (which is physically indistinguishable from a factory trigger once it's installed) arrives fully assembled in a polymer housing with a textured polymer trigger. Stock 10/22 triggers require about 6-pounds of trigger pull to cycle. The BX unit is listed as having a nominal trigger pull of 2 lbs. 12 oz. The unit I tested with the pistols was smooth with a clean break at 3-lbs. 4-oz of trigger pull. Because it's made by Ruger, plan on the trigger unit dropping in easily and running reliably. MSRP: $89.95
ATI Charger Takedown Stock System
The Charger Takedown is a specialized version of what is already a niche gun (benchrest, rifle-action pistols), so finding an aftermarket stock to fit it took some digging. The only company that offers a stock upgrade as of this writing is ATI, in conjunction with Ravenwood International.



The Ruger Charger Takedown AR-22 Pistol Stock System (Part #: A.2.10.2220) is designed to provide the outward appearance of an AR-15 pistol while preserving the controls and operations of a 10/22. The two halves of the polymer receiver cover fit around the 10/22 receiver to support an aluminum Picatinny rail and a T2 AR grip with a soft synthetic back strap designed to absorb felt recoil. The rounded aluminum handguard is also topped with a rail to provide a total of 15.5" of rail space for removable AR sights and optics. The handguard's spiked polymer nose cone will accommodate standard profile and .920" barrels.
ATI also offers a Charger model (Part #: A.2.10.2219) for the fixed barrel pistols with the same appearance and set of features.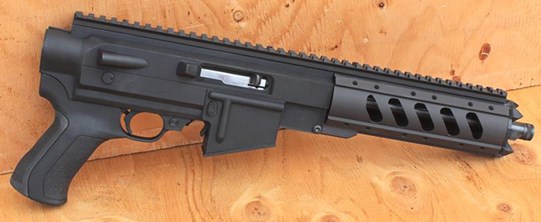 These stocks are manufactured in the USA and ship with a limited lifetime warranty. Pay attention to the model numbers and product descriptions when placing an order for these stocks to ensure you get the right one for your pistol. MSRP: $119.99 for either model
See All Sights
The See All sight system is the first of its kind in open-sight shooting technology. It's an open sight that allows the shooter to see both the target and the sight itself in clear focus, simultaneously. The standard model is designed to work with just about any rifle, shotgun or handgun with a Picatinny or Weaver rail. Shown here is the new compact Nite Pistol Site which is designed to shoot accurately out to 100 yards and is fitted with a Tritium illumination source for low-light situations. This version of the See All can be attached to most popular pistols using a dovetail mount or with a rail mount. These sights are designed, manufactured, assembled and packaged here in the United States. MSRP: Standard Model $98.95; Nite Sight $179.95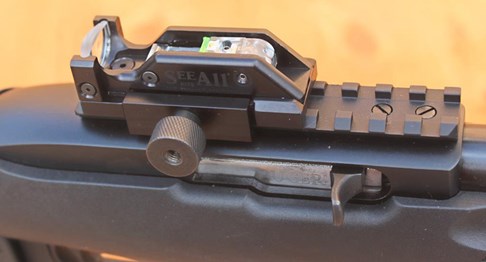 Stark Grips
If you are looking for an easy and inexpensive way to attach a single-point sling to the factory Charger or Charger Takedown stock, Stark has the answer. This company's AR rifle grip is the first and only grip to integrate an ambidextrous sling mount. Customers can choose from a hook-style loop mount (left) or a swivel mount that allows the attachment of push-button detachable sling swivels (not included).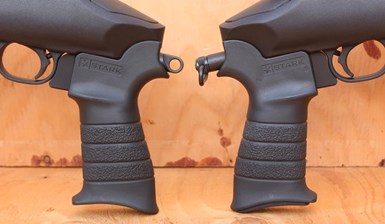 Stark grips are weather and chemical resistant, comfortably contoured and have a textured surface for a reliable grip. Color options include Black, Earth, OD Green and MultiCam (for an additional charge). The grip kit arrives with mounting hardware and a CR-123 battery storage plug (AA battery plugs are sold separately). MSRP: $34.95

Tactical Innovations 
Tactical Innovations provides a variety of 10/22 upgrades for enthusiasts who want to build a tack-driving target rifle from scratch or for those who just want to add a few touches to their Charger to make it stand out from the crowd. This company offers one of the few customized standard-profile Charger barrels I've been able to find. Shown here is the finned 8" long polished stainless steel model with a 1/2x28 TPI threaded muzzle (thread protector included). This particular barrel is 6 oz. lighter than the factory-installed barrel. If you want to get a better grip when cycling the action manually, try the CNC machined aluminum Fluted XL Charging Handle which arrives with a precision stainless steel guide rod and target grade recoil spring. Tactical Innovations also offers a combination flash hider/compensator for .920" barrels in several colors, including the silver finish shown here. MSRP: 8" Finned Stainless Barrel $114.99; Flutted XL Charging Handle $34.99; Muzzle Brake $22.99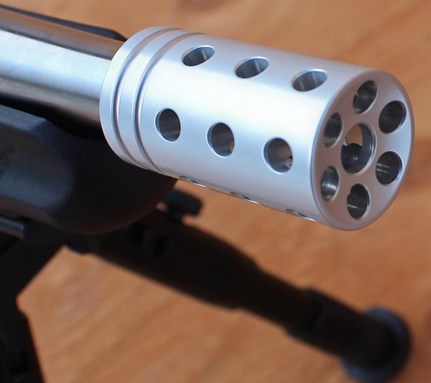 Timney Triggers
If you are looking for a top quality competition grade trigger group for your 10/22 platform, Timney Triggers is one of the first companies to keep in mind. The Timney 1022 trigger group series features a lightweight, 6061 T6 alloy housing which is hard anodized for superior durability. The trigger, sear, and hammer are wire EDM cut, heat treated steel. An extended aluminum magazine release curves around the trigger guard for easy, one finger operations. The unit tested with the pistols here feels like a single-stage trigger with an exceptionally smooth, short trigger stroke. It exhibited a crisp, clean break with 3-lbs. 1-oz. of trigger pull. These groups are fully self-contained, 100% drop-in units ready to install with no gunsmithing, fitting, or adjusting required. Timney offers silver and black housings with a choice of six trigger shoe colors, including the red shoe shown here. MSRP: $239.15