Support NRA American Rifleman
DONATE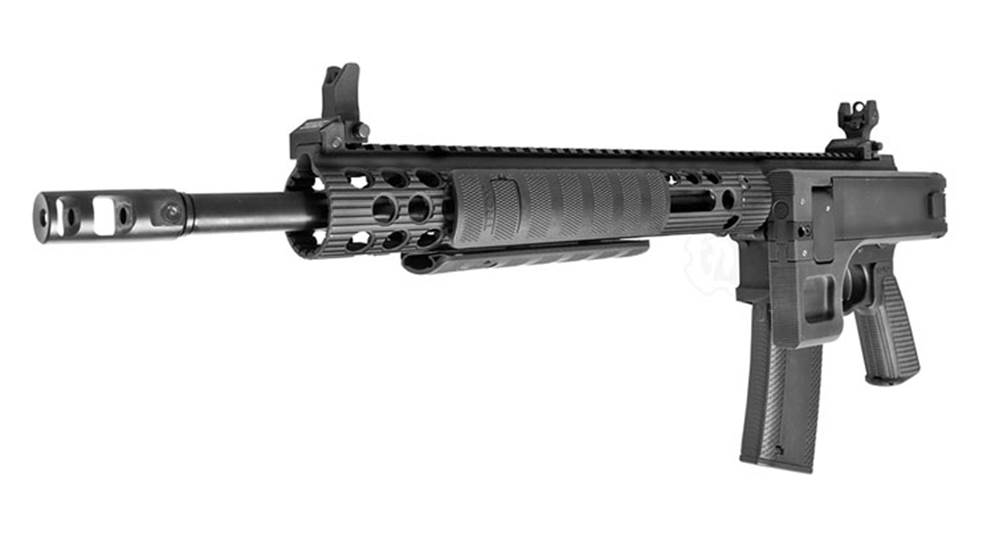 I remember a conversation in which a friend from Austria commented on Americans' strange tastes in food. Why would anyone want to eat a peanut butter (salty) and jelly (sweet) sandwich? The flavor combination just didn't make sense to him. It's interesting to me that I've seen the same face puckering reaction when describing the Troy 223 National to some folks. An AR-15 pattern rifle with a pump-action instead of a semi-auto action? How odd they say. But just as the personal discovery of new culinary delights calls for a spirit of adventure (not that a PB&J is all that adventurous), finding more ways to enjoy the shooting sports requires a willingness to try unfamiliar platforms.
It should be noted that the idea of mixing up calibers and action types in re-purposing firearms to fill a particular need is not a new one. Years ago, Remington released the 7615P pump-action .223 carbine specifically for use by law enforcement officers who had already qualified with Remington 870 shotguns. Because the layout of the 7615P is almost identical to the 870, the officers did not have to familiarize themselves with a new set of controls.
In the case of the Troy 223 National Sporting pump-action (referred to as the Sporting model for brevity), the company's goal was to produce a rifle as much like the popular AR-15 platform as possible while remaining legal to own anywhere in America. Right now several states have legislation in place banning the ownership of what they consider to be politically incorrect semi-automatic rifles. The laws often state that if a semi-automatic has a certain number of off-putting cosmetic features, like a collapsible stock, pistol grip, flash hider or removable magazine that holds more than 10 rounds, then the people of that state cannot own them.
Rifle manufacturers have worked to overcome these restrictions in different ways. In most cases, the rifle's action has been left unaltered while the exterior features have been removed or modified. The Sporting rifle takes an opposite approach. The internal semi-auto components have been traded out for a manually cycled action. This allows the external features to remain in place because the laws do not ban pump-actions with AR-type collapsing stocks, pistol grips, etc.

Troy's Sporting rifle should be considered a hybrid platform that provides much of the look and feel of the AR-15 but without as much modularity. The 16" standard profile Melonite finished barrel is chambered to safely fire both 5.56 NATO and .223 Rem. ammunition. The muzzle is threaded for accessories and arrives with a removable double chamber brake installed. The upper and lower receivers are milled from billet aluminum and treated with a Mil-Spec hard coat anodized finish. The flat top upper receiver is paired with a 13" tubular aluminum hand guard featuring a full length rail for a total of 20" worth of space f
or optics and sights. The rifle arrives with a set of Troy's excellent metallic folding adjustable Battle Sights installed.
The grip for the pump action is incorporated into the hand guard in the form of three covered accessory rails located in the 3 o'clock, 6 o'clock and 9 o'clock positions. The textured polymer covers provide a rounded gripping surface that's comfortable to work with. Any or all of the three covers can be removed to allow for lights, lasers, or vertical grips to be attached.
The Sporting rifles' controls are AR in nature, for the most part. The left-side safety selector, right-side magazine release, removable pistol grip and trigger group are all AR standard. There is no charging handle, forward assist or bolt catch lever because the pump action does all the work of moving cartridges in an out of the action. The release for the pump is a round button located under the trigger guard.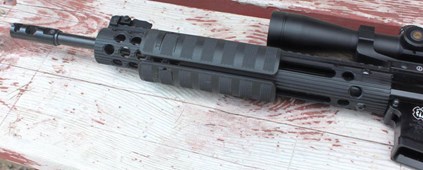 The factory trigger exhibited a typical AR feel with a 6 lbs. 11 ozs. trigger pull. The Troy BattleAx Control Grip has an access panel along its base to allow the grip to be used for storage. Right and left side QD sling swivel mounting ports are milled into the lower receiver just above the grip. This rifle ships with a 10-round magazine but it will accept standard AR magazines of various sizes. For this evaluation, ammunition was fed into the Sporting rifle using a set of Troy's 30-round polymer BattleMags.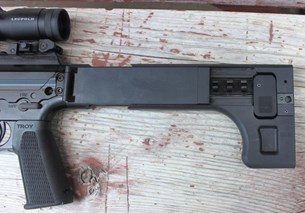 A unique feature of the Sporting rifle is its flat 5-position shoulder stock. Only 0.85" wide, the squared-off aluminum and polymer stock has an oblong button near the butt plate that allows the length of pull (LOP) to be adjusted from 11.25" to 13.75". Since there is no buffer assembly to keep the stock in a fixed position, a hinge is installed so it can fold to either the left or right side of the receiver where it is locked in place by a small knob. If you prefer a traditional 6-postion stock, Troy offers an adapter.
Field stripping the Sporting rifle for cleaning and maintenance is easy to accomplish. Af
ter verifying the gun is completely unloaded and the magazine is removed, depress the rear takedown pin to open the action just as you would with an AR. With the pump handle moved all the way to the rear, depress and hold the release located in the top of the forend (about 3" in front of the receiver) while removing the bolt carrier group from the upper receiver. The rifle is ready to clean. The bolt carrier group can be broken down in much the same way as an AR group for a more detailed cleaning.
I found plenty of reasons to like this hybrid rifle at the shooting range. Having shot my fair share of AR-15s, this rifle felt light, handy and familiar even with the few changes in the controls. The pump action was smooth and easy to cycle and the stock allowed for a good cheek weld. The rifle's designers included a clever feature that locks the bolt in the open position when the last shot in a magazine is fired. All of the controls worked properly and there were no malfunctions.
Working the pump action definitely took longer than using a semi-auto action. However, the pump is faster than a bolt-action rifle because the shooting hand stays in place on the grip between shots. If you really need to be able to dump a 30-round magazine in 8 seconds or less, then stick to the semi-autos. But if you can get away with about 1 second per shot (which was as fast as I could work it), then the Sporting rifle will definitely do the trick.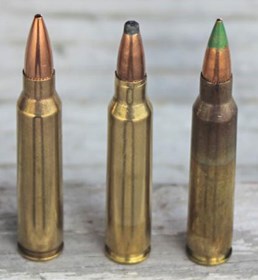 As expected, the rifle proved to be utterly reliable with every load of ammunition tested. It's clearly noted in the owner's manual that only brass case ammunition should be used since other case materials (steel, aluminum) can cause malfunctions or damage the rifle. Because there is no gas block to affect the harmonics of the barrel, the Sporting rifle produced tight 5-shot groups at 100-yards from a bench rest with high quality ammunition using a
Leupold
VX-R Patrol 3-9x40 Firedot TMR scope. The best single group of 1.12" and a five group average of 1.38" was produced using
Winchester
Super X .223 Rem. 64-gr. Power Point soft point ammunition.
Black Hills
.223 Rem. 69-gr. Sierra Match King hollow points turned in a best group of 1.21" with an average of 1.32".
Federal Premium
American Eagle 5.56 NATO 62-gr. M855 full-metal jacket loads had a best group of 1.56" with an average of 1.74".
The Troy 223 National is a handy, well-made rifle that is reliable and fun to shoot. Some folks may think dressing up a pump-action sporting rifle as an AR-15 is in bad taste but I found it to be a sweet combination. This rifle is a successful best-of-both-worlds design that can fill just as many roles as the semi-automatic it's patterned after. The folding stock allows it to be tucked comfortably into smaller storage areas. It's an ideal option for camping, hunting, target shooting and home defense, especially in those states that won't permit their citizens to own gas impingement or piston driven semi-autos. Like all Troy products, this rifle is 100 percent American made.
Specifications Manufacturer:
Troy Defense
Model:
Troy 223 National Sporting Rifle
Action:
Pump Action
Caliber:
.223 Rem./5.56 NATO
Upper Receiver:
Billet Machined Aluminum Railed Flat-Top, MIL-SPEC Hard Coat Anodized Finish
Lower Receiver:
Billet Machined Aluminum, M4 Feed Ramps, MIL-SPEC Hard Coat Anodized Finish
Barrel:
16" Melonite Finish
Muzzle Device:
Double Chamber Muzzle Brake
Front Sight:
Troy Front Folding M4 BattleSight
Rear Sight:
Troy Rear Folding BattleSight
Trigger:
AR-15 Standard
Hand Guard:
Alpha Style, Full length Top Rail, Integrated Pump Action
Pistol Grip:
Troy BattleAx Control Grip
Shoulder Stock:
Folding 5-Position Stock
Length of Pull (LOP):
11.25" to 13.75"
Overall Length:
36.25" (Stock Open and Extended), 26.25" (Stock Folded)
Weight:
6 lbs. 11 ozs.
Capacity:
10 Round Magazine
Ammunition:
Brass Case Cartridges Only
Twist:
1:7" RH
Rifle Grooves:
6
Accessories:
One 10-Round Magazine, Owner's Manual
MSRP:
$1,099