by
posted on August 13, 2015
Support NRA American Rifleman
DONATE
Like many other Americans, I'm devoted to the fun .22 rimfire rifles provide. I have yet to meet a good one that I didn't like. Be it a single-shot, lever action, or semi-auto, I'm more than happy to give it a try. Lately, I've been taking another look at target rifles patterned after the Ruger 10/22, in particular heavy barrel types for bench rest target shooting. This led to a conversation with
Tactical Innovations
(TI) which is based in Bonners Ferry, Idaho.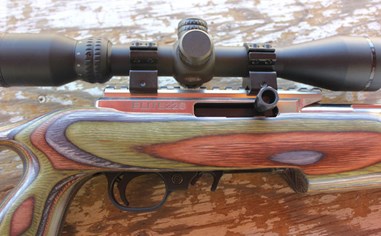 I learned that it has released a brand-new receiver for 2015 called the Elite22S. Most 10/22-type receivers on the market are caste or milled from aluminum. The Elite22S is the only one available that starts as a solid 8.8-lb. billet of 416 ordnance-grade stainless steel. A good deal of precision CNC machining goes into shaving that billet down to a 20.2-oz. receiver with a 6.75" long integral Picatinny scope rail on top. The engineers added a port at the rear of the receiver to allow the barrel to be properly scrubbed with a cleaning rod from chamber to muzzle. Not only is this TI stainless steel receiver exceptionally precise in its dimensions, it provides an exceptionally high level of durability.
Intrigued by the potential of the Elite22S as a foundation for a custom .22, I took a look at the other components the company has to offer. As it turns out, its website provides just about every part needed to complete a rimfire rifle. The only things I would look elsewhere to find were the trigger group and stock.
For improved accuracy, and to complement the polished finish of the Elite22S receiver, a Pike Arms 16.5" stainless steel heavy barrel was selected. This 0.920 diameter barrel features a series of straight flutes for increased rigidity and a 1/2-28 TPI threaded muzzle for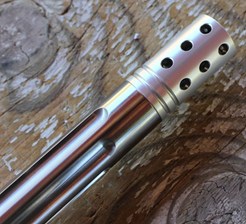 accessories and sound suppressors (a thread protector is provided). A silver finish TI aluminum combination flash hider and compensator was attached to the muzzle. The barrel was secured to the receiver using a stainless steel adjustable V-block with a pair of stainless cap screws.
The drop-in TI Target Bolt Assembly is CNC-machined and heat-treated to a hardness of 48-52 Rockwell for durability. The surfaces and sharp edges are polished and shaped for smooth operation. The stainless-steel firing pin is pinned to the bolt instead of being peened in place like factory models. The assembly includes the company's Sharp Claw extractor and spring assembly. The bolt was paired with a TI Fluted XL charging handle fitted with a crimped rod assembly. The rest of the rifle hardware, including a pair of ground and hardened receiver cross pins, a red polymer recoil buffer, and a stainless steel stock takedown screw, were all ordered through the TI website.
When it comes to selecting a trigger group for a custom build, this year it's hard to beat the new Ruger BX 10/22 assembly. The black polymer housing and trigger guard lack the aesthetic appeal of the polished aluminum upgrades. But aluminum-housed trigger groups run somewhere between $189 to $265. This makes the BX trigger's suggested retail price of $89.95 and smooth trigger pull of 3-lbs. 7-oz. (for the unit tested here) much more attractive.
Since this build is intended for benchrest shooting, I opted to install one of those curvy and colorful laminated wood target stocks so many target shooters prefer.
Boyds Hardwood Gunstocks
offers the excellent SS Evolution 10/22 stock in a variety of color combinations including a tri-color Forest Camo finish (shown). This ambidextrous stock is compatible with standard or bull barrels and features a hollow buttstock to reduce the weight. A contoured cheek rest, abbreviated angled fore-end, hand filling pistol-style grip and textured rubber recoil pad all come together to make this stock comfortable to work with both on and off the shooting bench. The stock is coated with a tough clear coating which is resistant to solvents and oil. A brass take down screw collar is installed to lend additional support to the action.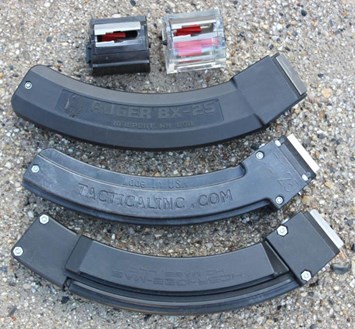 Tactical Innovations offers the TI25 adjustable steel lip 25-round "banana" magazine for use in 10/22 rifles. Customers have the option of a machined aluminum or composite polymer body which is held together with removable screws so that the magazine can be disassembled for cleaning. The rifle was tested with the polymer version of the TI magazine, Ruger BX-10 and BX-25 magazines, and the
HC Mags
HC3R 25-round stripper clip fed magazine.
The finishing touch to the rifle was the addition of a
Hawke
Sport HD IR 3-9x40 Rimfire SR Reticle scope. I've used this scope with a few different rimfire rifles now and I just keep moving it to the new test models because it's so nice to work with. The .22 Rimfire BDC reticle is easy to use with 25-yard aim points, from 50 to 200 yards, and the yardages clearly marked right on the lens. The reticle can be viewed with five levels of red or green illumination to match ambient light conditions. Designed to be weather and shock resistant, the scope arrived with lens covers, a lens cloth, and a CR2032 lithium battery.
Once the ordered Elite22S receiver was retrieved from a local FFL dealer and the rest of the components arrived, the rifle came together without a hitch. All of the parts fit together as expected with no need for extra elbow grease or gunsmithing. Sometimes a wooden stock will need a bit of sanding along the interior surfaces. However, the Boyds SS Evolution slipped snuggly onto the TI build without any modifications. The finished rifle, without a scope or magazine, tipped the scales at 6-lbs. 11-oz. Adding the optic and an empty TI25 magazine nudged the weight up to 8-lbs. 2-oz. This handsome rifle is definitely on the heavy side for free hand shooting but ideal for cruising shooting benches.

The rifle proved to be everything I had hoped it would be at the shooting range. The bolt cycled smoothly and the trigger was a pleasure to work with. The 10/22 platform already has a reputation for being comfortable to shoot. The added weight in the stainless steel bull barrel and receiver, as well as the recoil reduction provided by the compensator, brought the already mild felt recoil down to just a faint whisper of a kick. Unlike one of the other
custom .22 builds
I worked on, which would not feed properly with some magazines, the TI build functioned reliably with every magazine in the test set.
This Tactical Innovations ELITE22S custom semi-auto is intended to be used as a target rifle. Therefore, it deserved to be tested and checked for accuracy using target-grade ammunition. However, like many other rimfire enthusiasts these days, I had to run the rifle with the ammunition I had on hand instead of the loads I would have preferred. So, the rifle was put through its paces using bulk-box practice loads, some general purpose rounds and hunting hollow points. The good news about the not-quite-ideal ammunition selection is that the rifle had an appetite for everything it was fed. The only malfunction in the entire course of testing was a single failure to fire due to a faulty primer, not the rifle.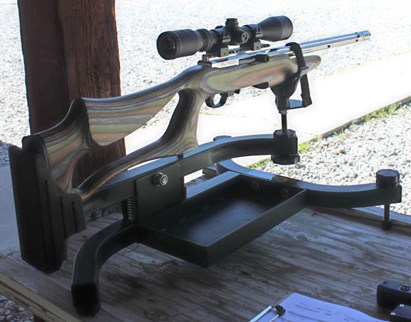 During formal bench-rested accuracy testing at 50 yards, the rifle demonstrated a preference for
CCI
AR Tactical 40-gr. copper-plated round nose loads. Designed specifically for use in modern semi-autos, the CCI turned in a best single 5-shot group of 0.69" with a five group average of 0.79".
Federal Premium
's practice-grade American Eagle 38-gr. copper-plated hollow points yielded a best single group of 0.99" with an average of 1.18".
The hunting load set aside for accuracy testing,
Winchester
Super X 40-gr. copper-plated hollow points, didn't fare as well as the other test loads. Based on previous experiences with Super X in other rifles, I was expecting accuracy on par with the CCI load. But the best group I could squeeze out of it was 1.62" with an average of 1.86". Did these results cause me to lose faith in either the rifle or Winchester ammunition? Not in the least. It just proved once again that, as with other .22 rimfire rifles, it will take more trips to the range to find the ammunition this rifle likes best.
Building 10/22-type semi-auto rifles at home is an enjoyable hobby. The guns are simple to assemble and fun to shoot. Tactical Innovations makes it easy to pull together a custom semi-auto rimfire with a wide selection of quality parts available to order from their website. Whether or not the Elite22S is right for your needs is up to you. But as far as I'm concerned, this new milled stainless steel receiver is just the right kind of overkill for folks who are looking for a precise, reliable, and good looking receiver for their next 10/22 build.
SpecificationsTactical Innovations (TI) Custom Rifle Build
Receiver & Bolt Assembly:
($349.99) TI ELITE22S Milled 416 Stainless Steel Billet; TI Target Bolt Assembly, Black Nitride Finish
Bolt Handle:
TI Fluted XL Charging Handle, Matte Black with Crimped Rod ($29.99)
Barrel:
Pike Arms .920" Fluted Target, Stainless Steel ($139.99)
Muzzle Accessory
: TI Aluminum 0.920 Flash Hider/Compensator, Silver ($24.99)
Rifle Hardware:
($33.46) Receiver Cross Pins, Stainless Steel Adjustable V-Block, Stainless V-Block Screws, Stainless Takedown Cap Screw
Trigger Assembly:
Ruger BX 10/22 Trigger ($89.95)
Stock:
Boyds Custom Wood Stocks SS Evolution, Forest Camo Finish ($99)
Magazine:
TI25 Composite with Steel Feed Lips ($34.99)
Optic:
Hawke Sport HD IR 3-9×40 Rimfire SR ($149.99) Trigger Pull: 3-lbs. 7-oz. Muzzle Thread: 1/2-28 TPI with Thread Protector
Barrel Length:
16.5"
Twist:
1:16" RH
Rifle Grooves:
6
Overall Length:
36.25"
Weight:
6-lbs. 11-ozs. Without Magazine & Optic
Capacity:
Accepts 10/22-Type Removable Box Magazines Complete Rifle
MSRP:
$952