Support NRA American Rifleman
DONATE
As the holidays near, finding something for that special someone who enjoys shooting sports and the great outdoors can be a challenge. Here are a few useful items to keep the trigger tapping members of the team happy this year:
1. Adcor Defense Stripped AR Receivers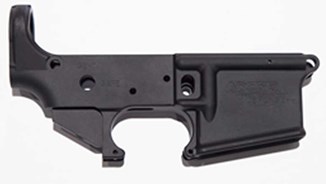 Buying a complete rifle for an AR enthusiast can be an expensive proposition. So why not get them started on a build-it-yourself rifle project with stripped receivers from Adcor Defense? The company is currently selling its high-quality hard-anodized Mil-Spec forged 7075-T651 aluminum receivers with the old Adcor B.E.A.R. logo for just $59.99 (marked down from $109). Stripped Mil-Spec gas-impingement AR-15 Flat Top upper receivers with M-4 feed ramps are currently going for $84.99 (marked down from $165). Also, keep an eye out for the price reduced Adcor Billet Stripped Lower Receiver for $169.99 and the new AR-15 Bolt Carrier with Dust Wiper for $179.99
2. Browning PV1000 Handgun Vault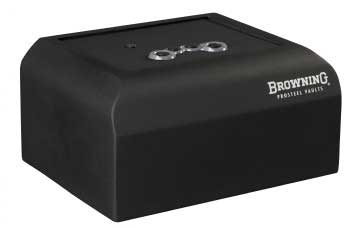 Browning takes quick-access handgun storage to a new level of security with the heavy-duty PV100 Handgun Vault. The PV100 features a 10-gauge steel body construction which is double the thickness of competitors. The recessed plate hinged lid offers a level of tamper resistant security usually reserved for full-sized gun safes. The programmable four-button access pad allows the spring assisted door to pop open for easy access to the roomy 7.5" x 14.5" x 11" interior. Other features include an exterior emergency power battery connector, Pick & Pluck Foam lining, LED interior lighting and bolt-down capability. MSRP: $219
3. Breakthrough BT-101 Cleaning Kit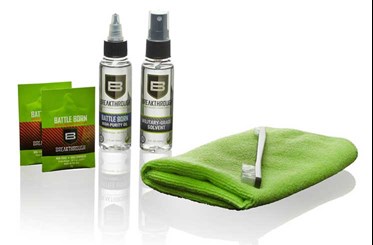 Breakthrough Cleaning Technologies provides a series of 100-percent synthetic gun-care products that provide top-notch corrosion resistance, withstand extreme temperatures and minimize the frequency of application. These products are also non-flammable, non-toxic, non-staining and odorless, making them comfortable to use and environmentally friendly. The BT-101 Cleaning Kit provides three Breakthrough products to get your firearms properly cleaned and lubricated.
The bottle of Military-Grade Solvent cleans efficiently, is a non-water based distilled petroleum solvent that is free of carcinogens and it's pH neutral, which means it's safe on your firearm's wood, plastics, polymers and Cerakote finishes. The bottle of Battle Born High Purity Oil is a lubricant and protectant designed for extended use in extreme temperature conditions (from -90°F to 417°F) that is safe to use on all metal, plastic and polymer parts. There are also two packets of Battle Born Grease which is fortified with Sub-Micron size PTFE. It's a blend of synthetic base oils, additives and shear stable thickeners to provide maximum firearm protection in extremely high and low temperatures (Operating Range -75° to +510°F). The kit also includes a micro fiber towel and double-ended nylon utility brush. MSRP: $24.95
4. Edge Tactical Eyewear Hamel Safety Glasses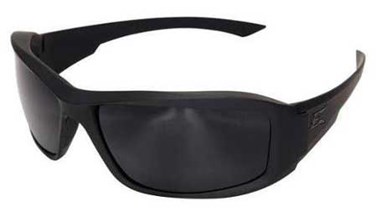 Edge Tactical Eyewear offers a wide variety of military and tactical safety-rated eye protection options that blend classic features, comfort and the latest materials. The Hamel has a modern wrap-around design which looks great with BDUs or casual attire. The lenses feature a military grade vapor shield, a 3X anti-scratch coating and block 99.9 percent of UVA/UVB/UVC rays. The flexible rubberized frame has foam nose pads that make the glasses easy to wear all day. A sleek brow guard blocks light from above and recessed lens cavities prevent airflow from drying out the eyes.
The temples have been thinned and contoured for use with hearing protection ear muffs, making them ideal for use as eye protection at the shooting range. Edge Tactical Eyewear glasses are tested in independent laboratories to ensure their compliance with ANSI Z87.1+2010 and Military Ballistic MCEPS GL-PD 10-12 standards. Shown here is the black frame, G-15 dark lens version of the Hamel (XH61-G15-TT), which is also available in a sand color frame with polarized copper-color lenses (TXH735-TT). MSRP: $49.95
5. G Outdoors Sporting Clays Backpack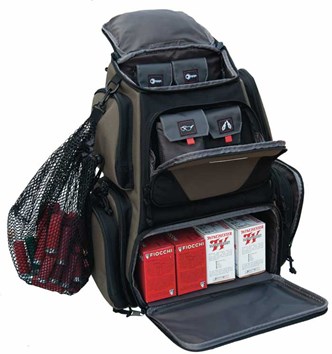 If you are looking for a convenient way to carry shotgun shells and other shooting gear on outdoor excursions, then the G Outdoors Sporting Clays Backpack is a great option. This pack is constructed of durable 600D Polyester with extra strong stitching and lockable zipper pulls. This free-standing pack uses the company's Visual ID Storage System with designated pockets specially designed and labeled for the types of gear unique to sporting clays, including choke tubes, empty hulls, shooting vests, cleaning supplies and score cards to name just a few. A large, easily accessible lower compartment provides plenty of room for boxes of shot shells. The Sporting Clays backpack also features a waterproof pull out cover to help keep contents dry in case of a sudden rain. MSRP: $99.99
6. LaserMax SPS-R Spartan Adjustable Fit Laser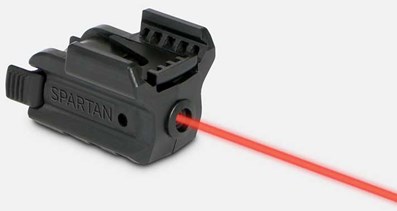 Featuring the latest in LaserMax mounting technology, the Spartan rail-attached red laser sight installs in the preferred rail location for each operator's personal comfort and ease of use. Shift the support post to get it to just the right position for your finger length.  Once anchored, it maintains precision accuracy over extensive live fire sessions. This sight provides more than five hours of continuous-on run time using a single 1/3N battery (one is provided). To save on battery life, the Spartan features a preservation mode that automatically deactivates the laser after ten minutes. Dual electronic touch pads enable both left and right-handed shooters to activate the laser with ease. This unit can be programmed for a steady-on or pulsed beam with adjustments for both windage and elevation. The Spartan ships with a 5-year warranty. MSRP: $99
7. Marble Arms Bullseye .22 Rifle Rear Sights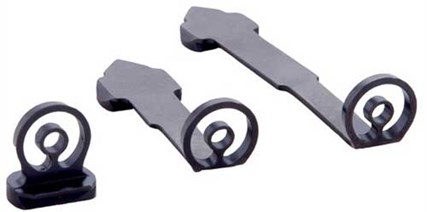 Young or inexperienced shooters can have a hard time using V-style rear sights. The urge to lift the cheek away from the stock for a clearer view of the target is hard to resist, resulting in poor accuracy down range. The Marble Arms Bullseye sight is a modified aperture sight with a ring inside a ring. When the rear sight is misaligned the front sight drifts out of the center ring, signaling the shooter to cheek the stock and make correction. Like other peep sights, the Bullseye naturally centers the front bead in the aperture for easy, repeatable shot placement. Constructed of blued steel with a polished finish, the sights are designed to fit a nominal 3/8" (9.5mm) dovetail (some minor fitting may be required). Fixed, Short Adjustable and Long Adjustable configurations are available to fit a wide variety of .22 rifles. These sights are currently available through the Brownells website for $16.99. 
8. Sandstorm Custom Rifle Slings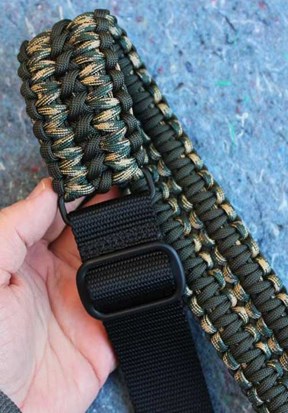 Sandstorm Custom Rifle Slings of Texas offers a broad selection of two-point and single-point braided Paracord rifle slings in several different color combinations. Hand braided using American made 7-strand and fitted with high quality hardware, these rifle slings are strong, comfortable to use and provide a convenient way to keep several yards of Paracord handy in case of an outdoor emergency or survival situation. Every sling is made to order, so any of the company's standard slings can be modified to a specified length or reconfigured to fit your particular needs and preferences. Due to high demand, Sandstorm currently has a 2-3 week lead time on orders. Gift cards are available. MSRP: starting at $45
9. Streamlight USB Rechargable EPU-5200 and ProTac HL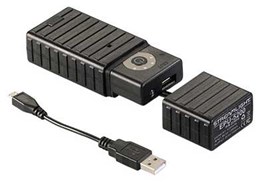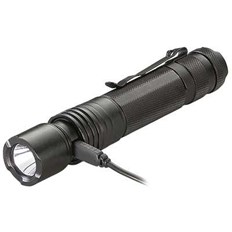 Streamlight is known for providing a variety of high quality lights for military, law enforcement and self-defense applications. This year the company is expanding its USB rechargeable line with the EPU-5200 power supply and ProTac HL flashlight.
The EPU-5200 is a rugged, water resistant rechargeable power supply with a high-impact nylon polymer construction and removable pocket clip. The tethered cover snaps in place to protect the USB connector from damage or dust and to prevent inadvertent actuation of the power button. A 5 mm white LED allows this power supply to function as a backup flashlight. The EPU-5200 provides two full charges for the Streamlight ProTac HL and between one and two charges for most smart phones and tablets. The durable lithium ion battery can be recharged up to 500 times and holds the charge up to three months.
The new ProTac HL high-lumen tactical light can charge on-the-go using almost any USB source. It also accepts multiple battery sources to use as a back up so you'll always have power when you need it. The multi-function, push-button tail switch allows for one-handed operation. A water-resistant sliding metal sleeve protects the USB port. The shock resistant C4 LED provides up to 50,000 hours of illumination. TEN-TAP Programming allows the user to select programs ranging from the maximum brightness (850 lumens) to the longest battery life (12-hours). This light arrives with a USB cord, removable pocket clip and tear resistant nylon holster. MSRP: EPU-5200 $54, ProTac HL USB $180
10. StrongSuit QSeries Enforcer TAC Shooting Gloves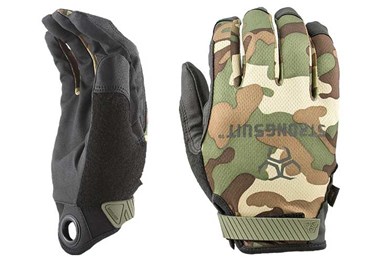 StrongSuit has partnered with Gary Quesenberry, professional firearms instructor, competitive shooter, and Top Shot All-Star finalist, to design a series of light weight gloves especially for shooters. The QSeries gloves have form-fitted, pre-curved fingers for a comfortable fit. The TAC-Sense palm material provides protection from abrasion while preserving a high level of touch sensitivity for fine motor tasks. Breathable fabric on the back of the hand and Terry cloth sweat wipes on the thumbs help to keep shooters cool in hot situations. Other features include Velcro closures at the wrist and carabineer clip attachments for secure storage. Glove colors include Black, Desert Tan, Sage, Camo and Night Camo with sizes ranging from XXS- to XXXL. MSRP: $24.99
11. Thermacell ProFlex Heated Insoles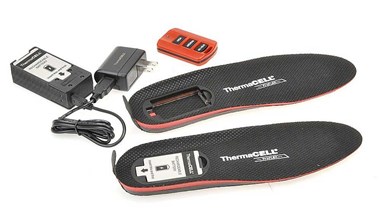 The shooting sports don't grind to a halt just because the snow flies. Thermacell's ProFlex heated Insoles keep feet warm, not hot, for up to five hours (on Medium heat) using rechargeable, removable lithium-ion polymer batteries. A small lightweight wireless remote control is provided to change temperature settings without removing your footwear. The insoles utilize a flexible polyurethane insole material and shock-absorbing Poron battery cover cushions to keep feet comfortable. With sizes ranging from 3.5 to 13 for men and 4.5 to 14 for women, the ProFLEX can be trimmed to fit almost any shoe or boot. MSRP: $184.99
12. Winchester Limited Edition Service Grade .45 ACP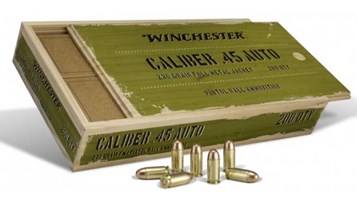 History and Military buffs will enjoy the reliability and accuracy of Winchester's .45 Auto Service Grade .45 ACP. This ammunition arrives in a decorative wood box containing four plain brown 50-round cartons marked BALL M1911. The cartridges feature reloadable brass cases, military head stamps and 230-gr. full-metal jacket (ball) bullets loaded to a velocity of 865 fps. These rounds are designed for minimal to no expansion and consistent accuracy with reduced barrel fouling. This gift set is made in the USA. MSRP: $109.99