by
posted on December 7, 2017
Support NRA American Rifleman
DONATE
Every so often, Brownells will team up with an organization or custom shop to sponsor a Fantasy Gun build. That one-of-a-kind gun is then raffled off to raise funds for a good cause. It's understandable why folks would turn to Brownells for these projects. Not only does the company offer one of the most extensive selections of components available, the folks who keep the company up and running are terrific to work with.
As I pondered the Dream Gun concept, I realized that anyone looking to build a custom AR platform could use Brownells as a one-stop shopping source. To test my theory I gave a friend at Brownells a call and told him that I wanted to build a complete rifle using just the items they offered. The first question he asked was what kind of AR I had in mind. It could be a long-range competition configuration, a varmint rifle, something for close-quarters combat or for harvesting large game. Thanks to the AR's modularity, the sky's the limit.
For this custom build, I wanted an ultra-light AR-15 carbine chambered in .223/5.56 NATO for easy carry on wilderness treks and comfortable target practice at the range. I worked directly with the Brownells team to learn more about what products would suit this build. They introduced me to V Seven Weapons Systems, a company that specializes in lightweight components. In addition, I found several familiar product lines that I've worked with before that were also a great fit for the project. All of the parts that went into the gun were listed in the Brownells catalog at the time this project was pulled together.
As I learned along the way, there seem to be three categories of less heavy ARs. The "Reduced Weight" models with a few ounces shaved off here and there. The "Light Weight" versions which diligently work to reduce as much weight as possible with some compromises in order to maintain certain features or reduce the price. Finally, there are the "Ultra-Lights," which are the lightest possible configuration regardless of cost or feature set.
Remember that AR carbines are not all that heavy to begin with. Standard M4 models start at around 6 lbs. 8 oz. before adding a magazine, optic or any other gizmos. Thus the weight reduction process involves an incremental nibbling away at the mass of individual components rather than changing just one large piece. To be thorough, the individual components weighed using a digital postal scale.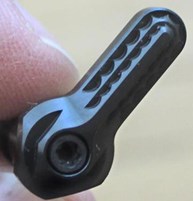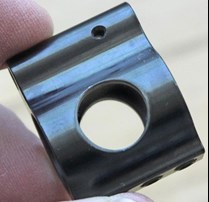 As the good folks at V Seven pointed out in the spirit of full disclosure, I would have to classify my build as an example of the Light Weight category. This is because the receiver set selected from their line-up, while being exceptionally light, is not the very lightest set on the market. Since my goal was to assemble a reliable, shootable rifle that could practically be put to work in the field, a Light Weight designation was just fine by me. Don't get me wrong, I was meticulous about researching every single component so as to shave off as much weight as possible. In that same spirit of full disclosure, I'll point out which of the components were selected despite the fact that they fattened up the rifle a bit.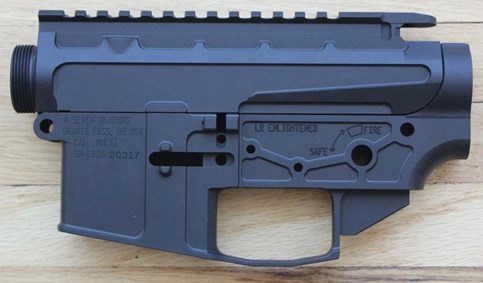 The reduced weight lower receivers I found that were ever so slightly lighter than the 6.2 oz of the V Seven Enlightened milled billet lower were thinned down to the point that I was concerned about their long term durability or they were Swiss-cheesed with so many weight-reducing holes and cutouts that dirt infiltrating the action and affecting reliability seemed like a distinct possibility. The Enlightened model was one of strongest, non-perforated lightweight options available.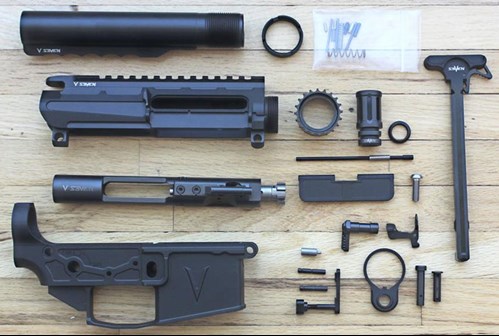 The flat top V Seven milled billet 2055 Lithium/Aluminum upper receiver weighs 5.7 oz. and provides 6" of optics rail space. The forward assist is absent but the receiver will support the installation of a dust cover. The weight of the stripped receiver set was 11.9 oz. compared to the 15.6 oz. of a generic mil-spec set.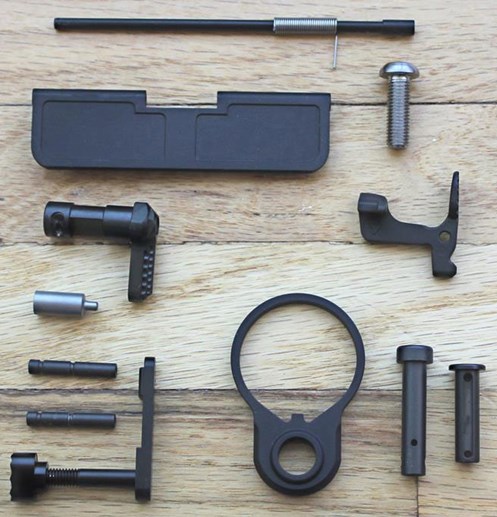 Research into lightweight parts on the Brownells' website kept leading back to V Seven listings since they are among the lightest available. Their components, even the small ones, have been cleverly trimmed down and machined from high-grade aluminum and titanium instead of steel. The V Seven Titanium Bolt Carrier houses a 9310 alloy steel bolt with a nickel boron finish. The complete bolt carrier group (BCG) weighs in at 7.7 oz. instead of the 11.5 oz of an all-steel mil-spec BCG. The light weight of the bolt required a slightly heavier Brownells H1 carbine buffer (3.7 oz) to slow it down during recoil but this did not add much to the finished weight of the gun.

The V Seven aluminum Extended Latch charging handle weighs just 1 oz. and the 57RH Black Titanium safety selector switch is just 0.3 oz. The company doesn't offer a lower parts kit (LPK) per se, but they do offer all the components found in a LPK through Brownells –along with several other major and minor parts. In the end, V Seven products were used to build out the lower receiver, upper receiver and the buffer tube assembly (all of which are listed in the specifications at the end of the article). The company even offers a titanium barrel nut.

I have yet to meet a Faxon Firearms barrel that I didn't like. Specializing in AR barrels, Faxon makes a 1 lb. 3.3 oz. 16" 'pencil' barrel made of QPQ nitrided 4150 steel. It's button rifled at a 1:8" twist rate with a 1/2x28 TPI threaded muzzle and an 11 degree target crown. The barrel was fitted with a
Faxon Skeletonized Steel 3-Screw .625 Low Profile gas block, a mid-length stainless steel gas tube and a V Seven GI Titanium flash hider. New for 2017, Faxon now offers exceptionally light carbon fiber handguards. The 15" long hexagonal Streamline free-float handguard is just 6.7 oz. with eight M-Lok accessory slots on each side.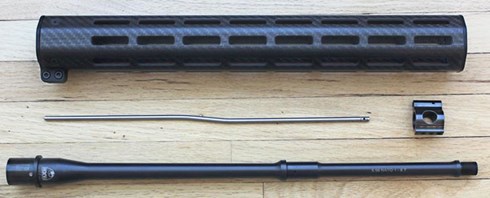 Mission First Tactical's (MFT) 5.8 oz BATTLELINK Minimalist 6-postion shoulder stocks are among the lightest in their class and I've enjoyed using them for a while now. The rifle would have been 2.8 oz. lighter if a fixed aluminum plate had been clamped to the end of the buffer tube instead but I was unwilling to sacrifice the utility the MFT stock has to offer.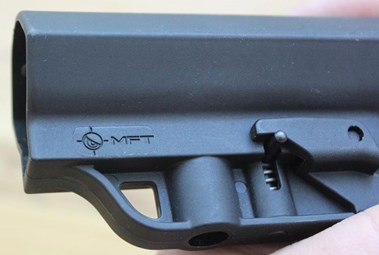 The 2.2 oz. gray pistol grip is a Magpul MOE K that matches up nicely with the carbon fiber handguard. It's supported by a V Seven Ti Raw titanium grip screw. After literally weighing my magazine options on the digital postal scale, the 2.7 oz. Brownells in-house 20-Round Aluminum CS magazine was selected because it offered the best balance of low weight and capacity.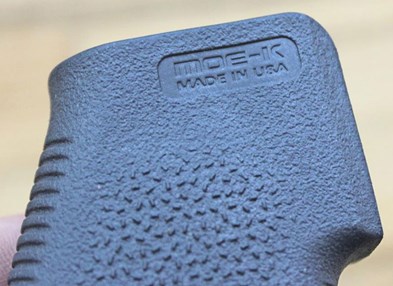 As for the trigger groups, I didn't bother to check their weight. Instead, I went with the trigger I wanted. The Timney Triggers AR-15 Competition Small Pin drop-in, single-stage trigger group has a gold colored aluminum housing and a skeletonized trigger. It offers a smooth, crisp and exceptionally short trigger stroke with a listed trigger pull weight of 4 lbs. The trigger tested in this rifle was just a hair lighter with 3-lbs. 14.7 oz. of trigger pull. The trigger's light pull was a perfect match for this light rifle.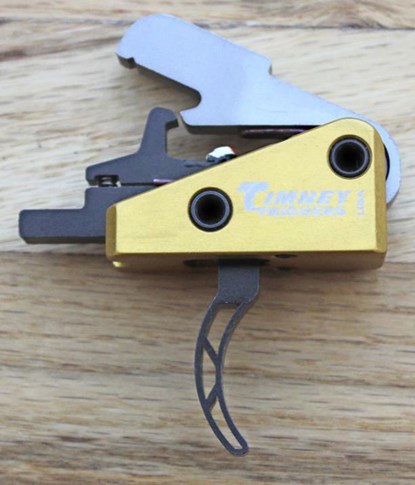 There was very little in the way of educational opportunities (i.e. problems) with this build. The assembly process was typical of a mil-spec type build. All of the parts fit together properly without any breakages or replacements required with the exception of the crush washer provided with the V Seven flash hider. It was replaced with an OEM steel jam nut in order to get the timing along the Faxon barrel's muzzle just right.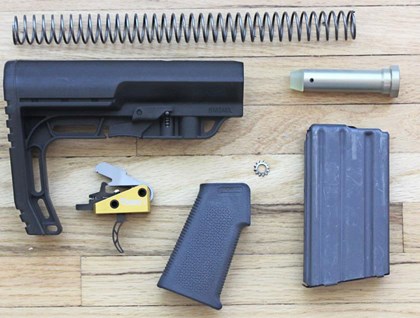 The Magpul MOE grip was quite a snug fit, as were the titanium pivot and takedown pins but that can hardly be seen as a negative. The dust cover tends to drop open with a fairly gentle bump, but I can live with that.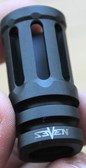 All of the controls and the shoulder stock passed their bench checks with flying colors.  
With the rifle fully assembled, checked and lubricated, it weighed in at 4 lbs. 9 oz.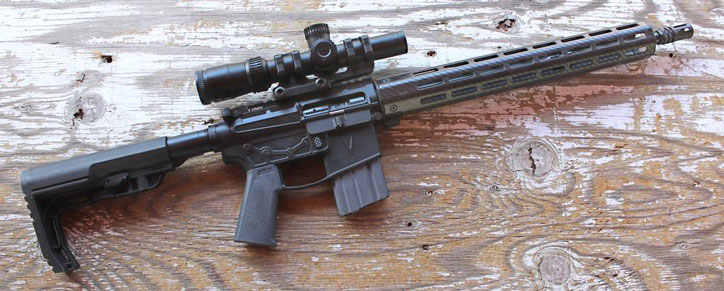 This near 2 lb. weight loss, when compared to the average unadorned M4 carbine, gives this custom rifle a terrific balance with feathery handling qualities. It swings like an air gun or a polymer stocked .22 rimfire. Better still, it exudes quality at every point. The components all fit together neatly and tightly for a smooth and clean operation of all the controls.

Informal and formal testing were all conducted using Nikon's top notch Black Force 1000 1-4x24 Speedforce illuminated tactical scope secured to the rifle with a Nikon Black MSR/AR Height 30mm cantilever mount. The Brownells magazines fed properly and the rifle hummed right along with all of the test ammunition including a range of practice grade and premium loads.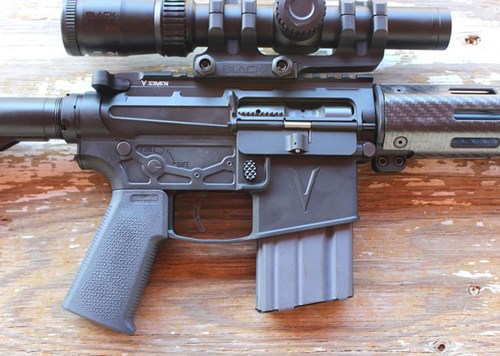 I believe most home builders are hoping for sub MOA groups (at or under 1" at 100 yds) from their special project ARs, especially when a good deal of time and effort has gone into getting the gun just right. The Faxon pencil barrel proved to be a tight group shooter with the right ammo during 100-yard benchrested accuracy testing.

I hoped DoubleTap Ammunition's 69 gr. Long Range hollow-point boat tail would perform a little better than the best single 5-shot group of 1.26" and the five-group average of 1.35" it printed. However, this round is loaded to a toasty 3000 fps., which means it will probably tighten up in a standard or bull barrel configuration instead of the lightweight pencil barrel fitted in this gun.
Federal Premium's American Eagle Varmint & Predator 50-gr. jacketed hollow points shot better with a best group of 1.05" and an average of 1.16". The round that took home the gold was the SIG Sauer Elite Performance 77-gr. open-tip match with a best single group of 0.78" and an average of 0.83".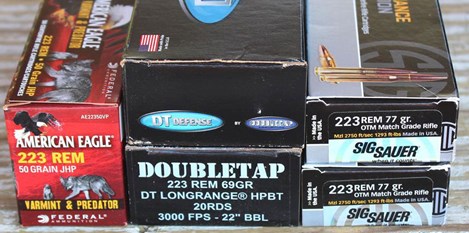 Overall, this rifle build project qualifies as a success. The high quality components provided by V Seven Weapons Systems, Faxon Firearms, Mission First Tactical, Timney Triggers, Magpul and Brownells all came together seamlessly to form a fine, light-weight carbine. The Brownells online catalog made the research and ordering process a snap.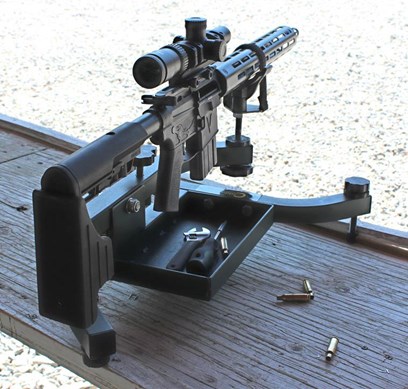 Whether you are looking for a one-stop-shopping solution or to cherry pick a few prime parts, Brownells is a great place to get started on your next home build dream AR project. Which parts are available and how much they cost changes over time due to market supply and demand. You may not be able to find all of the same parts I did but there will be plenty of quality components to work with.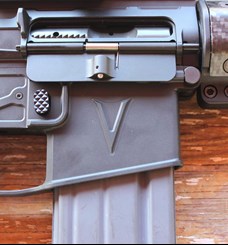 Specifications:
Manufacturer: At-Home Custom Build Using Brownells Catalog Components
Model: Custom Light Weight Rifle Build
Action: Gas-Impingement Semi-automatic
Caliber: 5.56 NATO/.223 Rem.
Stripped Upper Receiver: V Seven Billet 2055 Lithium/Aluminum (5.7 oz.)
Ejection Port Cover: V Seven Ultra-Light Aluminum
Port Cover Rod: V Seven 6061 Aluminum
Forward Assist: None
Charging Handle: V Seven Extended Latch, Aluminum (1 oz.)
Bolt Carrier Group: V Seven Titanium Carrier, 9310 Alloy Steel Bolt with Nickel Boron Finish   (7.7 oz.)
Barrel: Faxon Firearms 16" Pencil, Button-Rifled, QPQ Nitrided 4150 Steel (1 lb. 3.3 oz.)
Chamber: 5.56 NATO
Rifling: 1:8 RH, 6-Groove
Muzzle Threading: 1/2x28 TPI with 11 Degree Target Crown
Muzzle Device: V Seven Titanium A2 Compensator, Black (0.9 oz.)
Barrel Nut: V Seven GI Titanium, Black (0.7 oz.)
Gas Block: Faxon Firearms Skeletonized Steel 3-Screw .625 Low Profile (1.1 oz.)
Gas Tube: Mid-Length Stainless Steel with Roll Pin (0.7 oz.)
Handguard: Faxon Firearms 15" Streamline Carbon Fiber (6.7 oz.)
Handguard Accessory Slots: M-LOK
Pivot & Takedown Pins: V Seven Titanium, Black (0.2oz.)
Stripped Lower Receiver: V Seven Enlightened Billet 7075 T6 Aluminum (6.2 oz.)
Bolt Catch: V Seven Ultra-Light Checkered S7 Alloy Steel (0.2 oz.)
Safety Selector: V Seven 57RH Black Titanium (0.3 oz.)
Magazine Catch: V Seven Diamond Checkered Ultra-Light Aluminum
Drop-In Trigger Group: Timney Triggers AR-15 Competition Small Pin Trigger Module, Skeleton Shoe
Trigger Pull: Listed at 4-lbs., 3-lbs. 14.7-oz. As Tested
Trigger/Hammer Pins: V Seven Titanium, Black
Buffer Tube: V Seven Mil-Spec 6-Postion Carbine (3.6 oz.)
Buffer Retainer: V Seven Titanium
Castle Nut & QD End Plate Combo: V Seven Titanium, Black Finish (0.3 oz.)
Buffer: Brownells H1 Carbine Buffer (3.7oz.)
Buffer Spring: Brownells DS Arms Carbine
Shoulder Stock: Mission First Tactical Battlelink Minimalist Mil-Spec (5.8 oz.)
Pistol Grip: Magpul AR-15 MOE K, Gray (2.2 oz.)
Grip Screw: V Seven Ti Raw
Magazine: Brownells 20-Round Aluminum CS (2.7 oz.)
Iron Sights: None
Overall Length: 36" (Stock Extended)
Length of Pull (LOP): 10.75" to 14"
Weight: 4-lbs. 9-oz. Unloaded, No Magazine
MSRP: $2407 (excluding taxes, shipping and labor)
Optic: Nikon Black Force 1000 1-4x24 Speedforce (#7100076), MSRP $399.99
Mount: Nikon Black MSR/AR Height 30mm Cantilever Mount (#16403) $139.95