Support NRA American Rifleman
DONATE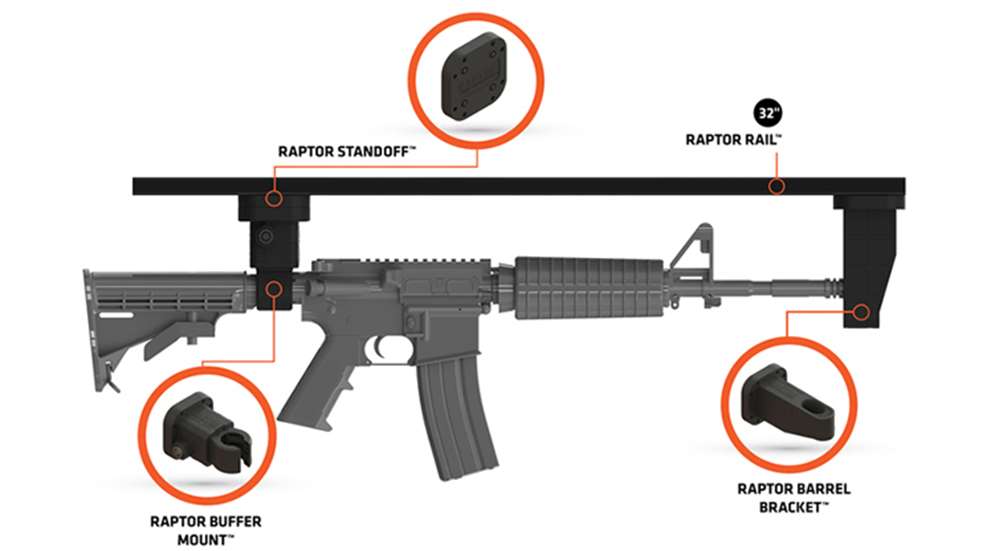 While many enthusiasts will be perfectly happy to receive just about any of the sporting goods associated with shooting endeavors, others are looking for those just-right items that will give them an edge in their concealed carry, competition and home-defense pursuits. Here are a few items I've worked with that make ideal gifts for the tactically minded members of your family this year:
1. CMMG Build kits, Full Kit and Builder's kit
If a member of your family will be receiving a stripped AR-15 lower, you can really get things going for his or her AR-15 build project with one of these affordable Lower Parts Kits from CMMG. For those rifle builders who are starting from scratch, a complete mil-spec Lower Parts Kit like the #55CA6C5 for $64.95 will provide all of the necessary pins, springs and levers along with a grip and trigger group. If your builder already has a drop-in trigger unit and grip picked out, save even more with the #55CA601 Gun Builder's Kit for $39.95 which includes all of the same quality components as the complete kit but without the trigger group or grip.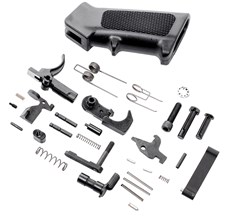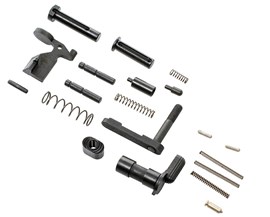 2. Hexmag Advanced Tactical Grip and Grip Tape 
The Hexmag Advanced Tactical Grip features XTech Tactical's patented 3-position adjustment, allowing it to be installed at 17, 25 and 33-degree angles to match your shooting style. Constructed from fiber reinforced polymer with the company's hexagonal texturing, this grip is available in black or flat dark earth. MSRP $27.99



The grip's texture can be enhanced with the addition of Hexmag's proprietary stick-on Grip Tape. Onesheet provides 46 precut hex shapes that fit right into the hex-shaped cavities of the grip and Hexmag magazines. Color options include black or gray. MSRP $9.99
3. Laserlyte Lyte Ryder Center Mass Laser Sight 
LaserLyte has released the world's first rail-mounted laser sight with a built-in pressure activation switch. A light squeeze anywhere on the 2.3" pressure pad projects a nine-laser Center Mass pattern on target, enabling operators to shoot with both eyes open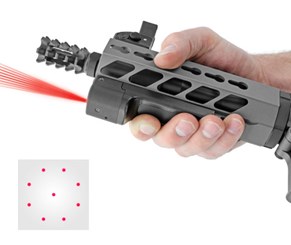 for improved situational awareness. Use a single squeeze of the pressure switch to activate the momentary-on mode or two squeezes for constant-on. Constructed of 6061 T6 aluminum and glass filled nylon, the ledge on the front casing serves as a grip stop to keep hands in the right location. The Lyte Ryder Center Mass unit is easily installed on any rifle or shotgun Picatinny rail (4" or longer) using a single screw. Expect up to 2.5 hours of constant-on run time using three 357 silver oxide button cell batteries. MSRP: $149.95
4. Nikon Spot On Wind Meter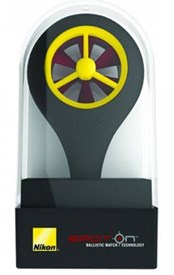 In addition to knowing how changes in distance affect shot placement, it's also important to understand how variations in wind speed will influence a bullet's trajectory. Designed for use with iPhone and Android phones and tablets, the Nikon Spot On Wind Meter works in tandem with the Nikon Spot On Ballistic Application to provide precision long range ballistics data which includes wind speeds. Simply plug the compact, light-weight Spot On Wind Meter into the headphonejack of a digital device with the Spot On App installed. MSRP: $39.99
5. Raptor Secure AR Rifle Display System 
Generally speaking, long-gun storage systems tend to offer either easy access (gun racks, display cases) or high security (gun safes and locking cabinets). Raptor Products has a new high quality gun storage system which successfully displays AR type rifles while securing them against unauthorized access. Constructed of 6061 Aluminum and high-tech polymer, quick access gun security systems are designed to withstand up to 1,000 lbs. of direct pull force when properly installed.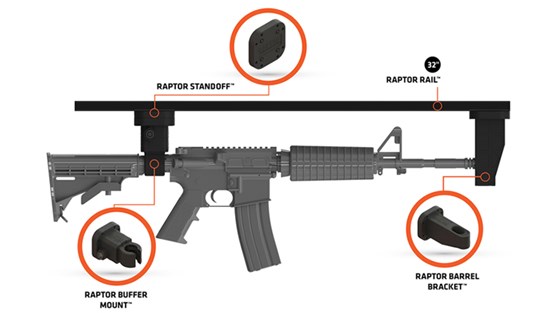 The Raptor auto-locking Mounts, designed to clamp on to picatinny rails or buffer tubes, are fitted with tamper-resistant quick access keyed locks to prevent unauthorized access. The components are fully modular, allowing customers to mix and match components for a custom multi-gun configuration or purchase kits to support single rifles. I've had the opportunity to work with the Raptor Long Gun ($329.99) and Carbine ($282) kits and have found them to be well made and easy to install. These systems are ideal for home or anywhere AR rifles need to be secured. 
6. Rise Armament AR Accessories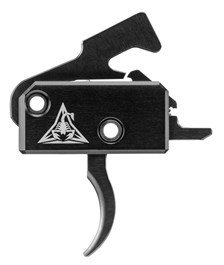 Triggers for the AR platform tend to fall into two groups, the inexpensiveand not so great factory triggers and the expensive drop-in trigger upgrades. The folks at Rise Armament recognized the need for a quality drop in trigger for under $100 dollars. Their efforts to meet this need resulted in the development of the RA-140 SST (Super Sporting Trigger). This drop in single-stage trigger is CNC machined from high-grade, heat-treated tool steel and aluminum with a comfortable rounded trigger and a listed trigger pull of 3-lbs. 8-oz. The trigger I received broke cleanly at just 3-lbs. 5-oz. of trigger pressure. MSRP: Introductory Price $99
The RA-701 Compensator has been designed specifically to reduce the muzzle rise and felt recoil of .223 Remington and 5.56 NATO platforms. Constructed of polished 416 stainless steel, it features a target crown, three primary chambers and an additional five ports along the top. The RA-701 is cut with ½-28 TPI threading to fit most standard threaded AR barrels. MSRP: $129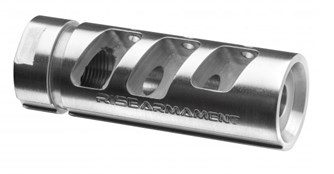 7. Streamlight Sidewinder Rescue Light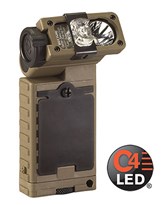 Streamlight, a leading provider of high-performance lighting for professional and military applications, recently introduced the Sidewinder Rescue. This slim, lightweight tactical light also functions as a personal distress marker for use in water rescues and other emergencies. The Rescue provides strobe and constant-on settings for its four LED light sources, including a white C4 LED for bright light (55 lumens), a blue LED to alert friendly forces, an IR LED for covert operations and a green LED to help preserve night vision. The tough impact resistant case features a 185-degree articulating head and a sliding diffuser which projects omni-directional light that can be seen from any viewing angle. This new light meets the commercial CID A-A-59176 standard for water rescue. MSRP: $148
8. Tactical Walls 1410M Tactical Wall Clock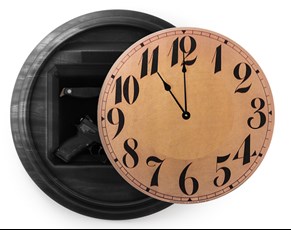 Tactical Walls is a company which specializes in concealing and securing firearms in plain sight for quick and easy access. Among their many storage options that double as ordinary household items is the 1410M Tactical Wall Clock. Accessing the interior of this surface-mounted storage device is accomplished by pressing on the 12 o'clock position of the clock face causing it to pop free of the velcro attachment which holds it in place. The hidden compartment is 14" x 10" and can be used to store handguns, spare magazines, tactical knives, flashlights or other valuables you want to keep out of sight. MSRP: $175
9. USCCA Armed & Ready DVD and Book Set 
Practitioners of modern self-defense will often go out of their way to buy the best guns, ammunition and support gear they can afford. Although having the right gear is vital, it's just as important to invest in educational opportunities and materials which provide a better understanding of how and when to use the defensive options we buy. The teams at the US Concealed Carry Association (USCCA) and Concealed Carry Magazine have dedicated over six months to developing a new training system that provides a clear understanding of the intricacies of practicing legal concealed carry, which is so much more than just buying a gun.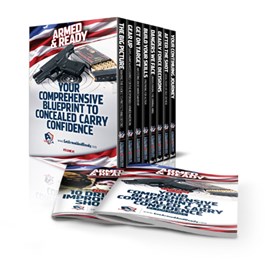 This at-home educational unit includes eight DVDs and two printed handbooks. The videos address a wide range of topics, including marksmanship basics, understanding the criminal mindset, when deadly force can and cannot be used, and much more. The Companion Guide, written by Tom McHale, provides a handy summary of the video content and acts as a reference book. The Range Guide is designed to travel along with you on those important practice sessions to help you master defensive handgun skills. This entire package has a regular price of $297 plus shipping but it is available as of this writing for $197, shipping included. 
10. Vortex Viper PST 1-4x24 TMCQ Reticle (MRAD) Rifle Scope 
Vortex Optics offers top-tier rifle scopes at a fraction of their competitors' cost. Yes, these scopes still cost more than the run of the mill options found at the big box stores, but once you see the quality fit and finish, the features and the bright, clean view these scopes provide you'll be hard pressed to go back to using a lesser optic.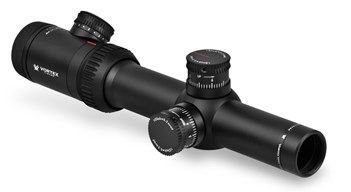 The excellent Vortex Viper PST (Precision Shooting Tactical) 1-4x24 rifle scope with TMCQ MRAD reticle is designed for close quarters combat and long range shots. The crisp and clear XR fully multi-coated lenses are supported by a one-piece 30mm tube machined from a single solid billet of aircraft-grade 6061-T6 aluminum. Matching reticle and turret measurements make sighting in a quick and easy process. The illuminated reticle has 10 levels of brightness with an OFF position in between each brightness level. It's a handy feature that eliminates the need to crank the dial around once an optimum brightness level is determined. MSRP: $599
11. CMMG Tactical Snacks 
No Christmas stocking is complete without a few tasty things to eat. But why settle for ordinary meat snacks when you can enjoy Tactical Snacks from CMMG. Tac Snacs are low fat meat sticks made from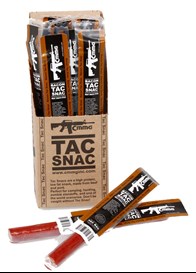 beef and pork. They're a handy high protein treat for camping, hunting and enjoying the outdoors. I'm not a big fan of meat sticks (I'm more of a jerky guy) but these are delicious. Available in 12 count boxes in Original, Bacon, Habanero and Peppered flavors. MSRP: $17.95
For those who are serious about having something good to eat in a crisis, it's hard to beat a 9-oz. can of Tactical Bacon. Each can contains 54 Slice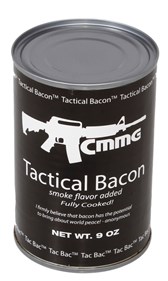 s of fully cooked, smoke flavored ready-to-eat bacon.Purchase by the can or case to share preparedness joy this season. Tactical Bacon has a 10-year shelf life. MSRP: $19.95
12. Pelican iM3410 Long Gun Case
Tactical long guns are a big investment, so it's important to protect them when traveling. The Pelican iM3410 Long Gun Case is an exceptionally strong transport option designed to be waterproof, crushproof and provide impact protection. Constructed of HPX high performance polymer, the iM3410 provides 3,270 cubic inches of possible interior storage space filled with high density foam. Other features include five lockable latches, integrated stainless steel padlock protectors, pressure valve, polyurethane wheels and an extra-wide rubberized handle. Available in black or OD green, this case ships with a lifetime guarantee. MSRP: Current Sale Price $245