by
posted on November 7, 2018
Support NRA American Rifleman
DONATE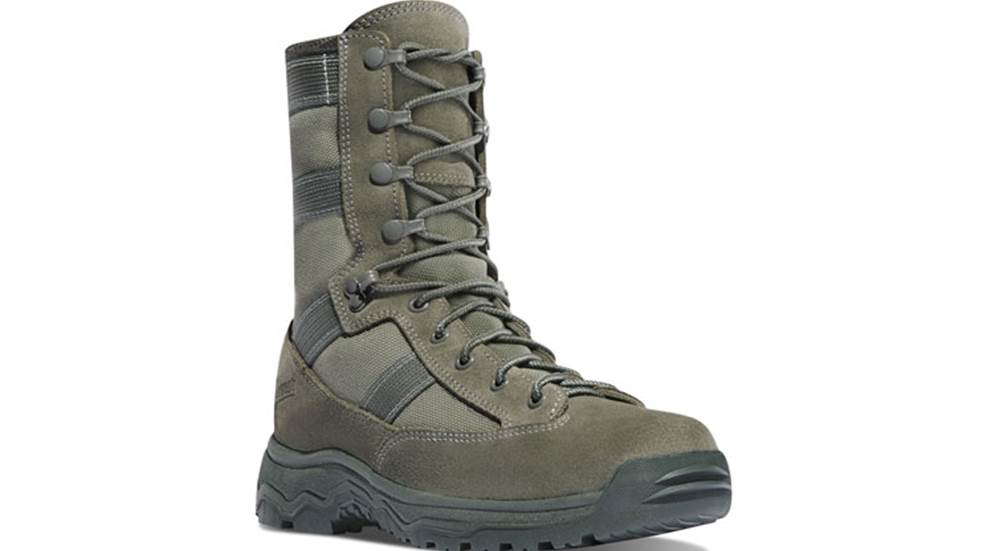 Folks who practice daily concealed carry often spend a good deal of time researching firearms, holsters, ammunition and training options. But when was the last time you thought about your footwear? We may have to fight with our hands, but it's at our feet where the rubber literally meets the road in emergencies. A well-made set of footwear works to mitigate foot pressure and muscle exhaustion to help you feel better throughout the day, whether you are running through a 3-gun match, suiting up for another shift in uniform or tackling a tough outdoor chore.

For over a year now I've been trying on and testing out a variety of boots from several different companies. With so many options to choose from, I stuck to the 8-in. tall work and combat varieties. I like the extra support and protection they provide. One thing I've learned about duty-grade footwear is that it is usually available in more sizes and widths than you'll find at the local big-box store. Based on this protect-my-toes-from-torture test, here are four manufacturers that deserve consideration:
Ridge Footwear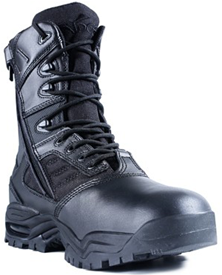 Ridge Footwear has been providing performance boots at fair prices for more than 20 years. Their products are designed for the needs of the public-safety sector, including police, fire and medical personnel. In 1997, this U.S.-based, family-owned-and-operated company was the first tactical footwear maker to incorporate air cushioning into the outsoles of their boots. Since it was founded, Ridge has expanded from nine to more than 20 models of footwear, including the two pairs of boots I've been walking around in.  

The Ultimate 9000 25-oz. zipper-side boot in black features a polished full-grain leather toe box, with combination leather and ripstop nylon uppers. Seams are double or triple stitched for added strength. The composite hook-and-eyelet speed lacing allows the boot to be tightened to just the right fit. The full-length YKK zippers are protected by hook-and-loop keepers. The outsole is made of 1A-carbon rubber sporting a composite shank with a combination air and gel shock-absorbing heel. The Vapor Wick lining helps to keep feet dry from the inside while the Dri-Lex waterproof membrane protects against moisture from the outside. The anti-microbial Poron padded footbed is removable for cleaning. These boots are water-, oil-, slip- and static-resistant. Suggested retail is $167.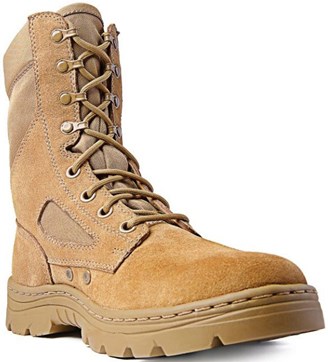 Although the 24-oz. Dura-Max boots in coyote tan are intended for long shifts and hard work, I've found them to be just as comfortable for every day wear around the house and for running errands. The handsome suede leather toe looks great with jeans. The upper also features 900D nylon, double and triple stitching, dual air and water ventilation and a flexible collar. The fully-stitched carbon-rubber outsole is oil and slip resistant, with a molded in chevron-pattern tread suitable for nature trails or concrete jungles. The Dura-Max sells for a suggested retail price of $106.50.
First Tactical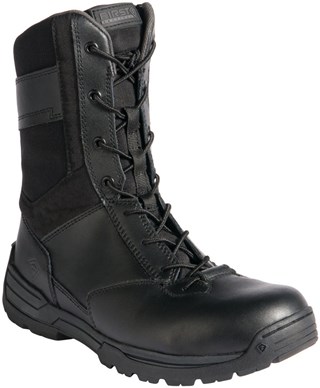 First Tactical is a company that offers a wide variety of useful on-duty gear including knives, flashlights, clothes and bags along with its line-up of footwear. I opted to work with the Side Zip Duty Boot, and wasn't disappointed. These boots are designed like running shoes. The heel strike window gives the wearer additional cushioning while reducing impact on the feet and body when in motion. The upper is 45-percent full-grain leather, 20-percent PU covered leather and 35-percent synthetic with a polishable leather toe. The YKK side zippers allow the boots to slip on and off without having to undo the laces. The rubber outsole is stitched to the upper for added durability. These comfortable boots are comfortably priced at $89.99.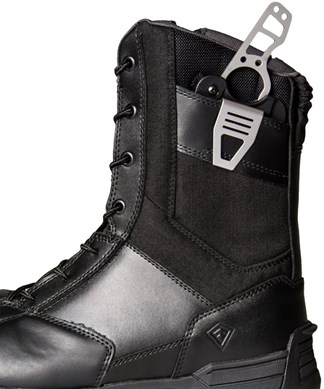 A handy feature each boot has is built-in left- and right-side pockets for a back-up or boot knife. In this case, the pockets happen to be just the right size for the company's skeletonized Scorpion 440A steel, modified-tanto fixed-blade knife and clip-on polymer sheath, which are available for $39.99. The pockets are also suitable for other slim items including small folding knives and pen lights.
BLACKHAWK!
The first BLACKHAWK! products I had an opportunity to work with included various holster systems, magazine pouches and shooting-support gear. But it wasn't long before I discovered the company's top-notch clothing and footwear lines, which I have been using for half a decade now. The company was founded by a Navy SEAL who, after his pack failed while navigating a minefield, vowed that he would produce superior gear on which folks could rely. BLACKHAWK!'s dedication to constant research and refinement is clearly evident in all of the products I've tried, including the pair of Defense Boots I've had kicking around for the last several months.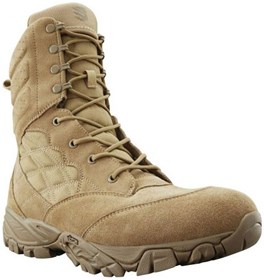 The footwear experts at BLACKHAWK! strive to keep consumer feet happy with boots that are comfortable, durable and made of high-quality materials. Available in Coyote 498 (Tan), the Defense Boot shares several important features with the other models the company offers. The custom-molded, oil-resistant Vibram Multisport outsole is deeply textured for positive purchase. It has been paired with a non-woven back counter for reinforcement at the heel and a steel shank for additional support when carrying a heavy pack. A fully-gusseted tongue prevents debris from entering the boot while the abrasion-resistant, NATO lacing hooks allow for quick and secure lacing. The DROLEX inner liner wicks moisture away and the antimicrobial Ortholite foot bed is washable.

This particular boot came and went from the company catalog during my extended testing session. They are still available through third party vendors or one can take a look at the similar Desert Ops boot currently in production for $163.95.
Danner Boots
In production in the United States since 1932, I have yet to wear a Danner boot that I didn't like. Back in 2013, I got to meet the team and tour the facility where these boots are made, and I can tell you, these folks take their work seriously. I have hard-to-fit feet and every Danner I've tried on in my size has felt like it was made just for me. I've also been impressed with how well they hold up to years worth of regular wear.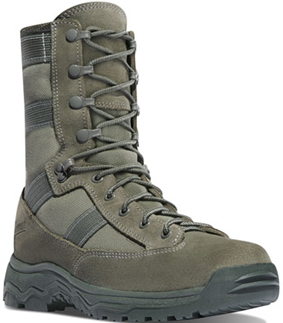 As a military contractor, the company recognizes that U.S. armed forces are faced with ever changing terrains and conditions. The 8" Reckoning, available in tan, black and sage (shown), is lightweight, streamlined and designed to fit a variety of theaters and uniforms. This boot provides an athletic and supportive fit with ample room in the toe. The heel shape locks the foot in place at the back end of the boot, making it ideal for those in need of high-mileage performance. Danner's All-Terrain (DAT) sole features Vibram midsole and outsole compounds calibrated for shock absorption and comfort.

The omni-directional pentagonal outsole lug pattern provides traction from all different angles, and a double-bevel tread helps to reduce debris build up. The upper is constructed of rough-out, full-grain leather paired with tough 1000 Denier nylon. A breathable, moisture-wicking air-mesh lining and ventilation make the boots comfortable to wear in hot weather, while the removable polyurethane footbed absorbs shock.
To accommodate as many customers as possible, this boot is offered in extended sizes. However, as of this writing, Danner is in the process of fulfilling an order for the U.S. Armed Forces. This means that some sizes and colors of the Reckoning may not be available until mid-2019. Suggested retail is $260.