by
posted on June 30, 2017
Support NRA American Rifleman
DONATE
With the number of AR-15 platforms in the hands of American consumers at an all-time high, new fans of the modern sporting rifle (MSR), and those who stocked up on off-the-rack guns during the Obama years, are now taking full advantage of the AR's modularity. So much so that folks in the industry are calling 2017 The Year of AR Accessories. This year boasts many new components that have just arrived on the market and interesting options that deserve a closer look.
All of the following components were tested by incorporating them into a single rifle that was put through a full test and evaluation at the shooting range. My last AR was a rather subdued silver and gray chassis build. This time around, I looked for components that would spice things up a bit as part of a light and handy race gun.
Armaspec SRS Recoil Assembly & XPDW Stock
This build presented my first opportunity to work with the Armaspec Stealth Recoil Spring (SRS) system. This self-contained multi-stage assembly is a drop-in replacement for the typical buffer and spring. The SRS works to reduce felt recoil while keeping the spring from rubbing up against the interior of the buffer tube. The buffer is held in constant contact with the bolt-carrier group (BCG) with a rubber O-ring between them to prevent metal to metal contact. The result is an action that cycles more smoothly and quietly without any rattling in either the spring or the BCG when the rifle is in motion. The SRS would be a great addition to a rifle that's going to be fired with sound suppressors.
Armaspec's adjustable aluminum five-position XPDW shoulder stock successfully replicates the look and feel of the dual-arm extendable stocks often found attached to submachine guns. Designed for .223/5.56 rifles and short-barreled rifles (SBR), it provides a 13.5" length of pull when fully extended. The mounting block attaches directly to mil-spec six-position buffer tubes without the need for any modifications. A QD sling port is located at the base of the buttplate to support the attachment of a two-point sling.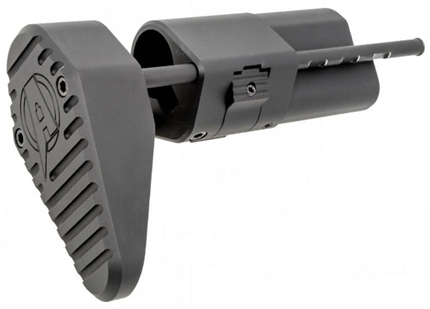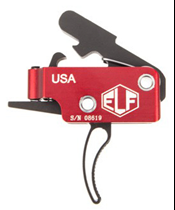 Elftmann Tactical Match Trigger & Anti-Walk Pins
In keeping with the race gun theme of the build, the drop-in trigger group is the Match model with a skeletonized bow trigger manufactured by Elftmann Tactical. Components are machined from hardened A2 tool steel and lightweight aircraft-grade aluminum. This single-stage competion trigger uses aerospace-grade sealed bearings which gives the trigger pull an exceptionally smooth, crisp feel that breaks at 2 lbs. 11 oz. of trigger pull with no over travel.
To ensure that the trigger group is securely seated in the receiver, Elftmann provides an in-house set of non-rotating, anti-walk .154 diameter trigger and hammer pins with a black oxide finish. I appreciate how easy these pins are to install. There are no tiny little screws to lose or miniature hex wrenches to accidentally bend. Once the hardened, American steel pins are in place, simply clip the master link over the protective end plates and you're ready to go.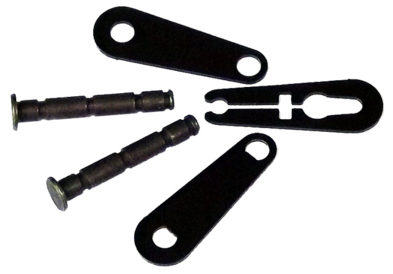 Ground Zero Precision In-House Components
In the past, I've mentioned that Ground Zero Precision (GZP) offers affordably priced complete Do-It-Yourself rifle build kits with plenty of bells and whistles for what you pay. In addition to these kits, GZP also stocks top-notch nitrided lower parts kits and individual components including buffer tubes, gas blocks, magazine extensions and other high-quality in-house components. GZP can help fill the small-part gaps for a mixed manufacturer build like this one or serve as a one-stop-shopping component source.
This year GZP released a new 16" Ultra-Light .223/5.56 Wylde Multi-Gun competition barrel that weighs in at 1.56 lbs. with a 1:8" rifling twist rate. This barrel was designed by the GZP competition shooting staff to provide customers with a versatile option that can fill shooting niches ranging from multi-gun competition to reduced-weight recreational rifles. It includes a mid-length gas port, fully Parkerized finish and a ½-28 TPI threaded muzzle.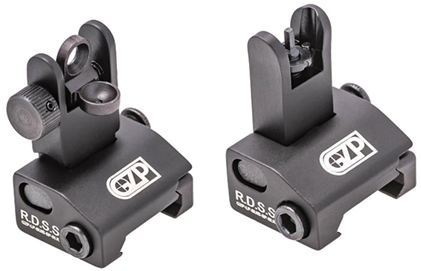 For those in need of a set of metallic folding combat sights, GZP now offers the Rapid Deployment Sight System (R.D.S.S). These same-plane sights are spring loaded to flip up into position with the press of a button. Constructed from hard-coat anodized CNC machined aluminum alloy and steel components, these sights provide a slim .433" profile when folded. The front sight hosts a traditional adjustable post with the rear sight sporting a .5 MOA click-adjustable dual peep sight for 300 and 500 meters.
Next Level Armament NLX Fifteen Receivers & Charging Handle
Next Level Armament is now shipping the new NLX Fifteen 15 oz. AR receiver set. Both receivers are stylishly milled in-house from U.S.A. 7075 aerospace aluminum alloy with the magazine well broached before being hard-coat anodized. The flat-top upper provides 6" of Picatinny sight rail and will support a forward assist kit and dust cover. The lower features a takedown pin tension screw, a threaded takedown detent and spring hole and a threaded bolt catch pin. All of the required hardware is provided with the receivers.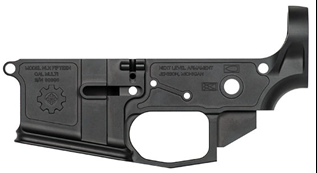 The NLX 556 Ambi Charging Handle was designed with cold weather and shooting-gloved hands in mind. Made from 7075 aluminum, the extended gripping surfaces of the handle provide plenty of clearance for optics while being deeply curved and grooved for positive purchase. It uses fewer moving parts for increased reliability for left- and right-handed operators.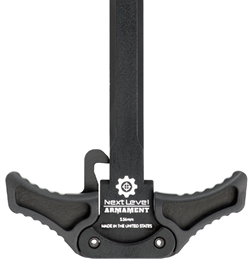 Nikon Black Force 1000 Scope with Warne MSR Rings
Nikon recognizes that while more folks are choosing to participate in 3-gun and other types of competion, they don't necessarily want to spend a small fortune for a quality optic. The new 30 mm tube 1-4 x 24 mm Black Force 1000 optic with the company's Speedforce illuminated reticle is packed with more features and better clarity than one would expect to find in a scope that costs less than $400. Full multilayer coatings have been applied to the glass surfaces. The side-mounted illumination control features 10 intensity settings and powers down after 1 hour of non-operation. The spring-loaded Instant Zero-Reset turrets are engraved to make them easy to read and precision internal components provide repeatable corrections when zeroing. This optic provides a true 1x magnification for both-eyes-open target engagement at short-to-intermediate ranges with up to a 4x zoom for targets at longer distances.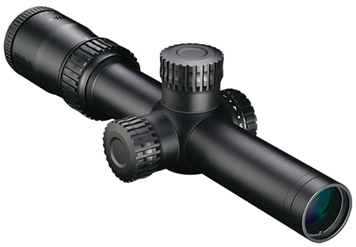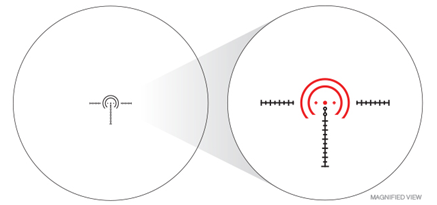 The optic was mounted using Warne's top-notch 30 mm MSR Quick Detach two-piece flat top rings (A417LM). Precision CNC machined from aircraft grade aluminum for reduced weight, these rings are fitted with steel cross bolts and quick-detach wing nuts for easy installation and removal. The key feature of Warne products that makes them well worth the asking price is how securely they stay where you put them. Other rings I've used tend to shake loose in the course of testing a gun requiring them to be re-tightened once (or even twice) before the work is complete. Like other Warne products I've tried, the MSR rings didn't need any adjustments.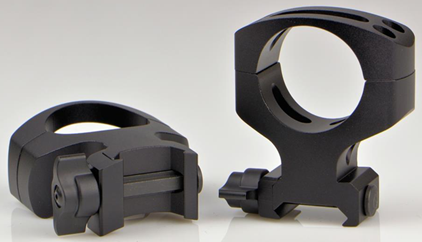 Timber Creek Aluminum AR Furniture
Timber Creek Outdoors (TCO) is a relatively young AR components provider that arrived in the market place just two years ago. I met with the company for the first time this year at the SHOT Show in Las Vegas. The booth's peg hooks were filled with a diverse selection of brightly anodized aluminum furniture and accessories that caught my eye like a candy store amidst an endless sea of black polymer bits and pieces. But the TCO offerings are much more than just colorful. Slim, lightweight, reasonably priced and packed with features are descriptions that readily come to mind.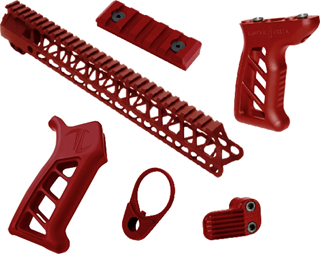 I opted to work with several items from the Enforcer line of products in a candy-apple red anodized finish (one of the most popular colors the company provides) with an added Cerakote clear-coat finish for increased durability. The free-float 13" key-mod handguard features a durable aircraft grade billet aluminum body with a lightweight design, full-length optics rail, integral QD sling swivel ports and mounting hardware. This handguard fit the Next Level Armament upper receiver so precisely it was like both parts were made by the same company.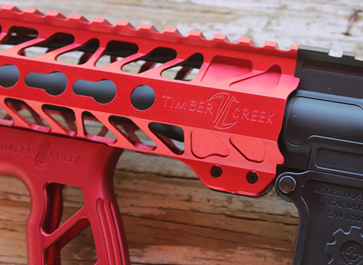 The handguard was embellished with a matching TCO five-slot accessory rail, one of the company's angled mounting points for QD slings and an exceptionally comfortable direct-mount vertical foregrip that shares the same look and feel as the Enforcer AR Pistol Grip. The pistol grip is a drop-in, mil-spec replacement part CNC machined from billet aluminum and is among the most reasonably priced options I've seen among aluminum grips. The standard magazine release was replaced with the TCO extended release. The result is a set of furniture that is strong, light, well designed and a welcome change from basic black. TCO offers several more useful upgrades including muzzle devices, trigger guards and QD end plates to name a few. 
UM Tactical R.A.G.E. TCS 5.56/.223 Compensator
The majority of AR muzzle devices have a fixed set of characteristics, defined and executed by the manufacturer, which may or may not be a good fit for your particular platform and ammunition choice. UM Tactical eliminates the need for trial-and-error guess work with the modular R.A.G.E. (Rapid Adjustable Gas Expulsion) TCS (Total Compensation System) muzzle device. The kit arrives with five ported washers that can be switched around along three positions on the barrel of the muzzle device to adjust for muzzle rise and felt recoil.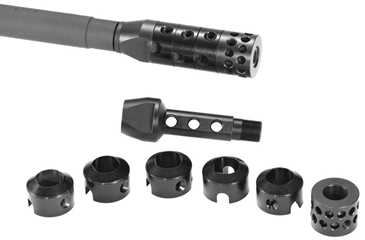 Once the right combination of washers for your needs is in place, they are secured using a ported cap and four set screws. The kit arrives in a handy hard case to store unused components along with a set of useful instructions explaining how to configure the R.A.G.E. TCS for the results you want.
WMD Black Nickel BCG
Although WMD Guns' proprietary NiB-X nickel-boron coating process provides corrosion resistance, increased lubricity and added durability to their excellent full-auto rated bolt-carrier groups (BCG), not all of their customers want their BCG to have a silver finish that stands out from the matte black color of an upper receiver. To address this need, the company now offers the polished M16 profile NiB-X BLACK BCG.

Although matching the BCG to the receiver has tactical advantages, my reasons were mostly cosmetic. I wanted the quality and reliability of a WMD BCG for this race gun, but I wanted to avoid adding a third color to a two-tone gun. The bolt is constructed of Carpenter 158 heat-treated steel, shot peened and magnetic particle inspected. Other features include a heavy-duty extractor spring, a hard chromed firing pin and a properly staked gas key which meets military specifications.
Educational Opportunities
I have yet to work on a mixed component build in which everything went exactly according to plan. There are always a couple of "educational opportunities" that increase the work time or parts that turn out to be incompatible.
Timber Creek provided a QD sling swivel mount end plate in red for this build that I was looking forward to including. However, the added thickness of the QD mount, which would not be an issue for the majority of six-position stock configurations, threw off the alignment of Armaspec XPDW stock's mounting screws in relation to the ports of the buffer tube. I could either drill new holes into the buffer tube or trade out end plates. I opted to trade out the plate.
The ports of the UM Tactical R.A.G.E. compensator would not line up properly when using either a crush washer or a set of spacing shims. The easy solution to the problem, which I found on my third try, was an adjustable jam nut. After this build, I went ahead and bought a set of jam nuts to keep on hand for future builds, just in case.
I don't like roll pins and they don't like me. These days we are on speaking terms most of the time since there's no choice but to try and get along if you want to build ARs at home. Despite having several builds under my belt now, I still managed to mechanically lock-up the forward assist roll pin when it was only part way through the upper receiver. My best guess is that the pin flared on the way in and then bulged as I tried to tap it back out. Hat in hand, I called the good folks at Next Level Armament who helped me to resolve the problem (in this case the upper went back to the factory). My suggestion is to be very careful with roll pins since their mismanagement can literally stop a build from proceeding. 
At the Range
The great thing about working with high-quality, mil-spec compatible AR components is that only a moderate degree of mechanical skill is required to get positive results. The red and black race gun turned out to have a light, well-balanced feel to it that handled nicely off the bench.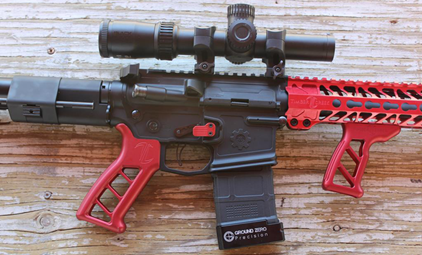 The muzzle device and captured recoil assembly worked together to smooth out and measurably reduce the levels of felt recoil. The TCO gripping surfaces provided plenty of positive purchase without being abrasive. The Nikon optic was bright and clear with a useful reticle that was quick and easy to use. The Elftmann trigger was a real treat to work with. The overall fit and finish was excellent with the stand-out appearance I was hoping for.

The rifle proved to be utterly reliable with all of the .223 Rem. ammunition tested. There were no mechanical, control, magazine or ammunition related malfunctions throughout the course of testing. The formal accuracy test consisted of five, five-shot groups fired at 100 yards from a bench rest. Colt Defense (by Double Tap Ammunition) 64-gr. bonded soft points turned in a best group of 1.11" with an average of 1.25". Sig Sauer Elite Performance 77-gr. open-tip match yielded a best group of 0.98" with an average of 1.02". The best performer of the day was Gorilla Ammunition's 69-gr. Sierra Match King open-tip match with a best group of 0.89" and an average of 0.94".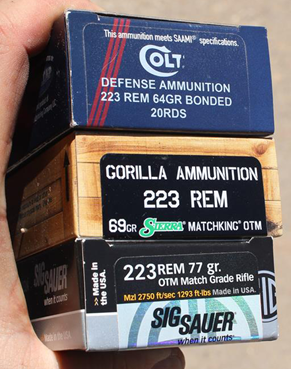 Wrapping Up
Building and modifying AR-15s at home is an enjoyable (i.e. addictive) hobby that allows for a level of personalization not found with most other long-gun platforms. This is a terrific year to dress up those off-the-rack platforms or build from scratch because parts are plentiful and back to much more reasonable prices than they were a couple of years ago. Don't forget to pick up a few extra magazines right now while they're easy to find.

Specifications:
Action: Gas-Impingement Semi-automatic
Caliber: 5.56 NATO/.223 Rem.
Stripped Upper Receiver: Next Level Armament NLX Fifteen Billet $209
Ejection Port Cover Kit: Striker Industries U.D.C. Ultimate Dust Cover $15.95
Forward Assist Kit: OEM $16.99
Charging Handle: Next Level Armament NLX 556 Ambi $80
Complete BCG: WMD Guns NIBXBCG0001-BLK, Full-Auto Rated $185
Barrel: GZP 16" Ultra-Light .223/5.56 Wylde AR-15 Multi-Gun Competition Barrel $161.97
Rifling: 1:8" RH
Grooves: 6
Muzzle Threading: 1/2-28 TPI
Gas Block: GZP .750 Low Profile Steel Micro AR Gas Block $17.95
Gas Tube: GZP Seamless Stainless Steel, Rifle Length, Black Finish $16
Handguard: TCO 13" Enforcer Key Mod Red (KE13HG) $219.99
Vertical Foregrip: TCO Direct Mount Key Mod Red (KEVFG) $79.99
5-Slot Key Mod Rails: TCO Black (5SPR) $19.99
9-Slot QD Key Mod Rail: TCO Rail with QD Swivel (9SQDPRC) $37.99
Stripped Lower Receiver: Next Level Armament NLX Fifteen Billet $239
Lower Parts Kit: GZP Nitride Enhanced Mil-Spec (No Grip or Trigger Group) $42.95
Drop-In Trigger Group: Elftmann Tactical Match Trigger, Curved $259
Hammer & Trigger Pins: Elftmann Tactical Non-Rotating Anti-Walk $24.95
Trigger Pull: 2 lbs. 11 oz. (As Tested), Single-Stage
Magazine Release: TCO AR Extended Magazine Release (AREMR) $19.99
Pistol Grip: TCO Enforcer AR Pistol Grip Red (EARPG) $99.99
Shoulder Stock: Armaspec XPDW Stock $179
Buffer Assembly: Armaspec SRS Stealth Recoil Spring $79
Buffer Tube: GZP 6-Position Carbine, Mil-Spec $22.49
Folding Sights: GZP R.D.S.S. Same Plane BUIS Sight System $84.77
Muzzle Device: UM Tactical R.A.G.E TCS 5.56/223 $159.99
Magazines: Accepts Mil-Spec AR-15 Magazines
Overall Length: 36.5" (Stock Extended)
Weight: 6 lbs. 12.5 oz. Unloaded, No Magazine
MSRP: $2,272 (excluding taxes, shipping, labor and magazines) 
Optic: Nikon Black Force 1000 1-4x24 IL Speedforce (16380) $399.95
Rings: Warne 30 mm MSR Quick Detach 2-Piece (A417LM) $83.99