by
posted on April 12, 2017
Support NRA American Rifleman
DONATE
There's more than one way to go about purchasing and setting up a custom AR-15 rifle to meet your particular tastes and needs. Each approach has its advantages and disadvantages to consider. One option is to find a factory-custom gun that has most of the features you're looking for. But fancy factory guns often have price tags that travel past the $2,000 mark and keep going.
Instead, you can buy a less expensive gun and replace parts. The downside here is that you end up paying for the same parts twice. I'm a fan of the "from scratch" builds because they reduce costs while maximizing customization. However, these builds require a whole bunch of research, chasing parts down, ordering and organizing. Then all those small parts have to be assembled at home. I enjoy the component hunting and at-home assembly process, but not everyone does.
For those AR enthusiasts who want a custom gun at a more reasonable price without all the hassle, there's a simpler 2-step option worth considering: Find a quality AR-15 chassis and then single-source the furniture. Here's a closer look at a recently completed 2-step build: 
The WMD Beast Billet Chassis
A chassis is a rifle or carbine that's assembled at the factory without any furniture. It's an option that's continued to gain in popularity over the last few years, so more manufacturers are offering them.

The amount of work required to finish a chassis at home depends on the model you buy. Some arrive with a barrel nut, pistol grip and muzzle device already installed. All that's needed to complete the gun is the handguard and shoulder stock. Other chassis models, like the WMD Guns Beast AR-15 Billet Chassis used for this review, ship without those components in order to reduce cost to the consumers who are likely to replace them anyway. Grips and muzzle devices are relatively easy to attach but barrel nuts are a bit more involved.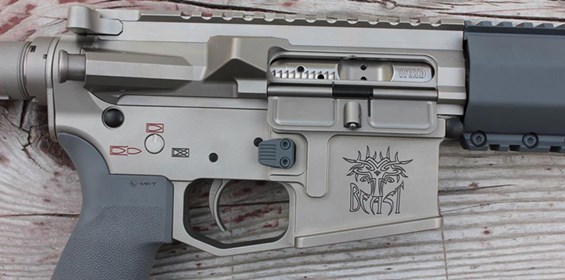 Because of the terrific results I had with the WMD AR-10 pattern Big Beast a couple of years ago, and one of the company's .223/5.56 receiver sets last year, I had no doubt that an AR-15 pattern Beast would be a great place to start for this build. Just like the larger .308 Big Beast, this .223/5.56 Beast is American-made using a set of components treated with WMD's NiB-X coating. This gives the chassis its signature matte silver finish.
Treating the milled billet 7075-T6 aluminum receivers, the polished M16 profile bolt carrier group (BCG), barrel exterior, buffer tube assembly, charging handle and trigger group with NiB-X provides a corrosion-resistant surface with greater lubricity and increased heat dissipation efficiency. It looks great too. The interior of the M4 profile match-grade Chrome Moly Vanadium steel barrel is treated with Nitromet QPQ salt-bath nitride for a longer working life and improved accuracy.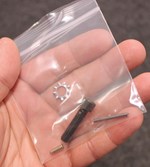 WMD provides the grip screw, lock washer, safety selector detent and detent spring needed to install the pistol grip of your choice. Once you've picked a 6-position shoulder stock, it simply slips into place, no tools required. The last two components needed to complete the Beast chassis, which are not provided, are a muzzle device and a barrel nut.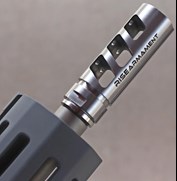 The Rise Armament RA-701 Compensator, with its satin 416 stainless steel finish and effective recoil-taming characteristics, is an ideal fit for the WMD match-grade barrel. I was able to find a stainless steel spacer to match. Most muzzle devices can be twisted into place and tightened with an ordinary crescent wrench after the handguard is installed (lining the jaws with some black electrician's tape will help to prevent scratching).



A barrel nut did not ship with either the chassis or the furniture set, so I picked one up from a local gun shop. Installing the barrel nut is a more involved process that calls for specialized tools including an armorer's wrench, torque wrench, upper receiver vice block set, roll pin holders, pin punches and a hammer.
If you don't have either the tools or the inclination to install the barrel nut yourself, then plan on a quick visit to a qualified gunsmith. I talked to the staff at some of the local shops which specialize in ARs. They said their technicians would charge somewhere around $10 to $20 to install just the barrel nut, including the removal and re-installation of the gas block and tube. For $10 to $20 more, they would install the handguard too.           
Mission First Tactical (MFT) Furniture
The basic set of AR-15 furniture usually required to finish a typical AR chassis includes a handguard, pistol grip, shoulder stock and at least one magazine. The AR's modularity allows consumers to mix accessories from different sources if they want to. However, there are companies that offer complete furniture sets in order to give consumers a one-stop-shopping selection. Single-sourcing these components gives the rifle a uniform appearance while reducing research time and cutting down on shipping costs. Magpul is one of the most readily recognized sources of matching parts which includes a broad selection of AR magazine styles and sizes. Ergo Grips offers top-notch furniture sets in a variety of colors including pink, purple and Robin's Egg Blue, but no magazines.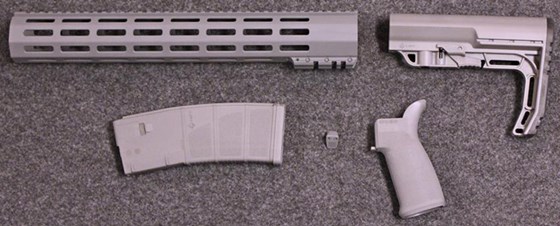 The manufacturer that offers just what I wanted for this particular chassis build is Mission First Tactical (MFT). This company isn't as well known in commercial circles because its advertising efforts are focused on the military and law enforcement sides of the market. But that doesn't change the fact that MFT offers terrific matching furniture and magazine options that are a great fit for civilian applications too. The polymer components (stock, grip and magazines) are molded from different colors of material while the metallic components (handguard and magazine release) are treated with a matching Cerakote finish.

The new M-LOK version of the 15" Tekko Metal AR Free Float handguard is available in Tactical Gray with an integral full-length top rail for sights. The MFT handguards are unusual in that they're designed to be mounted using hardware that fits a standard, cog-like AR-15 barrel nut instead of a proprietary barrel nut. The company's goal is to simplify the installation process for those who are upgrading standard ARs.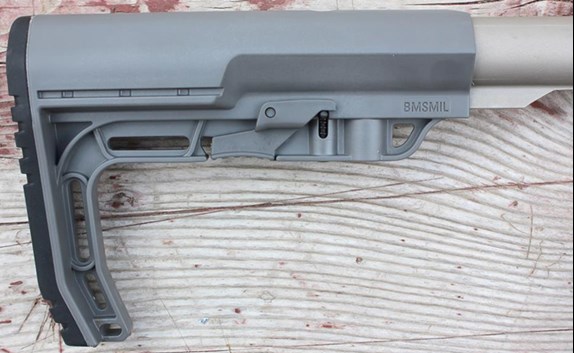 The shoulder stock is one of my favorites, the BATTLELINK Minimalist mil-spec stock. Weighing in at 5.8 oz., it's one of the lightest six-postion stocks on the market. The stock's distinctively angled buttpad allows it to comfortably roll up from a low-ready into a firing position quickly. The extended aluminum two-piece magazine release is easier to reach and operate than mil-spec releases.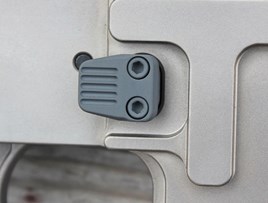 The Engage V.2 pistol grip offers a stippled surface and a 15-degree gripping angle for added comfort and control. At the front of the grip is a small extension which fills the gap found in standard forged lowers with removable trigger guards. In this case, the lower had a fixed trigger guard so I simply trimmed off the extension with a sharp utility knife.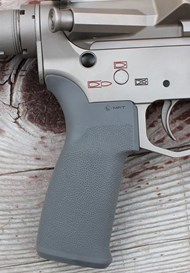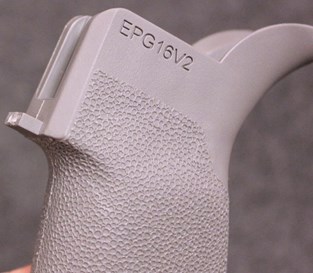 The color-matched polymer magazines are MFT's in-house standard capacity model with a textured surface, four-way anti-tilt followers, stainless steel springs and flared floor plates. I've been shooting with these magazines for years now and have yet to run into any problems with them. 
At The Range
The freshly assembled Beast AR cycled smoothly during its initial bench checks, all of which it passed with ease.

After applying lubricant to the polished Nib-X bolt-carrier group and other moving parts, the action became downright glassy. The controls were also smooth and trouble free in their operation. The WMD single-stage trigger group is a big step up from the typical mil-spec trigger. It breaks cleanly without any mushiness or grit with 5 lbs. 12 oz. of trigger pull.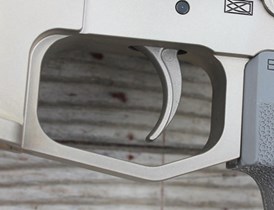 Along with the gray MFT magazines, the rifle was test fired using aluminum OKAY Industries Surefeed 30-round, aluminum Brownells 30-round and polymer Magpul Gen M3 PMAG 20-round magazines. Using a mix of .223 Rem. ammunition ranging from practice to match-grade, the Beast ran the entire course of testing with no malfunctions.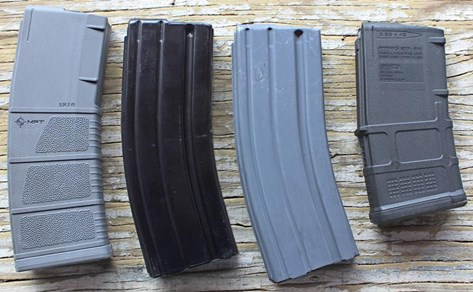 Informal shooting and formal bench rested 100-yard accuracy testing were conducted using a Bushnell SMRS Elite Tactical 1-6.5x24 mm scope attached to the rifle using a Weaver Tactical SPR Optics Tactical mount.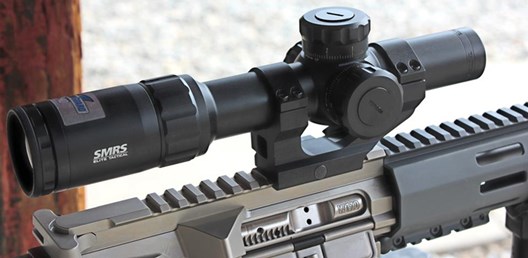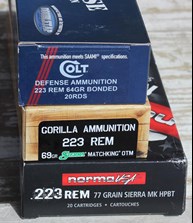 Colt Defense branded 64-gr. bonded jacketed soft points (manufactured by DoubleTap Ammunition) turned in a best single 5-shot group of 1.15" with a five group average of 1.20". Norma USA's 77-gr. Sierra Matchking hollow point boat tail load printed a best group of 1.03" with an average of 1.10". Gorilla Ammunition's 69-gr. Sierra Matchking open-tip match yielded the best single group of the day at 0.94" with the best average of 1.00".
Wrapping Up
Assembling a top-quality custom AR at home doesn't have to be an overly expensive, time consuming or complicated process. Using a factory assembled chassis and a single-source set of furniture is a much more simple approach that can result in a rifle that looks as good as it shoots.
Pairing the Beast chassis with MFT's tactical gray furniture produced a rifle with a unique appearance that's unlike any I've seen before with any other AR. Placed in a rack with several other black and flat dark earth models, this one will clearly stand out from the crowd. At the same time, it's a conservative color scheme that doesn't scream for attention in the same way that brightly colored components do. I set out to build a "cool" looking rifle and this one definitely qualifies. 
If gray tones are not your style, both of these companies offer other color options. The Beast chassis is also available with a Black and Flat Dark Earth finish applied over the NiB-X coating. MFT's furniture colors include Black, Flat Dark Earth and Foliage Green.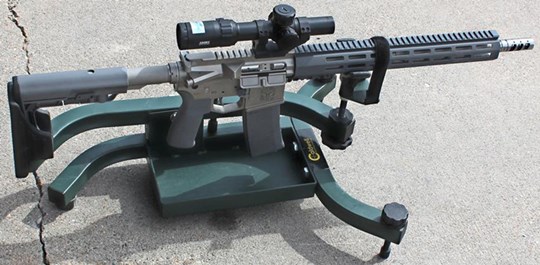 Specifications
Rifle Chassis Manufacturer: WMD Guns
Model: Beast AR-15 Billet Chassis $1,089
Action: Gas-Impingement Operated Semi-Automatic
Caliber: 5.56 NATO/.223 Rem
Finish: Matte NiB-X Finish
Upper Receiver: Mil-Spec Forged 7075-T6 Aluminum, M4 Feed Ramps
Ejection Port Cover: Yes
Forward Assist: Yes
Charging Handle: Mil-Spec
Bolt Carrier Group: M16 Profile with Polished Nib-X Coating, Mil-Spec MP Tested
Barrel: 16" M4 Profile Chrome Moly Vanadium Steel, Match Grade
Bore: Nitromet QPQ Salt Bath Nitride Finish
Rifling: 1:7" RH
Grooves: 6
Muzzle Threading: 1/2x28 TPI
Gas Block: CNC Machined 4140 Steel, Low Profile
Gas Tube: Carbine Length, Nitromet QPQ Finish
Lower Receiver: Milled Billet 7075-T6 Aluminum, Magazine Well with Finger Grooves
Lower Receiver Controls: Mil-Spec, Matte NiB-X Finish
Trigger Group: NiB-X Coated, Mil Spec
Trigger Pull: 5 lbs. 12 oz., Single-Stage
Buffer Tube: Mil-Spec 6-Position Stock Compatible
Buffer: Carbine
Sights: None
Furniture Manufacturer: Mission First Tactical (MFT)
               Handguard: Free Float 15" KeyMod (TMARFF15KRS ) $224.99
               Magazines: Standard Capacity Polymer (SCPM556) $14.99
               Magazine Release: Extended (E2AREMR) $24.99
               Pistol Grip: Engage V.2 (EPG16V2) $19.99
               Shoulder Stock: BATTLELINK Minimalist, Milspec (BMSMIL) $59.99
Muzzle Device: Rise Armament RA-701 Compensator, Stainless Steel $129
Barrel Nut: OEM Steel Standard $11.50
Complete Rifle Overall Length: 36.75" with Stock Extended
Length of Pull (LOP): 10.50" - 14.25"
Weight: 6 lbs. 9 oz. Unloaded, No Magazine
Build MSRP: $1,575 (excluding taxes, shipping, labor and magazines)
Optic: Bushnell SMRS Elite Tactical 1-6.5x24 mm with BTR-2 Reticle (ET1624J) $1,822.45
Scope Mount: Weaver Tactical SPR Optics Tactical Rail Mount, 1"/30 mm (48377) $90.45