by
posted on October 12, 2016
Support NRA American Rifleman
DONATE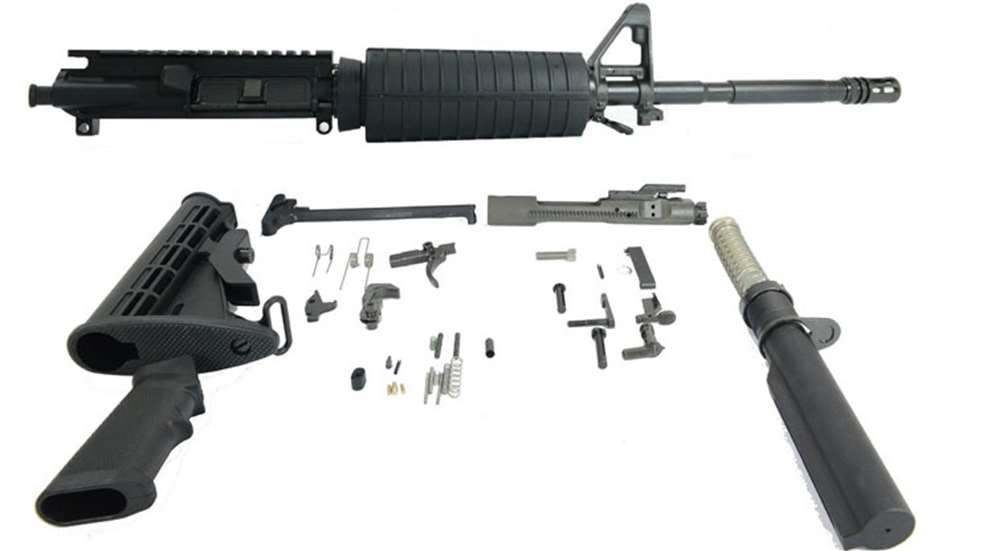 Building sleek, sexy, tricked-out AR-15 rifles is all well and good. But what about folks who just want a dependable rifle for less or first-time builders who want to get their feet wet at an affordable price? Building an AR-15 yourself is an effective way to reduce costs by hundreds of dollars with all AR types and models. But just how low can you go and still get a rifle that's worth owning? That's what I set out to discover with this budget-friendly rifle build.
There are three types of expenses to consider when planning an AR rifle build at home. The first and most obvious one is the cost of the parts going into the rifle. But the components are only a part of the equation. Next is price of the tools you'll need. Spending too much on tools will blow your cost savings while not spending enough can lead to lost time, frustration and possibly damaged components. Finally, there's the amount of time invested in the project. This includes researching and ordering parts, studying how to build an AR, preparing a work space and performing the build itself. 
During this build, I kept all of these expenses in mind in an effort to balance the least costly parts against the minimum number of tools required with as little time at the workbench as possible.
One of the most affordable AR rifle kits I could find online from a reputable company at the time of this writing was a Palmetto State Armory (PSA) PTAC M4-style carbine kit on sale for $399.99. I previously had positive results with one of this company's AR pistol kits, so I was glad to work with them again on this project. The PTAC line is a PSA in-house brand geared to the budget-minded builder. The kits contain quality mil-spec parts but they are basic components that cost less. The kit includes everything needed for a complete rifle except a lower receiver, a rear sight and magazines.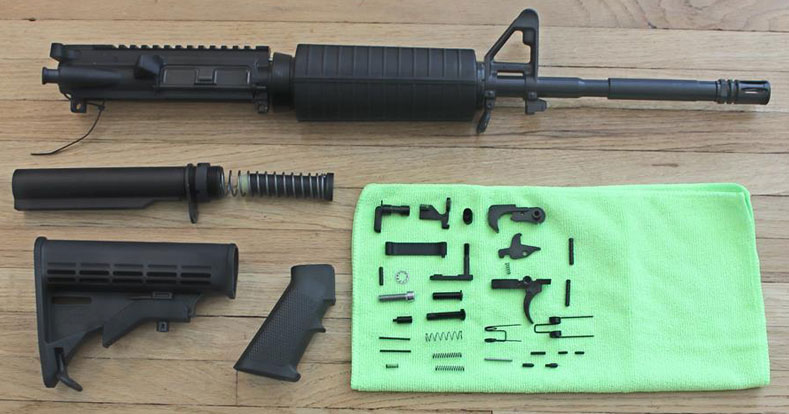 PSA sometimes offers blemished lower receivers at very good prices. The blemishes (if you can find them) are purely cosmetic in nature and have no ill effects on the function of the receiver. I found one listed for $49.99.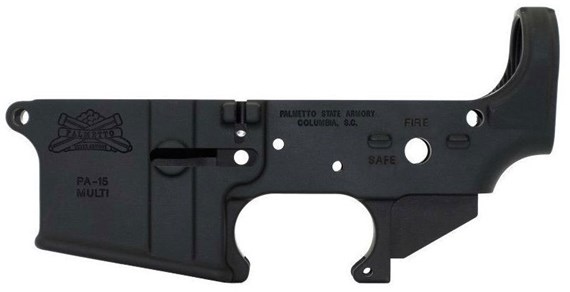 The mil-spec trigger shipped in the PTAC Freedom lower parts kit proved to be the same as most factory triggers. When installed it had an 8 lb. 9 oz. trigger pull that was less mushy than some but still just as gritty. I know this was supposed to be the least expensive build I could manage, but as far as I'm concerned, every AR build needs an improved trigger. Although some drop-in trigger upgrades can cost upwards of $150, I took advantage of PSA's EPT trigger upgrade that was on sale for just $29.99 at the time. The EPT kit consists of a single-stage government-style fire control group with finely polished contact surfaces and a nickel finish. When installed it provided a smooth, no creep trigger pull of 5 lbs. 14 oz. once the rifle was broken in. It was definitely a worthwhile investment.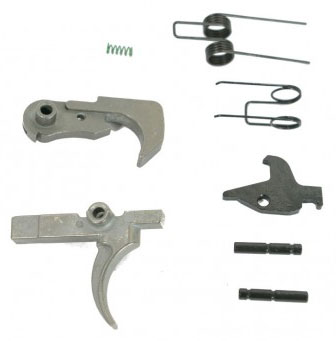 The total cost of the PSA PTAC kit, lower receiver and PSA EPT trigger upgrade was $479.97.
One of the advantages from a tool cost and time perspective with the PTAC kit is that it arrives from the factory with the upper fully assembled and the bolt properly head spaced. The following photo shows the minimum tool set I would plan on if the PTAC needed to be built completely from scratch.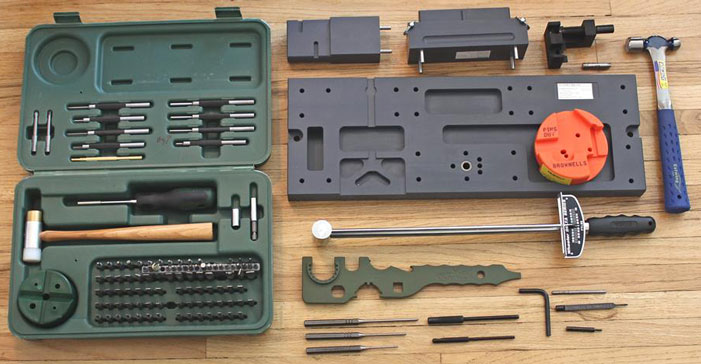 Most of these tools will look familiar but folks who have yet to build an AR will not recognize the specialized items like the orange Brownells front sight block, the black ejector removal tool (top right), and the gray pocketed plate which is the Present Arms Inc. GM-102 Gunner's Mount. I use this mount, along with the company's MP-AR15 magazine post and LRB-AR15 lower receiver block, in place of a shop vice and vice blocks because the system is portable and can be used on ordinary table tops. But like most specialized tools, these items are not cheap. 
However, because the PTAC's upper is fully assembled, someone who has a shop vice can squeak by with just the tools shown here.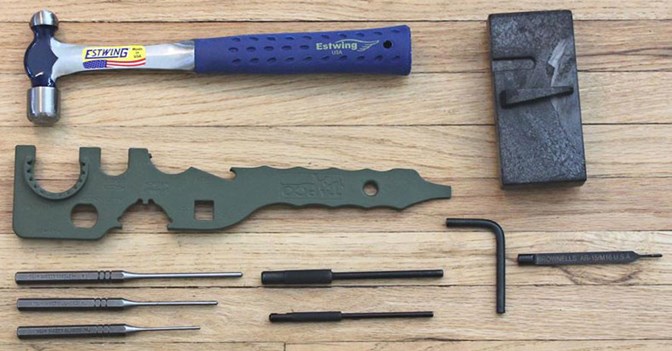 The tools include:
Small Ball Peen Hammer $10-$30
AR Armourer Tool $20-$50 (TAPCO AR Tool Shown $44.99)
Polymer Lower Receiver Vice Block ~$13
3/32", 5/32" and 1/8" Roll Pin Punches (Grace Brand Available at Brownells) $5.99 Each
3/32" and 1/8" Brownells Roll Pin Holders $15.99 Each
Brownells Pivot Pin Detent Installation Tool $15.99
Brownells Bolt Catch Pin Punch $17.99
The total tool cost for assembling the PTAC's lower is around $125 or less if you shop around a bit. Some folks will want to listen to their inner Scrooge and skip a couple of these tools, not buy roll pin holders or use regular flat-tip pin punches. Yes, an AR rifle can be assembled with fewer tools, but in my experience, this is the slimmest tool set I would willingly choose to work with.
The build time for the PTAC rifle kit was quite short, especially in comparison to the seven hours it took to complete my first at-home build. With a few builds under my belt, I have a better idea of how to lay out the work area, organize the tools and parts, and which references I'll need to double check along the way (see the link below). With everything in order, the PTAC went from half-way completed to ready-to-shoot (including lubrication and bench checks) in just over an hour. This much shorter build time was possible because the components in the kit fit and functioned properly.



The completed PTAC rifle presents a typical gas-impingement operated M4 Carbine profile. The black nitride finished 16" 5.56 NATO chamber barrel features an M4 feed ramp, A2 flash hider, a mid-length gas system and an A2 front sight gas block with a bayonet lug and sling mount. The flat-top upper and lower receivers are forged from 7075-T6 aluminum with a hard coat anodized finish. PSA does not skimp on the forward assist or dust cover, the upper receiver has both. The M16 bolt carrier is fitted with a Carpenter 158 bolt. The heat shielded polymer handguard, A2 grip and 6-postion stock are all standard fair and the mil-spec controls are located and operated in typical AR fashion.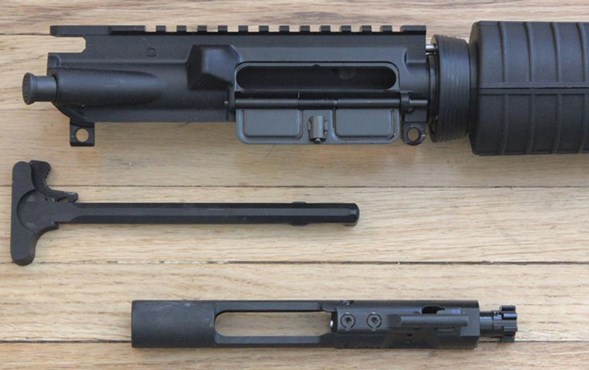 At the range, I had a positive experience getting to know the PTAC rifle along with a few other products I was testing for the first time. The rifle ran flawlessly from start to finish with no malfunctions, component failures or ammunition issues. The controls operated properly and the bolt carrier cycled smoothly when using the charging handle. Test magazines included options from Brownells, C-Products Defense and Magpul. This was my first chance to work with Surefeed aluminum magazines. Manufactured by OKAY Industries for the military, Surefeed 5.56 magazines are available in 10, 20 and 30-round configurations. Like the other magazines tested, the Surefeed locked tightly in place and fed reliably.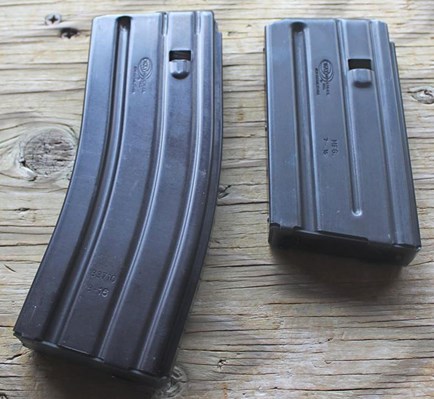 For off-the-bench shooting and close quarters drills, the PTAC was fitted with the Sightmark Wolverine 1x28 FSR unmagnified red dot sight. The adjustable 2 MOA laser is housed in a rugged, rubberized housing with an integral rail mount tall enough for the dot to be aligned with AR combat sights. The housing has been elongated in order to accommodate inexpensive and easy to find AA batteries. This makes the Wolverine much more affordable to operate in the long run.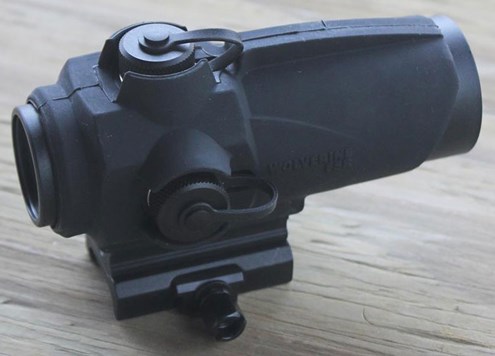 For the formal bench rested 5-shot group accuracy testing at 100 yards, the Wolverine red dot was exchanged for the Sightmark Core TX 3-12x44 DCR rifle scope. The dual-caliber illuminated (red or green) reticle is designed specifically for AR platforms chambered in 5.56 NATO/.223 or 7.62 NATO/.308. The tall, lockable turrets were easy to adjust for windage and height while sighting in. The Core TX arrives with a set of rings so that it's ready to go right out of the box. With its broad set of magnification settings, this optic can easily fill a variety of shooting roles.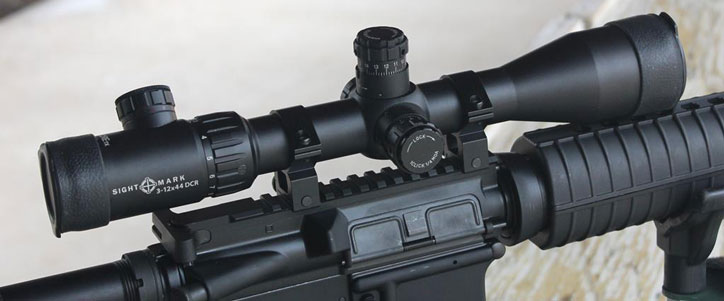 The best single 5-shot group of 0.91" and best five-group average of 1.20" was produced using HPR Hyperclean ammunition topped with Hornady 60-gr. V-Max bullets. Black Hills Gold 69-gr. Sierra Match King hollow points averaged 1.68" with Winchester USA 55-gr. full-metal jacket loads averaging 2.02".



Now that I've built and tested one of the least expensive AR-15 rifle kits on the market, the Palmetto State Armory PTAC M4, I have to say that I'm satisfied with the results. Granted, this is not quite a sub-MOA, tack-driving competition rifle (those cost much more) and the shoulder stock rattles a bit. But with groups hovering right around the 1.50" mark at 100 yds., it's certainly accurate enough for recreational shooting, close-range hunting, home defense, bug-out bags and riding along as a trunk gun. The things I worried about with an inexpensive rifle, like ammunition failures, breakages, defects or cosmetic issues simply did not manifest in the PTAC build. In fact, this rifle could be tucked into a dealer's rack next to other factory assembled $800 to $900 basic M4s even though it cost almost half the price to build.
For more how-to information about building ARs, see Building a Custom AR-15 at Home.
NRA Specifications
Manufacturer: Palmetto State Armory (PSA)
Action: Gas-Impingement Semi-automatic
Caliber: 5.56 NATO/.223 Rem.
Kit: PTAC 16" 1:7 M4 Rifle Kit (23898)
PSA Complete Upper Assembly: Arrives Fully Assembled, Head Spacing Checked At Factory
Upper Receiver: Forged 7075-T6 Aluminum
Ejection Port Cover: Yes
Forward Assist: Yes
Complete Bolt Carrier Group: M16 Bolt Carrier, Carpenter 158 Bolt
Barrel: 16" Black Nitride Finish, M4 Profile and Feed Ramp
Chamber: 5.56 NATO
Rifling: 1:7" RH
Grooves: 6
Muzzle Threading: 1/2x28 TPI
Muzzle Device: A2 Flash Hider
Gas Block: A2 Front Sight Gas Block with Bayonet Lug and Sling Mount
Gas Tube: Carbine Length (7")
Handguard: Mil Spec Polymer with Heat Shields
Handguard Rails: N/A
Lower Build Kit: Freedom Kit with A2 Grip and Mil-Spec Trigger Group
Trigger Pull: 6 lbs. 3 oz., Single-Stage
Buffer Tube: M4 6-Position
Shoulder Stock: PSA 6-Postion with Sling Mount
Magazine: Accepts AR-15 Type (No Magazines Provided)
Overall Length: 32.25" - 35.50"
Length of Pull: 10.25" - 13.50"
Weight: 6 lbs. 3 oz. Unloaded, No Magazine
PTAC Kit MSRP (On Sale): $399.99 (excluding taxes, shipping and magazines)
Stripped Lower Receiver: PSA Blemished Forged 7075-T6 Aluminum $49.99
Trigger Upgrade: PSA AR15/PA10 EPT (507797) $29.99
Red Dot Optic: Sightmark Wolverine 1x28 FSR Red Dot Sight (SM26020) $179.99
Magnified Optic: Sightmark Core TX 3-12x44 DCR Riflescope (SM13074DC) $299.99