by
posted on November 11, 2021
Support NRA American Rifleman
DONATE
I suspect there are some readers who may not realize it, but there was a time when every 19th and 20th century-styled gun was an original – there were no replicas, no commemorative models and no re-issues. That meant if you wanted to shoot a Springfield 1873 trapdoor carbine, for example, you had to go out and obtain a used original trapdoor carbine, because that's all there was. Wanted to hunt with a pre-'64 Winchester Model 70? No such thing, as prior to 1964 all Winchesters were "pre-'64s."
However, it was, in fact, during the 1960s that things began to change, jump-started by the Civil War centennial and the first of the now many cap-and-ball replicas. Then came Winchester's ill-advised cost cutting methods that created the current pre-and-post '64 versions of their rifles and shotguns, (which thankfully, have since been restored to their original pre '64 glory). This was closely followed by the start of Winchester's 1866-1966 commemorative program, which has now grown into a vast collecting category of its own.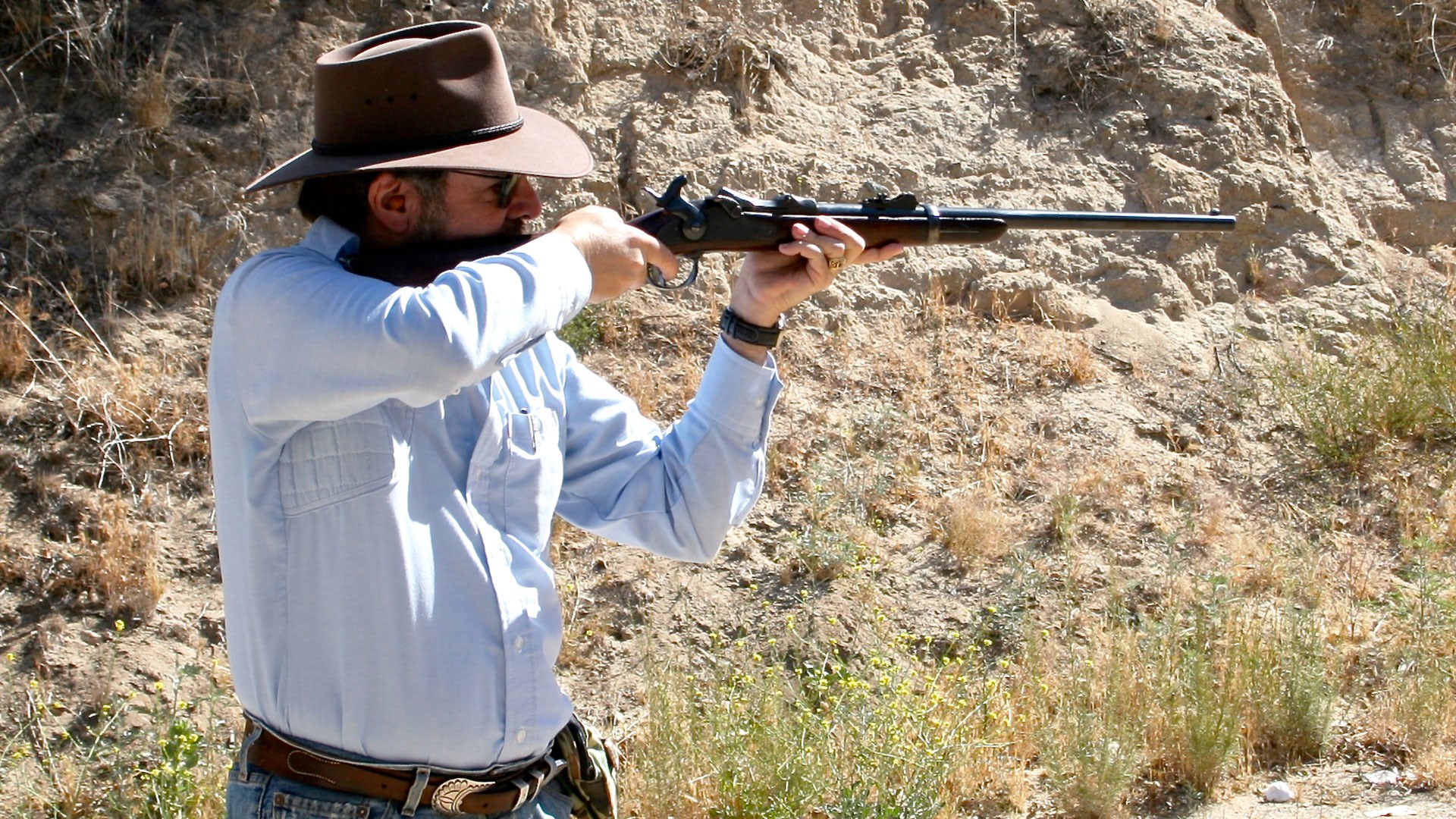 The author regularity shoots his U.S. Model 1879 trapdoor Springfield carbine, using only lead bullets rather than jacketed ammo to avoid wearing out the rifling.
Coupled with all of this are the constantly rising prices of the original firearms of years past that are still highly desirable but are no longer made, such as the Savage 99 lever-action rifles, L.C. Smith shotguns, Smith & Wesson's Hand Ejectors, pre-transfer bar Old Model Ruger Single Sixes and Blackhawks along with first and second generation Colt Single Action Army revolvers.
Thus, guns such as these have gradually been transformed into collectables, and in turn, many have entered into a relatively new category known as "safe queens" – guns that are highly coveted by their owners, some of whom could never fathom sending a nasty, bore-fouling bullet down their barrels. Personally, I find it incomprehensible to pay good money for a desirable firearm and then hide it away in some deep, dark corner of the gun safe without ever intending to take it out to the range or hunting fields to shoot it – a purpose for which it was originally intended.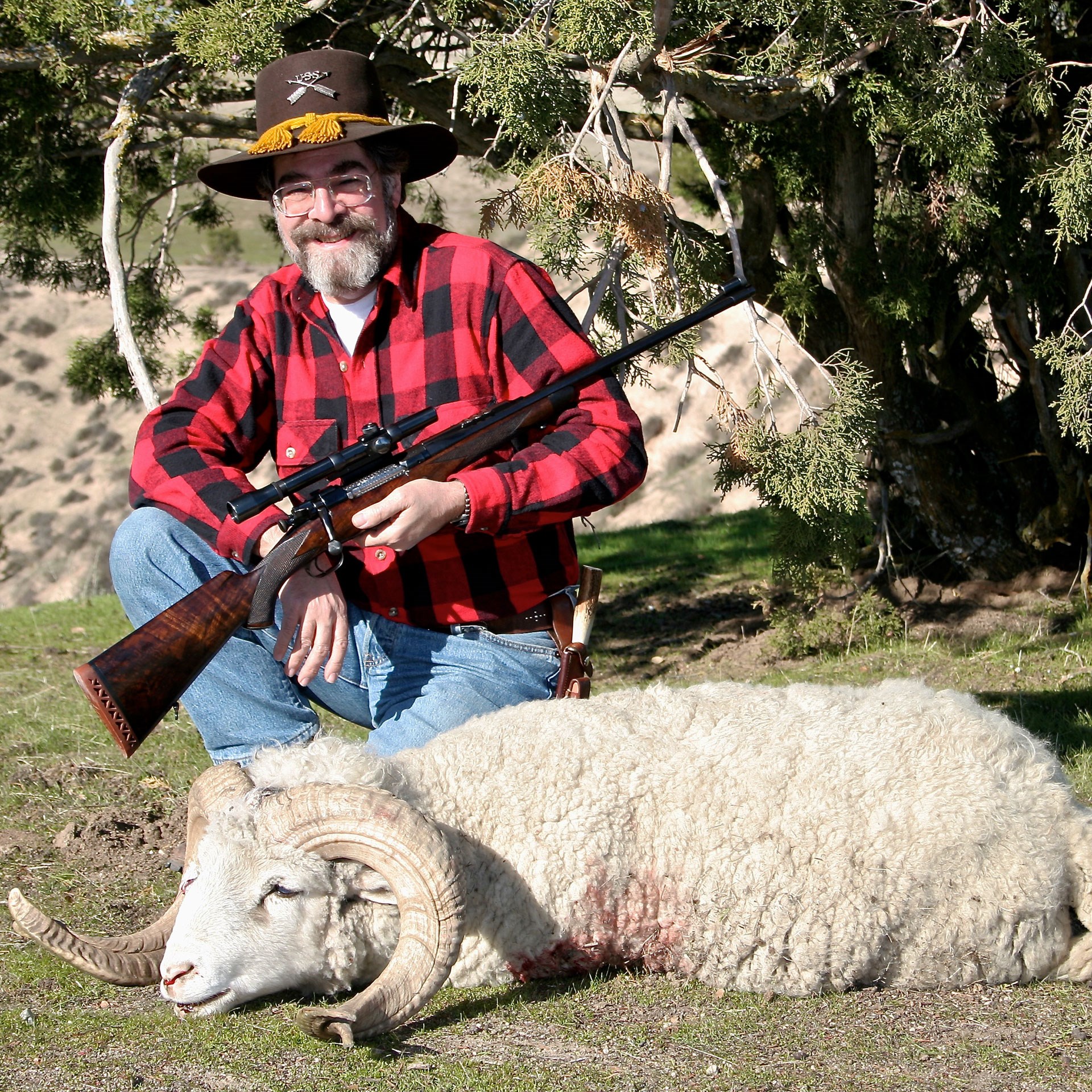 The author's 1930s-era Griffin & Howe bolt-action rifle chambered in .30-'06 Sprg. is as much at home in the field as it is in a display case. Hacker used his Griffin & Howe to drop this trophy Rambouillet-Navajo ram in central California. Unfortunately, the factory has no records of many original owners, leaving Hacker to wonder who originally ordered this rifle with the gold "CSC" initials engraved on the floorplate.
Of course, the rationale for this look and touch but don't shoot ideology – that is, trying to preserve a desirable gun's current condition - is perfectly understandable until one delves deeper into the underlying psyche of the whole thing: why would you own a firearm that represents – to the owner - a great moment in mechanical technology, historical importance or just plan admiration, without bringing that firearm to the full realization of its potential?
Just as I would never buy a hat that didn't fit me, I would never own a firearm that I could not shoot. Two of the obvious exceptions for this are the unavailability of obsolete ammunition or of a safety issue with the gun itself. Otherwise, how else would you know what it actually felt like to fire the exact same trapdoor Springfield carbine that some long-forgotten cavalry trooper may have fired at a marauding war party more than 140 years ago? Or what it was like to shoot an American Eagle Luger, just as hundreds of curious sportsmen did when that imported gun from Germany was first seen in sporting goods and hardware stores around the turn of the last century? Indeed, shooting the guns that actually were there is like reliving history, in a very physical sense.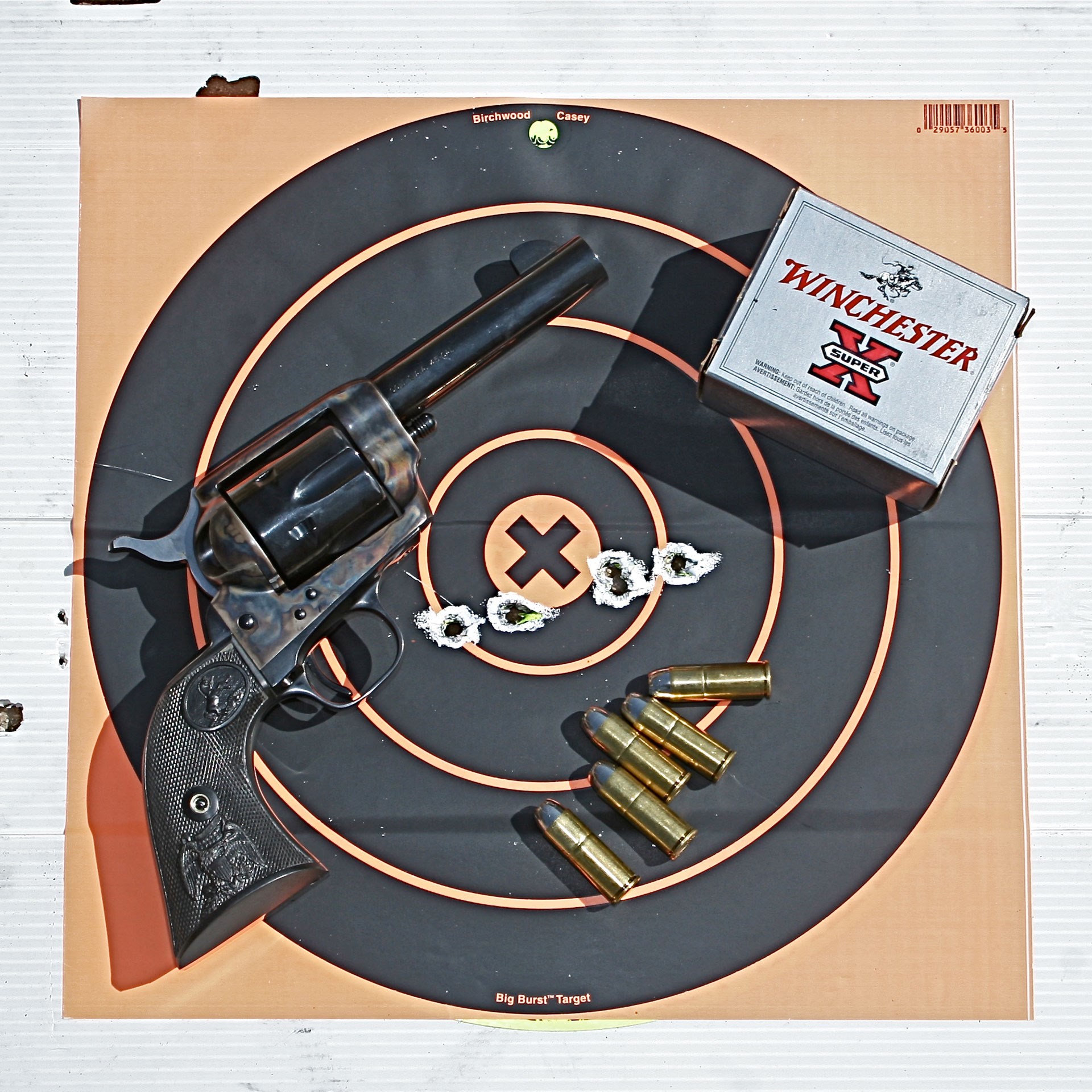 Colt made a very limited run of 4" barreled Storekeeper single-actions in 2008, featuring black powder frames and, of course, with no ejector rod housing. Most of this limited run was snapped up by collectors and turned into safe queens for investments. But the author wanted to know what it was like to actually shoot a gun that was even a rarity "back in the day." There was only one way to find out.
Don't get me wrong, I am not implying replicas and re-issues are in any way inferior to the originals. In many ways they are superior, especially when it comes to comparing the metal quality of some of the 19th century revolvers and rifles compared with the improved metallurgy of today. I own and shoot a variety of well-made modern clones of these Victorian single-action revolvers and lever actions. But let's face it – there's something deep within the DNA of the original versions that authoritatively whispers, "Been there – done that." There is, for me at least, a link to the past with these guns, a kinship that binds us together with the press of a trigger, a burst of smoke, and the smell of gunpowder.
Of course, one of the biggest arguments one hears against shooting originals is that it puts more wear and tear on the guns, thereby decreasing their values. But not if you're careful. For example, American Rifleman's Editorial Director, Mark Keefe, IV, cleverly devised a polycarbonate shield that fits underneath the grips of his John Inglis World War II Browning Hi-Power to protect the original Canadian maple-leaf decal on the front strap when he shoots it, thereby preserving the gun's collectability while still enjoying its shootability. And American Rifleman Executive Editor Evan Brune shoots his "well-worn circa-1790s Ketland iron-barreled trade pistol," but not until he had determined that "…a reduced charge and a loosely patched ball would likely be safe."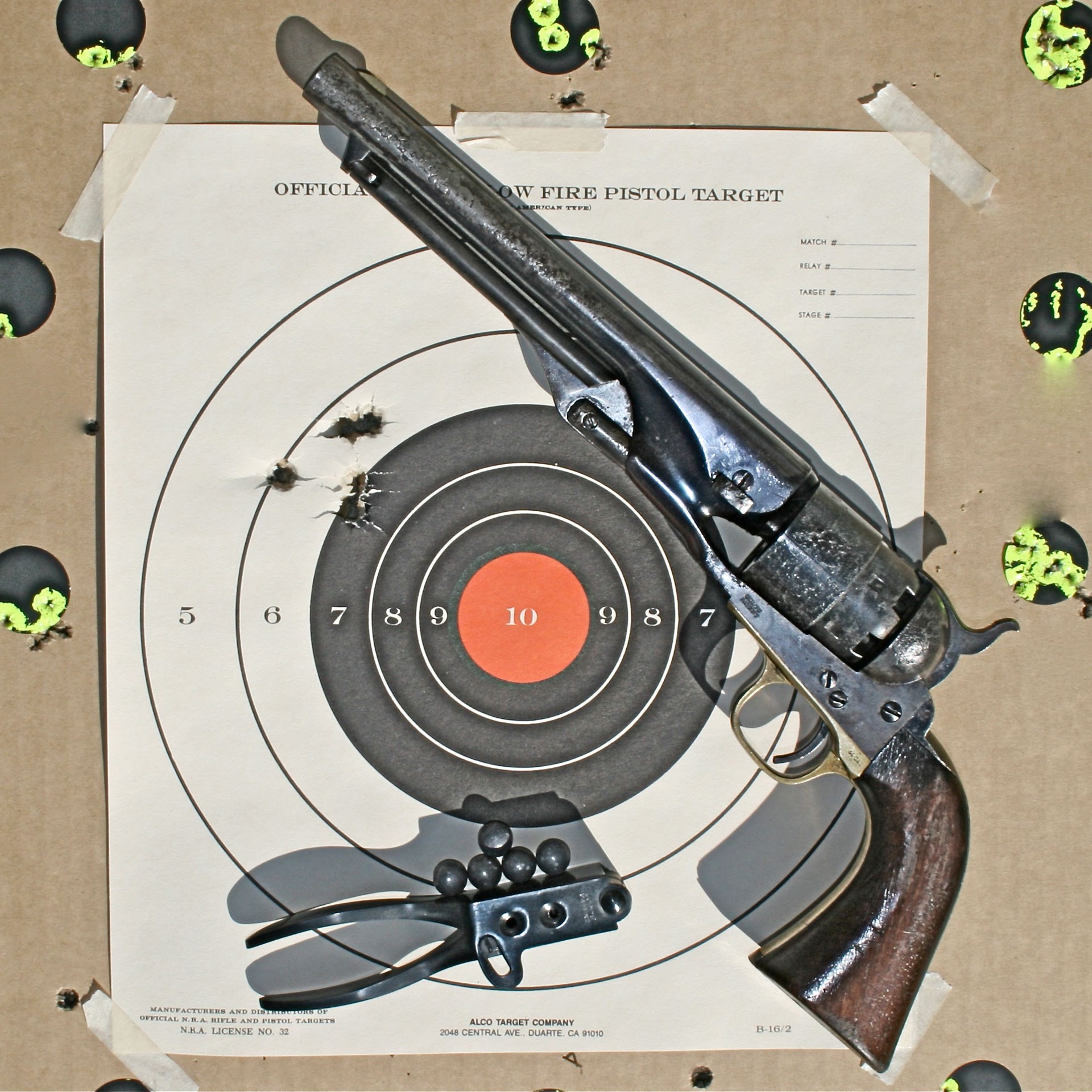 The only way to know how – and where – an original 1860 Army actually shots is to actually shoot it, as the author did with his Colt 1860 Army that was made in 1867.
Which beings up another important point: before deciding to shoot any original vintage firearm – whether collectable or not - have it checked out thoroughly by a gunsmith who is familiar with that particular type of gun, whether it be a muzzleloader or cartridge firing rifle, handgun or shotgun. For example, even though Colt Single-Action Army revolvers started being made with the so-called "smokeless powder" spring-loaded cylinder base pin-retaining latches around 1896, Colt Firearms did not officially warranty their SAA for smokeless powder until 1900, which was around serial number 192,000. And of course, one should never use +P loads in any of the older single- or double-action revolvers. Their innards were just not built for such pressures, and even when shooting my S&W Triple Lock, I stick with standard velocity .44 Spl.
Likewise, when I hunt with my original Winchester 1886 rifle, which was made in 1890, or lob a few rounds at 150 yard targets with my 1879 Springfield trapdoor carbine, I only use factory ammo made with cast lead bullets, as excessive shooting with jacketed ammo will eventually wear down the rifling on softer-metal 19th century barrels. For these older pumpkin rollers, Black Hills 405-gr. Cowboy loads are my go-to cartridges.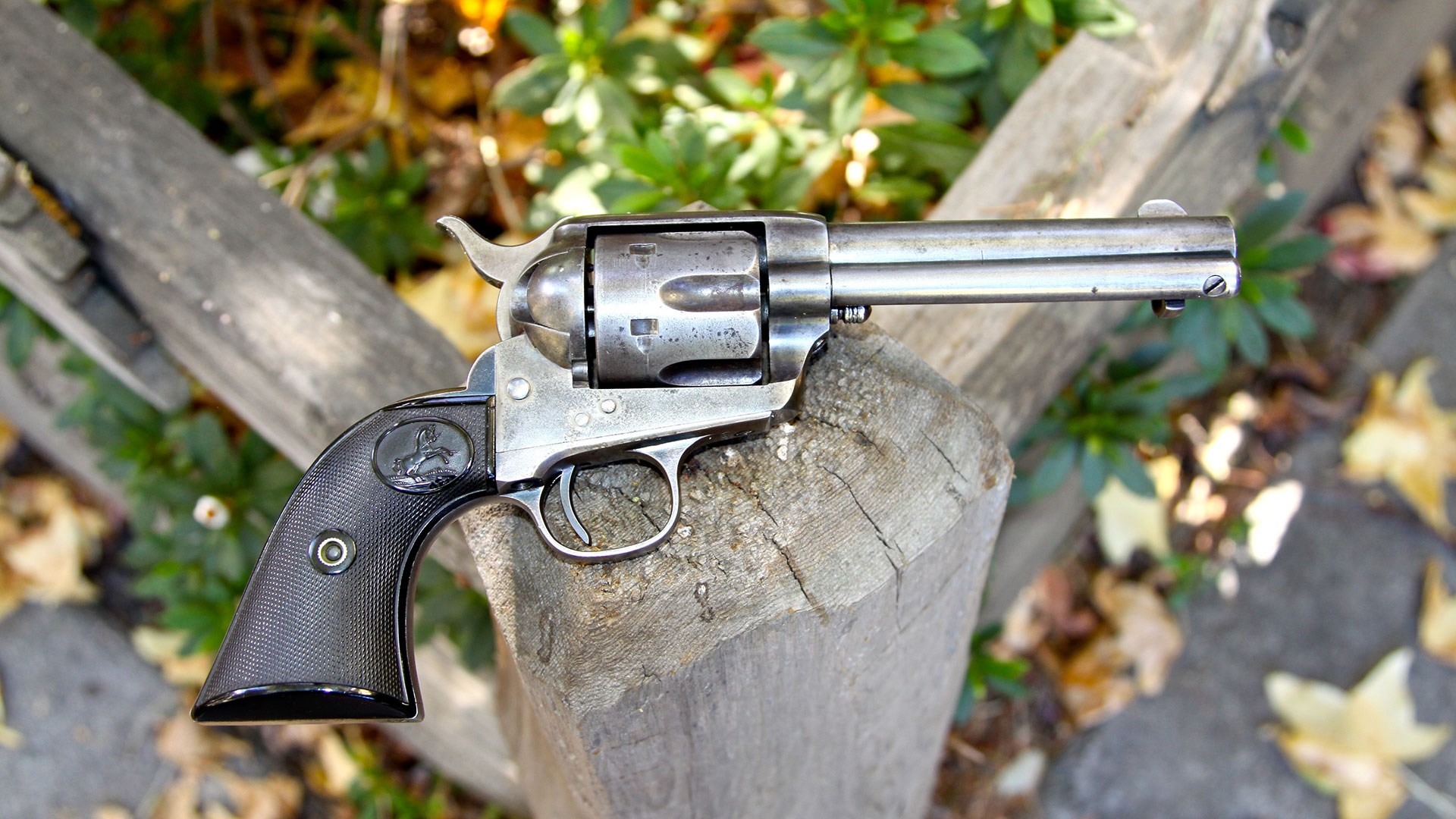 One of the benefits of shooting a first generation Colt Peacemaker with little or no finish is that there's very little bluing to worry about. So why not shoot it?
On the other hand, newer .45-70 Gov't. Marlin 95s and Winchester 86s made during the early 20th century can safely digest jacketed bullets like Remington's 405-gr. Core-Lokt (a proven deer dropper in my '86) or Hornady's .45-70 Gov't. 325-gr. FTX LEVERevolution and Barnes 300-gr. Triple Shock hollow points, which I used to drop a nice six point elk in my Winchester 86 Extra Lightweight a few years ago.
Of course, there's always the risk of damaging a vintage rifle or shotgun when taking it hunting. I cracked the stock on my 1948 Winchester Model 70 many years ago on a particularly strenuous deer hunt in the Sierra Nevadas, but managed to get it repaired. Nonetheless, after that incident, I purchased a "beater" stock to put on this rifle the next time I took it out. Of course, nothing happened to it on subsequent hunts. But at least I had the original stock to transform the rifle back to its former glory once I got back home.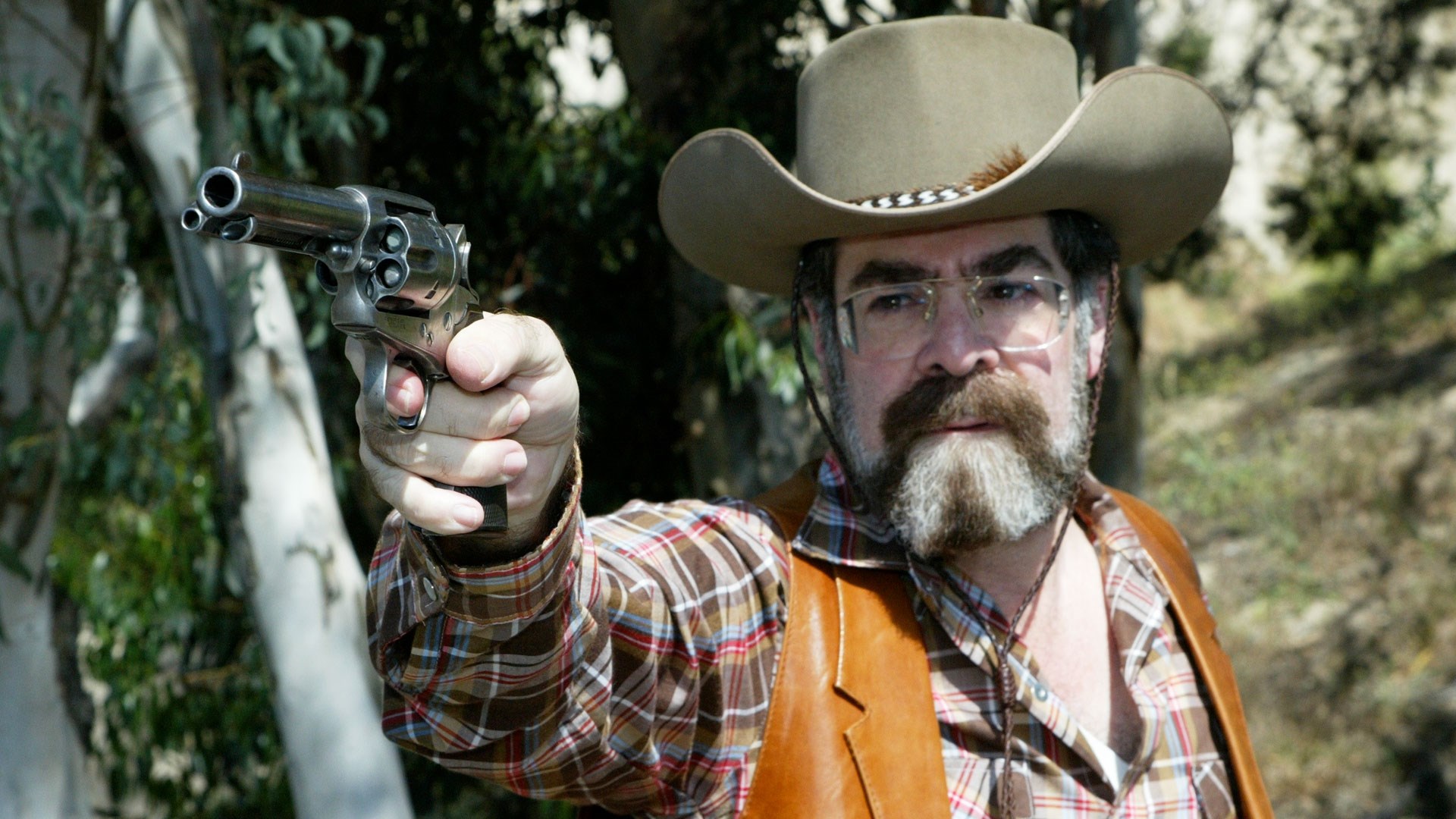 Hacker has no worries about trying to protect the finish on his Colt Bisley in .45 Colt because there is very little finish remaining on this almost-grey gun.
I rarely pack my 1949-era, 85-percent blued "Fat Barrel" Colt .38 Super afield, but when I do, I carry it in an El Paso Saddlery 1930 Austin Holster, as the suede-lining protects the gun's blued finish. However, I don't have such concerns when strapping on my original Colt Bisley, as there is very little finish remaining on this almost-grey gun.
Likewise, I am not that concerned with shooting my brace of engraved nickel plated Colt Single Actions, as the guns had already been fired when I bought them from a Hollywood stunt man who used them in a wild west show and besides, it's pretty hard to wear down nickel plating. So take those safe queens out of solitary confinement and go ahead and shoot those collectables. You'll find that you'll realize a greater appreciation of their workmanship, their practicality, and most importantly, you'll double the pleasure of owning them.