posted on November 19, 2012
Support NRA American Rifleman
DONATE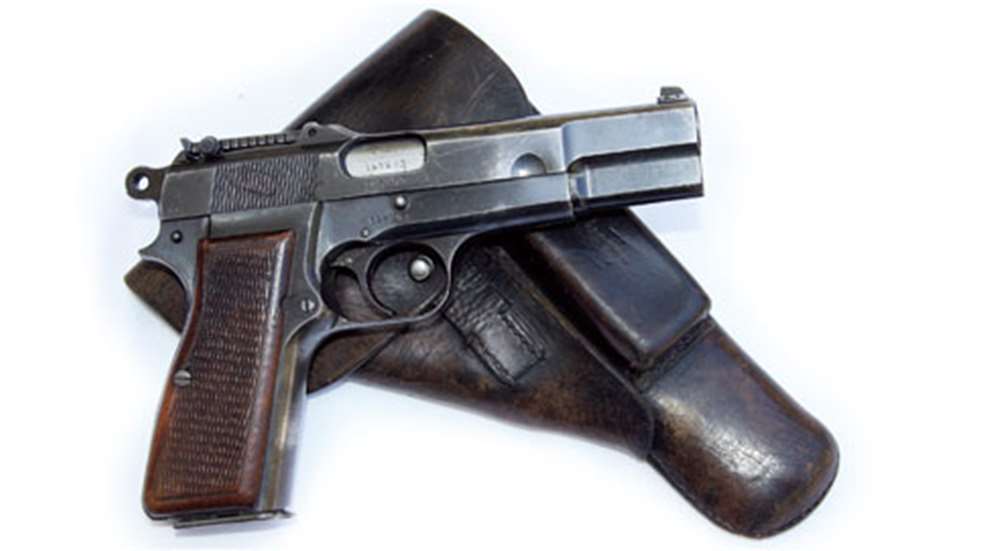 11/19/2012
The GP-35, or Grand Puissance, as the Browning Hi-Power was originally called, was developed at the request of the French government for a post-World War I replacement pistol that was easy to field strip, had an external hammer, a minimum magazine capacity of 10 rounds, and was accurate out to 50 meters. It also had to have a magazine disconnect, meaning the gun wouldn't fire unless the magazine was fully inserted. The man commissioned to design this wündergun was John Browning, who had created the Government Model pistol. In designing the gun that would become the Hi-Power, Browning had to circumvent many of his M1911 patents, which were owned by Colt.
Sadly, Browning never got to finish the job, for on Nov. 26, 1929, he died of a heart attack in Belgium. Fortunately, Fabrique Nationale (FN) had another talented designer, Dieudonné Joseph Saive. Saive perfected the gun's innovative double-stack magazine, giving the gun a 13-plus-one capacity and consequently, its Hi-Power nomenclature.
Saive eventually had an advantage Browning did not, for in 1928 Colt's M1911 patents expired, permitting some elements—such as a simplified take down system—to be incorporated into the Hi-Power. In 1935, the Browning Hi-Power, with a 4 5/8-inch barrel weighing 2 pounds, and able to print 2 1/2-inch groups at more than 50 yards in spite of its heavy trigger pull, was introduced.
Ironically, the French government passed on the gun, but Belgium and other countries eagerly accepted it. When the Germans occupied Belgium in 1940 and took over FN, the Hi-Power was renamed Pistole 640(b) (for Belgisch/Belgium). It was issued to both sides during World War II, with Allied guns made by John Inglis & Co. in Canada. Civilian U.S. importation began in 1954. Since 1971, some Hi-Powers have been assembled in FN's Portuguese factory using Belgian parts, but contrary to rumors, the gun has never been manufactured in Portugal.
This Hi-Power Type II variant is a wartime pistol with the desirable tangent sights, German "WaA 140" Waffenamt (Weapons Office) inspection stamps, matching serial numbers and walnut stocks (subsequent stocks were Bakelite). At 85 percent finish it does not have Belgium's pre-war polish but has yet to exhibit the roughness of later guns made under Nazi occupation. As such it is worth $950 to $1,250. Had it been an earlier gun milled for a shoulder stock, the value would have been higher. With any Belgian-made wartime Hi-Power, beware of fakes.
Gun: Browning Hi-Power
Caliber: 9 mm Luger
Serial No: 145XXX
Condition: Good (NRA Modern Gun Condition Standards)
Manufactured: 1941-42 (est.)
Value: $950-$1250 (add $100-150 for accompanying original German holster)