posted on November 2, 2020
Support NRA American Rifleman
DONATE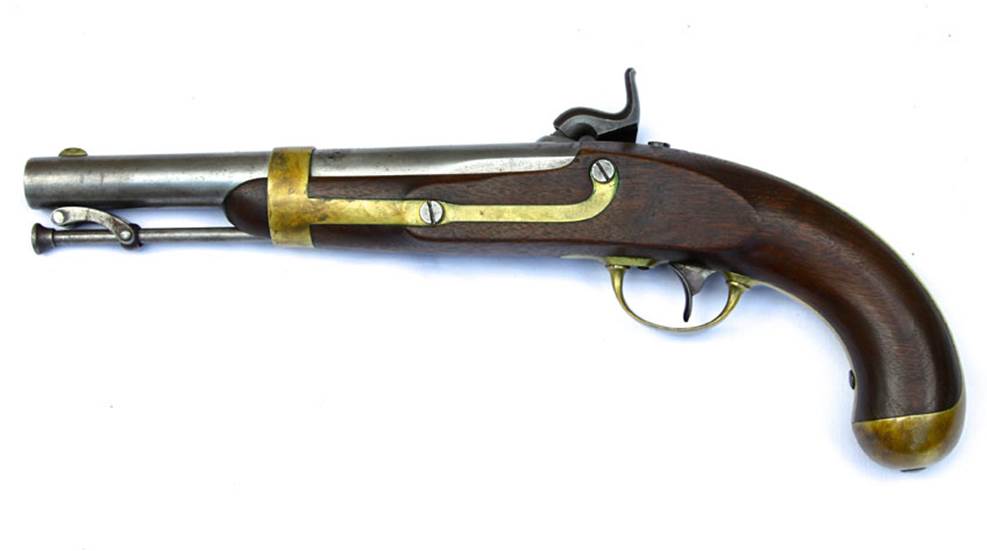 As the U.S. Army's first percussion pistol, the Model 1842 replaced the Model 1836 flintlock, and it would subsequently blaze its way through the Civil War and across the country as the nation expanded westward.
The Model 1842 was almost identical to the Model 1836, with the obvious exception of its percussion nipple and lock. In addition, unlike the Model 1836, the Model 1842 used precisely gauged, interchangeable parts. But, like its predecessor, it was stocked in black walnut and featured a polished lockplate, hammer and barrel, and a blued trigger.

Also like the Model 1836, the Model 1842 had no rear sight, and its 8½" smoothbore barrel sported a 0.525" bore that took a .54-cal. round ball. The Model 1842 incorporated brass furniture rather than the iron fittings of the Model 1836, but retained the hinged ramrod under the barrel, a convenient but potentially dangerous arrangement, as it necessitated placing one's hand in front of the muzzle when reloading.

Nonetheless, with a regulation 30-gr. powder charge, this 2-lb., 12-oz. pistol, typically issued in pairs to mounted dragoons for carrying in twin pommel holsters, proved to be a formidable handgun.


Despite its 1842 nomenclature, very few guns were made until 1845, when gunmaker Henry Aston of Middletown, Conn., was contracted by Springfield Armory to start production. The timing was fortuitous, coming just before the outbreak of the Mexican-American War.

From 1846 to 1851, Aston produced 24,000 guns, stamped "H. ASTON" under "US" on the lockplate, which was also stamped "MIDDtn/CONN/" and the specific year the pistols were delivered to the Ordnance Dept. The left side of the stock was stamped "WAT" for chief inspector Capt. William A. Thornton, and "NWP'" for Nahum W. Patch, the civilian inspector.
After the factory's reorganization in 1851, another 6,000 guns were stamped "H.ASTON & COMPANY." Aston's partner, Ira N. Johnson, then took over and produced an additional 10,000 pistols from 1853 until 1855. In addition, the Palmetto Armory of Columbia, S.C., made approximately 2,000 pistols, which were later used by the Confederacy (watch for fakes!).
Unfortunately, all markings on this pistol were polished smooth by a previous owner, and the nipple, while functional, has been battered by repeated dry-firings. Nonetheless, as it is mechanically sound with its half-cock intact and no cracks in the stock, this gun is worth $550 to $650; a Model 1842 in similar condition but with legible markings would bring between $850 and $950.
Gun: U.S. Model 1842 Percussion Pistol
Manufacturer: Henry Aston
Caliber: .54 
Serial No.: N/A
Manufactured: c. 1846-1855
Condition: NRA Fair (Antique Gun Standards)
Value: $550 to $650