posted on November 4, 2019
Support NRA American Rifleman
DONATE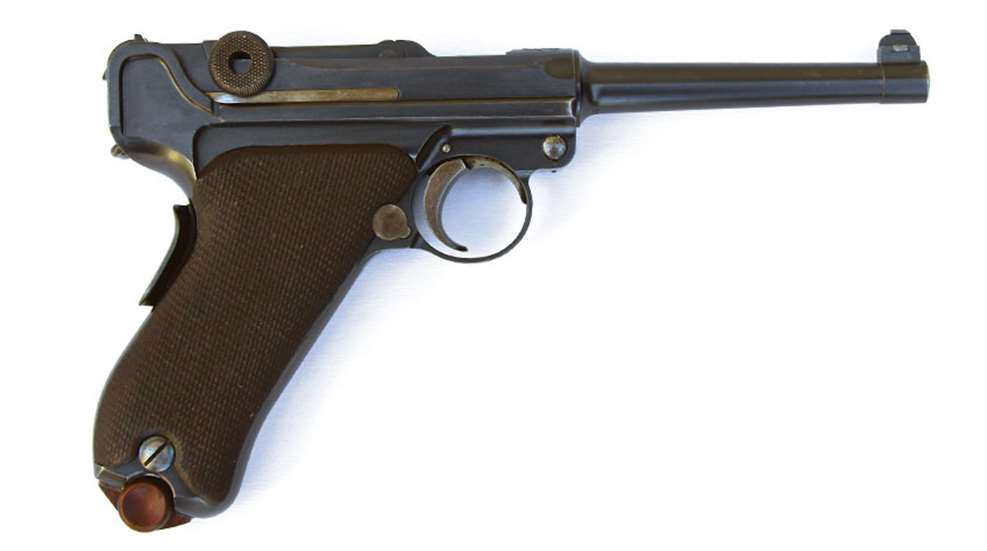 Anyone wandering the complex labyrinth of Luger collecting will inevitably come across the "American Eagle" variation and might wonder how a German pistol used against our troops in two world wars could be decorated with a United States crest.
The answer begins in 1898, when Austrian inventor Georg Johann Luger created the Parabellum-Pistole at Ludwig Loewe & Co., which became Deutsche Waffen und Munitionsfabriken (DWM). Initial guns were chambered in 7.65x21 mm Parabellum (.30 Luger). Switzerland was the first to adopt the toggle-linked Luger and initially ordered 3,000 guns in May of 1900. In turn, DWM roll-stamped Switzerland's national cross and sunburst emblem on the receivers. The company then began roll-stamping other nations' symbols on Luger receivers, hoping to entice international orders. And in those pre-World War I years, America was seen as a potentially lucrative market for the Luger.
Consequently, in 1900, DWM began exporting "Germany"-stamped Lugers to the United States with a roll-stamped image of the Great Seal of the United States. Approximately 12,000 Model 1900 American Eagle Lugers in .30 Luger were produced between 1900 and 1902. Next, the Model 1902, chambered in a new, more powerful 9x19 mm Parabellum (9 mm Luger) was introduced. This consisted of an estimated 600-700 American Eagle thicker "fat barrel" versions, plus 50 guns with rare cartridge counter open-sided magazines (beware of fakes). An improved Model 1906 American Eagle was next, with 3,000 guns in 9 mm Luger and 8,000 guns in .30 Luger; both were discontinued after 1912.
Naturally, World War I put a halt to the American Eagle Luger. But, in 1923, Stoeger Arms Co. trademarked the Luger name and revived the American Eagle variant, using DWM reconditioned wartime guns. A little more than 1,000 Stoeger-marked American Eagles were made; production ended in 1930, when Mauser acquired DWM. Mauser subsequently resurrected the American Eagle in the 1970s, and although additional variations have since been made by other firms, it is the pre-World War I American Eagles that command the greatest collector interest.
Unlike their battle-scarred military counterparts, most of these earlier American Eagles remain in relatively good condition, as the majority were purchased by civilians who probably fired them only a few times out of curiosity before moving on to more "American-looking" semi-automatics and revolvers. Consequently, this 1906 American Eagle Luger exhibits only the slightest holster wear, retains 97 percent of its original rust bluing and small parts straw coloring, and it has all matching numbers. As such, it would bring $3,750 to $4,250 today.
Gun: 1906 American Eagle Luger
Manufacturer: Deutsche Waffen und Munitionsfabriken (DWM)
Chambering: 7.65x21 mm Parabellum (.30 Luger)
Serial No.: 318XX
Manufactured: c. 1906
Condition: NRA Excellent (Modern Gun Standards)
Value: $3,750 to $4,250