Support NRA American Rifleman
DONATE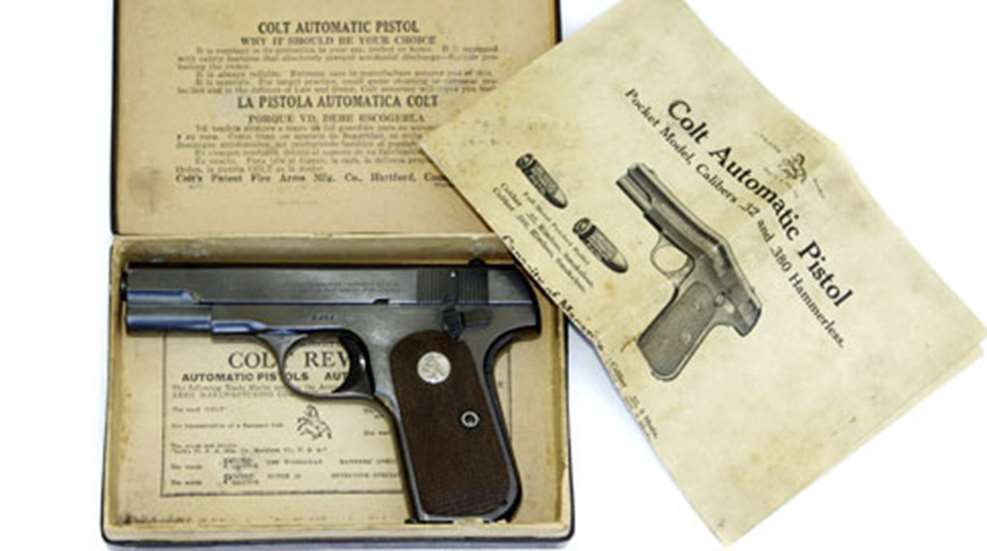 6/12/2013
Although we have covered the Colt 1903 Pocket Hammerless before, the gun shown here makes it worth revisiting, because it is a classic example of how condition affects value. But first, a brief background on what the Colt factory called its Model M-the company's first handgun to incorporate a grip safety.
The John Browning-designed 1903 Pocket Hammerless in .32 ACP chambering was one of Colt's most popular handguns, with 572,215 made between 1903 and 1945, along with enough parts to keep it in production until 1953. Actually, the gun was not hammerless at all, as its hammer was merely concealed within the frame. Standard finishes were blue or nickel. Early stocks were checkered hard rubber; later guns featured checkered walnut with Colt medallions. In an age when revolvers dominated the handgun scene, the instruction sheet explained that even though the 1903 Pocket Hammerless was an "automatic," the trigger had to be pulled for each shot, stating "... it is impossible to fire all the shots by pulling the trigger only once."
Collectors break down the Model M into five basic variants. The Type I (1903-1908) featured a 4-inch barrel, while the Type II (around 1908-1910) changed to a 3¾-inch barrel. Type III (1910) eliminated the barrel bushing, Type IV (1926) introduced the magazine disconnect, and Type Vs were World War II-production guns, most of which were Parkerized.
The gun presented here is a Type IV and, looking at its left side, it appears immaculate, complete with two-tone magazine, original box and instruction sheet. But the right side of the slide, frame and trigger guard are deeply pitted. Watermarks on the bottom of the box give further evidence of improper storage. Thus, what was once an NRA Excellent Condition collectable has become an NRA Good Condition shooter.
To put this in perspective, two years ago at Wally Beinfeld's Las Vegas Antique Arms Show, an NRA Excellent Condition gun with box and brochure sold for $950. Last year at Beinfeld's show, the gun depicted here, priced at $750, had no takers. A dealer offered $600, which was refused. This gun finally sold for $650. All of which shows that when buying or selling guns, price guides-as good as they are-do not always represent the absolute word, because visual appeal reigns supreme.
Gun: Colt 1903 Pocket Hammerless
Caliber: .32 ACP
Serial No: 5061XX
Condition: NRA Good (Modern Gun Condition Standards)*
Manufactured: 1930
Value: $650 to $750 (including box and instructions)*
*Note: This gun's otherwise 98 percent NRA Excellent Condition has been dramatically affected by excessive pitting on its right side and slight water damage to the box, which alone carries a value of $150 to $200.