posted on September 17, 2012
Support NRA American Rifleman
DONATE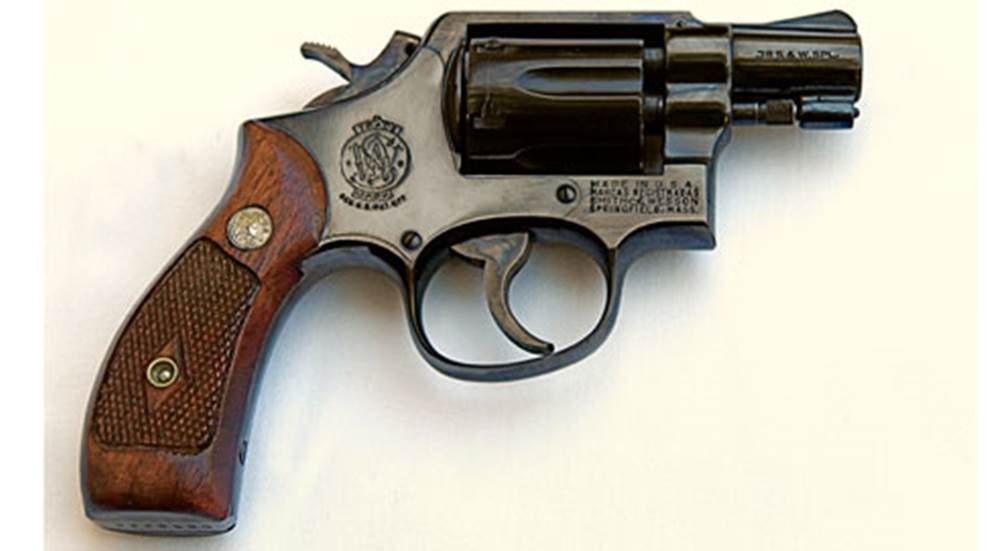 9/17/2012
Smith & Wesson's original Military & Police revolver—not to be confused with its current polymer-frame semi-automatics and .357 Mag. revolvers—simultaneously introduced the K-frame, an improved thumb-operated cylinder release and the .38 Spl. cartridge. Consequently, it became the most popular and prolific wheelgun of the 20th century.
The M&P began as the Hand Ejector Model of 1889, chambered for the .32-20 Win. cartridge, plus a beefed-up version of the anemic .38 Long Colt that had failed to stop the Moros during the Philippine Insurrection. This more powerful "stretched" .38 loading fired a 158-grain bullet and became the .38 Smith & Wesson Special. The new gun and cartridge combination immediately caught the attention of both Army and Navy, which each ordered 1,000 guns. Seizing the opportunity, S&W renamed its new revolver the Military & Police.
Initially produced with a blued finish, walnut stocks, round butt, fixed sights, and barrel lengths ranging from 4 to 8 inches, a nickel finish and optional checkered rubber stocks were soon offered. A square butt was added in 1904 and a version with a 2-inch barrel was introduced in 1905, along with subsequent refinements, which collectors refer to as First, Second, Third and Fourth Changes.
The M&P quickly garnered a reputation for accuracy and reliability. During World War II it became the Victory Model, denoted by a "V" prefix serial number and a lanyard ring, among other features. In 1957 the Military & Police became the Model 10. A ramp sight was added in 1960.
With more than 6 million guns produced, the M&P remains as a round-butt version with a 4-inch barrel in S&Ws Classic line. Its iconic profile has inspired Hollywood to cast it with actors such as John Wayne in "McQ" and Harrison Ford who, in "Witness," packed a Model 10 snubby similar to the gun shown.
With its 2-inch pinned barrel and retaining all of its blued finish and case-hardened hammer and trigger, this 1963-manufactured gun is marred only by a slight blemish of rust near the muzzle. Considered by some as too bulky for a carry gun by today's standards, this hefty revolver nonetheless would prove a good choice, and given its 98 percent condition, commands a $425 to $475 value.
Gun: Smith & Wesson Model 10
Caliber: .38 Spl.
Barrel length: 2"
Serial No: C656XXX
Condition: Excellent (NRA Modern Gun Standards)
Manufactured: December 1963
Value: $425 to $475