by
posted on December 7, 2011
Support NRA American Rifleman
DONATE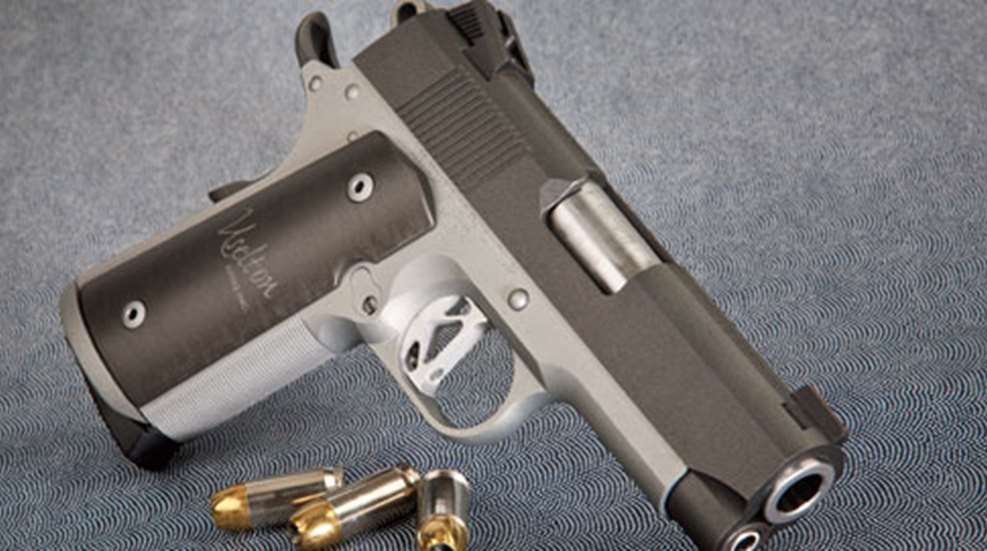 Founded in 1999 by Rick Uselton, former U.S. Army Ranger and active Sumner County, Tenn., Sheriff's Office deputy, Uselton Arms, Inc., specializes in custom M1911s and, since 2003, precision hunting rifles. The company builds M1911s ranging in size from compact variants to full-size models offered with an array of options. The Officer's Model-size Compact Classic is evaluated here.
Uselton Arms uses American-made, CNC-machined 416 stainless steel components, except the magazine, which comes from the Italian manufacturer ACT-MAG. To further enhance durability, Uselton's "Ceramic Armor Coat" is applied to the all components and areas except the barrel, the two-piece guide rod, the bushing and the feed ramp. The coating's natural lubricity and non-marring traits are especially desirable in a personal-defense handgun.
Uselton Arms prides itself on tight tolerances, both in machining and fitting, and they are reportedly held within 0.001 of an inch, though oftentimes better. The slide is hand-fit to the frame, resulting in an exceptionally tight lockup with virtually no side-to-side movement throughout its travel.
Upon inspection of the pistol's machined investment cast frame, Uselton's attention to detail and quality are immediately evident. Although the evaluator's trigger finger proved too long to take full advantage of the "kidney" cuts—one per side—behind the trigger guard, it was a nice addition. Further, the frontstrap and mainspring housing featured well-executed 26-l.p.i. checkering, though 25- and 30-l.p.i. are available. According to Uselton, the top 25 percent is "ground down" so the texture isn't too rough. Extending downward from the mainspring housing is a section that lengthens the magazine well, and its generous beveled surfaces facilitate rapid magazine insertion. Likewise, the pistol quickly cleared depleted magazines when the magazine-release button was depressed. The feed ramp is highly polished.
Being a custom maker, Uselton Arms has many stock options. Although our sample featured modern, engraved, gray-color Alumagrip stocks, the company also offers those made from G-10 laminate, rosewood and cocobolo, the latter of which can be inlaid with crocodile or stingray skin.
Novak defensive sights with white accents offering the familiar three-dot picture were dovetailed into the test pistol's hammer-forged slide. Sights manufactured in-house and fitted with fiber-optic and tritium inserts are available, too. The Novak sights are drift-adjustable for corrections in windage, though Uselton's own white-dot rear sights are elevation- and windage-adjustable. A series of serrations span the distance between the front and rear sights to minimize glare, while two series—one per side—of deep, rearward-sweeping serrations enhance purchase when cycling the slide. The company also lowered and flared the ejection port for enhanced reliability. For something truly different, the company offers a Swedish-made Damascus slide consisting of upward of 400 to 500 layers of carbon steel and stainless steel.
For its M1911s Uselton Arms uses match-grade Storm Lake barrels exclusively. The test gun's 3½-inch barrel featured 1:16-inch, left-hand-twist rifling. To ease the disassembly process, the company opted for a two-piece, full-length guide rod.
As for the Compact Classic's fire controls, operation and location follow suit with those of standard M1911s, and with the exception of the beavertail grip safety, none are easily manipulated by left-handed shooters. An ambidextrous safety is available as an option, though. One departure from tradition is the Greider Precision skeletonized trigger, which features a flat face. The reason: equalization of pull. The company sets the trigger to break cleanly between 3 and 4 pounds, though it will lower that weight to 2 pounds. The sample pistol's trigger exhibited minimal creep, no overtravel and broke at 2 pounds, 11 ounces.
Rick Uselton personally evaluates each pistol for accuracy before it's shipped to the consumer, and standard "groupings" from a Ransom Rest are reportedly within 1 inch at 25 yards. But in keeping with the gun's intent as a carry piece, we opted to go "hand-held," though groups would naturally be larger as a result. Despite this, and the short sight radius, the Compact Classic proved accurate, with the standout load being Remington's 230-grain BJHP, averaging 2.75 inches for five consecutive, five-shot groups at 25 yards from a Caldwell Matrix rest. Interestingly, the company informed us that the pistol is rated to handle .45 ACP +P ammunition.
Uselton was upfront with us regarding a necessary break-in period. It's a theme we often encounter with custom makers building M1911s to very tight tolerances. For the test gun Classic, uninterrupted cycling began at approximately 150 rounds, which frankly was a bit excessive. With the pistol's break-in period completed, rapid-fire drills proved unproblematic, as they should on a defensive arm.
The other issue we encountered involved the Novak sights. During testing both the front and the rear managed to work free. Uselton Arms diagnosed the problem as tolerance issue between its standard "Novak cut" (i.e. dovetail) and the Novak sights we requested. It reported no such issue with sights made in-house and offered to remedy the situation. The company offers a lifetime guarantee.
With the Compact Classic, Uselton Arms gives custom M1911 enthusiasts precision in a small package. And, yes, it comes with a hefty price.
Manufacturer: Uselton Arms, Inc.; (615) 595-2255; www.useltonarmsinc.com
Caliber: .45 ACP
Action Type: recoil-operated, semi-automatic center-fire pistol
Frame: 416 stainless steel
Barrel: 3½"
Rifling: 1:16" LH twist
Magazine Capacity: seven
Sights: three-dot Novak (tested); fiber-optic and tritium options available
Trigger Pull: single-action, 2 lbs., 11.9 ozs.
Overall Length: 73⁄8"
Width: 1¼"
Height: 5¼"
Weight: 2 lbs., 6 ozs.
Accessories: soft case
Suggested Retail Price: $2,600