Support NRA American Rifleman
DONATE
One of the interesting things about the military—especially in centuries past—is that under certain circumstances it will doggedly refurbish or reconfigure war materiel—sometimes to the point of absurdity. An interesting example is this month's choice for "I Have This Old Gun," a musket that started out as a smoothbore flintlock, was rifled and altered to percussion ignition and then, finally, made into a breechloader.
In 1866, the French army adopted an excellent bolt-action single-shot rifle—the Chassepot—chambering a paper and linen combustible cartridge roughly similar in concept to that of the Prussian Dreyse "Needle Gun," but which was considerably more refined and efficient.
In the mid-1860s, for reasons too involved to detail here, relations between France and Prussia deteriorated to the point that war between the two nations became inevitable and was finally declared in 1870. France was overwhelmingly favored to win, but Prussia and its allies trounced Napoleon III's Second Empire in a matter of months, ultimately resulting in the re-establishment of the French Republic and the unification of Germany.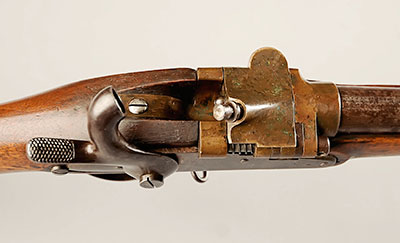 As noted above, the Chassepot was a far superior firearm to the Dreyse, but as events began to unfold, the French realized there were not enough of these fine rifles to go around and began to amass a polyglot of arms from a number of sources, including a wide range of surplus guns left over from the American Civil War.
It was also decided to convert large numbers of indigenous percussion muskets and rifles to breechloaders. The method chosen in 1867 employed a sturdy steel or bronze side-swinging block, similar in operation to that used in Britain's Snider Enfield alteration of 1866.

This system was nicknamed Tabatière, or "Snuffbox," as it was thought it resembled that gentleman's accessory. The large caliber of French arms, (typically .69-.70), and the general configuration of the guns themselves, required the round to be fairly short.

Featuring a metallic base and paper-covered, coiled-brass case, the ballistics of this stubby cartridge, in 17.6 mm, 17.8 mm and 18 mm, were somewhat indifferent, exhibiting a howitzer-like trajectory that necessitated guns being fitted with new sights or a special chart being given to troops to allow them to convert the ranges marked on original sights to achieve proper accuracy.
While a large proportion of the guns converted were originally caplocks, quantities were also transformed, like the one seen here, from flintlock muskets that were later (around 1840) altered to cap and ball. Tabatières were usually issued to militia or second-line troops, the Chassepot being reserved for regulars.
After the defeat of France, large quantities of arms were declared to be surplus—including the Tabatière. Fortuitously, as the dimensions of the 1867 cartridges were very close to that of a 12-ga. shotshell, it was found that the guns could easily be converted to inexpensive breechloading shotguns, so many thousands were shortened, had their stocks bobbed and were sold very cheaply on the civilian market. They were marked with a number of different and interesting names, most notably "Zulu," an appellation by which such arms are generally referred to by collectors.
Today, one frequently sees Tabatières being offered at relatively high prices, but it has been the author's experience that despite their interesting lineage, they can be hard sells. The example we are looking at here has the advantage of being fitted with a relatively scarce bronze breechblock, but as condition is only so-so, $875 would be a fair value.
Gun: Fusilé d' infanterie Mle. 1822. T-bis, transforme 1867
Manufacturer: Manufacture Royale de Mutzig/later contractor alterations
Chambering: 18 mm (0.708")
Manufactured: c. 1822 (altered in 1840 and 1867)
Condition: NRA Good (Antique Gun Standards)