by
posted on December 4, 2020
Support NRA American Rifleman
DONATE
Simply put, the Pattern 1853 Enfield rifle-musket, along with its variants, is one of the most important firearms of the 19th century. Following limited introductory service in the Crimean War (1853-56), the rifle became a cause célèbre in events leading up to the Sepoy Mutiny of 1857 (or India's First War for Independence) when its paper cartridge was suspected of being greased with animal fat (pig, mutton or beef)—anathema to Hindu and Muslim troops alike. Forced usage by native soldiers sparked a bloody insurrection and forever changed the political climate on the subcontinent.
As well as being issued to British regulars and colonial troops, huge numbers of Pattern 1853 arms saw widespread use during the American Civil War, China's Taiping Rebellion and in numerous other affrays around the world. Recently, for instance, a few have been encountered by U.S. servicemen fighting in the Middle East, as British and Khyber Pass-made '53s were hot items for decades after it had been retired in the United Kingdom.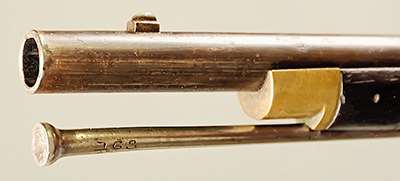 The Pattern 1853 Enfield was not Britain's first rifle to use the expanding Minié-style projectile, but it was a "smallbore" improvement and upgrade of the earlier .702-cal. Pattern 1851, which also saw use in the Crimea. After that conflict the P'51 was essentially retired in favor of its more effective successor.
The basic P'53 rifle-musket (there were also Short Rifle and Artillery and Cavalry Carbine models) was an elegant, well-made arm. Its 39" blued barrel was secured to the full-length walnut stock by three barrel bands, unlike earlier British service longarms that were pinned or keyed to their stocks.

The lock was casehardened and marked "Enfield," or "Tower" if the gun was assembled at the Tower of London from contracted parts, as well as with a crown surmounting the initials "V.R." for Queen Victoria ("Victoria Regina") and the date of manufacture.

Furniture, to include the buttplate, nosecap and trigger guard, was made of brass. The guns were issued with 17" triangular-bladed socket bayonets, which fit and locked over the front barleycorn sight.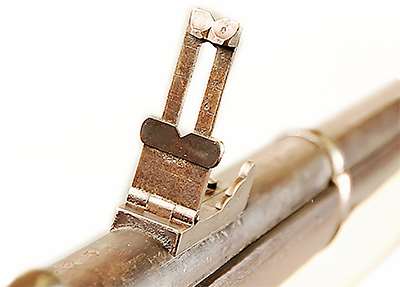 Privately made rifles were often seen with manufacturers' names. Along with domestic fabrication, P'53s were made in Liege, Belgium, and the United States, the latter by Robbins and Lawrence of Windsor, Vt. 
Though the basic arm was called the "Pattern 1853," in actuality it went through three incarnations throughout its lifespan, involving such things as different barrel bands, ramrods and sighting arrangements. 
Guns intended for British military service had the "V.R." lock markings. Rifles produced for private sale often featured crowns, but no regal initials. These latter types would have been the ones that were fielded by both the Union and the Confederacy during the Civil War. It is highly doubtful that many, if any, actual British service P'53s saw use in North America (discounting Canada, of course) between 1861 and 1865.
As noted above, both sides purchased Enfields from England in great numbers—in fact it was the Yankees' second most widely used rifle. Rebel ordnance even adopted .577 as its official caliber because of the many P'53s that were run through the Federal blockade. 
The rifle shown here is a "Tower" 1856-dated British so-called "second issue" featuring solid bands retained by springs in the French and American fashion and a button-head ramrod—a style that would eventually be replaced by the more commonly seen slotted jag in a subsequent modification.
As this is an Indian Rebellion-era piece in NRA Antique Very Good condition with its original ramrod, it will bring something of a premium over later P'53s that were much more common. Because of that fact it is easily worth $2,500.


Gun: Pattern 1853 Enfield Rifle-Musket
Manufacturer: "Tower" contract
Condition: NRA Very Good (Antique Gun Standards)
Caliber: .577
Manufactured: 1856
Value: $2,500