Support NRA American Rifleman
DONATE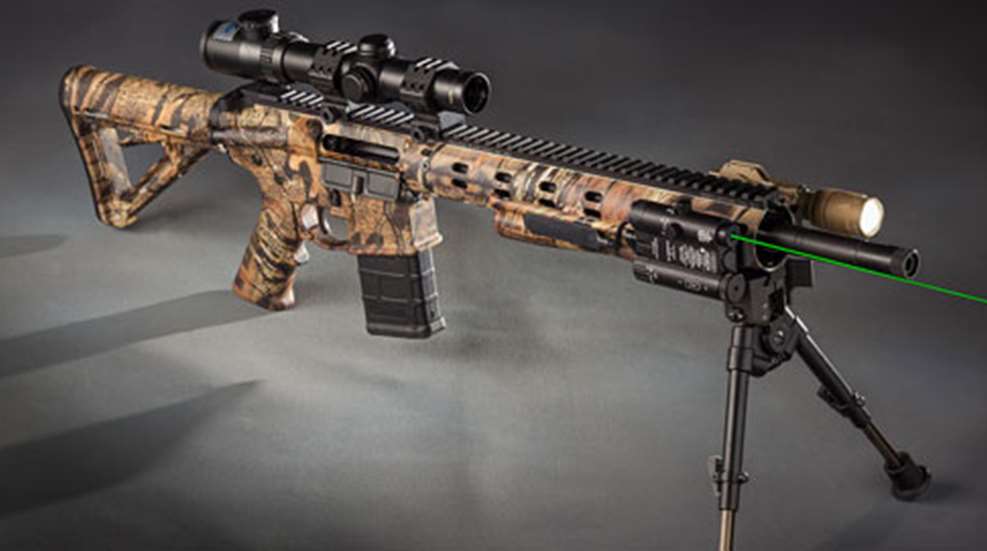 3/14/2013
Roving sounders of swine are a growing problem for landowners across the country, but have proven to be one heck of a hunting opportunity for sportsmen. Along with year-round seasons, day or night hunting and no bag limits in many parts of the country, hog hunting also provides some of the tastiest meat to go onto a grill or into an oven. As popularity in the sport expands, so does the number of specialized products designed for hog hunting. In looking at everything available, what would the ultimate hog hunting rifle look like? We came up with some ideas with input from Jonathan Owen, who runs SHWAT.com, a site dedicated to hog hunting (and that stands for Specialized Hog Weapons and Tactics).
The Firearm
While there will always remain diehard fans of traditionally styled arms, most agree that the best platform for building a solid hog-hunting rig is on an AR-style rifle. With its semi-auto functioning, higher capacity magazines and ability to receive a variety of attachments, such as scopes, lasers and lights—almost all of which are beneficial in the hog hunting realm—the AR is without peer. Some of the models include the Rock River Arms RRA LAR-15 in the PRK-Ehide camo finish (looks like the hide of an actual hog), Daniel Defense's M4 V5 in 300 AAC Blackout and the rifles from Ambush Arms, Daniel's sister company, that builds ARs expressly for hunting. One rifle offered by Ambush is particularly suited for hog hunting, providing more power than the 5.56 round in its Ambush 300 Blackout in Mossy Oak Break-Up Infinity. Another great—and relatively affordable—AR option is Mossberg's MMR Hunter.
When going with a 5.56 mm chambered rifle, Owen recommends getting one with a 1x7 twist in order to handle heavier bullets, though he likes the 6.8 SPC II or the 300 Blackout as well.
The Sight
Since long-distance shooting isn't typically the norm for most hog hunts, a 1x4 power variable optic such as Bushnell's Elite 1.25-4x24 mm with an illuminated reticle or a fixed 1X red dot such as Aimpoint's Micro T-1 works well. Regardless of whether you go variable or fixed, keep the powers low and choose something with an illuminated option, as much of your shooting may well take place in low-light or even no-light environments. You can also utilize a night vision scope, but they can be expensive. For true quality NV scopes, such as the models from Night Optics USA, you can expect to pay between $1,800 and $3,000 for a Gen 2 NV scope. For thermal imaging, expect to pay upwards of $10K. As fun and amazing as the technology is, few hunters will be willing to put that kind of expense into something they're going to use to hunt a few hogs.
More realistically would be the inclusion of a laser sighting device such as LaserLyte's RML K-15 Krytonyte Black green laser sight, which mounts to the top, side or even bottom rail of the AR and can be used to pinpoint targets outward of several hundred yards.
The Light
A gun-mounted illumination light such as the SureFire Scout Light is great for night hunting, particularly over bait where a hunter can wait for hogs to arrive and when ready, flood the area with a solid white beam of light and take aim with a standard optic. For tracking wounded game in the dark too, the gun allows the hunter to illuminate the ground ahead for a quick follow-up shot if necessary.
The Suppressor
For all of the belief that wild hogs are small-brained, easy-to-hunt animals, they are sensitive to hunting pressure. Shoot a group of them off a feeder or bait pile one night and you probably won't see them back there again for a few nights, if not a week or more. For this reason it is critical to minimize the impact of your presence, which mostly includes limiting the sound of frightening gunfire wherever pigs roam. A suppressor that not only mitigates muzzle flash, but more importantly, the loud "bang" of a rifle, can be a huge factor. I know of guys using suppressed rifles and taking hog after hog outward of 200 yards because the others had no clue what was happening. For those removing hogs from an area as part of a land management objective, the benefits of a suppressor can be invaluable. The Yankee Hill Manufacturing Titanium Thread-On Phantom 5.56 is light, at just 12 ounces, and reduces sound by 35 dB. Suppressors, with the proper paperwork, are legal for various uses in 39 states. Before hunting with or attempting to buy one, be sure you check the laws where you live and where you will be hunting, and then follow the proper procedures for registering to own one.
Additional Accessories
Sometimes hog hunting allows for a lot of shooting, and going into the hunt prepared and loaded with 20- or 30-round magazines will help you be ready when the action turns up. Owen likes Lancer Systems L5 mags or Magpul Pmags. Rounding out the rifle, Owen would also install Wilson Combat or Geissele triggers and a Battle Arms Development Ambidextrous Safety Selector in a 45-degree configuration for easier thumbing when it's time to fire.
Whether you choose every tiny accessory or not doesn't really matter; all improve the gun's and your performance, but that's the benefit of owning a versatile AR-style rifle. You can configure it the way you want within your budget. But make sure you account for the primary considerations of sights and lights, and you will have built your own ultimate hog-hunting rifle.