by
posted on November 21, 2013
Support NRA American Rifleman
DONATE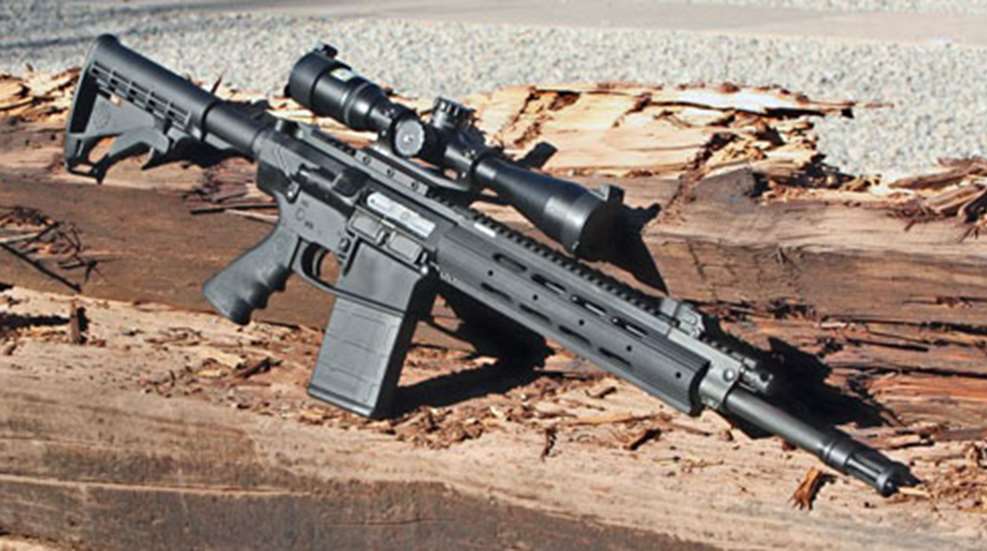 A few years ago, Ruger decided it was time to step into the ever-growing AR-style rifle market with a new semi-auto chambered for 5.56 NATO/.223 Rem. Instead of producing another gas-impingement platform, the company invested time and resources to produce its own answer to the AR shooting system. The SR-556 rifle operates using a patented chrome-plated, two-stage piston with a multi-stage regulator. The standard AR gas-impingement system channels the hot gases produced by a fired cartridge into the bolt assembly to cycle the bolt and chamber a fresh round. It's a proven system, but not necessarily a very clean one. Funneling exhaust gases into the action of the rifle causes it to become hot and dirty, possibly affecting how many rounds can be fired before reliability becomes an issue.
Ruger's AR design employs a piston system to cycle the action, not unlike that of the famous FN-FAL battle rifle. The hot gases from the barrel engage a piston set in an adjustable gas block. The piston actuates a spring-loaded rod, located over the barrel, which in turn cycles the bolt assembly. This system has two primary advantages. First, the bolt assembly stays cleaner and cooler during an extended course of fire. Second, the gas pressure used to cycle the bolt can be adjusted to reduce wear and tear on the rifle. It's a flexible system that will run reliably under a variety of shooting conditions.
As well-received as the SR-556 has been, there are those among Ruger's customers who have been eager to see this successful platform re-designed to fire 7.62 NATO/.308 Win. cartridges. Their requests have been answered in the new SR-762 semi-auto rifle.
Although the SR-762 has been beefed up to handle the larger .308 cartridges, it is only 0.66-pounds heavier than the standard .223 version. Steel components are treated with a non-reflective, black manganese-phosphate finish, with aluminum components finished in a matte, hard-coat anodizing to match. The 16.12-inch cold-hammer-forged barrel is constructed of mil-spec 41V45 chrome-moly vanadium steel. It has a chrome-lined bore for added longevity and a fluted exterior to reduce the barrel's weight and improve cooling. The muzzle is cut with 5/8-inch 24 threads so that suppressors and barrel accessories can be attached, and it arrives with an SR-556-style flash suppressor already in place.
The lightweight aluminum handguard is topped with a 1913 Picatinny rail that aligns with the flat-top receiver to create a full-length optics and sight rail. A set of folding steel AR-style iron sights are provided. Like other AR combat sights, the front sight is elevation adjustable, while the rear is windage adjustable with both a large and small aperture. The three flat surfaces of the handguard (at the 3, 6 and 9 o'clock positions) have been drilled and tapped with five mounting points each, which can be used to attach accessory or hand guard rails.
The chromed bolt rides in a chrome-plated, one-piece bolt carrier with an oversized and radiused rear bearing surface. All of the SR-762's exterior controls are of a standard, AR-15 configuration. The charging handle, forward assist, dust cover, bolt release, magazine release and trigger can be readily identified and operated in a familiar fashion for those who are experienced with the platform. A comfortable, pebbled rubber Hogue Monogrip has been installed in place of the more common hard plastic pistol grip. The six-position M4-style adjustable butt stock rides on a mil-spec buffer tube instead of a commercial model. And just in case you were looking for it, Ruger found an unobtrusive place to engrave its well-known "Read the Manual" statement on this rifle. It's located on the underside of the barrel, between the flash hider and the handguard.
The knurled adjustment knob for the chromed two-stage gas piston, located at the muzzle end of the handguard above the barrel, has four settings ranging from 0 to 3. The 0 position closes the gas system completely and prevents spent cases from ejecting until the charging handle is cycled. Position 1 provides the lowest level of gas flow to cycle the action, with the 3 position providing the strongest level of bolt-cycling pressure. By adapting the gas settings to match the ammunition being used, the user can reduce unnecessary wear and tear on the rifle when using powerful loads, or keep the rifle running reliably when it becomes dirty or when weaker loads are fired. The rifle arrived set at position 2, which will run a wide variety of loads.
The rifle is rounded out with a thoughtfully assembled set of useful accessories. The gun arrives with a soft carry case with straps to hold the rifle in place and pockets for the magazines. Three 20-round Magpul PMAG polymer magazines are included instead of just one or two. Two short Picatinny accessory rails for use with lights, lasers and vertical grips are provided along with three polymer handguard rails for those who want to enhance the gripping surface of the fore-end. With the iron sights installed and a lock to secure the action, this gun arrives ready to go to work.
The overall craftsmanship and finish of the rifle were excellent, and the accessories were top-notch as well. The weight and balance of the rifle made it quite handy and the controls operated smoothly. The level of felt recoil was perfectly manageable with all of the ammunition fired.
For range work, two more items were added to the test set. One was the Butler Creek LULA Loader. The lever-operated, slip-on loader makes filling .308 magazines a painless experience. The other item was a Nikon M-308 BDC 800 4-16x42 rifle scope, which arrives with a one-piece mount that has a built-in 20 minute-of-angle (m.o.a.) slope. This scope was designed to help stretch the long-range accuracy of modern sporting rifles chambered in heavier calibers. The M-308 is nitrogen filled and o-ring sealed, featuring fully multi-coated optics, a one-piece main body tube for optimal weight reduction and durability, and tactical-style adjustment turrets with a zero-reset function. With up to 16x magnification, this is more scope than most would need for tactical applications, but with the bright, crisp, sight picture it was very comfortable to work with for accuracy testing, and is ideal for anyone looking to take far-off shots.
The gas-piston system ran reliably with all of the ammunition fired, which consisted of several commercially produced .308 Win. hunting and target shooting loads. For formal accuracy testing, five, five-shot groups were fired from a benchrest into targets set at 100 yards. Two loads were neck-in-neck for the best single five-shot group. The Hornady 168-grain Boat Tail Hollow Point (BTHP) just barely took the lead at 0.99 inches, followed by the HPR 168-grain BTHP at 1 inch. Despite the relatively stiff 8-pound, 6-ounce trigger pull, the five-group averages were satisfyingly tight. The Hornady load averaged 1.17 inches, followed by HPR at 1.22 inches. Federal Premium's Sierra Match King 168-grain BTHP produced a 1.26-inch average and DoubleTap's Long Range 155-grain BTHP Match averaged 1.36 inches. Not bad at all, but with a lighter trigger it might be possible to squeeze the groups down even more.
I found several good reasons to like the new Ruger SR-762 rifle from a technical perspective. It's well-made, reliable, comfortable to operate and it has accuracy potential to spare for a combat-style rifle. With the simple, rugged, reliable gas-piston system, it will run reliably with a wide variety of ammunition.
But one of the things I like best about this particular setup is how it demonstrates Ruger's respect for its customers. They recognize that slapping down two grand for a rifle is no small investment.  And that running around spending even more money trying to find accessories that fit is no picnic. Instead of trying to press as much profit as possible out of the platform by shipping it as a bare bones, just-one-magazine, no sights, no-frills shooting package, the gun arrives with a quality accessory set that makes it ready for the shooting range right out of the box. Just add ammo and enjoy the comfortable shooting characteristics and accuracy this rifle provides.
Manufacturer: Sturm, Ruger & Co.; Ruger.com
Model: SR-762
Action: Two-Stage Piston Gas Operated Semi-Auto
Caliber: .308 Win./7.62 NATO
Finish: Manganese Phosphate/Hard Coat Anodized
Sights: Adjustable AR-Type Folding Iron Sights
Barrel Length: 16.12"
Overall Length: 34.75" to 38"
Length of Pull: 11.5" to 14.75"
Height: 8"
Weight: 8.6 lbs.
Twist: 1:10" RH
Rifle Grooves: 6
Accessories: Folding Adjustable Sights, Three 20-Round PMAGs, Three Removable Hand Guard Rails, Two Removable Short Accessory Picatinny Rails, Tactical Soft Case, Lock, Owner's Manual
Suggested Retail Price: $2,195