by
posted on January 10, 2020
Support NRA American Rifleman
DONATE
What
Alexander Arms
set out to achieve with the development of its .50 Beowulf round ended with a cartridge that mimics the ballistic performance of the .45-70 Gov't cartridge and is designed to be fired from a short-action, AR-15-style rifle. Suited for big-game hunting, as well as military and law-enforcement applications, the Alexander Arms .50 Beowulf cartridge utilizes a large-diameter .500" bullet propelled at a moderate velocity.
Combining this cartridge design with the company's dedicated .50 Beowulf AR-15-style Hunter rifle, sportsmen may appreciate its use for the myriad hunting opportunities North America has to offer, whether it's hunting black bear of the northeast, feral pigs of the south, whitetail deer of the heartland, elk and mule deer of the Rocky-Mountain states, Coues deer of the west and every other big-game animal in between.
Looking at the Alexander Arms
.50 Beowulf Hunter
rifle, you'll discover initially the gun's
Prym1
 woodland-camouflage finish covers much of the exterior. Internally, the company's aluminum receiver features adjustments to accommodate the increased case size of the chambered cartridge. A
Velocity single-stage trigger
with a factory-set 3-lb. pull weight was included in this model.
Controls are a standard AR-15 configuration, and the gun's grip is provided by
Adaptive Tactical
. Attached to the front of the receiver you'll find a carbon-fiber
TacStar
handguard with
Magpul
M-lok attachment points, allowing for the use of a range of accessories. Within the handguard is a 16.5" button-rifled, chrome-moly steel barrel, which comes threaded for muzzle devices. At the reverse end, Alexander Arms leaned on Adaptive Tactical again for its adjustable stock.
To learn more about the Alexander Arms .50 Beowulf Hunter, check out our
NRA Gun of the Week
video above hosted by
American Rifleman
's Christopher Olsen.
SpecificationsManufacturer
:
Alexander Arms
Model
: .50 Beowulf Hunter
Chambering
: .50 Beowulf
Action
Type
: gas-operated semi-automatic center-fire rifle
Receivers
: aluminum
Barrel
: 16.5" chrome-moly steel
Magazine
: seven-round detachable box
Sights
: none; Picatinny rail
Trigger
: single-stage 3-lb. pull
Stock
: adjustable
Finish
: Prym1 Woodlands camouflage
MSRP
: $1,795
Additional Reading:
A First Look at 2020's New Guns - by American Rifleman Staff
Modern Big-Game Bullets - by Craig Boddington
Big-Bore AR Cartridges - by Bryce Towsley
Handloads: 6.5 mm Grendel - by John Haviland
Review: Alexander Arms Ulfberht Rifle - by American Rifleman Staff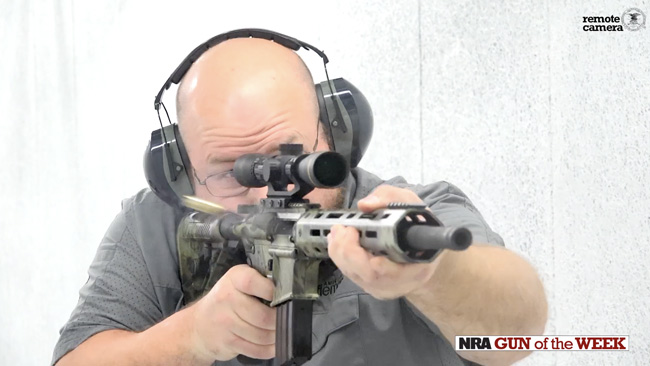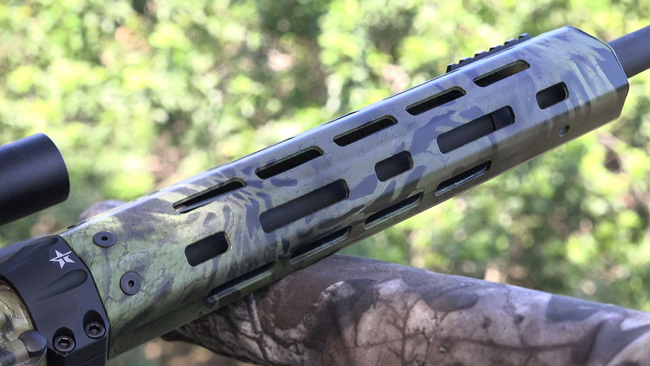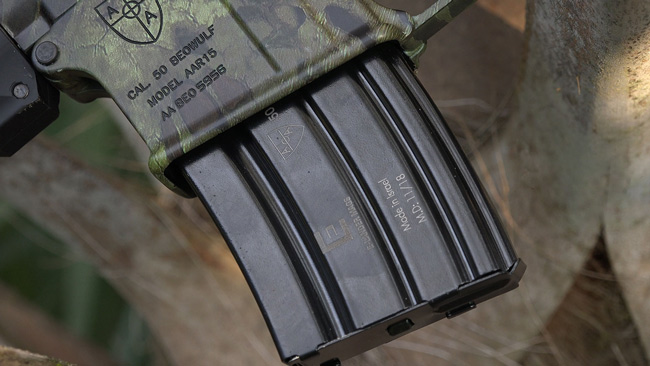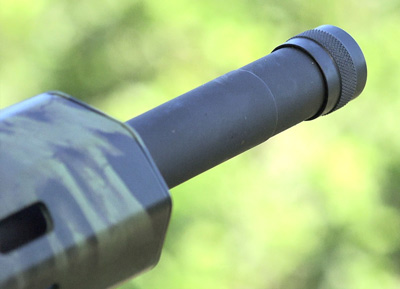 Extras
:
NRA Gun of the Week: Alexander Arms Incursion Rifle
NRA Gun of the Week: AR-15 Rifle
I Have This Old Gun: Beretta AR 70 Rifle
I Have This Old Gun - Argentine Mausers
The Unstoppable AR-7 Survival Rifle
NRA Gun of the Week: U.S. Springfield Armory M1 Garand Rifle