by
Brian C. Sheetz, Editor In Chief
posted on October 4, 2022
Support NRA American Rifleman
DONATE
The firearm industry has been a part of America since its founding, and while many companies have come and gone, a few have been on the scene for a century or longer. One that can be added to that list this year is Federal Ammunition, and in this issue we pay tribute to its owners, management and workers, past and present. Collectively, their hands have produced many billions of rounds of ammunition since the start of operations near today's Anoka, Minn., facility, and the company's cartridges have been fired by virtually every shooter in America.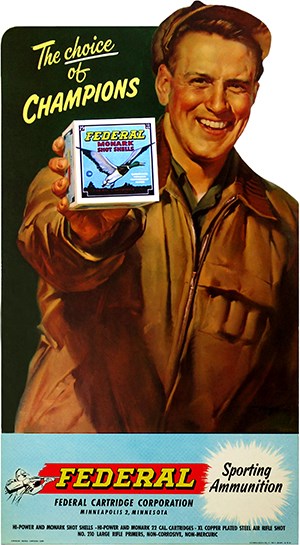 The company originally called Federal Cartridge Corp. and now known simply as Federal, got off to a shaky start in 1922, but today it is the dominant force in the ammunition market. Its winding road to success and fame is captivatingly chronicled in "Shooting Straight For Ten Decades," written by Editor Emeritus John Zent. He traveled recently to the company's headquarters with NRA Publications Division Executive Director Doug Hamlin and Editorial Director Mark Keefe to meet with Federal CEO Jason Vanderbrink and scores of employees and other firearm industry members in celebration of the company's milestone.
We also have coverage of the respected Czech-based manufacturer CZ, itself now 103 years old, and an all-new line of long guns that it has just made available in a variety of configurations. America's 1st Freedom Editor In Chief Frank Miniter explains in "CZ Re-Invents Its Approach To The Bolt-Action Rifle." The European company, which also owns the Colt and Dan Wesson brands, operating through its CZ-USA subsidiary in Kansas City, Kan., has refreshed its commitment to American shooters with models that promise the same level of dependability and accuracy for which the CZ name has become highly regarded on both sides of the Atlantic. For me, the story served as a reminder of a visit more than 20 years ago to CZ's headquarters and manufacturing plant in the city of Uherský Brod. I came away from that multi-day tour of the country encouraged by examples of the Czech peoples' industrious, creative character that seemed to be re-emerging at every turn after decades of suppression under communist rule.
In yet another new firearm development from a major American maker, Field Editor Aaron Carter's "Savage Takes A New Stance," examines the first modern handgun to bear the name of company founder Arthur Savage, who got his start in 1894 with long guns and brought out his first handgun 115 years ago. In shaking out the new Savage pistol, Carter found it to be one of the most accurate he's ever tested—making it a fine match to the centerfire rifles for which the company has gained a well-deserved reputation.
Back to ammunition, we learned when putting this issue together that the Biden Administration had considered ordering Winchester Ammunition to halt the sales of excess 5.56 NATO cartridges produced at the Lake City, Mo., plant that it operates under contract for the U.S. military. Had that happened, ammunition supply on the civilian market, which by most accounts is still tight, would have become even more limited. It's another remarkable example of an administration seemingly intent on stifling the traditional American way of life and putting pressure on American shooters.
Despite that, our market currently offers more buying options when it comes to ammunition and firearms than any other in the world. And while we may value such choice as consumers, we must continue to actively cherish the freedom that results from the marketplace of ideas that is ensured only by our unique Second Amendment.