by
John Zent, Editor Emeritus
posted on September 5, 2022
Support NRA American Rifleman
DONATE
After getting kicked out of the factory he'd just acquired, Charles L. Horn, managing partner of the newly minted Federal Cartridge Corp., made a decision that worked out so well his company is now celebrating a momentous 100th anniversary.
Today, Federal is the world's largest ammunition manufacturer. Its Anoka, Minn., home base sprawls across 175 acres and contains a 700,000-sq. ft. factory plus 16 test ranges. Every day, 1,400 employees work three shifts 24/7 to build millions of rounds of centerfire, rimfire and shotshell cartridges. Federal is the overall market-share leader in ammunition purchased, as well as number one in rifle ammunition and law-enforcement purchases. In a national survey conducted in 2020, shooters rated Federal as America's foremost rifle and handgun ammunition brand. Innovative new products from Federal annually take top honors in firearm-industry programs such as the NRA Publications Golden Bullseye Awards.
But would any of that have happened if Horn had misstepped on a series of pivotal decisions in the spring and summer of 1922? First, while simply seeking packaging equipment for BBs and ball bearings, he was persuaded to join an existing stockholder in the outright purchase of a defunct Minnesota shotshell factory. Horn promptly re-hired former plant manager John Haller, whose experience and mechanical wizardry were instrumental in getting the tooling and incoming workforce up to speed. In that shaky early stage, he even pitched in to help on the assembly line but would later confess, "I was a constant source of trouble, and the few employees spent most of their time unscrambling the things I started." Haller respectfully asked the new boss to find another way to help.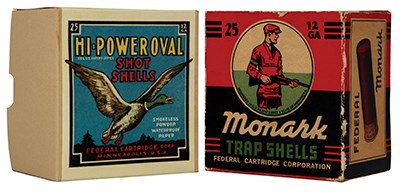 Though Horn took that advice to heart by opening a satellite office, he largely proceeded to run the show out of a red Dodge that's now enshrined in company lore. As Haller's crew ramped up output of shotshells under the Hi-Power name, Horn encountered roadblocks to finding buyers. By the 1920s, ammunition was a hot consumer commodity dominated by a handful of entrenched brands. The big boys were omnipresent in distribution circles and fought for customers via aggressive advertising in American Rifleman and other magazines. They also played rough by pressuring retailers not to carry competing lines.
But Federal's lead man knew how to dodge such tactics. As an Iowa farm boy, he'd seen how fellow Midwesterners congregated in small-town barbershops, hardware stores, feed mills and pool halls. Crisscrossing the region, Horn convinced the shopkeepers to stock his shells. Likewise, he prevailed on doctors, dentists and other community magnets to take a chance on a new sideline. Before long, Federal ammo was a fixture in the places where shooters and hunters talked about shooting and hunting.
And then on the heels of his extended road trips, Horn was a welcome sight pulling up to the factory on Friday afternoons with the weekly pay envelopes. At the same time, Horn made a key move in an entirely different direction, selling off a significant stake in 1925 to none other than F.W. Olin, founder of Western Cartridge and architect of Western's eventual merger with Winchester. By 1932, Olin had become Federal's majority shareholder, though he apparently was a silent partner, widely unknown even among company insiders. While such an arrangement would likely run afoul of current anti-trust laws, it remains uncertain how Olin's involvement—which extended until 1985—influenced Federal operations, if at all. What's certain is that Charles Horn remained at the helm as president, then as chairman of the board, for nearly 60 years. In the parlance of economists and money wonks, he repeatedly and shrewdly steered his company from Main Street to Wall Street and back again, a corporate trait not uncommon among America's centennial businesses.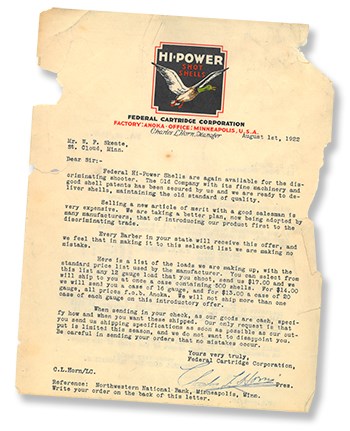 Progress In Hard Times
From the mid-1920s through the Depression era, Federal's outward face reflected its conservative mid-America origins. Shotshells predominated, though rimfire manufacture was added in 1924, a product tandem that neatly dovetailed with prevailing regional hunting and shooting interests, primarily waterfowl and small game, plus backyard plinking. Within a decade, Anoka-made loads were also competing in trapshoots and smallbore tourneys. But despite the narrow focus, company fortunes grew so fast that by 1930 more than 500 employees were on the payroll. 
Along with his grassroots take on "dealer direct," Horn's tireless salesmanship fueled that growth. From the start, he hustled for "private label" contracts to keep the factory busy. An early hookup with American Cartridge of Kansas City soon went bust and left so much debt that Horn assumed control and brought the insolvent firm in-house, where it would spawn the still-in-existence American Eagle sub-brand. More lucrative ties were struck with emerging chains Sears, Roebuck and Montgomery Ward, which not only provided immediate revenue, but also paved the way for much wider distribution of Federal-branded product. Apart from markings on their thick paper hulls, differences were scant between Federal Ranger, Sears Mallard and Ward's Redhead offerings. Rimfire followed the same parallel track consisting of duplicate proprietary and outside "house brands."
Partnerships forged therein persisted for as long as a half-century and weren't confined to retail giants. Also staked to ammunition bearing their names were regional merchants like Gamble's, M.W. Savage & Co. and Our Own Hardware, as well as Janney, Simple & Hill. More recently, Cabela's and Herter's boxes have been filled at the end of Federal conveyors. In keeping with Horn's native caution, private-label contracting was an affordable, low-impact path to diversification.
Public outreach beyond packaging adorned with game-animal imagery began in the 1930s via conservation-themed advertising and company support for resource management and youth programs. Whether calculated image-building or simply an offshoot of Charles Horn's personal zeal, the push no doubt resonated with a customer base heavily invested in the "sportsman ethic." Horn's activism included volunteer stints as chair of the Minnesota Conservation Committee, co-founder of 4-H Club conservation activities and a seat on the state Water Resources Board. Federal's support for such causes, including NRA, has run strong ever since.
Fittingly, Federal's very first appearance in American Rifleman was a half-page ad in August 1937. It advocated predator control and talks about "coming to nature's aid." That spot, and the campaign in general, would now be called "lifestyle" advertising, lacking any hard-sell product message. Once again, the company prioritized a virtual kinship with its customers and prospered because of it.
Hometown ties were reinforced by longtime employee R.B. Ehlen, who rose through the ranks to the post of operations manager. The Anoka native also served on the local school board and planning commission and ultimately was elected town mayor. For a half-century, he curried close relations between the town and its biggest employer—a connection embodied by Ehlen Drive, the street that still leads into the factory's main entrance today.
Winning the War
As World War II loomed, quite naturally, Federal Cartridge joined the all-in push to harness America's industrial might. And among the thousands of manufacturing concerns pressed into war production—including virtually every firearm and ammo maker—Federal arguably benefitted as much as any of them in the long term.
Until the war, Federal ammunition had been absent from military procurement, though plausibly it would be no great leap to earmark product—shotshells at any rate, and perhaps rimfire for training purposes—to the war machine. Charles Horn, however, went bigger. Acting before the nation declared war, he fielded an order from Britain, then contracted with the U.S. government in the summer of 1941 to build and operate the Twin Cities Ordnance Plant (TCOP) in New Brighton, Minn., just 10 miles from Anoka. Groundbreaking occurred promptly on what would become one of six government-owned, contractor-operated munitions factories. During construction, 65 Anoka workers were dispatched to Pennsylvania's Frankford Arsenal where they would learn to load centerfire rifle and handgun cartridges, a move that, in its own words, "… would forever change the course of Federal as a company."
With Ehlen in charge, TCOP flipped the production switch in March 1942, and, by war's end, combined output from Federal's cross-town plants numbered more than 5 billion rounds. At first, commercial loads like Hi-Power and Monark slugs and buckshot and Airline and XL .22s were rushed out to training centers, but sporting ammo production at Anoka soon gave way to rimfire and target shotshells geared toward military use, as well as the manufacture of mortar igniter shells. Meanwhile, the new ordnance factory pumped out centerfires by the train-car load, notably for .45-cal. service pistols and .30- and .50-cal. rifles and machine guns. 
TCOP was officially, albeit temporarily, deactivated on V-J Day, Aug. 15, 1945. It re-opened as Twin Cities Arsenal in 1950 and again in 1965 to arm soldiers fighting in Korea and Vietnam, respectively. Nonetheless, victory was not so much an end for Federal as it was a metamorphosis. Standing by and ready for liftoff were teams of skilled line workers and the machinery they had mastered in the course of filling a virtual centerfire ammunition pipeline to the troops.
A Mid-Century Pivot
One of Federal's first post-war moves was to start selling centerfire primers as a standalone commodity. It fit the times, as returning vets led a boom in shooting and hunting, which, in turn, spun off a surge in handloading. But it was even smarter in the long term, as the company gained capacity in a niche where demand perpetually exceeds supply, plus the expertise to invent better primers that upped the quality of its factory loads. Primers remain a Federal specialty, both in volume and technical innovation.
Returning to its shotshell and rimfire wheelhouse, the company then went with Monark and Hi-Power branding across most lines. That was the case in 1963 when, at long last, Federal kicked off commercial centerfire production with 12 rifle chamberings ranging from .222 Rem. to 8 mm Mauser, all topped with Hi-Shok soft points. Likewise came Monark .38 Spl. and .45 ACP hardball slugs, thus initiating an unceasing quest for life-saving solutions for law-enforcement and personal-defense users. This turn was especially important to rank-and-file officers, many of whom holstered .38 Spl. revolvers, though it was just the first in a stream of LE-centric products. The 1970s brought a .308 Win. sniper load soon adopted by the FBI and U.S. Secret Service, and then Federal acquired rights from Smith & Wesson to Nyclad, an innovative nylon-jacketed bullet for .38 Spl./.38 Spl. +P that combined impressive expansion with reduced bore fouling and airborne lead.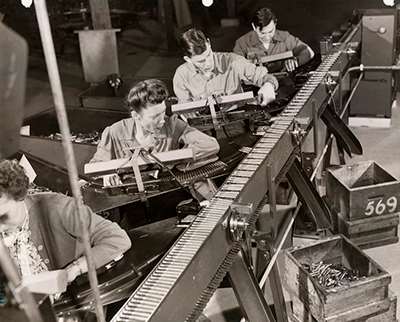 During the go-go '60s, plastics invaded American manufacturing, and Federal was an early adopter on the shotshell front. In successive years, it introduced plastic wad columns followed by plastic hulls, changes that in some situations improved performance and reliability and which invariably held the line on material costs. Soon, those hulls were color-coded—red/maroon for 12 gauge, purple for 16 gauge and yellow for 20 gauge—a safety prompt so effective it quickly became industry standard and remains as such.
But all that was merely a run-up to what we can say in 20/20 hindsight was a pivotal milestone for the company and for the entire ammunition sector. Headlining Federal's 1977 and 1978 catalogs was news of Premium, an exclusive sub-brand comprised of a limited number of rifle and shotgun loads purported to contain only the finest components. While it wasn't the first high-dollar, high-performance fodder, Premium's component checklist commanded attention: heavily inspected primers and cases; propellants custom-formulated per load; and projectiles heretofore off-limits to factory-cartridge users. Extra-hard copper-plated shot promised wingshooters tighter patterns and more lethal hits. Riflemen had even more to consider, because for the first time ever, Big Ammo was openly incorporating the best specialist bullets other firms had to offer. First up were Sierra boattails and Nosler Partitions, both previously confined to the reloading arena.
The response was so positive that Federal Premium rosters snowballed and expanded into every relevant category. And quality never stopped improving, with upgrades such as nickel-plated cases, sealed primers and, most enticing, a whole lot more designer-grade bullets. Sierra, Nosler, Trophy Bonded, Swift, Barnes and Berger projectiles are some mainstays in a lineup often tweaked to keep pace with shooting trends.
The Premium aura was so potent that the moniker crept across product lines and into use as a general reference. Ultimately, management decided that was too much of a good thing, whereupon the company reverted to basic "Federal" branding, thereby reserving "Premium" for loads that genuinely offered a combination of superior components, cutting-edge design and especially stringent quality control.
Competing manufacturers around the globe would emulate the concept with mixed-source loads of their own, and the result has been a rising tide for consumers. In fact, the Premium gauntlet forced the trade to get more serious about engineering and product development. Across all sectors, technical innovation, backed by ever-improving manufacturing practices, are required to produce the ammo now sought by demanding customers. And that's one reason why Federal is the lead dog in the ammunition business.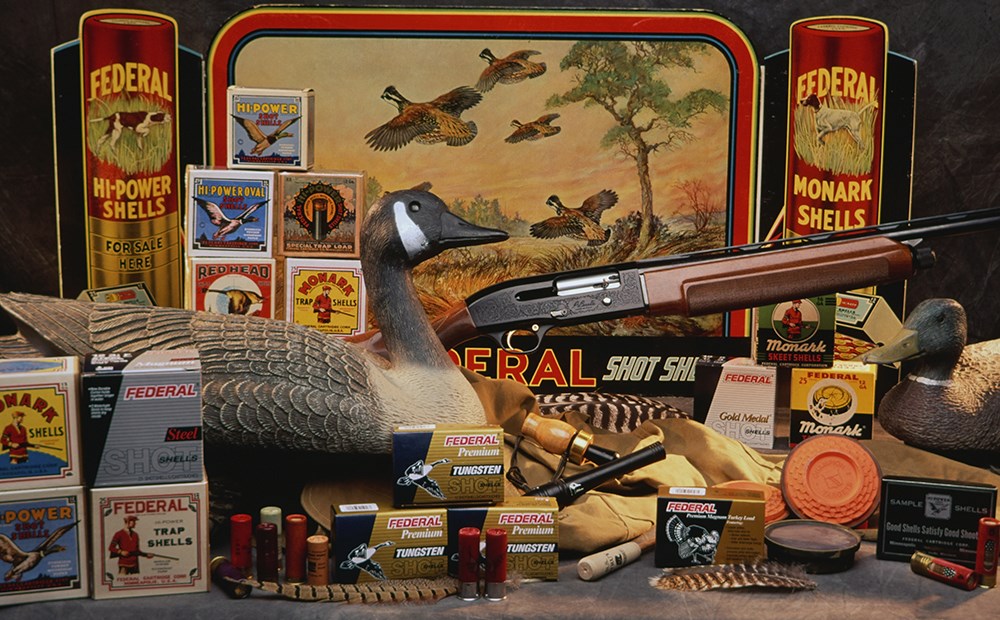 Churn and Continuity
Though Federal's history of management stability may be unmatched, every firm that lasts long enough must re-invent itself. The trick is knowing when and how much to change, as well as how to retain what shouldn't change.
Since the Horn-Olin era ended in 1985, control of Federal has changed hands six times. With one exception, the new owners were publicly traded corporations whose diverse portfolios already included shooting/sporting equipment manufacturing, plus, briefly, the investment banker, Lehman Brothers. Compared to other shooting-industry firms swallowed up by high-finance, however, Federal actually fared well, particularly after a 2015 restructuring put it within newly formed Vista Outdoor Corp. Regardless of who occupied the board room, relentless product development drove sales.
Starting with high-profile entries like Gold Medal UltraMatch, BallistiClean and Hydra-Shok pistol loads, Premium Tungsten shotshells and Federal Premium Safari (to name a few), brand prestige and loyalty spiked. Momentum continued in the 2000s with the newly created .338 Federal and .224 Valkyrie rifle cartridges, plus .327 Fed. Mag. and 2021's 30 Super Carry for handgunners. Shooters embraced innovations ranging from Black Cloud FS Steel shotshells to the Fusion mid-priced lineup to quiet American Eagle Suppressor .22s. Law enforcers found answers in reliable HST duty-pistol ammo and the Tactical Rifle Urban (TRU) line with multiple penetration options. At the specialty projectile level, we've recently seen: Syntech, with polymer jackets that reduce fouling and backsplatter; Terminal Ascent for all-range big game; and Force X2 segmenting buckshot. Catalyst lead-free primers are a boon for busy indoor ranges. A serious target shotshell makeover came a year ago in High Over All, boasting a unique one-piece wad and tapered hull components.
Throughout the ownership churn, company facilities and assets have remained undiminished, and employees have kept their jobs. Along the way, Federal gained corporate step-siblings Alliant Powder, CCI and Speer in the 1990s, followed more recently by Remington Ammunition, Estate Cartridge and Hevi-Shot. All remain distinctly separate operations, though expertise sharing is encouraged and reportedly beneficial.
As this article was written, Vista announced it will split into a pair of independent companies, with "outdoor" products in one camp and "sporting" (i.e., shooting) products in the other. Federal thrived as a Vista cornerstone unit, and logic suggests that as the biggest hitter in an all-ammunition lineup, more good things are in store. The new organization likewise will be headquartered in Anoka, Minn. Not yet announced are the date when the shake up will be finalized and the new corporate name.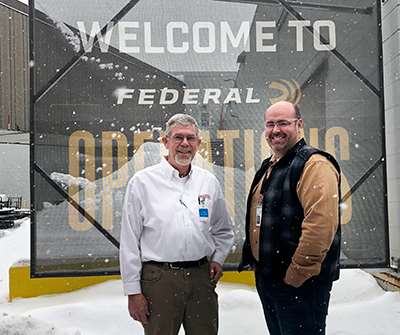 Current Federal President Jason Vanderbrink will become CEO of the new conglomerate, and, in fact, has already been leading all of the companies involved. Where his legendary predecessor Charles Horn had to haunt country roads in search of customers, Vanderbrink has turned to the information super-highway to launch direct-to-customer e-commerce. Factor in his own sales background and Midwestern upbringing, and you get an interesting set of centennial bookends. Vanderbrink is known for candor and love of competition, and, like Horn, he's no stranger to the factory floor.
During an open-house celebration in June, Vanderbrink welcomed guests to "the world's largest ammunition factory, staffed by the world's best workforce" and pretty well summed up why Federal is so dominant today.
"Everything we do is to live and breathe making better ammunition," he said. "To do so, we need to stay obsessed with accuracy and our high standards of performance. The entire staff of 1,500 hard-working Americans here in Anoka, Minn., is extremely proud to celebrate a century of continuous and successful operation. We appreciate those who came before us to make this possible and look forward to taking Federal into its next century.
"[Federal] has never been stronger, and we owe it to a century of continuous innovation across every department in the company. Many people and partners have contributed to our success, and I'm proud to join the current team in making sure that tradition of excellence continues."
---
Bullet Points Through 10 Decades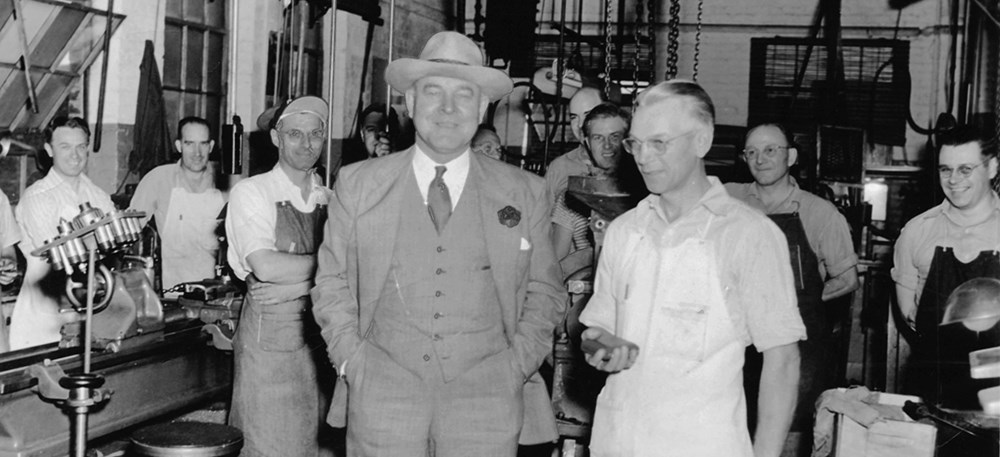 1922—Federal's re-opened Anoka plant begins operations with  Standard, Dixie (blackpowder) and Ranger "long-brass" shotshells produced by just seven full-time employees. Company founder Charles L. Horn stands in the foreground (l.), next to plant manager John Haller. 

---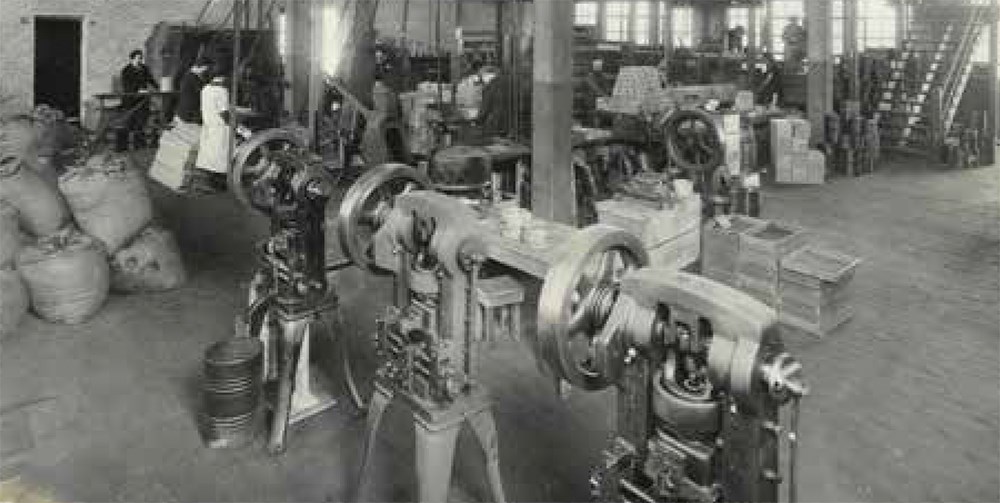 1930s—Hi-Power Trap and Skeet loads spread the Federal name among match shooters.
---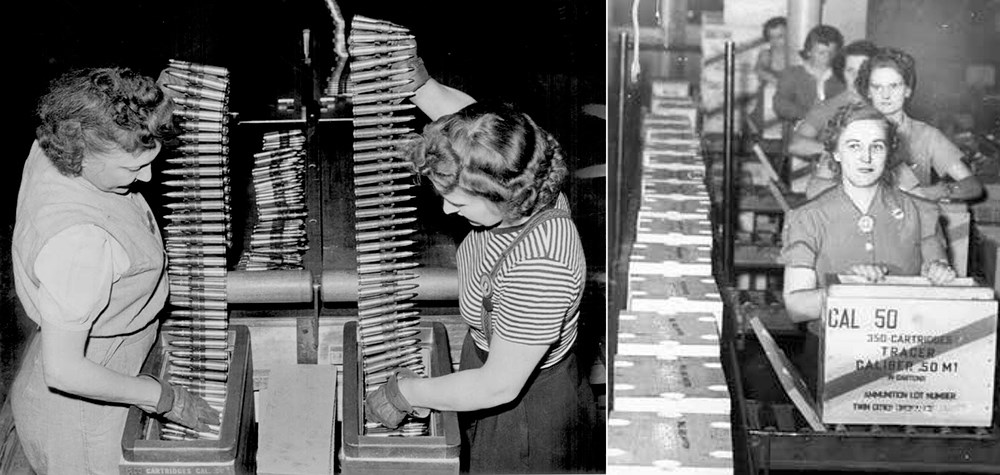 1941—Federal's baptism in military sales ramps up with a contract to build and operate the Twin Cities Ordnance Plant.
---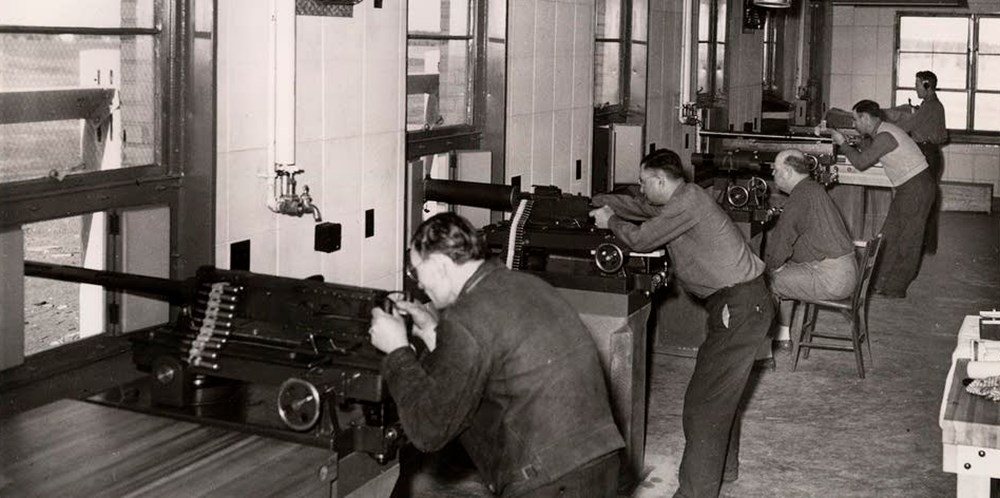 1951—Under Federal management, Twin Cities Ordnance Plant is recommissioned to produce ammunition for U.S. forces in Korea.
---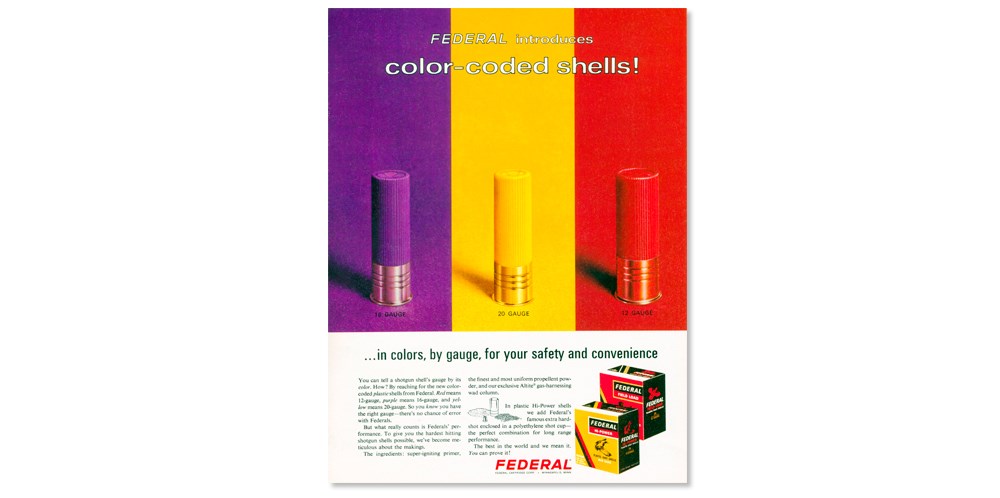 1960s—Federal's idea to color-code its shotshell hulls by their gauge instantly makes shooting safer and eventually becomes the standard for the entire industry. 
---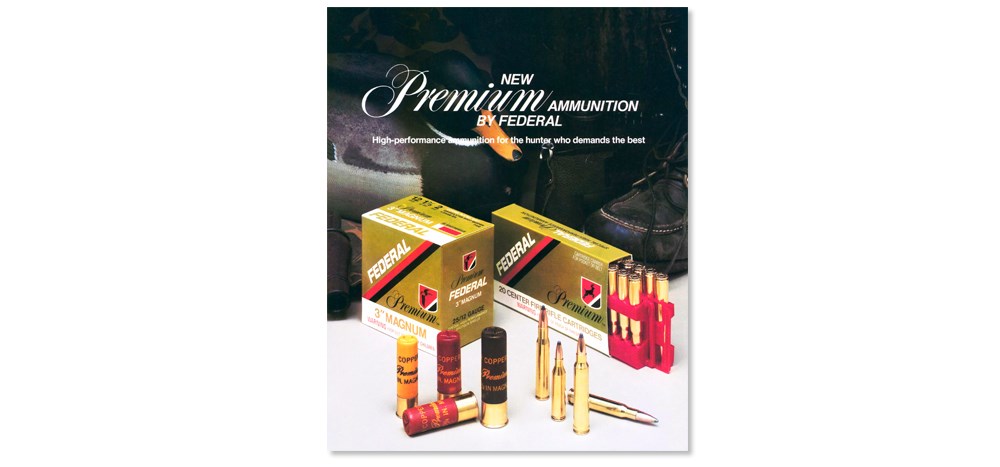 1977—Blue-chip Federal Premium ushers in a two-tier product strategy widely emulated throughout the industry.
---

1980s—Combining a jacketed hollow point and tapered center post, Hydra-Shok personal-defense bullets ace FBI barrier tests and soon dominate both LE and civilian markets.
---

1990s—Federal's early adoption of tungsten-based pellets leads to an evolutionary surge in shotshell performance.
---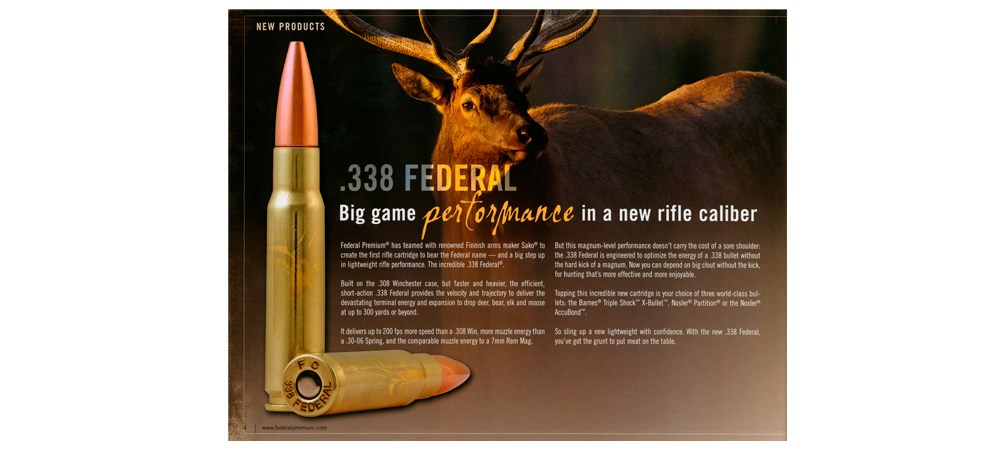 2006—The first rifle cartridge to bear the company's name, the .338 Federal is ingeniously efficient in surpassing the ballistic performance of the .308 Win.
---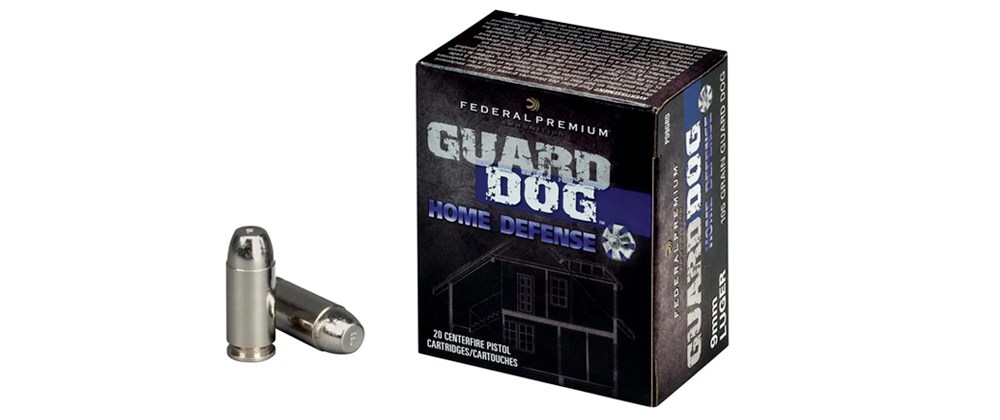 2011—For police officers barred from using hollow points, Federal creates Guard Dog, which combines a metal-nosed, nickel-plated bullet and low-flash propellant. 
---

2021—U.S. shotgunners Amber English and Vincent Hancock (shown) use Federal Premium Gold Medal shells to win gold at the Olympic games in Tokyo.