posted on September 3, 2016
Support NRA American Rifleman
DONATE
The authorized bicentennial reproduction of Indiana's official state rifle will be offered at auction through Sept. 5, 2016, on gunbroker.com, where potential bidders can search for "Grouseland Reproduction." The reproduction will be accompanied by a velvet-lined, burl walnut presentation case with an Indiana state seal inlaid on the top of the box. Auction proceeds will support historical preservation of the Grouseland Rifle and the William Henry Harrison Mansion and Museum.

In its own odyssey, an historic American long-rifle from the bench of Revolutionary War gunsmith John Small (1759-1821), long separated from the town where it was built, would be delivered to its home by modern-day versions of those Greek mariners. As Odysseus was returned home to Ithaca, so was John Small, in a way, carried home to Vincennes, Ind.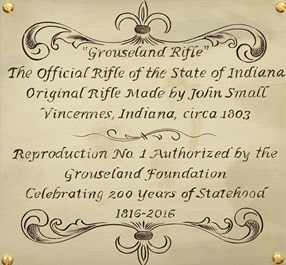 This long gun, built by Indiana's first sheriff John Small around 1803, would become known in 2004 as the "Grouseland Rifle" when it returned to Vincennes to reside in the museum at Gov. William Henry Harrison's Grouseland home. In 2012 when the Grouseland Rifle was adopted as the official rifle of the State of Indiana, it would come to symbolize an entire state's regard for its frontier heritage. As part of Indiana's 200th anniversary of statehood, the Grouseland Foundation, owner of the rifle and conservator of Harrison's territorial home, commissioned a bicentennial reproduction of Indiana's state rifle, offered at auction to further historical preservation in John Small's hometown of Vincennes. 



Above, the "Grouseland Rifle" is the official rifle of the state of Indiana, and it was made by Col. John Small, who is regarded one of the finest gunsmiths west of the Appalachians. Small had been a soldier during the Revolutionary War, and he eventually settled in the Northwest Territory in Vincennes.



Noted longrifle gunsmith Marvin Kemper (below) was commissioned to make a replica (above) of the John Small rifle. Kemper had previously built a John Small longrifle for presentation to Mark Levin at the 2014 NRA Annual Meetings in Indianapolis, Ind.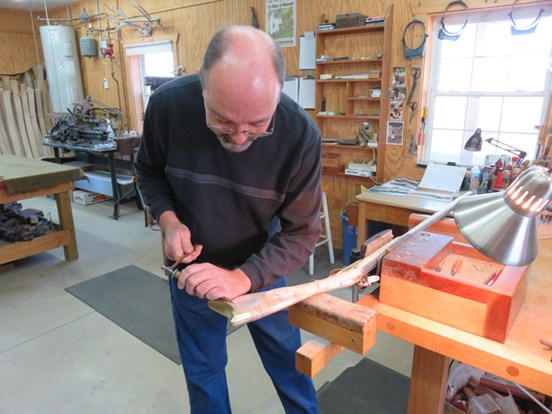 John Small: Military And Civic Leader

In a July 2004 article in 
The Gun Report
, collectors Shelby Gallien and the late Jim Dresslar praised John Small as "perhaps the finest gunsmith to work west of the Appalachian Mountains in the years following the American Revolution."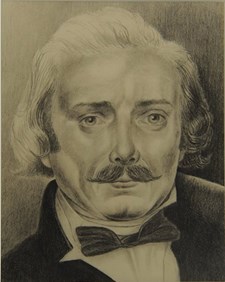 A 14-year-old John Small got his start as a gunmaker in western Pennsylvania, where he was apprenticed to brothers Richard and William Butler at Fort Pitt around 1773. His early military experience was documented in Harold Gill's The Gunsmith in Colonial Virginia, noting John Small's service in 1775 as an armorer during Lord Dunmore's War. On a Revolutionary War muster roll from 1782, John Small was listed as a private 7th class, Capt. Samuel Cunningham's company, Pennsylvania's Washington County militia. 
Independence won and his gunsmithing apprenticeship complete, John Small joined the surge of European migration into the "Territory Northwest of the River Ohio," or "the Old Northwest Territory." He established himself around 1785 in the frontier river town of Vincennes in present-day southern Indiana. Small was a capable man of many talents. He opened his gun shop where he crafted rifles, pistols and tomahawks, and he trained apprentices of his own. In business, Small was a tavern owner, ferry operator, surveyor, farmer, landholder, blacksmith, gristmill owner and a highly regarded engraver.
Beyond his arms craft and other businesses, John Small served in a number of military and civic roles in the Northwest Territory and later the Indiana Territory. While his legacy endures in certain circles, it is surprising that he has gone largely unrecognized in many of the historical accounts of America's westward expansion.
As a militia officer, John Small was a hard-fisted captain who was recognized in his time for displays of courage and leadership in defense of the people of Vincennes. In a letter appearing years later in the Draper Manuscripts, son William Small reported that his father was: "6 feet and one inch high. He weighed 184 pounds. He was an expert horseman. There was no better shot in the North West than he. The Indians called him 'big knife.'" 
His robust stature, military experience, and skill at arms and horsemanship made John Small a likely candidate for appointment as the first sheriff of the newly formed Knox County in 1790. That legacy endures in present-day Knox County, where sheriff's deputies recognize Small with a patch on their uniforms: "First in Indiana – 1790."
His military leadership was recognized again a decade later when Gov. William Henry Harrison appointed Small to serve as adjutant general to the Indiana territorial militia, where he served with the rank of lieutenant colonel until 1812. For this service, today's Indiana Army National Guard claims Lt. Col. Small as first in its line of 58 adjutant generals. 
His service to the Northwest Territory (1787) and the Indiana Territory (1800) included appointment as the primary engraver who produced official territorial seals, which evolved into the modern official seal of the State of Indiana. Small also served as an elected representative in the Northwest Territorial Legislature in 1799.  
John Small, Gunmaker 
While John Small possessed an arsenal of talents, his work as a gunsmith was particularly valued on the western frontier. Of the five John Small rifles known to still exist, most are associated with significant historical figures of the period. Explorer William Clark owned a signed John Small rifle, which now resides in the archives of the Missouri History Museum. The Indiana State Museum holds two John Small rifles, a tomahawk, pistol and powder horn: his "Vigo Rifle" was owned by Col. Francis Vigo, an Italian trader who aided in George Rogers Clark's capture of Fort Sackville in 1779. The "Girty Rifle" is believed to have been owned by either Simon or James Girty. The "Menard Pistol" was crafted for Pierre Menard, notable as the first lieutenant governor of Illinois. 
A fourth John Small rifle—and the only one held in a private collection—the "Kindig Rifle" was discovered in England in 1958 by Joe Kindig, Jr., noted author of Thoughts on the Kentucky Rifle in Its Golden Age. This flintlock, with its finely engraved inlaid silver urn, was reproduced for the NRA by second-generation southern Indiana gunmaker Marvin Kemper. This presentation flintlock was conferred on author Mark Levin after his NRA-ILA Leadership Forum address at the 2014 NRA Annual Meeting in Indianapolis. 
Kemper's long familiarity with the work of John Small and his experience in reproducing Small's rifles make him something of an authority on John Small. Of the fifth of existing John Small rifles, Kemper says, "The Grouseland Rifle is a classic example of the Golden Age American long­rifle." It is slender and graceful. Its warmly striped curly maple stock presents with a finely carved brass patchbox, boasting an engraving of the angel Gabriel with his trumpet in one hand and spear in the other (a feature the Grouseland Rifle shares with the William Clark Rifle).
A sterling silver medallion on the stock is engraved with an eagle and shield surrounded by a display of military arms. Delicate silver wire inlays scroll their way across the comb from the wrist to the buttplate. A silver, eight-pointed star, also similar to one on the Clark Rifle, is inlaid above the cheek piece. The rifle displays eight diamond-shaped silver inlays along its octagonal swamped barrel, the muzzle end of which has a distinctive copper cladding on the top three flats. The barrel displays his signature engraved on an inlaid silver plate: "Jn Small Vincennes."
The Grouseland Rifle is the only one of Small's rifles seen to have copper cladding on the muzzle, a feature that raises an intriguing proposition. An April 1903 edition of the Vincennes Daily Sun recounts an Indian skirmish near town, probably in the early 1800s. The story makes several references to Lt. Col. John Small calling his personal rifle "Old Copperhead." One could speculate whether the Grouseland Rifle, with its copper-cladded muzzle, might be the same rifle John Small called his "Old Copperhead."
In 2012, Indiana State Sen. John Waterman saw an opportunity to commemorate the state's frontier history as a number of other states began naming official state firearms of their own. The Indiana General Assembly passed legislation Sen. Waterman introduced, honoring Indiana's frontier heritage and John Small's role in state history by designating the Grouseland Rifle as the official rifle of the State of Indiana. 
While other states have named a type or model of firearm, Indiana stands alone in honoring its state's pioneer history by adopting a single historic rifle crafted by the hand of one man: the Grouseland Rifle built by John Small.
The Rifle's Journey Home—American Odyssey 
The story of the Grouseland Rifle's repatriation to Vincennes, and its destiny to become the official state rifle of Indiana, is an American odyssey.
The old long rifle lay under a bed, collecting dust. It had been loved in its day and had hung over the mantels of at least four generations of the family now living in North Carolina. By early 2004, the older couple who now cared for the rifle had downsized to a condo. They had neither a mantel nor heirs interested in a dusty old gun. Under a bed, in the dark, collecting dust. One might say the rifle was stranded. Shipwrecked. The couple decided they should find a home for the treasured old rifle--somewhere it would be loved. They contacted an auctioneer near their home in Greensboro.
Back in Vincennes, retired auctioneer Nancy Schuckman settled in for a Saturday morning coffee. She picked up a recent auction catalog and idly browsed the pages. She came to a listing that read: 
"Important long rifle. Museum quality. Decorated patch box. Heavily engraved silver inlay with American eagle. Name engraved Jn Small Vincennes." 
Nancy set down her coffee and called to her husband Dan. As former auctioneers, they well knew of first sheriff John Small and his role the history of Vincennes. She knew of the Clark and Vigo rifles, which both had this same engraved signature. She looked at the date. The auction was set to take place in just a few days. Nancy and Dan got to the phones.
Many of the old families of Vincennes can trace their lines to the earliest settlers of the frontier town first established by French traders in 1732. Some of the families are descended from George Rogers Clark's "Long Knives"—those frontiersmen who captured Vincennes' Fort Sackville from the British in 1779. The families took the Schuckman's calls, as did civic and business leaders in Vincennes, and the Grouseland Foundation, conservators of Harrison's Grouseland home. When told of a John Small rifle, stranded in a distant state and up for auction, they rallied in support.
In his time as sheriff and militia leader, John Small had protected the settlers and families of early Vincennes. Now the descendants of those frontiersmen, like the Phaeacian mariners and Odysseus, answered the call to bring John Small home.
When the hammer fell at auction the following week, the representatives of Vincennes had come out with the high bid. When congratulated and asked what they planned to do with the rifle, Dan Schuckman said, "We're taking it home. To Vincennes." The crowd erupted in applause.
Building the Historic Reproduction
After more than 150 years separated from the town where it was built, the John Small rifle was brought home to Vincennes. It was placed into permanent display in the museum at Harrison's Grouseland mansion, and was named the "Grouseland Rifle" to share the name of its new home. From 2004 to 2012, it marked the pride of a town, and from 2012 forward, the pride of a state as Indiana's official rifle. 
As Indiana's 200th anniversary of statehood approached, the Grouseland Foundation elected to bring greater attention to Indiana's frontier heritage by commissioning an authorized bicentennial reproduction of that historic gun, and offering the rifle at auction. And respected Indiana gunmaker Marvin Kemper, who'd recently built another John Small reproduction for the NRA in 2014, was the man they chose to build it.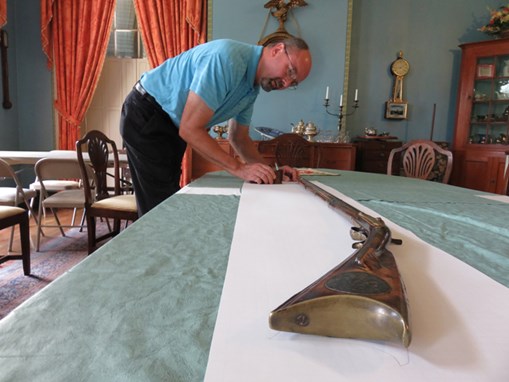 With detailed measurements and photographs of the original rifle in hand, Kemper sought the right piece of wood to use for the rifle stock. "Vincennes timber dealer Troy Sweeney learned about the project," Kemper said, "and brought in this exceptional piece of sugar maple, harvested about 20 miles east of Vincennes. It's hard to find sugar maple with the kind of curl that makes a beautiful rifle stock, but Troy knows where to look."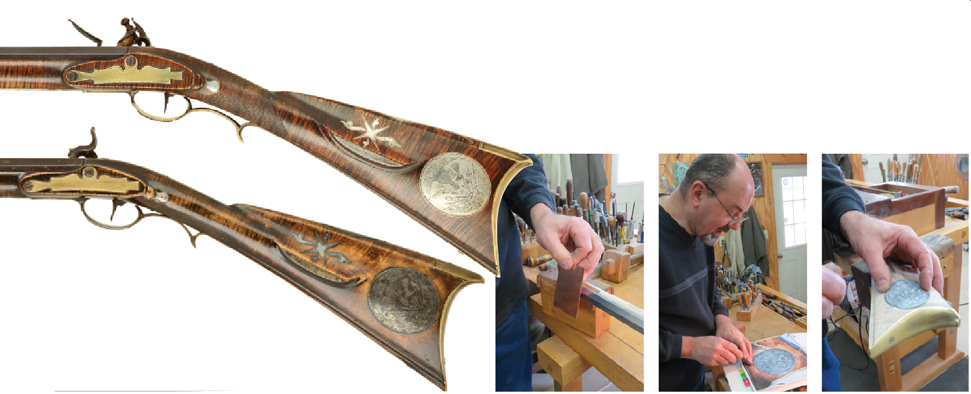 Gunsmith Marvin Kemper wanted the recreation of the Grouseland Rifle (top) to look just as it would have the day it came off John Small's workbench, as such it is a flintlock.

The slab of sugar maple that Sweeney brought to the project was Amish-harvested in Martin County, Ind., hewn from the section where the trunk slopes out and flares into the root base. Kemper said, "Stump-cut wood is dense and hard. It's ideal for a rifle stock. On this piece, the curl and grain from the base of the tree naturally follow the curve of the rifle's wrist in the finished gun." As Kemper shaped the rifle's stock from the maple blank, he paid particular attention to replicating the distinctive profiles of the wrist, buttstock and lock panels of the original. 
Kemper then turned to Jason Schneider at the Rice Barrel Co. in Mocksville, N.C. With measurements and photographs of the Grouseland Rifle, Schneider crafted a custom .45-cal. swamped barrel, profiled to the exact dimensions of the original. 
Kemper aimed for fidelity to John Small's original design. While the Grouseland Rifle had been converted to percussion as was common in the post-flintlock era, Kemper chose to reproduce the rifle as a flintlock as it was originally crafted. Kemper went to Jim Chambers Flintlocks based in Candler, N.C., and selected a "Late Ketland" style lock. Kemper made heavy modifications and completely reshaped the lock plate and the springs to create a custom lock true to John Small's original. 
Also to match the original, Kemper added eight diamond-shaped silver inlays on the barrel, silver wedding band accents to the ramrod pipes, and a silver overlay with chevron filings to the bow section of the trigger guard. 
In finishing the rifle's surfaces, Kemper brought out the grain of the curly maple and warmed it to a golden brown with a solution of aqua fortis (nitric acid) and multiple coats of hand-rubbed oil varnish. He applied a deep-rust browning to the barrel and lock, and all other metals received a mild patina. "I wanted the rifle to look as it would just coming off John Small's bench," Kemper said.
Auction Details
The authorized bicentennial reproduction of Indiana's official state rifle will be offered at auction between Aug. 15 and Sept. 5, 2016, on gunbroker.com, where potential bidders can search for "Grouseland Reproduction." The reproduction will be accompanied by a velvet-lined, burl walnut presentation case with an Indiana state seal inlaid on the top of the box. Auction proceeds will support historical preservation of the Grouseland Rifle and the William Henry Harrison Mansion and Museum. 
The original Grouseland Rifle remains on regular display at Grouseland, a Georgian/Federal style building completed in 1804 and designated in 1960 as a National Historic Landmark. Grouseland was home to Harrison and his family and a center of government when he was governor of the Indiana Territory (1800-1812). House Beautiful magazine recently named Grouseland as one of the "50 Most Famous Historic Houses in America." Grouseland is located at 3 West Scott Street in Vincennes, Ind. (grouseland.org).
Returning Home
On his death in May 1821, his obituary in the Indiana Centinel newspaper described Col. Small as one "whose mind and person were of the most manly mould. He was interred with military honors, followed to his long home by a large procession of citizens."
John Small would go to his "long home" or his final resting place in Vincennes in 1821, and would again return in 2004, arriving in the form of a rifle delivered home to Vincennes by the descendants of those who might have been part of that procession in 1821. John Small's legacy endures on the shoulder patches of the Knox County Sheriff's Dept. and in the historical line of generals of the Indiana Army National Guard. He lives embodied in his Grouseland Rifle, the Indiana state rifle. And Marvin Kemper's reproduction of that gun gives a breath of new life to the story of John Small's role in Indiana and the country's westward expansion after American independence.