by
posted on December 20, 2017
Support NRA American Rifleman
DONATE
Henry Repeating Arms has manufactured its one millionth Lever Action .22 rifle known as the model H001, which will be auctioned off during the 2018 SHOT Show. Proceeds will go to fund organizations that support the shooting sports, hunting, conservation, firearms safety, and those who defend the Second Amendment and the right to keep and bear arms.




The first Henry Lever Action .22 rifles started shipping in March of 1997 from its original factory in Brooklyn, N.Y. The model was introduced with the corporate motto, "Made in America and Priced Right." The company moved production in September of 2008 to its current 110,000 sq. ft. facility in Bayonne, N.J., and its current motto is "Made in America or Not Made At All." 
Over the years, several variations of the H001 were added, including a youth model, a carbine with a large loop lever, octagon barreled editions, and additional calibers in .22 Mag. and .17 HMR. More than 2 million H001 series rifles have sold counting these variations. They are popular among firearms enthusiasts, in particular squirrel and varmint hunters, farmers, rimfire target shooters and "plinkers." After two decades it still remains an exceptional value for consumers.
Anthony Imperato, president and owner of Henry Repeating Arms said that when he attended the SHOT Show in 1996, he displayed the prototype H001 on top of an 8' folding table. "We didn't have a big budget booth and it was a no-frills affair," he said. "I had no idea that it would go on to be a top seller, a staple of the firearms industry. My goal was to deliver value, quality, a smooth reliable action and of course, made in America."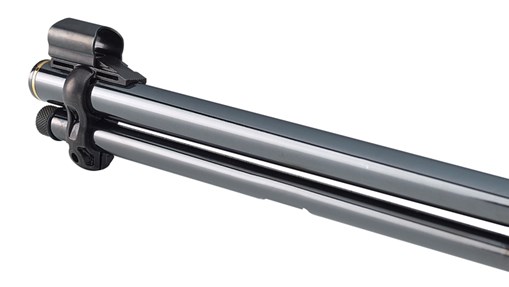 Imperato said that was the rifle that put Henry Repeating Arms on the map, energizing the lever-action market and resurrecting the Henry name. "Hitting the one-million milestone validates that we have done something right. I couldn't be more humbled by the incredible response and support Henry has received over the past two decades. I remain forever grateful to our customers, distributors, dealers and our employees."
Recognizing the significance of Henry Repeating Arms' milestone, the National Shooting Sports Foundation (NSSF), the trade association of the firearms industry, selected the one millionth H001 as the 2018 SHOT Show auction rifle. The historic gun is being auctioned now by the Hunting Heritage Trust on GunBroker.com and will conclude on Friday, Jan. 26, 2018, the final day of the SHOT Show. Henry Repeating Arms is aiming to surpass the SHOT Show auction record of $136,014.
"This is a once in a lifetime opportunity to own a piece of firearms history. And we have decided to make this one-millionth H001 ever more special and unique," added Imperato. "This is the first-ever H001 to feature a silver-finished receiver, which distinguishes the rifle, and beautifies the custom hand-engraved scroll patterns. The rich engraving is completed with inlaid 24-carat gold and is set off exquisitely by the exhibition grade American Walnut stock." This unique rifle was hand engraved by the artisans at Baron Engraving of Trumbull, Conn.
For more information, visit henryusa.com.