Support NRA American Rifleman
DONATE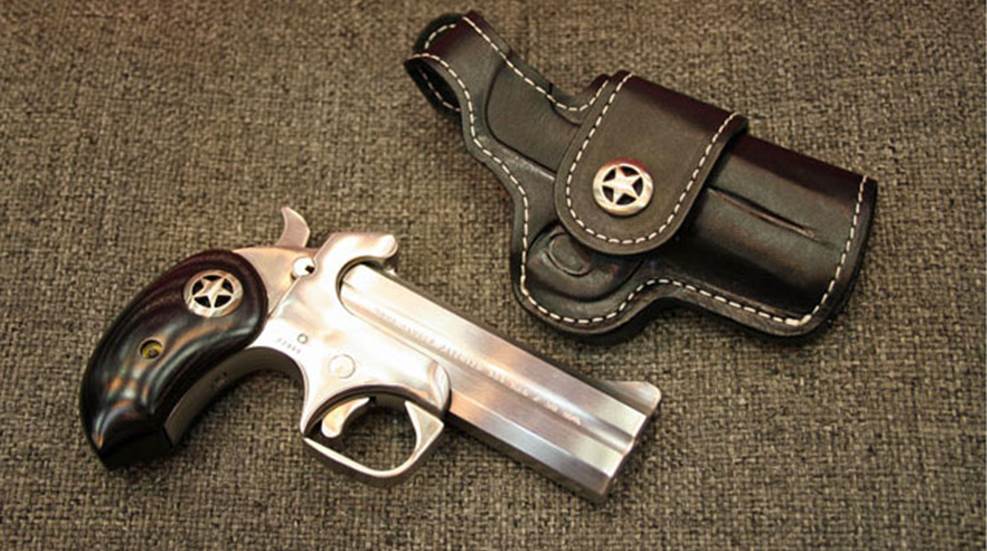 Gallery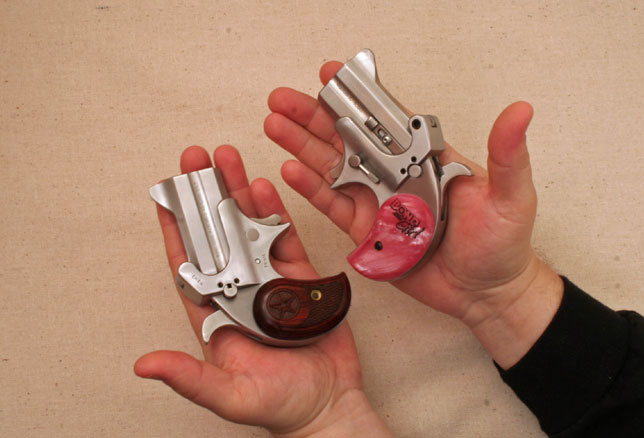 Bond & Bond Girl Minis
Bond Arms introduces its smallest pistol yet. Previewed at the 2011 NASGW show in Reno, Nev., these Minis feature the new 2.5-inch barrel. The Mini is fitted with a .45 Colt Only barrel and rosewood grips (left), while the Bond Girl Mini sports a pink synthetic grip and a .38 Spl./.357 Mag.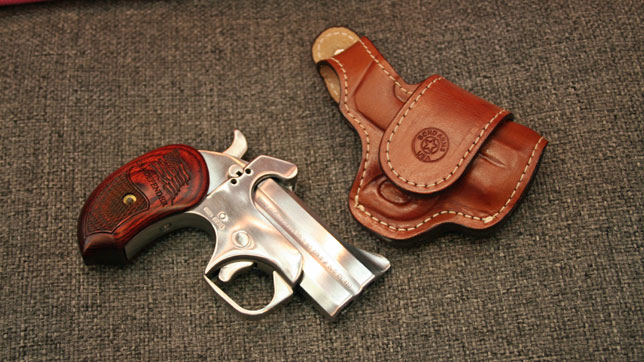 USA Defender
Bond Arms celebrates American shooters and its American-made derringers with the new USA Defender. This pistol features a 3-inch long .45 Colt/.410 barrel, a removable trigger guard and a handsome flag-engraved rosewood extended grip. The USA Defender arrives with a tan BAD holster in the box.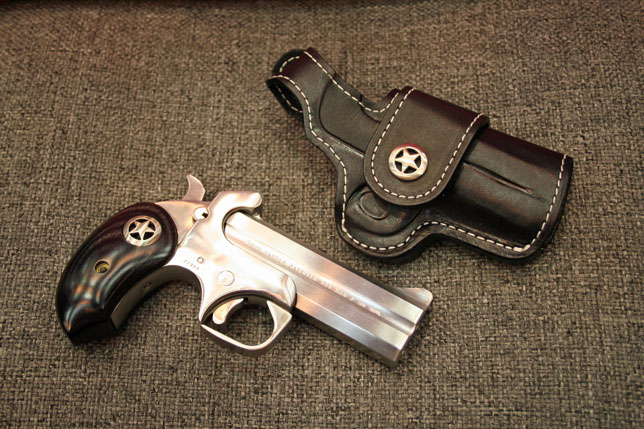 Ranger II
At the request of its customers, Bond will be releasing another version of the popular Ranger model. Along with the signature Texas Star black ash grip and black BAD holster, the new Ranger II has a removable trigger guard.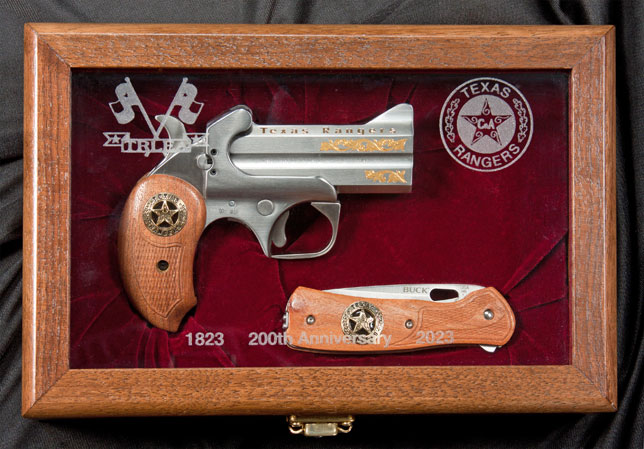 Texas Ranger Commemorative Knife & Pistol Set
One of the first collectable Bond Arms pistols has been commissioned by the prestigious Texas Rangers to celebrate its upcoming 200th anniversary. The Texas Ranger pistol features Texas mesquite wood grip panels with Texas Ranger Stars, gold-inlaid engraving on the barrel and a matching folding knife, all of which arrive in a custom glass-topped display case. MSRP $1297.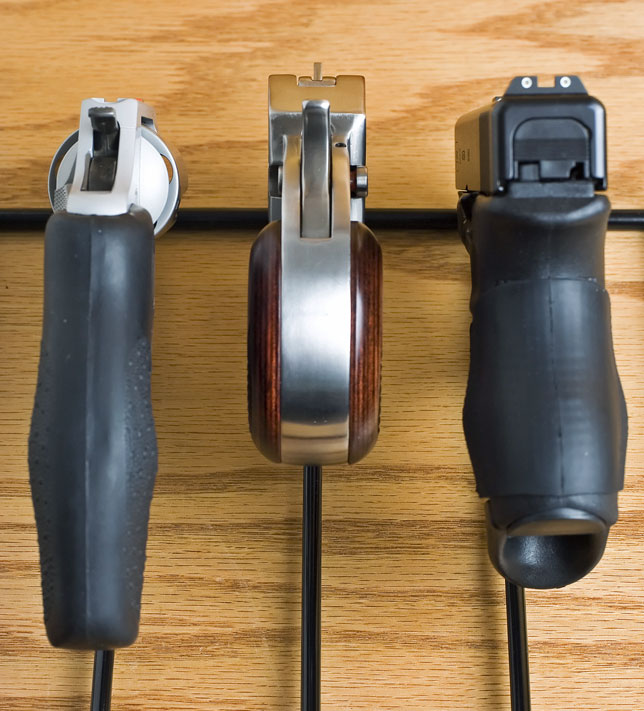 Compact Firepower
The .45 Colt Mini presents a slim, compact profile for a handgun that launches .455 caliber bullets. The Mini (center) presents a thinner profile than a J-Frame .38 Spl. (left), and is more compact than a G26 9 mm (right).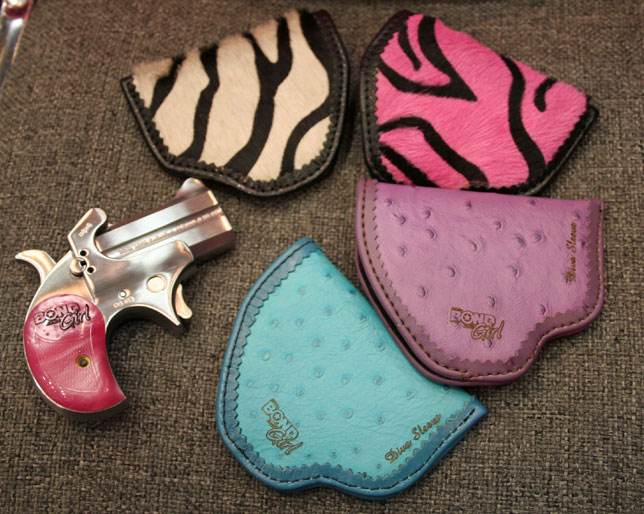 Dress for Success
With the growing popularity of the Bond Arms Girl Facebook page, the company is releasing a Mini with a pink logo grip and a variety of pocket- and purse-friendly holsters to match.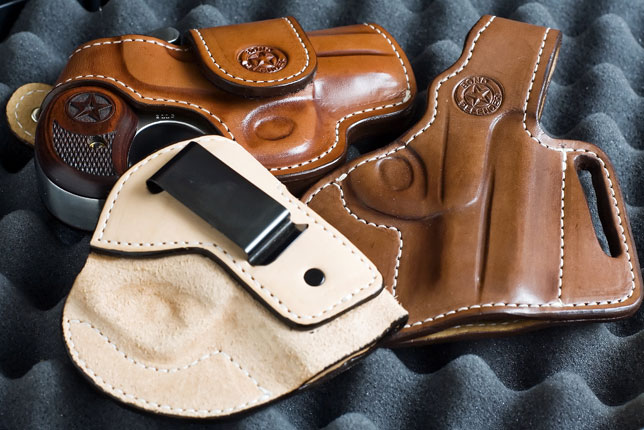 Comfortable Carry
For those who prefer more traditional holsters, a variety of choices are available. The Bond Arms BAD holster (top left) quickly straps on in a cross-draw position for extended wear while driving or sitting. The BAJ (lower left) is a rugged IWB holster that retains its shape for easy re-holstering. The BATB holster (right) is a traditional strong-side belt slide with a thumb-break retention strap.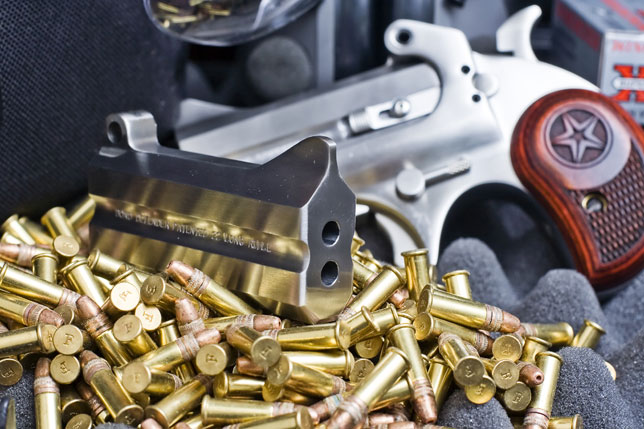 .22 Long Rifle Conversion Barrel
While other companies are scrambling to create new .22 Long Rifle versions of their guns, or conversion kits, Bond has long had the .22 option covered. One of the company's most popular interchangeable barrels, the 3-inch .22 Long Rifle Defender, makes plinking fun and affordable.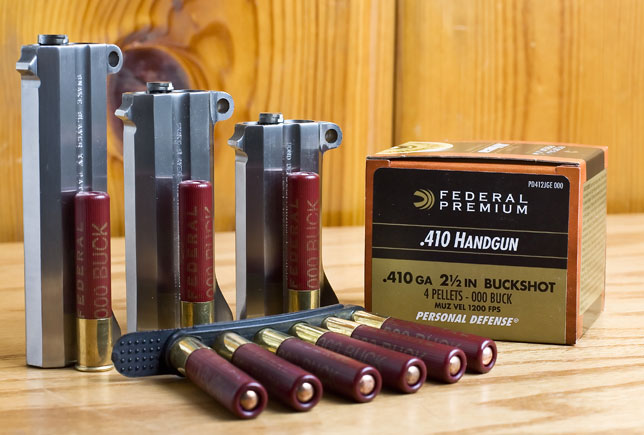 .45 Colt/.410 Barrel Options
Bond Arms is best known for its flagship .45 Colt/.410 barrels. For a decade before the arrival of the Taurus Judge, folks could shoot .410 shells from the Defender 3-inch barrel (right) or the Snake Slayer 3.5-inch barrel (center). A more recent addition is the 4.25-inch version of the barrel (left), found on the Snake Slayer IV, Ranger and Ranger II.
New Barrels
The catalog of interchangeable barrels for Bond pistols is already diverse, with unusual options including .44-40, 10 mm and .327 Fed. But the selection will continue to grow in the upcoming year. For rimfire fans, Bond will be adding the long requested 2.5-inch and 3-inch .22 Mag. barrels. A new .38 Spl./ .357 barrel will be available. And the 2.5-inch barrels featured on the new Minis, in .38/.357 and .45 Colt-Only, will be available for use on existing frames.