Support NRA American Rifleman
DONATE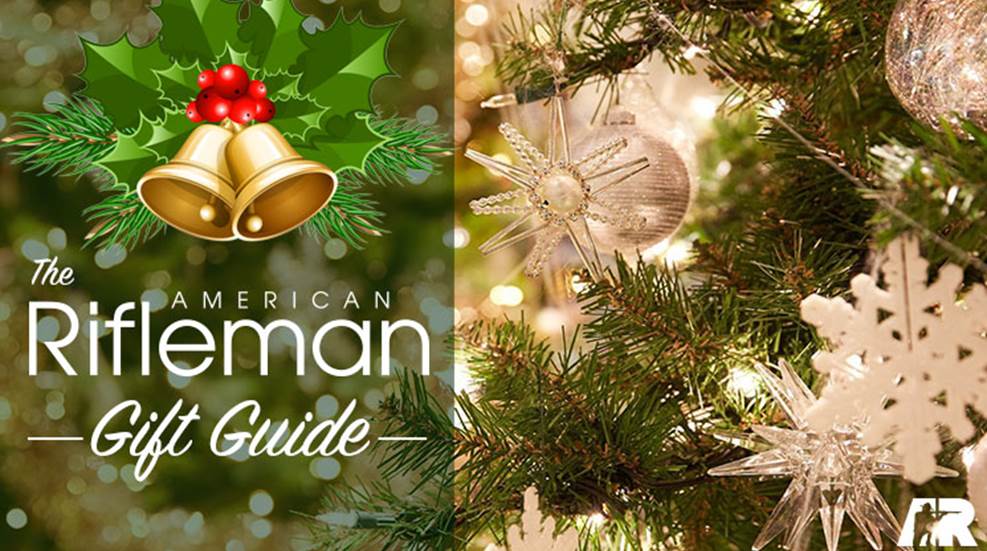 The firearm enthusiast in your life doesn't have visions of sugarplums dancing in his head. He dreams of cool gear and useful accessories. Need some ideas so it doesn't appear Santa's elves fell asleep on the job? Feel free to borrow from our list:
 

 = Made in America   

 = great stocking stuffer


Bulk-Pack Ammo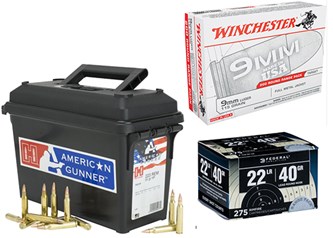 "I have too much ammo," said no shooting enthusiast ever. Many ammunition makers offer wondrous, bulk supplies of your favorite brands and calibers at great value prices, sold by a number of distributors like Brownells, MidwayUSA, Bass Pro Shops and Cabela's. Prices vary. 


Talon Grips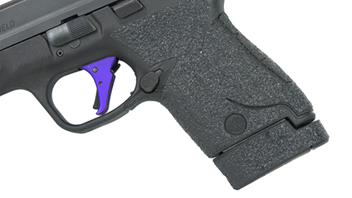 While each item in our "Gun Gear" series (AmericanRifleman.org/gear) is worthy of holiday gift-giving, the Talon Grips are purchase-enhancing, textured grips panels that are affordable easy to apply. They are also some of the cleanest and precisely designed stickers you'll ever encounter, as they feature a heat-activated adhesive and are cut to perfectly fit specific gun models.  $15 talongrips.com

Magpul X-22 Backpacker Stock 


One of American Rifleman's favorite new products of 2017, the Magpul X-22 Backpacker stock transforms the Ruger 10/22 Takedown into one of the best self-contained survival rifles, and is an ideal upgrade for a rifle stored in an off-road vehicle or one that might be transported on a bicycle, ATV or horse. $110 magpul.com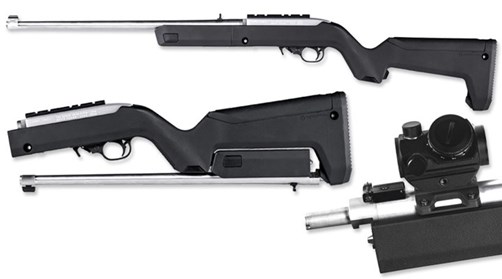 Identilock Bio-Metric Trigger Lock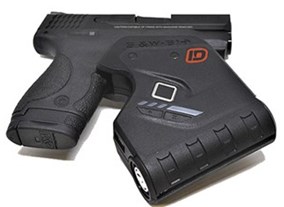 The Identilock trigger lock is interesting because it blends the speed of a bio-metric strong box with the portability of a trigger lock. The device clamps over the pistol's entire trigger, and when touched by an authorized user, the right-side fingerprint scanner reads the tip of the trigger finger, opens and then drops away from the pistol in less than a second. $239 getidentilock.com

Propper Tactical Clothing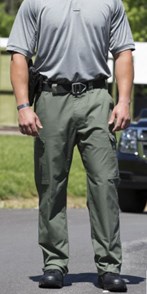 Propper has been around for 50 years but has only recently become a household name in civilian tactical clothing. The manufacturer is currently one of the outfitters for the American Rifleman editors and ARTV crew for the 2018 season. Shown here are the Men's RevTac Pant, which earned high reviews for its pocket layout and options. In six color options and up to size 56" waist. $44.99 Propper.com
SOG Baton Multi-Tools 



SOG Knives & Tools Baton multi-tools have a slim, straight shape that makes them easy to carry in a pants pocket or purse. Unlike many multi-tools, the Batons blend in with ordinary desktop items or slip into the pencil-shaped pockets of a briefcase or backpack. The tough, black and grey anodized housings swing open to reveal a variety of useful tools. $54 and up. sogknives.com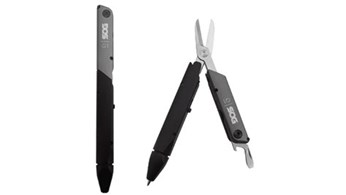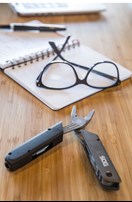 Trijicon Night Sights 



American Rifleman's Joe Kurtenbach enhanced a standard Smith & Wesson M&P Shield pistol to see if it would perform on par with the Performance Center model. One of his upgrades included a pair of Trijicon HD Night Sights, which feature a large, bright dot consisting of greenish-yellow luminescent paint with a tritium vial at the center (orange front sights are also available). The rear sight has a U-notch cutout, two tritium inserts—to complete the three-dot sight picture—and horizontal serrations to reduce glare. trijicon.com

Boyds At-One Adjustable Stock 


If there's a rifle in his or her collection that hasn't quite lived up to expectations, perhaps a little DIY work is all it needs. Start with the Boyds At-One Adjustable Stock, which is available for at least 230 unique models from 53 different brands/makers—and that doesn't account for multiple action lengths and styles on some, including left-handed stocks. boydgunstocks.com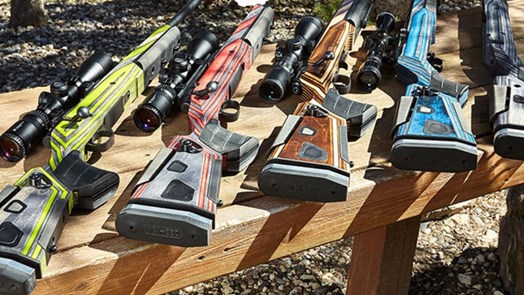 Worksharp Tools 


Sharpening knives all of types can be done properly and easier than ever, thanks to a pair of sharpeners from Work Sharp Tools. At less than $100 each, they're also ideal gift ideas for those meat-sawing homemakers, hunters and outdoorsmen. worksharptools.com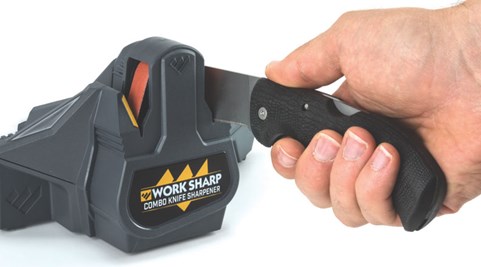 Mag-Lite MAGTAC Flashlight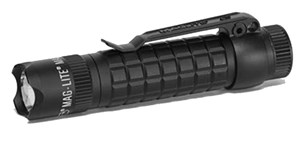 The outdoor enthusiast or the prepper will never believe he has enough flashlights. One for the car, one for each nightstand, one for each bugout bag ... you get the idea. Now the original tactical light maker, Mag-Lite, is making the MAGTAC CR123 LED "fist-grabbable" flashlight with crowned bezel has the appearance, quality and performance of rival tactical flashlights that cost several times more. A tailcap switch turns it on and off without changing the beam's focal setting. $95 maglite.com

Trulock Chokes 



The turkey hunter, waterfowler or clay shooter on your list might be perfectly adept with his or her shotgun, but often the difference maker will be the proper choke tube. Trulock Chokes produces more than 2,000 different chokes, and offers a complete guide to matching a particular shotgun to its intended use. All chokes are made in Georgia with U.S. steel. trulockchokes.com
 
                                      
Gun Miniatures 



These expertly crafted miniature firearm replicas from the very patriotic Frank Hindman II are three-dimensional and precision manufactured. Miniatures are currently available for the U.S. Army 1911A1; Colt Single Action Army Cavalry model; Luger P.08; C96 "broomhandle" Mauser; Webley Mark VI, with additional models planned. Pistol replicas come with a black velvet presentation box, while revolvers come with a red velvet box. Both contain a gold-plated identification tag and feature the Bill of Rights/2nd Amendment logo gilded in gold in the linen lining. A U.S. flag pin comes with each box. They make treasured collectible gifts and are excellent conversation pieces. $19.95 to $24.95 FirearmsAssureFreedom.com. U.S. veteran-owned business.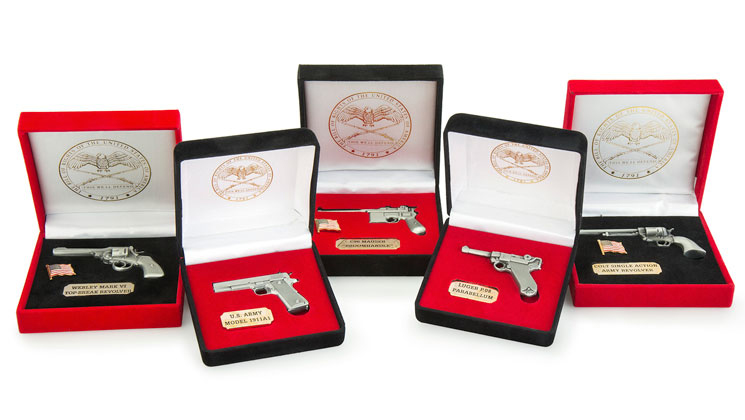 Leupold LTO Tracker 



While Leupold created its LTO thermal Tracker for hunters to better understand their surroundings, easily recover game and have more success in the field, the self-defense community has also discovered the unit to be a useful tool in identifying threats during the dark of night. The portable unit fits inside a pocket and runs off one CR123A battery. And although the LTO's real-world MSRP hovers around $700—suggesting this is a gift for a very special person on the holiday list—keep in mind prices on thermals have never been so low, thanks to new technology that have made them relatively affordable for the civilian market. leupold.com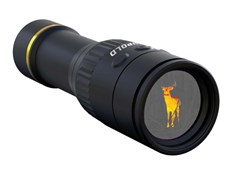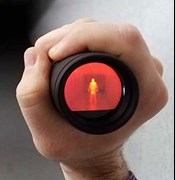 Gun Craft Beer 


Gun Craft Beer was formed in late 2016 by firearm enthusiasts, patriots and craft beer nuts—and the names and descriptions of their four available brews say it all: 2nd Amendment Red IPA is the libation of patriots. A Red IPA to honor the blood shed to create this great constitutional republic... .  M4 Amber Ale ... The M4 is compact, lightweight and is extremely easy to fire all day long. ... Tactical American Pale Ale ... You don't have to be a highly trained special operator to know an exceptional brew... . FAL Belgian Style Black Ale ... The FAL is considered the ultimate in 7.62 battle rifles: earning it the nickname "The Right Arm of the Free World" ... Stay tactical you beer warrior! Available for shipping to 34 states. guncraftbeer.com