by
posted on November 27, 2017
Support NRA American Rifleman
DONATE
The world's oldest and largest firearm authority has expanded to give the American Riflewoman her own holiday gift guide. If you are a riflewoman or know one, here are some definitive gift ideas.

Range Starter Kit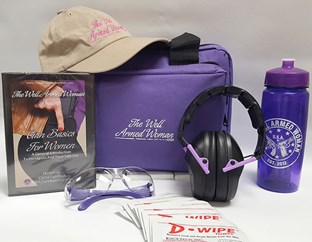 The Well Armed Woman Range Starter Kit is perfect for new shooters or any women who needs to freshen up her gear. The kit comes with Walker's Low Profile Ear Protection, clear shooting glasses, D-Lead wipes, a water bottle, The TWAW Gun Basics for Women DVD, and shooting cap. Choice of purple or black logo mini range bag. $94.99 thewellarmedwoman.com
Basic Black Accessories
Every woman needs a little basic black in her wardrobe—but it doesn't have to be a dress. The ultimate gift for a female handgunner is a new pistol that has proved highly favorable among women, like those compiled in our data from the American Rifleman Ladies Pistol Project II. Check out the Ruger American Compact Pro or the H&K VP9SK, two of the top-rated new guns of 2017. Find out what features these pistols offer that made the ladies call them their favorites.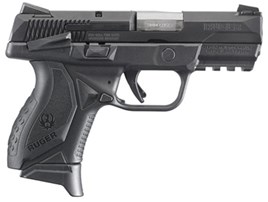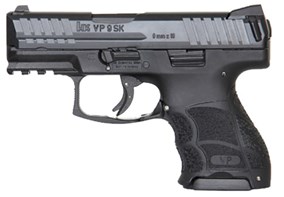 Dene Adams Body Shaping Concealed-Carry Holsters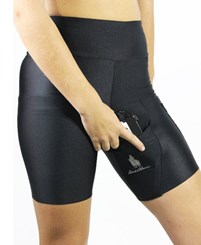 Most concealed-carry practitioners will argue that on-body is the ideal method of carry, a philosophy endorsed by Anna Taylor, who named her company, Dene Adams, after her grandfather, who taught her how to use and respect firearms. Dene Adams offers one of the  fastest-growing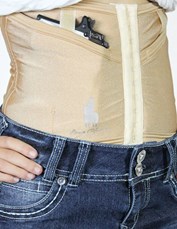 line of concealed-carry garments, and has received glowing praise for its body-shaping thigh holster, which offers comfortable, body-shaping qualities while carrying. But if the woman on your gift list typically don't wear clothes that allow access to a thigh holster, check out the "Natural," another shapewear garment that features a breakaway retention tab to holster a pistol securely in place. The holster will hold a pistol up to 7.4" overall length, has two rows of hook-and-eye closures, and offers size extenders. Sizes are named Angelic, Alluring, Charming, Dazzling, Elegant and Graceful, so she'll feel beautiful as well as empowered. deneadams.com
Concealed-Carry Bags 
If the only way she'll carry is off-body, one of the most unique bags to come on the market is the UkoalaBag (pronounced like the cuddly Australian marsupial, but with a hard "U" in front). The bag is multi-functional for everyday use and travel, and has an optional detachable holster system available, with a choice of universal nylon holster or gun-specific Kydex. The bag secures to the body so hands remain free. It's too cool to fully describe here, but check out this video to see its versatility and modern look. Three sizes and multiple color choices available. $119 and up. ukoalabag.com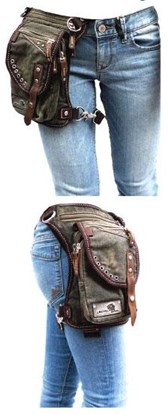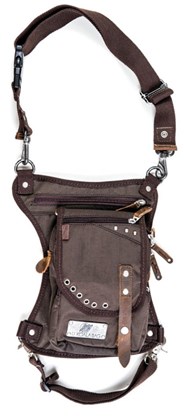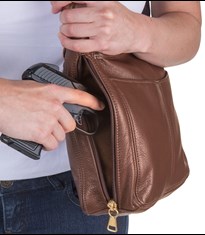 For more traditional concealed-carry handbags, the NRA Store offers several options. Check out the full-grain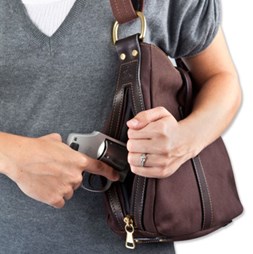 cowhide NRA Close Body Carry handbag, which is classically designed and exclusive to NRA ($159.95), or the more casual canvas NRA CCW Crossbody Hobo ($139.95). Both are made in the U.S.A. and are loaded with functional features. nrastore.com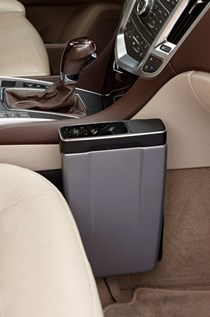 Hornady RAPiD Vehicle Safe
The woman on the go who carries concealed must also consider where to stow her pistol while driving or when she can't carry a firearm into designated establishments. Hornady's  RAPiD Vehicle Safe conforms to a vehicle interior's shape, making modifications to the vehicle unnecessary. Power is supplied by the included 12-volt car adapter, or four AAA batteries. The safe exceeds ASTM International safety standards for child and pry resistance, lock strength, drop/pick/saw tests and hinge-attack resistance. MSRP: $226 hornady.com

Ruger Pewter Red Earrings 


Let her show her affection for America's top gun maker with these Ruger-branded earrings made of pewter with red opaque enamel fill. $29.95 shopruger.com

Slide Spider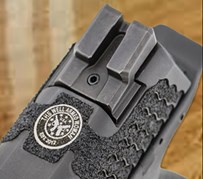 Many women are affected by weakened hands or grip strength, but with an assist from The Well Armed Woman's Slide Spider, she will get an instant confidence booster as she operates a semi-automatic pistol. It works by increasing purchase, as well as provides advantages under conditions like extreme moisture and temperature. Available for most Glocks and other popular models. 2 Slide Spiders per package. $19.99 thewellarmedwoman.com
5.11 Stryke Pant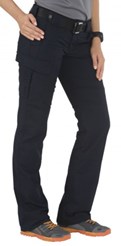 The women's 5.11 Stryke Pants are designed with input from female operators, and are made from a patented two-way mechanical stretch fabric, featuring a fully gusseted crotch and a Teflon finish for extra comfort, mobility and durability. Sizes from 0-20 in 7 colors. 511tactical.com. $74.99
UpLULA Magazine Loader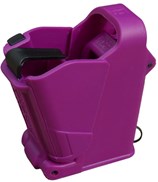 After loading hundreds of rounds of ammo, she (and her fingers) will be eternally grateful to receive the Maglula UpLULA magazine loader, the ultimate assist in loading anything from .380 to .45 caliber. Multiple colors. maglula.com $39.99
Hand Exerciser
Fingers are not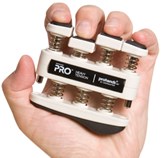 something we typically consider when embarking on a workout program, but handgunners who want to maintain proficiency must see that their digits are also regularly conditioned and strengthened. It's not enough to dry fire. With the spring-loaded pistons in the Prohands, shooters train the entire hand, wrist and forearm to keep locked on the target. A laser sight model for tactical training is also available. $20 and up. Prohands.net
Gun Cleaning Kit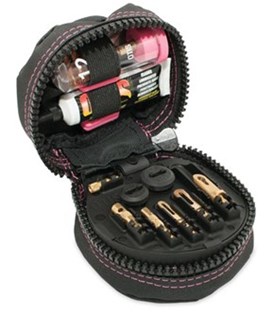 Otis Technology makes it easy by offering self-contained, portable gun-cleaning systems for specific types of firearms. The Tactical Pink kit contains essential items like bore brushes, cleaners, T-handles and cables, but choose a kit for just about any other firearm on the market and you'll get a variation on the items. Contains the brushes needed to clean everything from .22 cal. up to .45 cal. pistols and rifles, and 12/20 gauge shotguns. $59.99 Otistec.com
Custom Molded Percussive Shooting Filters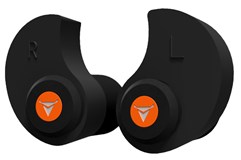 The ultimate gift that shows you care about the shooter in your life is hearing protection. Try the The Decibullz DIY Thermo-fit Molded Earpieces, which feature new cutting-edge percussive impulse filter technology. The earpieces protect users from the peak sound pressure of gun shots, suppressing them to safe levels and preventing hearing damage. The earpieces custom mold by simply warming them  in water and shaping to the ear. Decibullz Filters never need batteries. MSRP: $74.99 decibullz.com 

Ammo—Plenty of It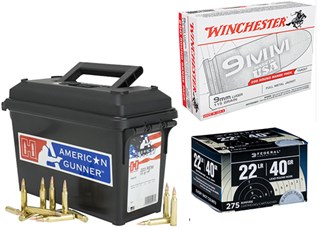 Ammo is the one item that all shooters need, regardless of type of firearm or level of shooting experience. "I have too much ammo" are words that have never been uttered by any shooter, so keep her well stocked with the bulk packs available from many of your favorite brands in all calibers. Visit Brownells, MidwayUSA, Cabela's and Bass Pro Shops for value pricing. 

Range Bag 
A range bag is essential to keeping gear organized—besides, what woman would complain about receiving another bag! The Vertx A-Range Bag was developed in conjunction with professional firearm instructors and is the first fully arrangeable range bag, and features separate compartments to keep components separate yet easily accessible via a unique "garage deck" storage system. MSRP: $219.95 Vertx.com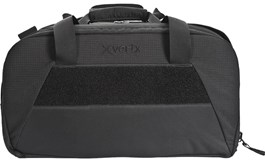 Sleigh Bell Door Hanger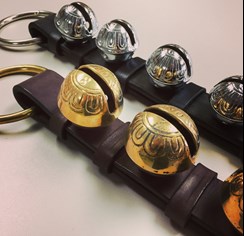 It will sound like Santa has arrived each time someone enters a room in which one of these festive handmade sleigh bell door hangers reside. The busy workshop elves at Wright Leather Works, well-known for its high-quality leather holsters, have made sure not to let any of its leather go to waste in creating these holiday decorations. Each hanger is made from heavy-duty hand-polished cast bells (brass or chrome) that enhance the black or rich brown bridle leather. Available with four bells (13", $68) or eight bells (23"; $98). wrightleatherworks.com