by
posted on October 26, 2017
Support NRA American Rifleman
DONATE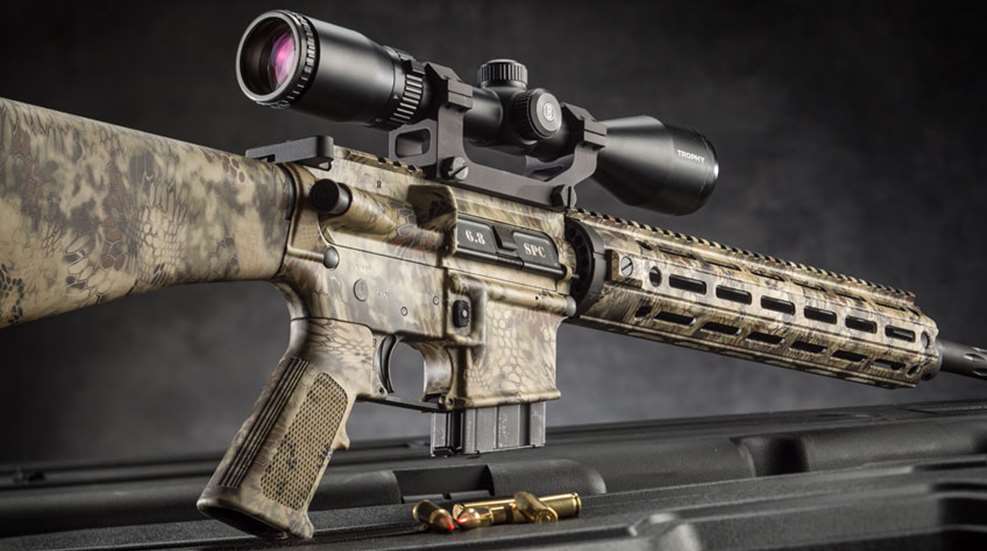 Yankee Hill Machine Co. (YHM) makes a broad variety of parts and accessories for AR-pattern rifles, however, the 66-year-old machining company from Florence, Mass., is also in the business of producing complete firearms of its own. The company's Hunt Ready Carbine (HRC) series, like the HRC-200 reviewed here, is a line of entry-level package rifles that offers practicality and value.
The HRC-200 is a direct-gas-impingement, flattop-receiver AR-15 chambered in either 5.56x45 mm NATO or 6.8 mm SPC. The latter is reviewed here. The sample rifle was outfitted with YHM's rifle-length MR7 handguard, an A2-style pistol grip and an A2 buttstock that are well-suited for long-range and hunting applications, and the furniture and receivers have been hydro-dipped in Kryptek's Highlander camouflage pattern. As is implied by the model designation, the HRC-200 features a 20" barrel with YHM's diamond fluting. Shipping with each HRC rifle is a second-focal-plane Bushnell Trophy 3-9X 40 mm riflescope that has been mounted in the company's one-piece scope mount and zeroed at 100 yds. from the factory. The HRC-200 also comes with a GrovTec adjustable sling and a plastic hard case. With both the scope mounted and the sling installed, the package weighs in at a very manageable 9 lbs., 6 ozs.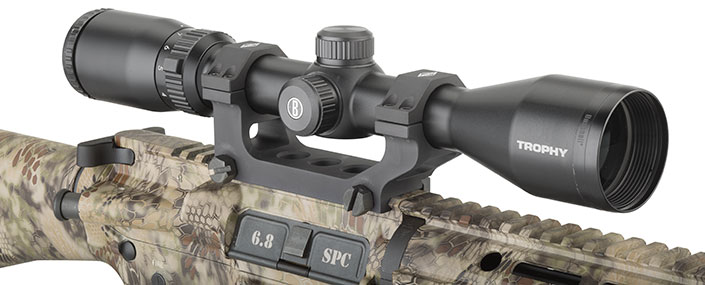 The company buys forged aluminum receivers in the rough and then cuts them in-house to military specifications. One hundred percent of the machining done to the HRC-200's 7075-T6 aluminum receiver after it has been forged is performed by YHM. The lower receiver's buffer tube is coated with a permanent dry-film lubricant to reduce friction between it and the recoil spring. The unit's fire controls, bolt, bolt carrier, pistol grip, trigger guard, magazine and bolt release buttons are all mil-spec; its eight-lug rotating bolt head features a claw extractor and plunger-style ejector.
The HRC-200's free-floating MR7 fore-end is a 12.6"-long cylinder of hard-coat anodized 6061-T6 aluminum. Picatinny rail runs the entire 12-o'clock surface of the handguard, and six M-LOK-compatible slots are located on each of the unit's seven remaining faces for affixing rails wherever the shooter deems them desirable. The MR7 also features 14 QD sling attachment points to facilitate a variety of carry methods.
Yankee Hill purchases 4140 steel barrel blanks for the HRC-200, and then bores the gas ports and machines the fluting into the tube before mating it to the receiver. Due to the length of its barrel, the HRC-200 utilizes a rifle-length gas system, and the 1" low-profile gas block is located just beyond the end of the handguard. The barrel on our test gun was heat-treated but not chrome-lined, and it featured six-groove, 1:10"-twist rifling with M4-style feed ramps.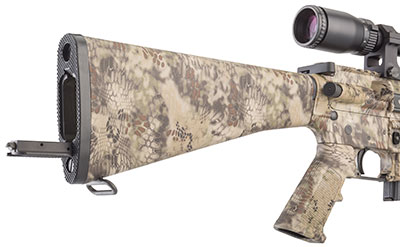 The barrel's diameter measures 0.980" behind the gas block and steps down to 0.730" in front of it, while making use of a 0.750"-wide boss where the gas block attaches. YHM's fluting consists of 24, 1"-long grooves in staggered rows for the length of the tube. While the diamond-shaped flutes certainly are visually distinctive, they also serve the practical purposes of dissipating heat due to increased surface area and slightly reducing weight.
Our 6.8 mm SPC test rifle was supplied with one five-round, ASC-made magazine, which is ideal for hunting and benchrest work, however, 15- and 25-round magazines can also be purchased separately. These stamped metal boxes feature polymer followers. Within the lower receiver is a standard, two-position safety unit and trigger system. The test rifle's single-stage trigger broke at 6 lbs., 9 ozs., with no take-up and a somewhat mushy break.
We tested whether the HRC-200 was truly "hunt ready" by pulling it out of its plastic box, immediately loading it with Hornady 120-gr. SST ammunition and shooting it at 100 yds. It printed 5" low and 2" left at that range, however, it was on paper—proving that the rifle was indeed zeroed at the factory. Despite its somewhat disappointing trigger, the test rifle averaged 1.82" using American Rifleman's rigorous five-shot-group standard. We did not experience malfunctions of any kind during our accuracy and function testing.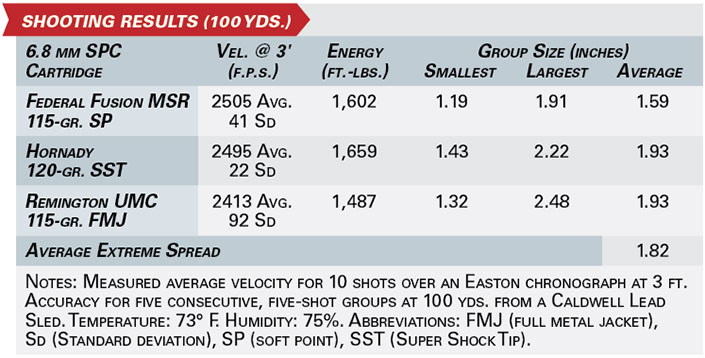 The Yankee Hill Machine HRC-200 chambered in 6.8 mm SPC handles like a 5.56x45 mm NATO yet delivers 400 ft.-lbs. more energy per shot. Recoil of the larger cartridge is noticeably more pronounced, resulting in slower follow-up shots, but not significantly enough to present a problem for most shooters. With premium hunting ammunition it's perfectly adequate for deer, tough hogs and predators within a few hundred yards, yet it's also low-recoiling enough for prairie dog shooting en mass. Truly versatile in its potential applications, with copious rail choices for the mounting of flashlights and other accessories, the YHM HRC-200 would also make a solid choice for self-defense use if paired with an appropriate optic.