by
posted on October 31, 2017
Support NRA American Rifleman
DONATE
When Springfield Armory announced its Saint last year, the company promised that the new rifle was just the first model in what was to become a full line of AR-platform products. Fans didn't have to wait long for Springfield to make good on its promise, as a second variant of the Saint—and the subject of this review—was introduced earlier this year.
Operationally, the new Springfield Armory Saint with Free Float Handguard mimics its namesake predecessor; both are magazine-fed, semi-automatic, center-fire rifles featuring direct-impingement operation. Both models of Saint also have a mid-length gas system featuring a pinned, not screwed, low-profile gas block. Working in unison with the gas system is a carbine "H" heavy tungsten buffer, which reduces part wear and recoil while increasing reliability and shooter enjoyment.
Differences between the variants begin with the fore-end. Rather than the two-piece Bravo PKMR handguard of the original, the new gun employs an aluminum, 12 11⁄16"-long, one-piece, free-floating, M-LOK-compatible handguard that's attached to the barrel nut via a pair of screws on each side. Six rows of six slots make customization virtually limitless, while also hastening dissipation of barrel heat. Free-floating the handguard aids in shot-to-shot consistency, and thus accuracy.

Integral to the handguard is a 12 7⁄16" section of MIL-STD 1913 Picatinny rail. When combined with that atop the upper receiver, there is 17¾" of uninterrupted rail to which optics and accessories can be added. Removable, flip-up sights come standard. The low-profile front sight consists of a simple post protected by wings, and is adjustable for elevation in 1/2-m.o.a. increments, while the rear sight has dual apertures (0.075" and 0.195") and is adjustable for windage—again, in 1/2-m.o.a. increments.
Melonite-treated both inside and out, the chrome-moly-vanadium barrel, which is chambered in 5.56x45 mm NATO, is 16" in length—17 13⁄16" when taking into account the A2 flash hider—and has the versatile, 1:8" twist rate. That rifling will stabilize nearly all 0.224"-diameter bullets, including those upward of 80 grs.
For the Saint's upper and lower receivers, Springfield used forged, hardcoat-anodized, aircraft-grade 7075-T6 aluminum, and the former has a dustcover, forward assist, GI-style charging handle and a shell deflector. Carpenter 158 steel is used in the M16 bolt carrier group (BCG), and it has been shot-peened and magnetic particle inspected. The interiors of the BCG and receiver extension have a dry lubricant coating for enhanced reliability.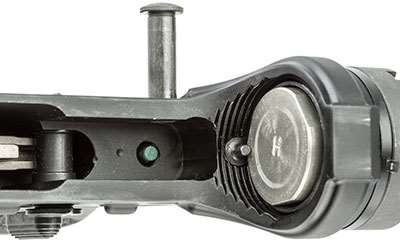 The lower receiver features the same fire control placement as seen on other ARs, including: a magazine release; a two-position safety; and a bolt catch. None are bilateral. The main components of the single-stage, GI-style trigger are micro-polished and nickel-boron-coated for smoothness and durability. Though the sample rifle's trigger broke at 6 lbs., 13 ozs., the pull was exceptionally smooth and had minimal creep; reset was very short, too. An oversize trigger guard grants unobstructed access to the trigger when wearing gloves.
The new Saint is fitted with Bravo Company Mfg.'s Mod 3 pistol grip. The design features a reduced grip angle for improved trigger control and ergonomics, an extended forward tang and high beavertail backstrap for comfort, and a hinged trapdoor for storage. Texturing on the sides, along with ribs on the frontstrap, enhance purchase in moist conditions. To prevent undesirable, side-to-side movement between the upper and lower receivers, the Saint has an innovative feature coined "Accu-Tite." Essentially, there's a nylon-tipped tension screw that projects upward from the lower receiver that can be adjusted to eliminate play between the receivers when they are closed and pinned together. Accessing the screw, however, does require removal of the pistol grip.
Completing the new Saint is BCM's six-position Mod 0 buttstock—a design that permits the carbine to achieve overall lengths from 32¼" (collapsed) to 35½" (extended), and exhibits minimal side-to-side movement. Capping the butt is a rubber recoil pad with minimal tackiness, so as not to snag when shouldering the rifle. The stock has quick-detach and fixed sling attachment points. A single 30-round Magpul PMAG accompanies the Saint.
Evaluation of the Saint with Free Float Handguard began with accuracy testing. Since it has a 1:8" rifling twist rate, we opted to select ammunition in 55-, 62- and 77-gr. weights from differing manufacturers. Those loads included: SSA (by Nosler) 5.56x44 mm NATO 55-gr. Ballistic Tip; Federal Fusion MSR .223 Rem. 62-gr. soft point; and SIG Sauer .223 Rem. 77-gr. open tip match (OTM). We then topped it with a Leupold VX-3 8.5-25X 50 mm Long Range scope and proceeded to fire five consecutive, five-shot groups at 100 yds. from a Caldwell 7-Rest with each load. The SIG load produced both the smallest five-shot group and 25-shot average of the day; they measured 1.03" and 1.63", respectively.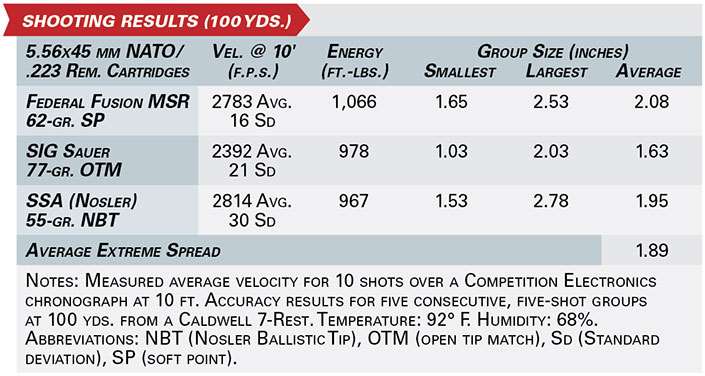 With accuracy testing complete, we swapped optics to a Leupold LCO, and then subjected the Saint to more than an hour of function testing in 92° F heat. A testament to its design and manufacture, not once did it hiccup; the rifle fed, fired, extracted and ejected flawlessly. Just as important, we found that the 6-lb., 9-oz. carbine shouldered quickly, target acquisition was immediate, transitioning from target to target was effortless and follow-up shots were speedy. There was no annoying buffer assembly noise, either.
Beyond the somewhat heavy trigger, which was not necessarily an inappropriate choice for a defensive firearm, we could find little with which to fault Springfield's newest Saint. Many AR users prefer a free-floating handguard to one secured using a traditional delta ring, and Springfield's decision to include a model configured this way from the factory was a wise choice.