by
posted on March 8, 2017
Support NRA American Rifleman
DONATE
Last year I had my first opportunity to spend some quality time at the range with one of Springfield Armory's 1911-pattern EMP4 9 mm pistols. This series is set apart from the competition by the reduced dimensions of the grip frame. Springfield spent the time and money required to compress the traditional 1911 .45-ACP grip to fit the 9 mm cartridge, which is not as easy to do as one might think.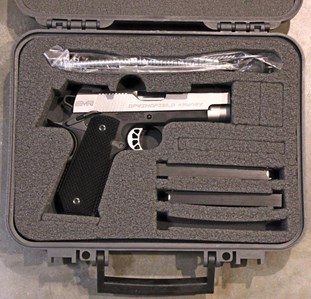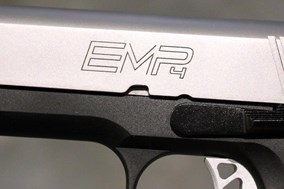 The combination of this shooting-hand-friendly grip configuration with the reduced recoil of 9 mm ammunition, lightweight aluminum frame, longer 4" barrel and top-notch controls led me to say of the EMP4 that, "It is one of the most well-balanced defensive single-stack 1911 pistols I've had the pleasure of working with." I'm not alone in this opinion because the EMP4 has been a popular model with critics and consumers alike.
Just when I thought the EMP4 had reached a pinnacle in 9 mm pistol design, Springfield has served up a new model with an intriguing twist, or should I say, curve. Also known as a bobtail grip, the mainspring housing and heel of this pistol's grip frame have been rounded off. This makes the pistol easier to carry concealed because it eliminates the squared-off portion of the grip that tends to poke out or print through clothing.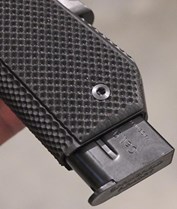 Depending on your hand size and personal preferences, a bobtailed grip can also feel more comfortable to shoot. Generally speaking, a bobtail grip is a custom feature that costs more because of the extra work needed to shape, polish and refinish the grip. Adding a bobtail to an existing pistol can cost upwards of $200. However, Springfield's in-house contour for this pistol is a real value at half the price.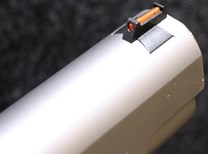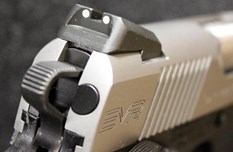 This version of the EMP4 two-tone, single-stack 1911 pistol retains the features that have kept this model selling like hot cakes. The satin finish stainless steel side has rear cocking serrations and a 3-dot sight system which employs a red fiber optic in front and a low profile white dot sight in back. The 4" stainless steel, match-grade bushing-less bull barrel sports a fully supported ramp. The full-length one-piece steel guide rod supports a single round wire recoil spring.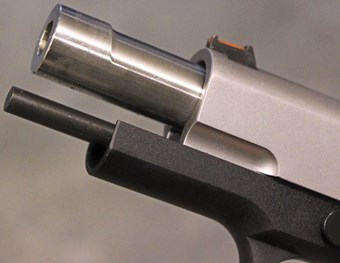 The lightweight frame is forged aluminum with a traditional rounded trigger guard and matte-black hardcoat anodized finish. The controls, including the slide stop, round button magazine release, ambidextrous thumb safety, skeletonized hammer and extended beaver tail grip safety, are all steel with a matte black finish which matches the frame. The skeletonized trigger is aluminum with a matte silver finish to match the slide. The pistol ships with three blued steel 9-round, single-stack magazines.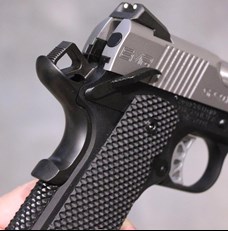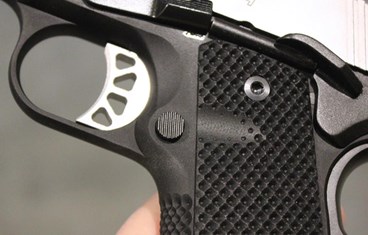 Along with the bobtail contour, the other changes to this model of the EMP4 can be found in and around the grip frame. The frontstraps and backstraps are both treated with a more aggressive "golf ball" type texturing. The hardwood grips have been replaced with black G10 panels that have the same texture. The result is a grip that rests comfortably, but securely, in the hand. This new model exhibits the same degree of top-notch fit, finish and attention to detail as its predecessor. 

At the shooting range, the EMP performed to my fairly high expectations. The slide exhibited a tight fit to the frame, without any GI shake, and cycled smoothly right out of the box. The controls were easy to operate and functioned flawlessly. The clean, crisp single-action trigger pull was dead center of the listed pull weight (5 to 6 lbs.) at 5 lbs. 8 oz. The single-stack magazines locked tightly in place but easily dropped free when the magazine release was pressed.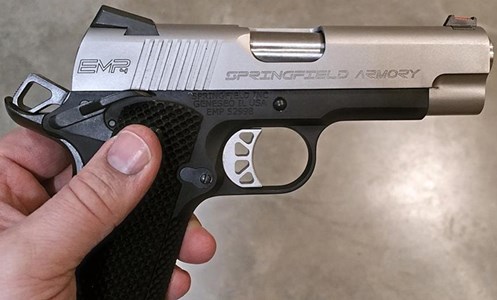 How aggressive the texturing of a pistol's grip should be depends on which school of thought you choose to follow. Over the last few years we've seen more of the highly aggressive tactical textured G10 grips favored by military and law enforcement making their way into the civilian market. These toothy patterns bite into skin or glove fabric to provide a secure purchase in wet or cold environments. Old-school grips have light textures to prevent wear and tear on clothing. The EMP4 Contour grip effectively splits the difference with leanings toward the tactical side while not being so abrasive as to need to replace your wardrobe on a regular basis.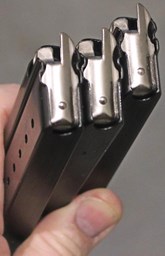 The pistol and magazines were utterly reliable without any hiccups or hang-ups throughout the entire course of testing using a full range of practice and premium grade ammunition. Because this is a concealed-carry pistol, benchrested accuracy testing was conducted at 25 yards by firing five 5-shot groups using premium defensive hollow-point ammunition. 
The best performer of the test was the new Colt Defense 124-gr. jacketed hollow point, manufactured for Colt by Double Tap Ammunition. This load produced a best single group of 2.59" with an average of 2.75". Black Hills 115-gr. +P jacketed hollow points turned in a best group of 2.73" with an average of 2.90". Winchester PDX1 Defender 147-gr. bonded jacketed hollow points printed a best group of 2.84" with an average of 2.97".



The new 4" barrel 9 mm EMP4 Concealed Carry Contour is another terrific example of how Springfield Armory is diligently working to tune this elegant century-old design to fit the needs of the modern concealed-carry practitioner. It's true that polymer single-stack 9 mms can weigh and cost less than this gun. However, they just don't have the same feel, light trigger pull, and accuracy potential right out of the box that this pistol provides. The new bobtail grip makes a very well balanced pistol just that much easier to carry.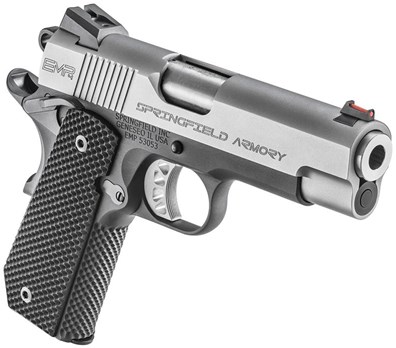 NRA Specifications
Manufacturer: Springfield Armory
Model: EMP 4" Concealed Carry Contour (PI9229L)
Action: Single-Action Semi-Automatic 1911
Caliber: 9 mm
Slide: Stainless Steel
Frame: Forged Aluminum, Black Hardcoat Anodized
Grip Panels: Black Textured G-10
Front Sight: Fiber Optic
Rear Sight: White Dot Low Profile Combat
Barrel: Stainless Steel Match Grade Bull, Fully Supported Ramp
Guide Rod: Full Length, Dual Recoil Springs
Trigger: Match Grade Long Aluminum
Barrel Length: 4.00"
Overall Length: 7.50"
Height: 5.50"
Slide Width: 0.92"
Grip Width: 1.15"
Weight: 31 oz. with Empty Magazine
Capacity: 9+1 Rounds
Twist: 1:16" LH
Rifle Grooves: 6
Accessories: Lockable Carry Case, Three 9-Round Blued Steel Magazines, Cable Lock, Owner's Manual.
MSRP: $1,220