by
posted on April 23, 2021
Support NRA American Rifleman
DONATE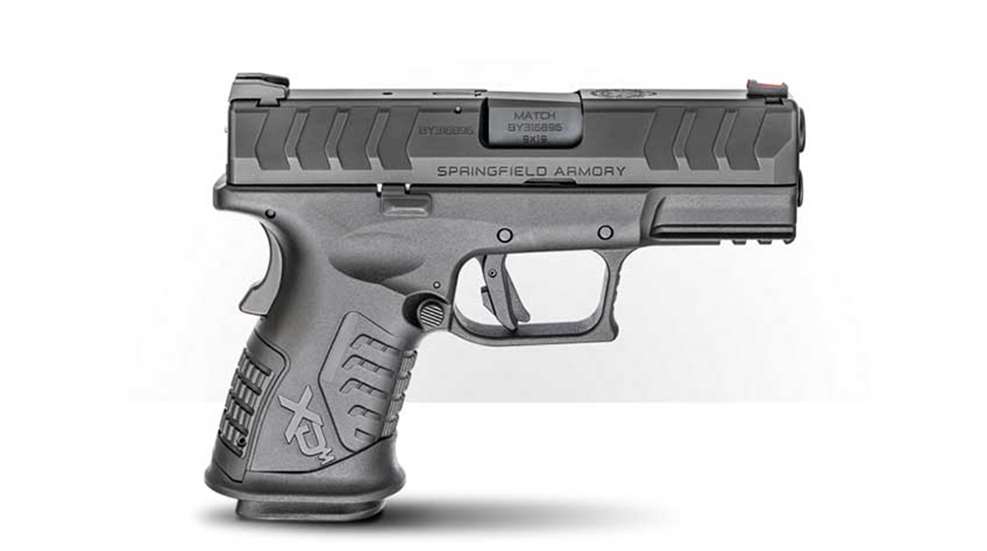 As this review was being penned, the American shooting market witnessed the arrival of a few more micro compact double-stack 9 mm semi-autos intended to compete with popular modern defensive guns like Springfield Armory's svelte Hellcat. I have an abiding respect for gun designers' continuing efforts to shrink the size and weight of concealed carry pistols while increasing their potential firepower.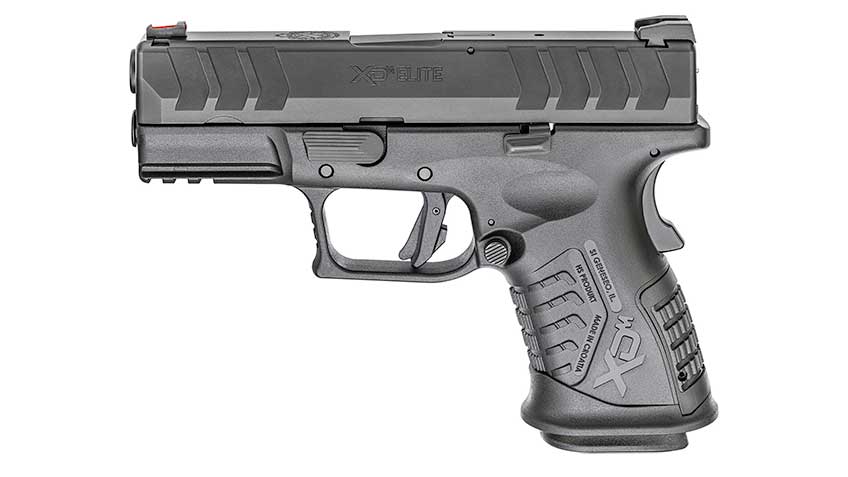 However, as is usually the case with handguns, smaller models chambered for relatively potent cartridges tend to be a handful. Some of the smaller 9 mms can produce an uncomfortable level of felt recoil, even when using standard-pressure ammunition topped with lighter bullets. But if you're in the market for a 9 mm that's both easy to carry and more comfortable to shoot, Springfield has you covered with the XD-M Elite 3.8" Compact.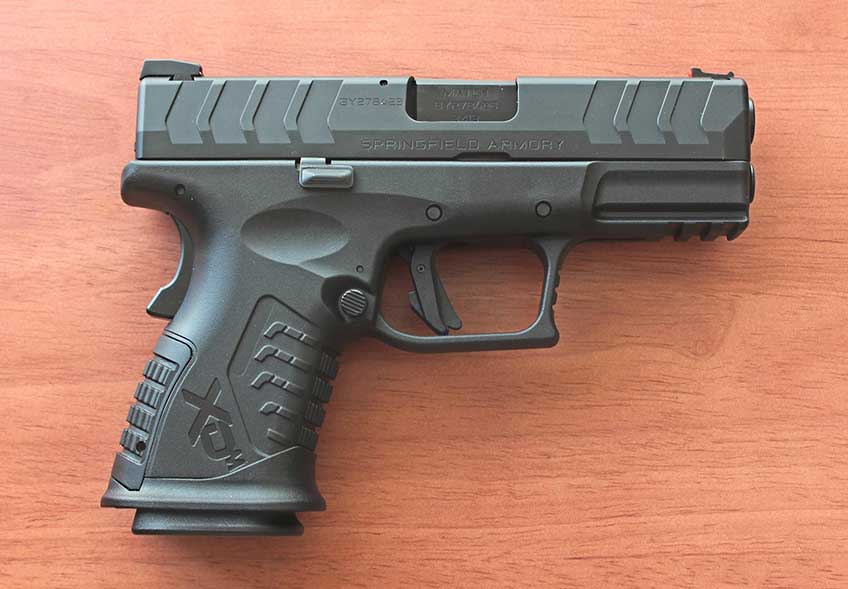 Based on the original polymer-framed Springfield XD released in 2001, this pistol is a recoil-operated, striker-fired semi-automatic that's manufactured in Croatia. In 2008, the company introduced the XD-M models featuring match-grade barrels, a modified slide profile and a reconfigured grip frame with interchangeable backstraps. The XD-M Elite series arrived in 2020 featuring the company's Match Enhanced Trigger Assembly (META) system. It's a more refined trigger with a flat-faced profile, integral blade safety and a built-in overtravel stop. A total of five Elite double-stack 9 mm models are currently available, with the XD-M Elite 3.8" Compact version offering the smallest profile of the series.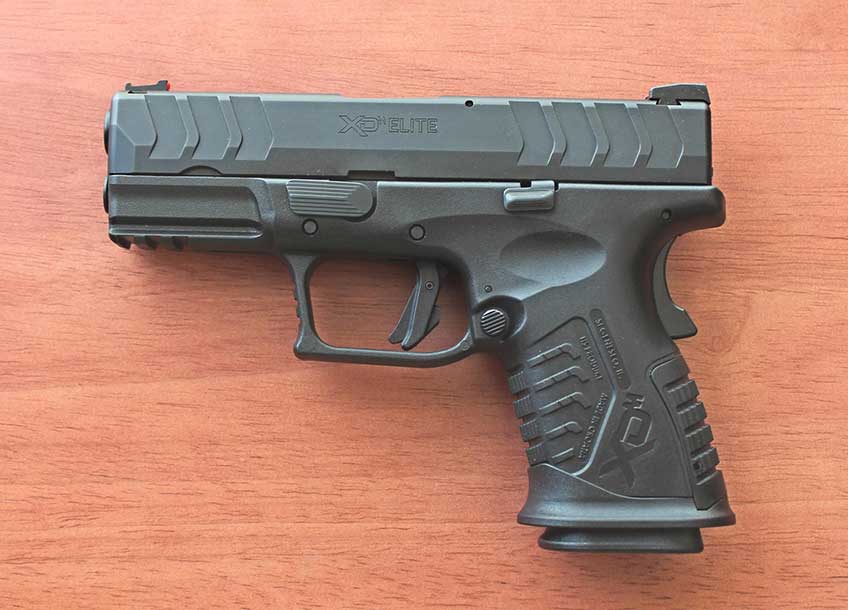 I've handled a fair share of polymer-frame, striker-fired 9 mm pistols, and they each have their advantages. But what always stands out with the XD-M models when I pick them up is how solidly built they feel. There is an authoritative heft to them, a clear sense of sturdiness to the polymer frame and weight to the forged steel slide that says these guns are intended to be used regularly, not just admired. The Elite Compact weighs in at 27.4 oz., unloaded and balances nicely. I'm not saying the pistol feels heavy, because it doesn't. But it does look and feel more solidly built than some carry options in this class.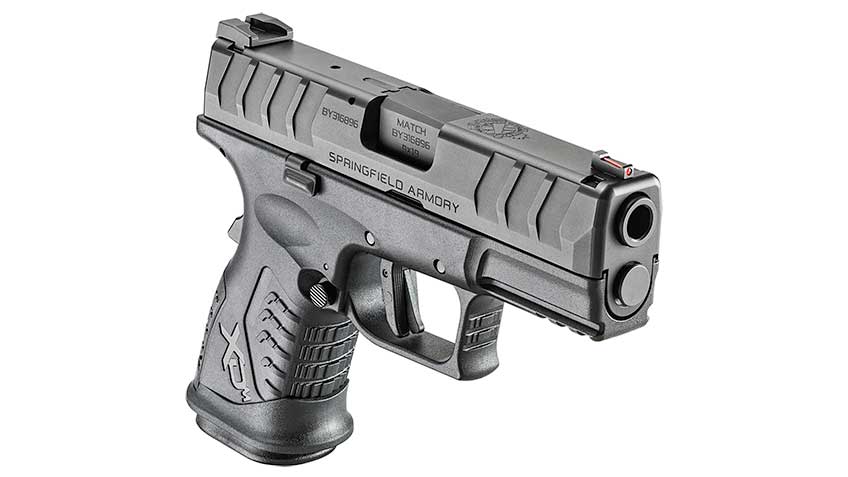 The forged steel slide, along with the match-grade, hammer-forged 3.8" barrel, is treated with a durable matte-black Melonite finish. The slide features angled front and rear slide serrations and a heavy-duty claw extractor. The low-profile metallic sight system is dovetailed into the slide with a red fiber optic up front and a round notch, white outline sight at the rear. It's an ideal sight configuration for a defensive pistol which is easy to see and quick to acquire. For those who are looking to add a red-dot optic for easier aiming, Springfield also recently added an OSP model of the XD-M Elite 3.8" Compact to its lineup, and it can be had with a factory-installed red-dot sight, too.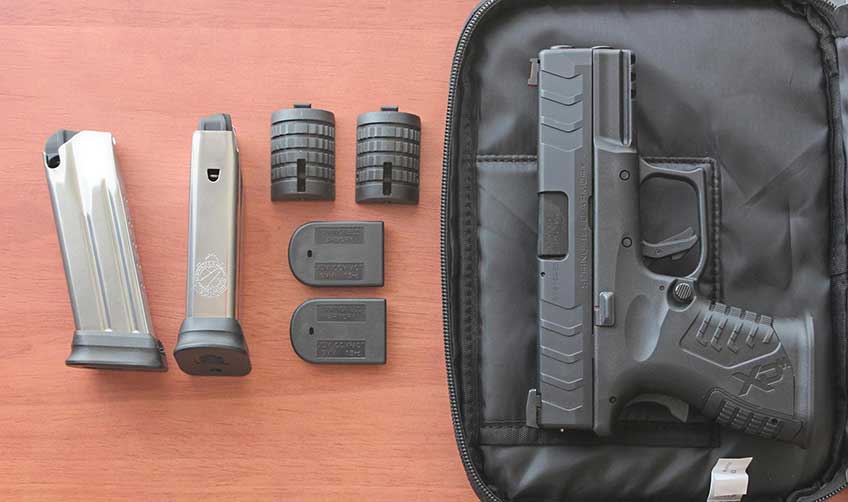 It's easy to check the status of this XD-M pistol in low light conditions or while keeping your eyes down range. It has a pop-up loaded chamber indicator located on top of the slide at the rear of the chamber. The metallic slide plate has a port for a visible and tactile cocked striker indicator. When using an over-the-top grasp to rack the slide, the loaded chamber indicator can be felt with the little finger of the support hand while brushing the cocked striker indicator with the tip of your thumb.

Removing the slide from the frame reveals a robust polymer-free recoil assembly. The steel guide rod captures the primary round-wire recoil spring with an aluminum cap. A second flat wire spring is wrapped around a two-thirds length steel sleeve. This sturdy assembly contributes to the pistol's more manageable feel at the shooting range. Incorporated into the dust cover of the black polymer frame is a 1.5" three slot accessory rail. The trigger guard is shaped and textured along its front edge to act as a finger rest and recessed where it meets the grip for added comfort.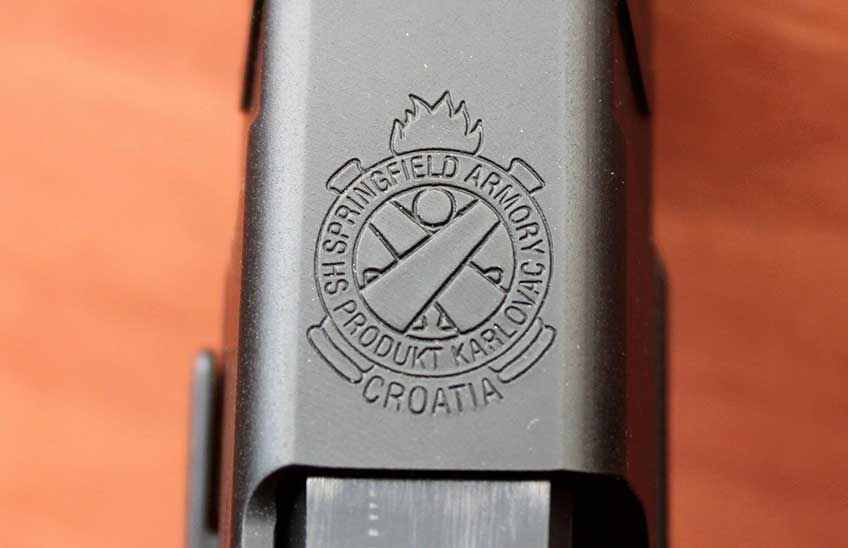 The Match Enhanced Trigger Assembly (META) trigger group provides a cleaner feel and lighter trigger pull than typical factory-installed options. It exhibited a light take-up before breaking at 4-lbs 13-ozs. of pressure. The trigger reset is relatively short and distinctive but not quite as definite as some models. Overall, it's a notable improvement when compared to most off-the-rack striker gun triggers.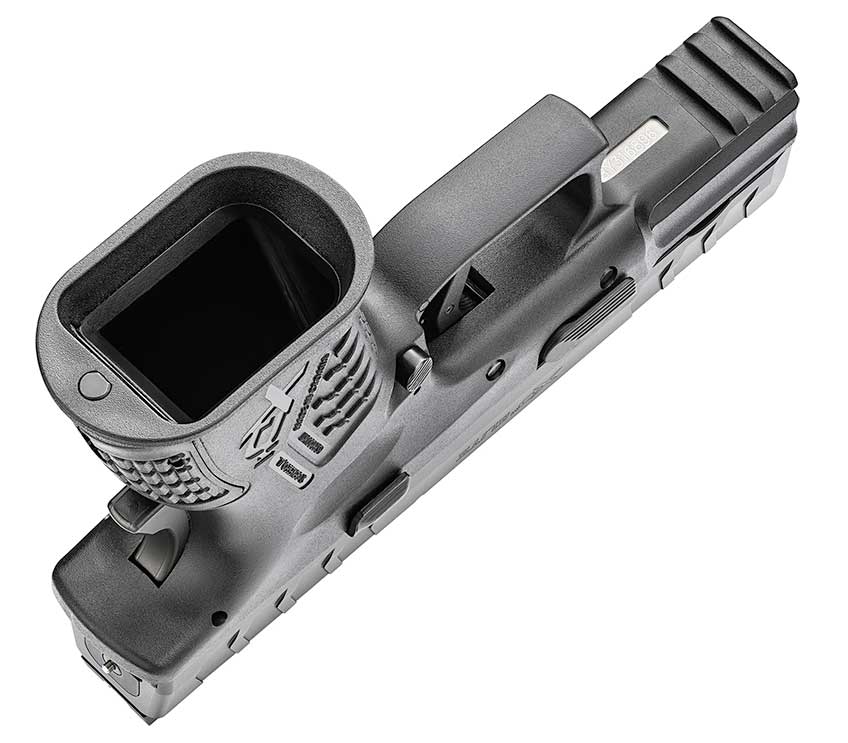 The grip frame is molded with grooves for the thumb and trigger finger along with wrap around blocky texturing, which is effective without being abrasive. The controls, including the slide stop, round-button magazine release and grip safety, are all fully ambidextrous right out of the box. The takedown lever is located on the left side of the frame above the front end of the trigger guard.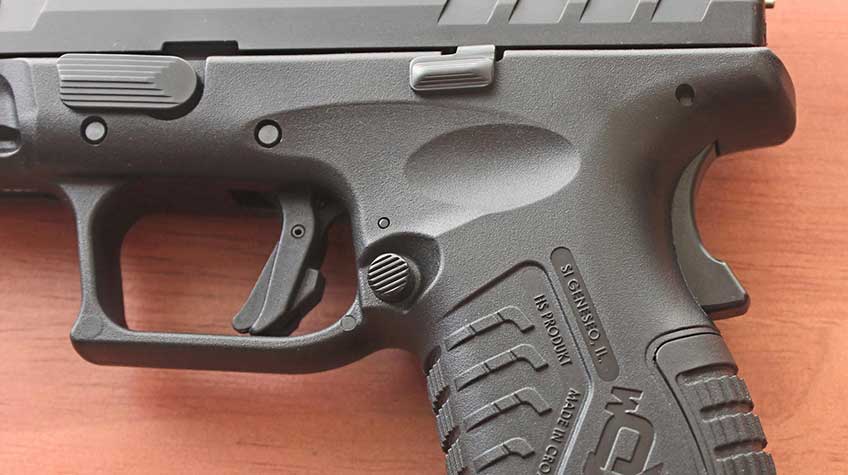 The base of the compact grip is fitted with a short, removable magazine well extension, which is secured by the same pin that holds the removable backstrap in place. The pistol ships with a total of three interchangeable backstraps and two sturdy 14-round stainless steel double-stack magazines.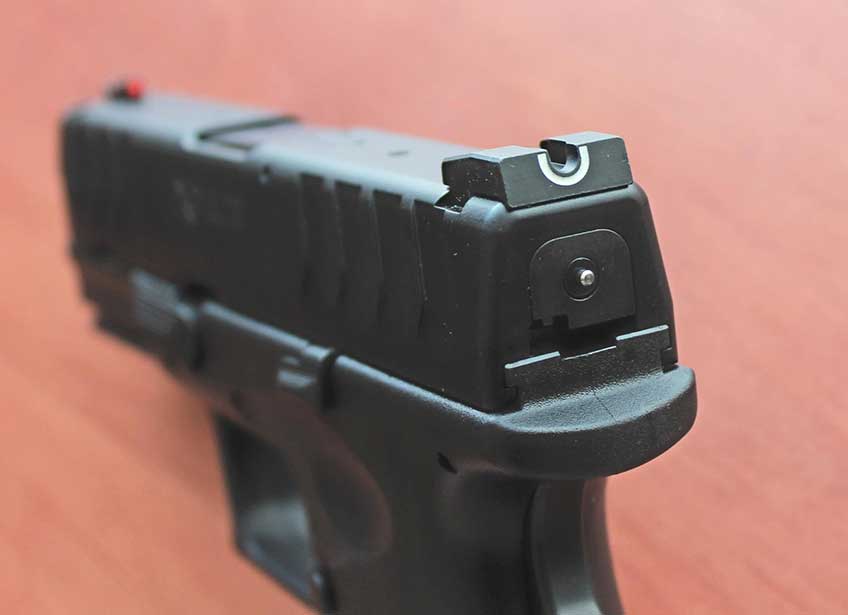 The magazines arrive outfitted with extended base plates, which increase their capacity by one round while accommodating the modest increase of grip length the mag well extension provides. Two flush-fit polymer magazine base plates are provided for those who want to shorten the grip a bit by removing the magazine well extension. The pistol will also accept the longer 20-round magazines of the duty-size XD-M models.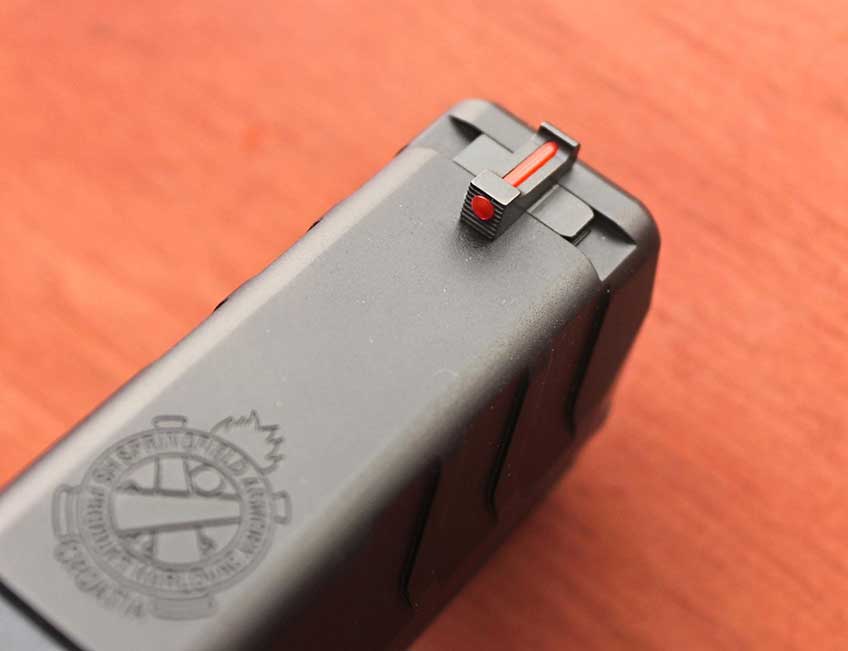 At the shooting range, the 3.8 XD-M Elite proved to be more comfortable to work with than one might expect of a compact 9 mm pistol. The sights were quick to acquire, the trigger smooth and clean and the grip comfortable to hold onto. I have somewhat smaller hands, and I found that the magazine well extension crowded the little finger of my shooting hand. I didn't mind, because it also protected that finger from getting pinched when slamming in a fresh magazine for a quick reload. But for those who have relatively large hands, you may prefer the 3.8" barrel version of the pistol with a longer grip frame.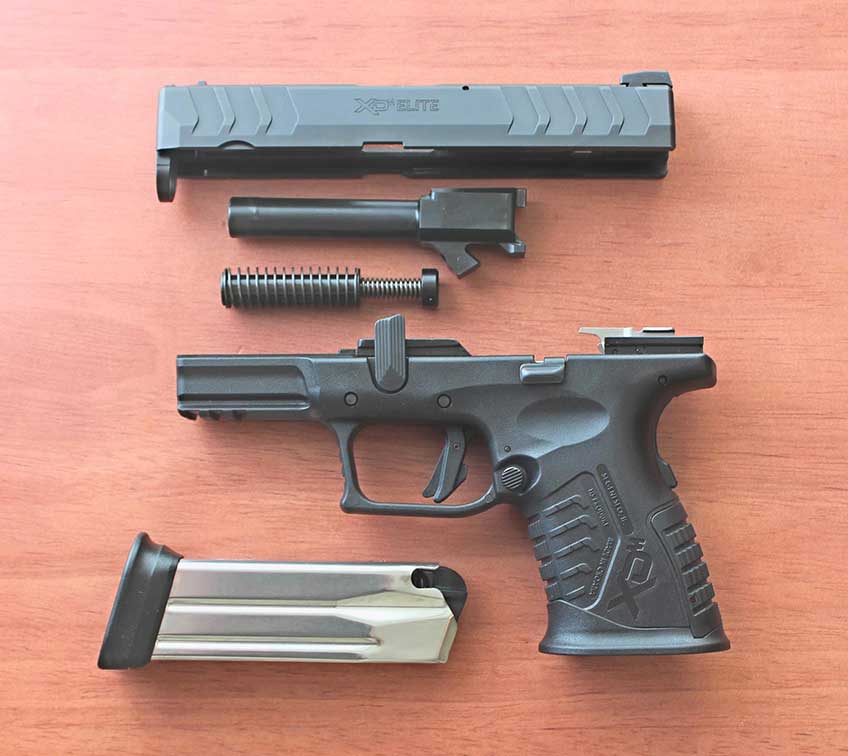 In regards to 9 mm ammunition selection, Springfield states that the use of +P or +P+ ammunition will not damage this gun. However, a regular diet of hot ammunition will wear out key components more quickly. This pistol was tested with a variety of loads ranging from bulk box fodder to premium defensive hollow points, all of which functioned flawlessly. Formal bench rested 5-shot group accuracy testing was conducted at 15-yards using the factory-installed iron sights. Bullet velocity was measured for 10-rounds using a LabRadar chronograph.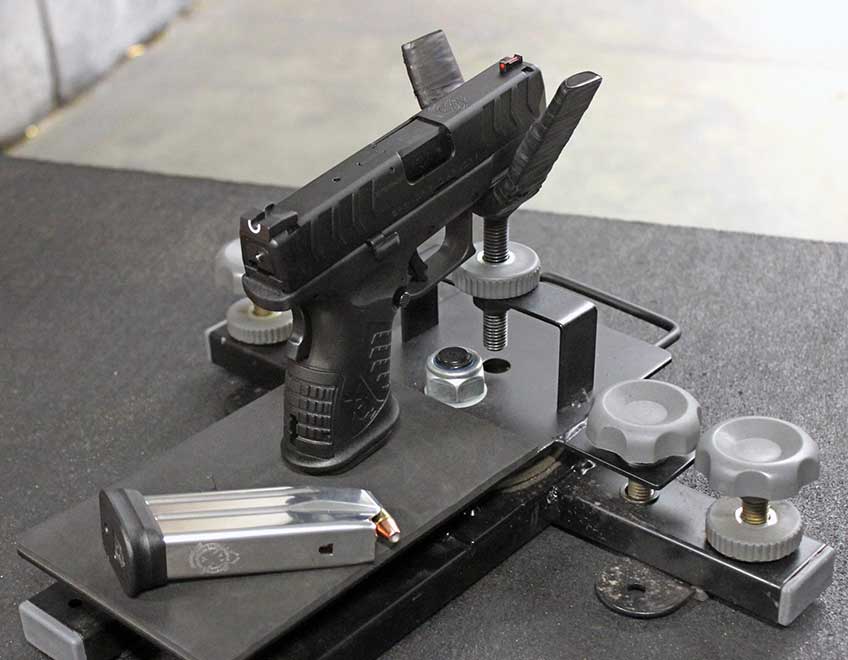 Black Hills Ammunition's 124-gr. +P jacketed hollow points generated a muzzle velocity average of 1,173-fps. for 379 ft.-lbs. of muzzle energy. This load knocked out a best single group of 2.27" with a five group average of 2.37". Browning Ammunition's BPT 147-gr. full-metal jacket launched at 1,031-fps. for 347 ft.-lbs. of muzzle energy with a best group of 2.33" and an average of 2.45". Winchester's USA Ready 115-gr. full-metal jacket flat point flew along at 1,164-fps. for 346 ft.-lbs. of energy. It yielded a best group of 2.29" with an average of 2.41".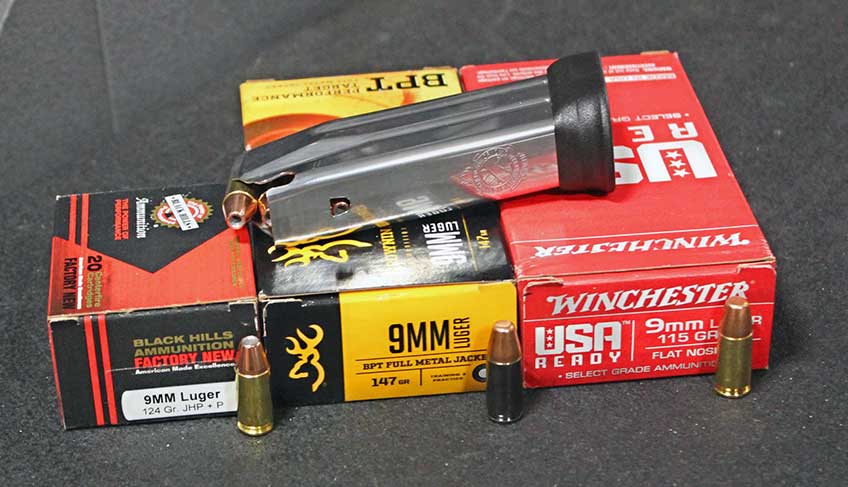 Like other members of the shooting community, I'm curious to see how the 2021 micro 9 carry pistol craze is going to play out. I can't blame folks for wanting smaller guns that are easier to carry. But what I already know from shooting some really small 9 mm pistols is that less weight and smaller grips means a wild ride in the recoil department. That's why I would say that one of the top selling points of the Springfield Armory XD-M Elite 3.8" Compact pistol is its modest levels of felt recoil that contribute to quicker, easier follow-up shots. The META trigger system, the sight configuration, ambidextrous controls and a 14+1 ammunition capacity elevate the usability of this carry pistol as well. If you want your pistol to be more than just compact, then this XD-M deserves your consideration.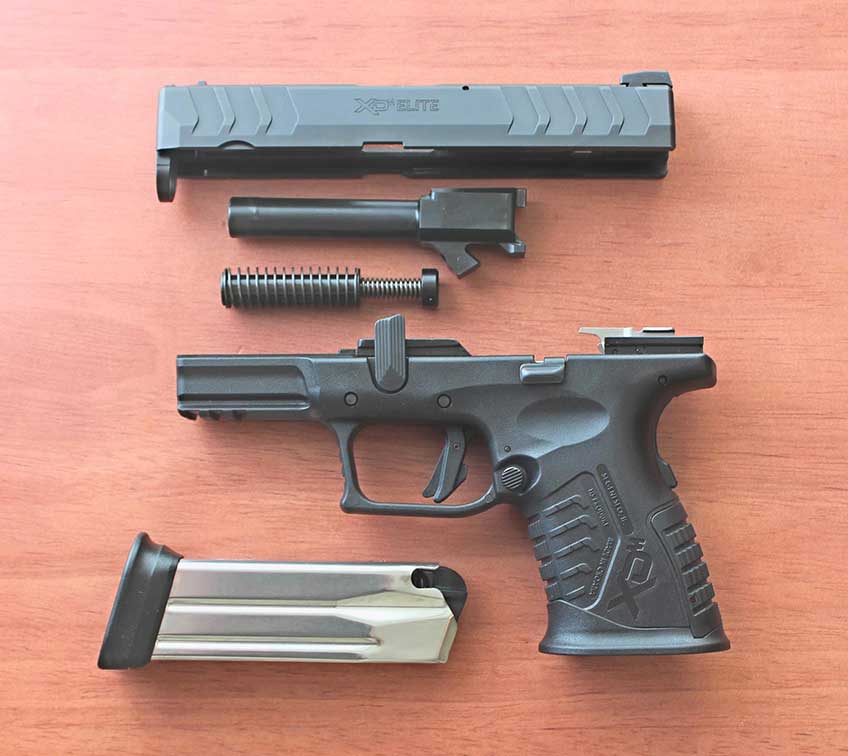 Specifications:
U.S. Distributor: Springfield Armory
Manufacturer: HS Produkt, Croatia
Model: XD-M Elite 3.8" Compact (XDME9389CBHC)
Action: Recoil-Operated Semi-Automatic
Caliber: 9 mm
Slide: Forged Steel, Front and Rear Cocking Serrations, Black Melonite Finish
Barrel: 3.8" Hammer-Forged Steel, Black Melonite Finish
Recoil Assembly: Two-Piece Steel with Captured Dual Springs
Frame: Molded Black Polymer with Removable Short Magazine Well Extension
Front Sight: Metallic Dovetailed Red Fiber Optic
Rear Sight: Metallic Dovetailed Round Notch with White Outline
External Safety Features: Slide Top Loaded Chamber Indicator, Grip Safety, Trigger Safety, Cocked Striker Indicator
Trigger Type: Match Enhanced Trigger Assembly (META)
Trigger Pull: 4-lbs 13-ozs. (as tested)
Overall Length: 6.75"
Height: 4.58"
Slide Width: 1.08
Grip Width: 1.20"
Weight: 27.4 ozs. With Empty Magazine
Capacity: 14+ 1 rounds
Twist: 1:10" RH
Rifle Grooves: 6
Accessories: Two Magazines, Two Flush Fit Magazine Base Plates, 3 Interchangeable Backstraps, Front Sight Light Pipes, Zippered Soft Case, Cable Lock, Owner's Manual
MSRP: $590