by
posted on March 21, 2020
Support NRA American Rifleman
DONATE
Today's polymer-frame, striker-fired 9 mm semi-automatic pistols intended for law enforcement and military applications often ship in three sizes, including standard- or duty-size (the largest), compact and sub-compact.

Some folks attribute this three-sizes-fit-all approach for on-duty handguns to Glock, but one could argue that this pattern of production got its start with none other than the venerable 1911 semi-automatic pistol designed by John Browning.

The early .45-ACP M1911, and the later M1911A1 pistols, sported the 5" barrel that remains the standard for fullsize 1911 pistols today. In 1949, the military put out a call for a smaller, lighter handgun for issue to officers. Colt's pitch for this contract was the modified 1911 'Commander' with the same grip frame as the M1911A1, the barrel cut down to 4.25" and an aluminum frame instead of steel.

When the pistol project was disbanded by the military without a winner, Colt presented its 1911 Commander to the civilian market. Chambered in .45 ACP, .38 Super and 9 mm, it set the standard for compact 1911s.  About 40 years later, Colt completed the 1911-sizing trifecta with the release of the 'sub-compact' Officer's model outfitted with a 3.5" barrel and a shorter grip frame.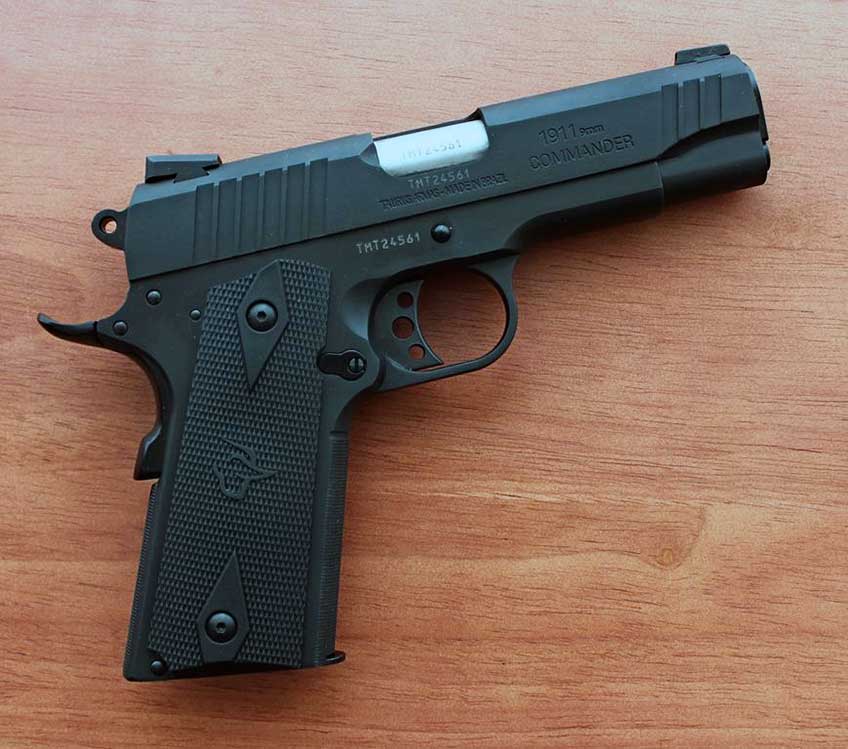 Taurus USA has been producing 1911 pistols since 2005. Like the company's other product lines, these 1911s are fairly priced with popular features. At the end of 2019, the company expanded its Commander line up to include a 9 mm version that accepts Colt-type 9-round, single-stack magazines. As a fan of 1911s chambered in 9 mm, I requested one for testing. For the sake of brevity, I'll just call it the Commander.

Just like other Taurus offerings in this class, the Commander takes its design cues from the classic M1911A1 with some modern updates that most folks prefer. The carbon-steel slide and frame feature a non-reflective matte black finish reminiscent of parkerizing.

The appointments are blacked to match. The all-steel construction does increase the unloaded weight of this gun to 38-ozs. However, the steel frame does have its advantages. It costs less to make, it moves more weight into the grip frame for better balance, and it works to soak up felt recoil for more comfortable practice sessions and quicker follow-up shots.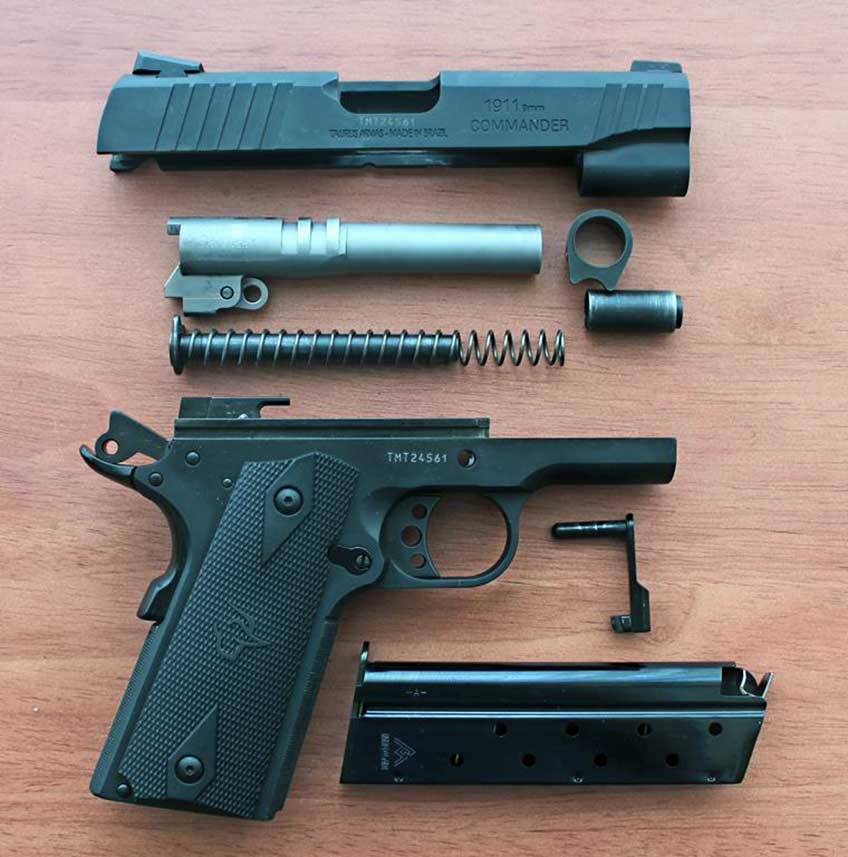 The front and rear metallic Novak 3-dot sights are dovetailed into the slide and drift-adjustable. The slide has a flared ejection port, along with front and rear cocking serrations. It doesn't exhibit the 'G.I. wiggle' that some models do. The linked standard profile 4.25" barrel is supported by a typical 1911 barrel bushing. The bore features traditional land-and-groove rifling suitable for jacketed or lead bullets. Instead of a shorter recoil plug, this pistol is outfitted with a full-length steel guide rod that supports a single, round-wire recoil spring.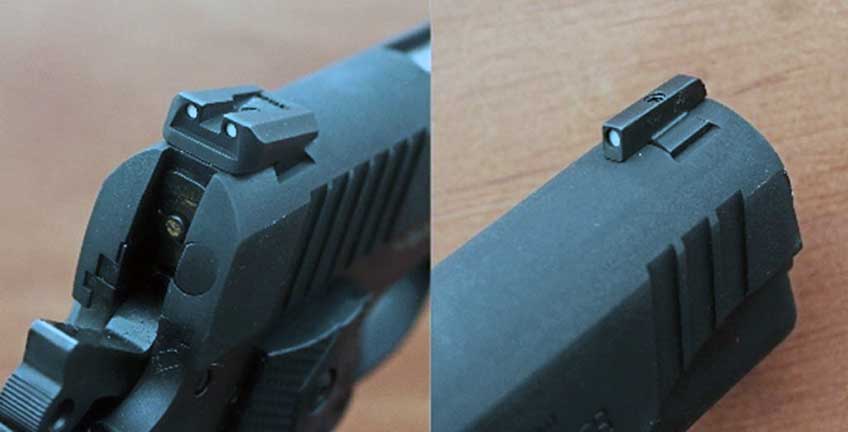 The frame has a traditional dust cover, no accessory rail and rounded trigger guard. The skeletonized aluminum match trigger has a grooved face and an over-travel adjustment screw. It exhibited a bit of take-up before breaking cleanly with 5-lbs. 11-ozs. of trigger pull. The slide stop, extended thumb safety and checkered magazine-release button are all found on the left side of the frame.

The combat style hammer is comfortably couched in an extended beavertail grip safety that has a memory bump. The grip's front strap and mainspring housing feature fine line checkering, which is uncommon for a pistol in this price range.

The grip panels are plain, but serviceable, black polymer with diamond-pattern texturing. Because the grip panels are a standard size, they can be replaced with a variety of other 1911 options if you want to spice things up a bit.  Overall, the fit and finish of this pistol were quite satisfactory. For the price, I could find nothing to complain about.

Finding the right magazines for your 1911 can be a bit tricky. There are lots to choose from and quality varies. A poor magazine-to-pistol fit can have a substantial affect on reliability. This Commander ships with one 9-round, blued-steel, single-stack magazine manufactured by Mec-Gar, which has been in the magazine business since 1965.

Working with Taurus and Mec-Gar, I managed to wrangle up a total of four 9-rounders and one of the new-for-2020 10-round magazines. All five functioned flawlessly throughout the testing process with every variety of ammunition tested.



The Commander's external dimensions are identical to the thousands of 4.25" barrel pistols that came before it. This means that there are plenty of daily carry rigs available for it. Galco Gunleather offers several top-notch holsters, belts and magazine pouches that provide plenty of support for all-steel guns like this one.

Shown here is the Speed Master 2.0 Paddle belt holster in tan (left) and the Summer Comfort inside the waistband holster in black with matching magazine pouches. I wore both holster configurations, with Galco gun belts, and found them to be comfortable with an easy draw and sufficient stiffness for quick re-holstering.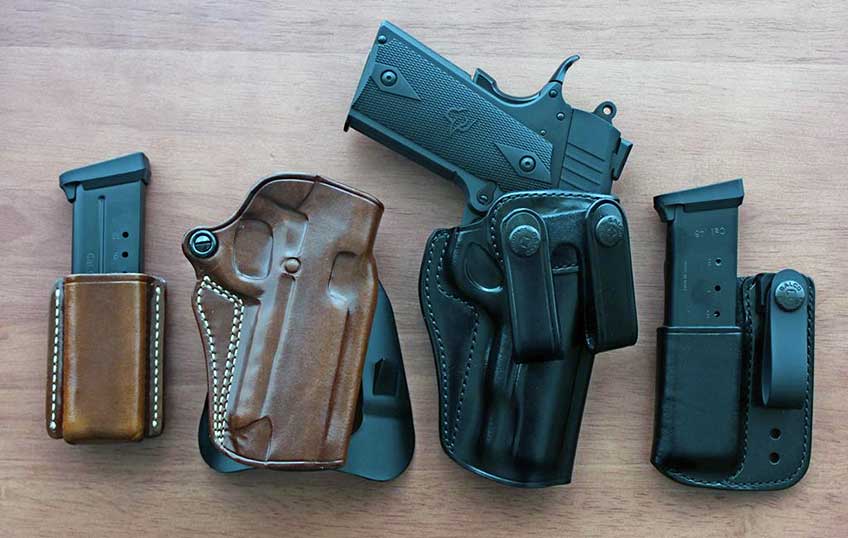 The first question that always seems to crop up with 9 mm pistols is whether or not they're rated for +P ammunition. According to Taurus, this pistol can be safely fired with SAAMI rated +P loads. However, a steady diet will cause the gun to wear out more quickly. Therefore, the company recommends limiting the use of +P rounds to occasional practice and concealed carry.
At the range, I was prepared to give the Commander a break in period since some all-steel guns can require anywhere from 50 to 200-rounds to settle in and smooth out. This was not the case with the Commander. After one failure to feed in the first 20-rounds, it was golden.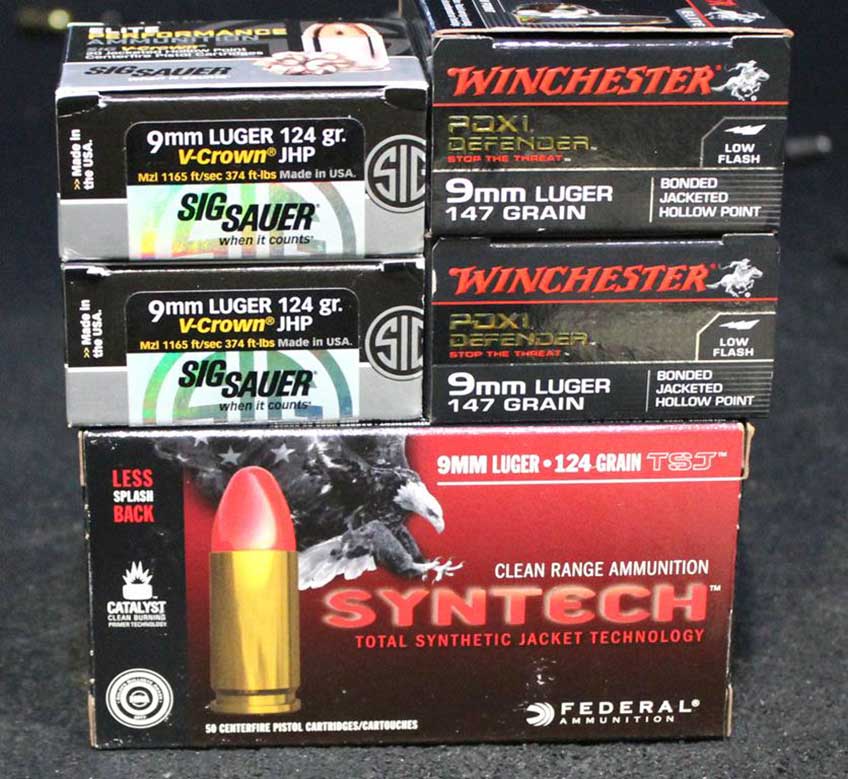 Formal accuracy testing was conducted from a bench rest by firing five, five-shot groups into targets posted at 25 yds. using one practice-grade load and two defense-grade hollow points. SIG Sauer's Elite Performance 124-gr. V-Crown jacketed hollow points tapped out a best single group of 3.52" with a five-shot group average of 3.67".

Winchester's PDX1 Defender 147-gr. jacketed hollow points printed a best group of 3.43" with an average of 3.65". Federal's Syntech 124-gr. synthetic jacket round nose turned in the tightest group of 3.23" with an average of 3.37". As expected, the felt recoil was modest and comfortable to work with.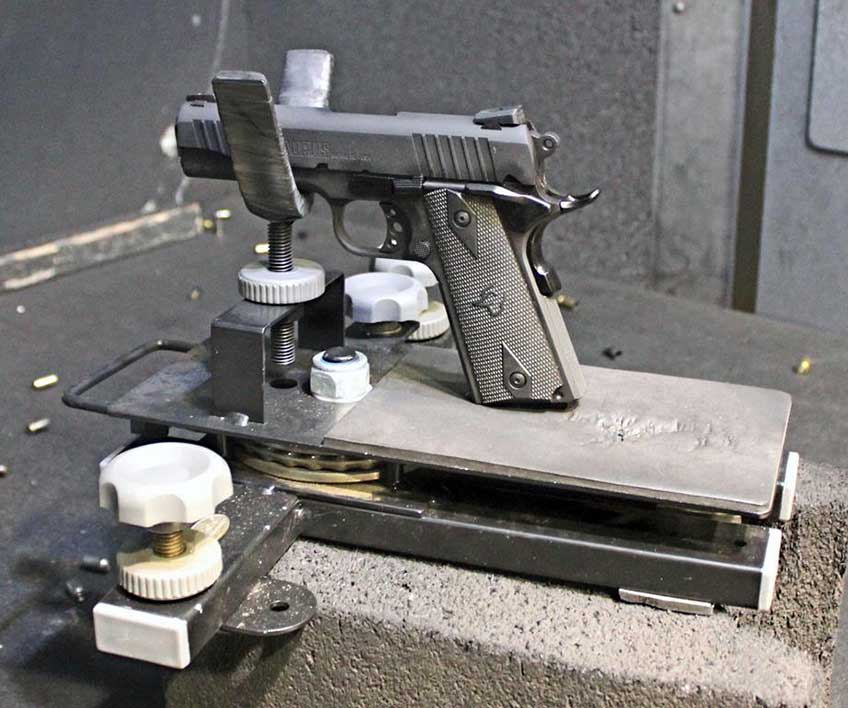 Modern-day pistol fans have used their wallets to declare their fondness for fairly priced, compact-size 9 mm semi-automatics. That's why we see so many of them in the display cases of local dealers.

The Taurus USA all-steel 1911 Commander single-stack 9 mm is an entry-level pistol which embraces the 1911 platform's rich heritage while keeping the price and caliber preferences of today's shooting enthusiast in mind. It's a solid, reliable and soft-shooting 1911 that's suitable for comfortable range sessions, home defense and concealed carry, if you don't mind a bit more weight.

This Taurus 1911 has a suggested retail price of $639. However, real-world prices are turning out to be around $100 less, which means it costs about the same amount as several popular polymer-frame pistols. For those who already enjoy shooting striker-fired pistols, this Taurus 1911 is a great way to try on the platform for size without breaking the bank. For more information visit taurususa.com.

Specifications:
Manufacturer: Taurus USA
Model: 1911 Commander (#1-191101COM-9MM)
Action: Single-Action Semi-Automatic
Caliber: 9 mm
Slide and Frame: Matte Black Carbon Steel
Grip Panels: Textured Black Polymer
Sights: Novak 3-Dot, Drift Adjustable
Barrel: 4.25" Standard Profile
Guide Rod: Full Length Steel
Trigger: Match-Grade Aluminum
Trigger Pull: 5-lbs. 11-ozs. (As Tested)
Barrel Length: 4.25"
Overall Length: 8.00"
Height: 5.80"
Slide Width: 0.92"
Grip Width: 1.20"
Weight: 38 ozs. with Empty Magazine
Capacity: 9+1 Rounds
Twist: 1:16"LH
Rifle Grooves: 6
Accessories: Lockable Carry Case, One 9-Round Blued Steel Magazine, Cable Lock, Owner's Manual.
MSRP: $639