by
posted on January 18, 2016
Support NRA American Rifleman
DONATE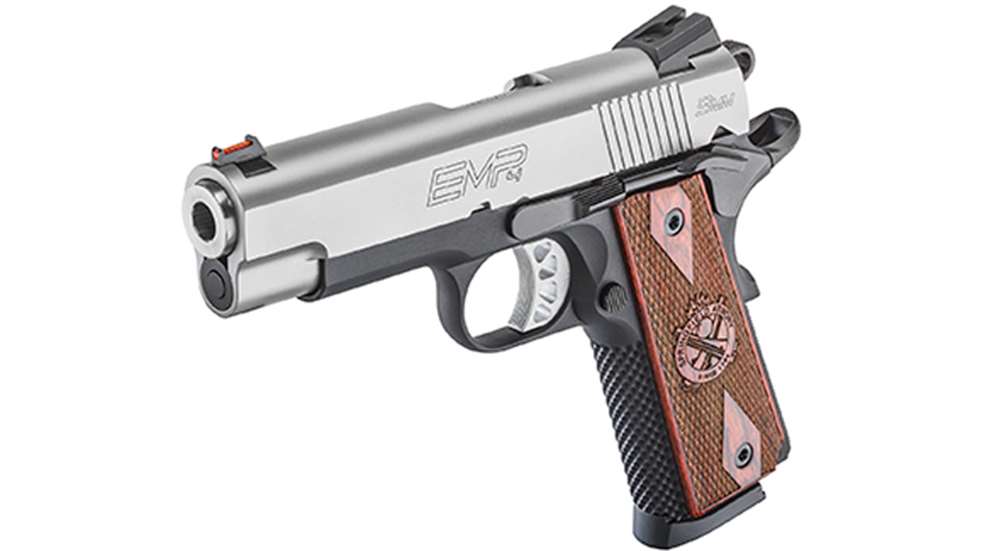 In 2007, Springfield Armory launched the Enhanced Micro Pistol (EMP) subcompact 1911 chambered in 9 mm. This lightweight pocketable pistol features an abbreviated grip and 3" barrel for comfortable concealed carry. While other companies use the same frame for their .45 ACP and 9 mm platforms, Springfield invested the time and money to design a more compact frame especially for use with the 9 mm cartridge. The length of the EMP's action has been reduced by 1/8" resulting in a grip frame that is tangibly thinner, side-to-side, and shorter front-to-back. In other words, this pistol provides all of the same controls that 1911 buffs prefer with a smaller grip profile as well as a subcompact footprint.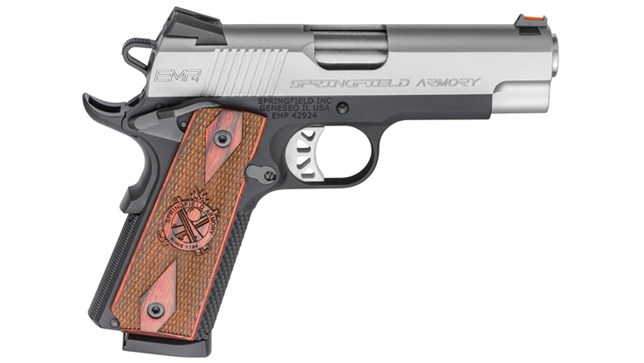 As is usually the case, the self-defense handgun market is beginning to shift in another direction once again. The last few years we've seen an emphasis on pocket-size .380s and 9 mms. But as Mark Keefe recently pointed out, the concerns over possible terrorist attacks and mass shootings has self-defenders considering larger compact-size pistols which can be more accurate, easier to shoot, and hold more ammunition than their pint-sized compatriots.
Recognizing this latest trend, Springfield has stepped up to the plate with a new version of the Enhanced Micro Pistol for 2016, called the EMP4. The barrel has been extended from 3" to 4" and the grip frame is 0.5" longer to provide additional space for the shooting hand fingers and to make room for one more round of ammunition in the magazine for a total capacity of 10 + 1 rounds. The result of adding just a little more to the EMP4 at these key locations is an exceptionally well-balanced pistol.
The EMP4 is a single-stack, single-action semi-auto pistol that takes its design cues from Springfield's modern interpretation of the classic John Browning linked-barrel design. A satin stainless steel slide is fitted to a matte black hard-anodized lightweight aluminum frame for a handsome two-tone finish. The slide is topped with a metallic sight set that includes a dovetailed fiber optic blade sight in the front and a low profile white dot dovetail sight at the back which is drift adjustable for windage. Angled cocking serrations are located at the rear of the slide near the hammer.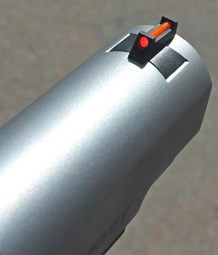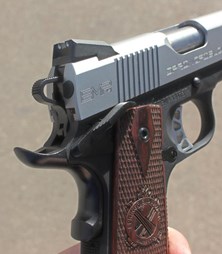 The 4" stainless steel match-grade bull barrel features a fully supported feed ramp. The top of the chamber has a small witness hole which acts as a loaded chamber indicator. The muzzle of the barrel is fitted into the slide without the use of a removable barrel bushing. The recoil assembly consists of a full-length steel guide rod which supports a single flat-wire spring held in place by a reverse spring plug.

The aluminum frame sports a plain dust cover without an accessory rail. The traditional style rounded trigger guard houses a skeletonized long aluminum match grade trigger with a serrated face and a listed trigger pull weight of 5 to 6 lbs. The trigger of the EMP4 I worked with was excellent right out of the box with a very short, crisp, clean break at 5 lbs. 4-oz. of trigger pull.
The front strap of the grip frame is treated with what Springfield calls the POSI-LOK reverse-cone, or deep-dimple, texture. The POSI-LOK treatment, in conjunction with the diamond pattern Thinline Cocobolo wood grip panels and the 20 LPI checkering of the mainspring housing, provides a positive gripping surface which is easy to hold on to without being abrasive to bare hands.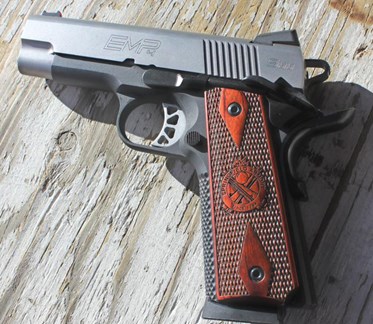 The frame-mounted controls, including the left-side slide stop, magazine release, hammer, and grip safety are all constructed of matte black 4140 carbon steel. The thumb safety is ambidextrous with relatively short, narrow arms appropriate for concealed carry. The round magazine release button is in the usual 1911 location just behind the trigger on the left side of the frame. An extended beavertail grip safety, with memory bump, is paired with a skeletonized combat hammer.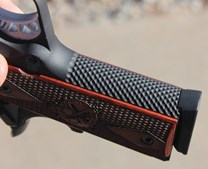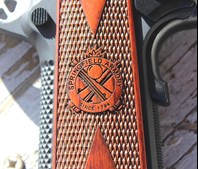 The 10-round blued steel magazines are manufactured by Mec-Gar in Italy and ship with a metallic follower and Slam Pad polymer base plate. As it arrives from the factory, the EMP4 weighs in at 31 oz. with an empty magazine inserted in the grip. Overall, the fit and finish was excellent. All of the controls worked smoothly and properly right out of the box, so the pistol passed all of its bench checks with flying colors and was ready for the range.
Purchasing a defensive pistol is a significant investment and having to buy additional support gear can be a substantial financial burden. I get a little frustrated when 1911s with retail prices over $1,000 arrive in a cheap cardboard box with just one magazine. Springfield does their customers the favor of shipping the EMP4 with a useful set of accessories. The pistols are placed in a sturdy, lockable hard-side carry case with a custom cut out dense foam lining. Inside are three magazines, an 11 Gear adjustable tension paddle holster, a dual magazine belt pouch, cleaning brush, lock and a sight adjustment tool for the rear sight. Add a bit of lubrication and a few boxes of ammunition and the pistol is ready to go to work.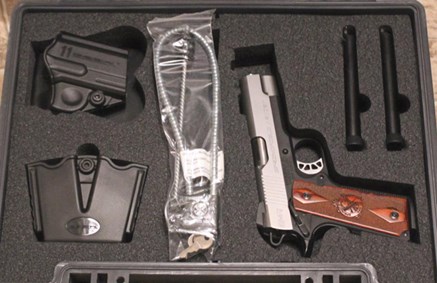 Informal off-the bench shooting with the EMP4 was a treat. The range master had set up a rack of 8" steel plates at 10 yards the day I was there. They rang out and fell down with rapid regularity before this handy pistol. Although lightweight 9 mms can get a little snappy when loaded with some premium and +P loads, the EMP's good balance, smaller textured grip frame and light trigger kept the pistol comfortable to shoot throughout the testing process with a variety of 9 mm loads. I believe folks will find this version of the EMP to be a semi-auto they can enjoy practicing with on a regular basis. With regard to the use of +P ammunition, Springfield recommends only limited use for occasional practice and carry. Operators should stick to standard pressure 9 mm loads most of the time, so I only used a little +P ammunition in the course of testing. 
Formal accuracy testing was conducted from a pistol rest firing five 5-shot groups at 25 yards using the factory iron sights. This pistol outshot the shooter with most groups forming patterns of less than 3". Federal American Eagle 124-gr. full-metal jacket rounds produced a best single group of 2.55" with an average of 2.79". Winchester W Defender 147-gr. bonded jacketed hollow points yielded a best single group of 2.62" and an average of 2.80". The fast, but soft shooting, Liberty Civil Defense 50-gr. +P nickel plated copper hollow points printed a single best group of 2.87 while averaging 3.06".
The new Springfield Armory EMP4 pistol is one of the most well-balanced defensive single-stack 1911 pistols I've had the pleasure of working with. It's just large enough to shoot comfortably and accurately but still slim and light enough to carry comfortably concealed. The reduced size and texturing of the grip frame makes it a great fit for a variety of hand shapes. The modest recoil and lower cost of 9 mm ammunition encourages regular and enjoyable practice sessions. This version of the EMP4 can serve as a just-one-gun solution for those who are looking for a single pistol for personal and home defense.
Specifications
Manufacturer: Springfield Armory
Model: EMP 4" (PI9211LP
Action: Single-Action Semi-Auto1911
Caliber: 9 mm
Slide: Stainless Steel
Frame: Forged Aluminum, Black Hardcoat Anodized
Grip Panels: Thinline Checkered Cocobolo
Front Sight: Fiber Optic
Rear Sight: White Dot Low Profile Combat
Barrel: Stainless Steel Match Grade Bull, Fully Supported Ramp
Guide Rod: Full Length
Trigger: Match Grade Long Aluminum
Barrel Length: 4.00"
Overall Length: 7.50"
Height: 5.50"
Slide Width: 0.92"
Grip Width: 1.15"
Weight: 31 oz. with Empty Magazine
Capacity: 10+1 Rounds
Twist: 1:16" RH
Rifle Grooves: 6
Accessories: Lockable Carry Case, Three 10-Round Magazines, Paddle Holster, Dual Magazine Pouch, Cleaning Brush, Rear Sight Tool, Cable Lock, Owner's manual.
MSRP: $1,179