by
posted on July 9, 2018
Support NRA American Rifleman
DONATE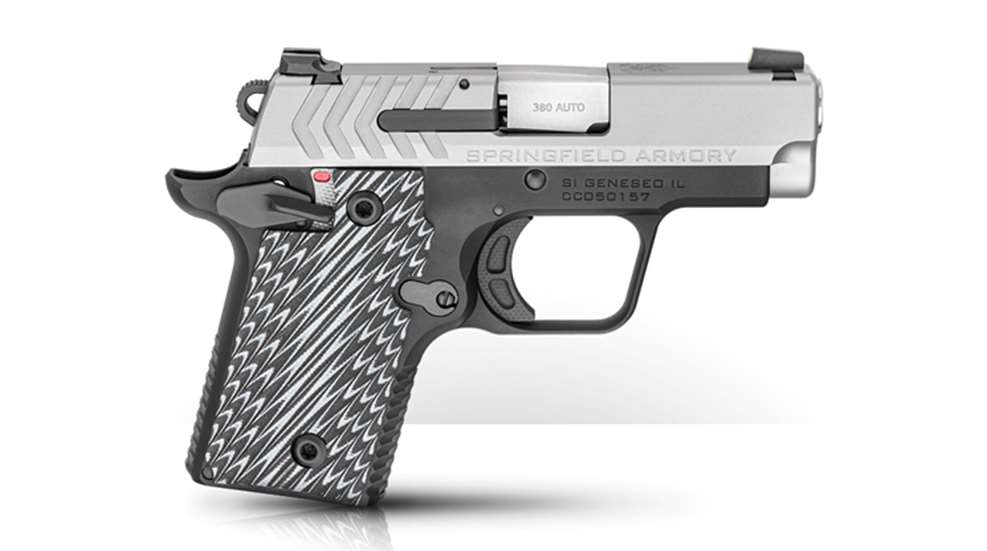 Every year there seem to be a few new guns that several of the contributors to this website want to write about. This year one of those has to be the new Springfield 911 .380 ACP, which I got to shoot for the first time at the 2018 SHOT Show Industry Day at the Range. I was impressed, so I got in line to test it too.
Although I enjoy working with all kinds of commercially available firearms these days, I've always been something of a concealed-carry and pocket-pistol devotee. It's still one of my favorite hobbies to chase down the more interesting and unusual models in this category to work with. As a result, I've shot several different models from one of the smallest revolvers available to popular polymer framed semi-autos. Based on that experience, I found five good reasons to consider the Springfield 911 for concealed carry:
5. The 1911 Format
I fell in love with the 1911-pattern .380 ACP more than 20 years ago and I've never looked back. Although I have great respect for the full-sized 1911 platforms in their various calibers, the traditional grip frame configurations just don't fit my somewhat smaller hands all that well. I have to work harder to run a big-bore 1911 than other pistol designs which are a better fit for my mitts.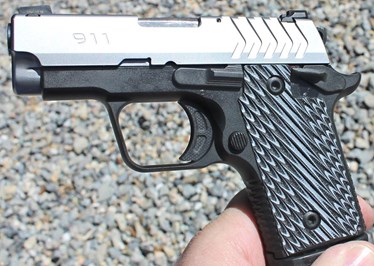 However, when the 1911 is compressed to fit the smaller .380 ACP cartridge, the best qualities of this classic semi-auto shine through without the hindrances of the larger versions. Just because a 1911 pocket pistol is not an original idea (Kimber, Browning, and Rock Island Armory are just a few of the companies that offer them) doesn't mean it isn't a good one.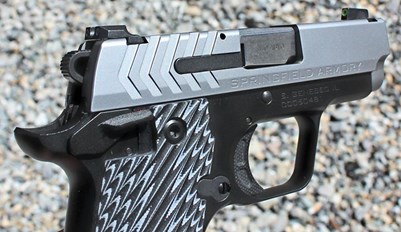 If I had to choose just one of the positive qualities of the 1911 that has kept this platform alive and kicking for over a century, it would be the single-action trigger. Many of today's pocket rockets do not have external safeties. Instead, they rely on a relatively heavy double-action trigger pull of 8 to 12 lbs., with a long trigger stroke similar to that of a revolver, to prevent unintentional discharges. Thanks to the 911's traditional thumb safety and exposed hammer, it can be carried 'cocked and locked'. This allows for a much lighter 6 lbs. 1-oz. trigger pull with a fraction of the trigger travel distance.
And thank you for the aluminum frame. I have nothing against polymer-framed pistols (I use and carry them on a regular basis) but it's nice to wrap my hands around some hard anodized aluminum once in a while, which leads to the next point.
4. Grip Configuration
A pistol's grip frame is where the rubber meets the road and, all too often, pocket pistols are lacking in this department. Not only are they usually too short to provide a full 3-three finger grip for maximum purchase, they can be over simplified to the point that holding on to them during recoil feels a good deal like trying to wrestle a freshly caught trout into a fishing creel.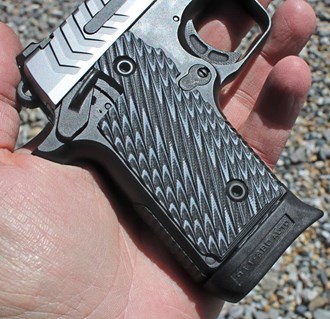 The comfortable and functional grip of the 911 is due to some thoughtful planning on the part of Springfield and its 1911 heritage. An extended beaver tail cups the exposed hammer to protect from hammer bite while allowing for a high shooting hand position. The front strap and mainspring housing, which are often left smooth on this type of .380, are treated with an effective Octo-Grip texturing which is milled into the frame. The G10 grip panels are not only durable and good looking, they are deeply grooved. The grooves are canted at an angle to help resist against the pistol rolling back during recoil. The pistol ships with a 7-round extended magazine with a polymer finger rest for those who want a little more real estate to work with than the 6-round, flush-fit magazine provides.
3. Actually Pocket Sized
Pocketable pistols have gained and sustained quite a bit of popularity over the last few years due to so many folks choosing to practice lawful concealed carry. But lately it seems like several sub-compact models are getting the marketing wink and nod of being pocket sized when in truth they are just a bit too big for the job.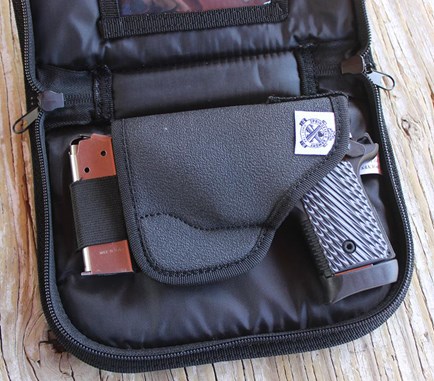 The 911 has the right dimensions for pocket carry, especially with the flush fit magazine installed. It's 5.5" long, 3.9" tall and has a slide width of 0.80". The unloaded weight (with an empty magazine) is just 14 oz. The pistol ships with a soft case that contains a ready to use pocket holster with an appropriately grabby-textured rubber surface. A strip of loop-side fastener along the right side of the holster matches up with a hook-side strip stitched to the interior of the carry case. This allows the holstered pistol to be transferred directly from case to pocket and back again without unholstering the gun. 
2. Packed with Full-Size Pistol Features
A common side effect of shrinking pistols to pocket size, and trimming their price points down along the way, is the loss of features folks prefer in their larger defensive handguns. Controls are tiny, the ergonomics stripped down and the sighting systems range in size from hard-to-see to purely ornamental.  With the 911, Springfield was careful not to throw the baby out with the bath water.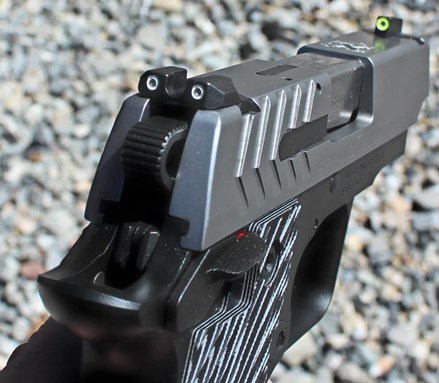 The slide is a satin stainless steel with deeply cut chevron style cocking serrations and a visible/tactile loaded chamber indicator. The easy to see low profile metallic Pro-Glo Tritium 3-dot combat sights are dovetailed into the slide so that they can be drift adjusted for windage.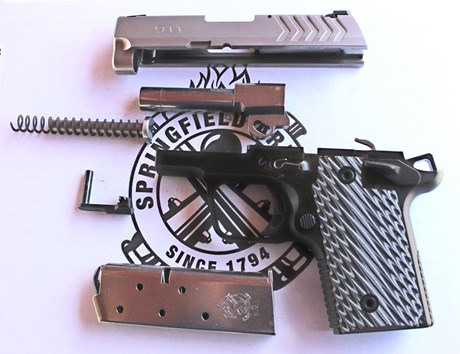 The recoil spring is supported by a full-length stainless steel guide rod instead of a plastic plug. The grooved trigger, which is made of G10 instead of plastic, is paired with a skeletonized hammer. The round magazine release button is textured for improved purchase. The ball-detent supported thumb safety is ambidextrous which is an important upgrade for Lefties and as a defensive pistol that may have to be fired with the weak hand in a pinch.
1. Enjoyable Practice Sessions
The two primary criteria for selecting a pocket pistol are no different than those of selecting any other daily carry gun. First, it has to be of a size and format that the owner is willing to pack around all day, every day. Secondly, the self defender needs to be willing to practice with it on a regular basis.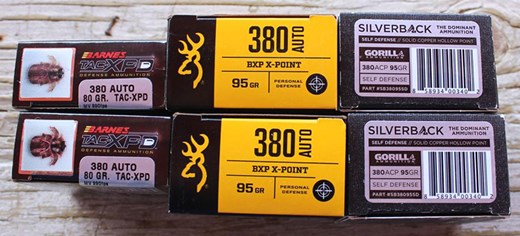 The 911 is comfortable to shoot with great sights and satisfying results down range.  A pocket pistol that can print 2" groups at 7 yards is turning out fairly good combat accuracy for its class. The 911 kept groups under 1.5" at 15 yards. Barnes Tac-XPD 80-gr. all-copper hollow points yielded a best single 5-shot group of 1.20" with a five group average of 1.33" during formal bench rested accuracy testing using the factory installed iron sights. Browning X-Point 95-gr. jacketed hollow points produced a best group of 1.26" and an average of 1.41" followed by Gorilla Ammunition's Silverback 95-gr. all-copper hollow points with a best group of 1.35" and an average of 1.47".
Springfield didn't just shove the 911 out the door but took it seriously by working in the kinds of features that make their larger 1911s popular. The suggested price is higher than several polymer framed models on the market but significantly less than some 1911 type .380s. If you're in the market, it deserves your consideration.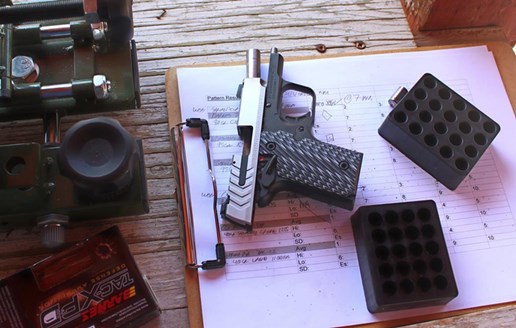 Specifications:
Manufacturer: Springfield Armory
Model: 911 (PG9109S)
Action: Recoil Operated Single-Action Semi-Auto
Caliber: .380 ACP
Slide: Brushed 416 Stainless Steel
Frame: 7075 T6 Aluminum, Hard Coat Anodized
Grips: Deep Groove G10
Sights: Pro-Glo Tritium/Luminescent 3-Dot Combat
Barrel: Stainless Steel
Guide Rod: Full Length Stainless Steel
Trigger: Grooved G10
Trigger Pull: 6 lbs. 1-oz. (As Tested)
Barrel Length: 2.7"
Overall Length: 5.5"
Height: 3.9"
Slide Width: 0.80"
Grip width: 0.95"
Weight:  14-oz. with Empty 6-Round Magazine
Capacity:  6+1 or 7+1 Rounds
Twist: 1:16" RH
Rifle Grooves: 6
Accessories: Zippered Soft Case, Pocket Holster, One Flush-Fit 6-Round Magazine, One Extended 7-Round Magazine, Bore Brush, Lock, Owner's Manual
MSRP: $599

Additional Reading:
To the Rescue: Springfield's 911 Pistol  
NRA Gun of the Week: Springfield Armory 911 Pistol  
Springfield 911 Pistol Now in Black Nitride Finish  
SHOT Show 2018: Springfield Armory 911 Pistol