by
posted on July 26, 2017
Support NRA American Rifleman
DONATE
Iver Johnson Arms of Rockledge, Fla., imports a variety of 1911 pistols and shotguns from the Philippines and Turkey. Not long ago, the 1911 Eagle XL collection grew to include a blued 6" barrel long slide chambered in 10 mm, a handgun hunting cartridge that continues to grow in popularity for harvesting medium game such as wild hogs and whitetail deer. This year, the company has added a stainless steel version of this potent pistol which caught my eye at the 2017 SHOT Show in Las Vegas.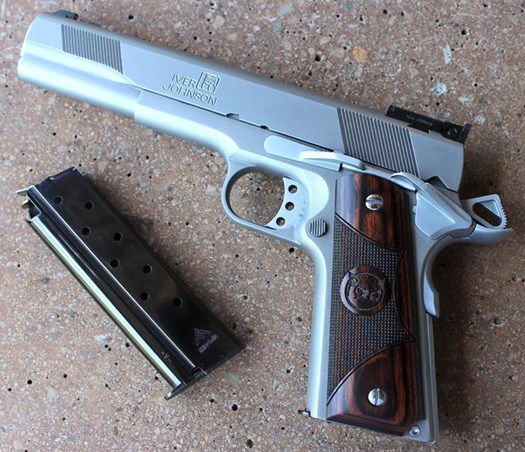 In most cases, long-slide 1911s loaded out with custom features for hunting tend to cost a pretty penny or two, if you can find them at all. Produced for Iver Johnson by Shooters Arms Manufacturing Incorporated (S.A.M. Inc.) in the Philippines, the stainless steel Eagle XL was exhibited with an MSRP of $1,020, which is translating into real world prices closer to $950. That's a fairly low price tag for a gun like this. While some gun owners may be hesitant to work with imported 1911s, S.A.M. Inc. has garnered a reputation for close adherence to original 1911 specifications. It seemed to me that the best way to find out if this more budget-friendly 10 mm was up to snuff was to test drive it myself.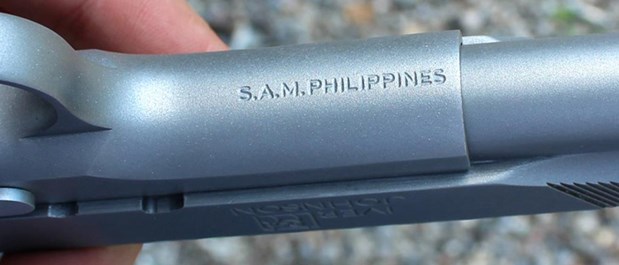 The Eagle XL is a single-action, long-slide 1911 based on the classic John Browning Government model design. This pistol's barrel and slide have been stretched from 5" to 6" in order to squeeze a bit more performance from the 10 mm cartridge and extend the sight radius for a more precise sight picture.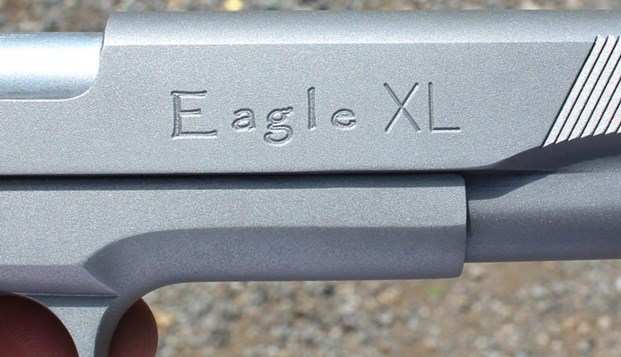 I was impressed by the test pistol's fit and finish right away. The slide was smooth and tight right out of the box. There is no GI wiggle between the slide and the frame. I searched the pistol carefully in the course of bench testing and could not find any of the dings, dents, scratches or machine marks that follow some less expensive imports home from the factory. Everything was tight, clean and properly fitted from stem to stern including the grip panels.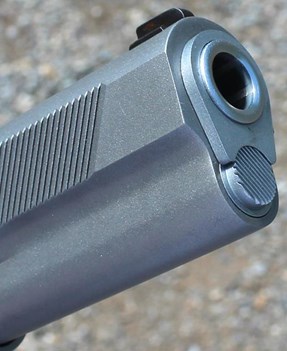 The round-top slide and traditional frame are both constructed from 416 stainless steel with a bead-blasted matte finish. The slide is fitted with dovetailed LPA metallic TRT three-dot sights. The white dot front sight is paired with a fully adjustable square notch rear sight. It's an ideal sighting arrangement for hunting or target shooting. Angled cocking serrations are found at the front and rear of the slide. The ejection port has been lowered and flared for improved ejection.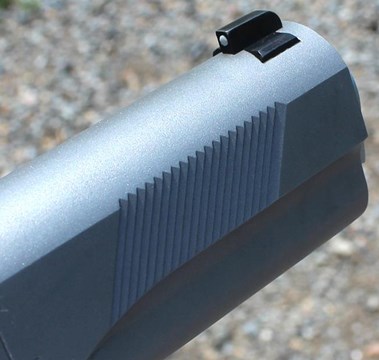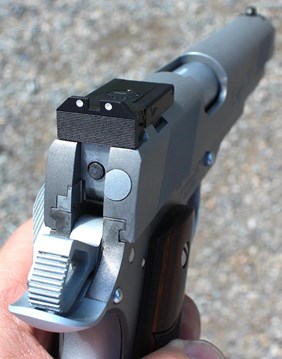 The linked 6" 4140 steel barrel has been treated to a satin hard chrome finish that matches the slide and frame with a six-groove rifling cut at a 1:16" right-hand twist. The recoil assembly consists of a short recoil rod and a single round wire spring. At first glance, this may seem a little too light for 10 mm ammunition but remember that the mass of the extended stainless steel slide works to slow the slide down during recoil.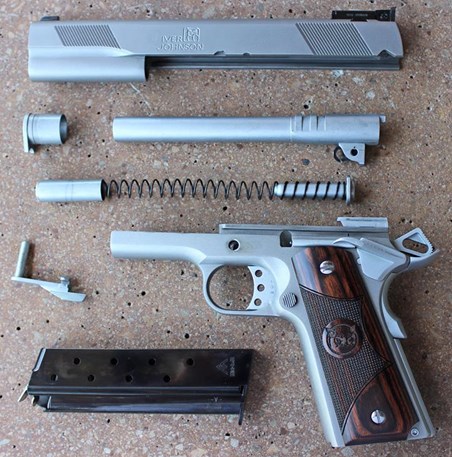 Most of the other appointments, including the barrel bushing, plug, recoil rod, slide release, thumb safety, magazine release, hammer, grip safety and grip screws, share the same chromed finish as the barrel. Although these components have a matte finish to match the frame, the rounded pin projections along the right side of the frame and the standard grip screws have been polished to a mirror shine. The three-hole trigger and grooved mainspring housing are both aluminum.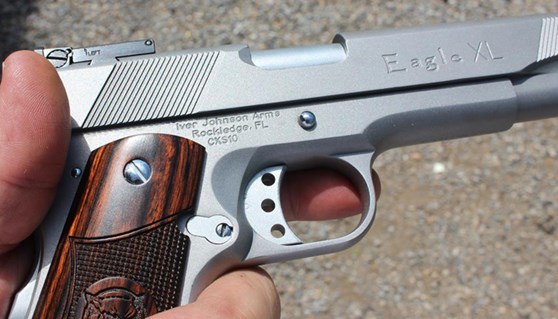 The controls are located and operated in typical 1911 fashion with an extended slide release, thumb safety and round button magazine release located on the left side of the frame. The skeletonized combat hammer is comfortably couched in an extended beavertail safety that has a memory bump. The single-action trigger broke cleanly with 4 lbs. 14 oz. of trigger pull.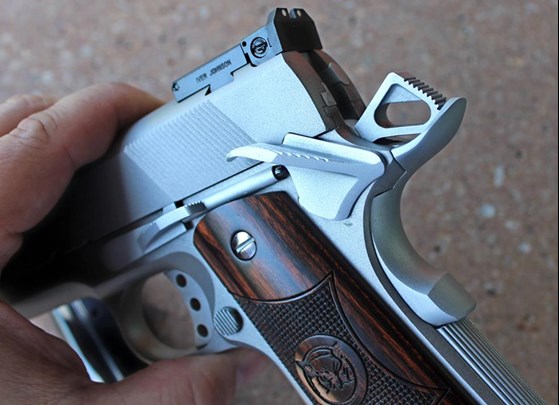 The frame has the sleek lines of a traditional 1911 with its rounded dust cover (no accessory rail), rounded trigger guard and smooth front strap. The dual-texture walnut grips are engraved with the Iver Johnson owl's head logo. The magazine well has a slight bevel to aid in quicker reloads.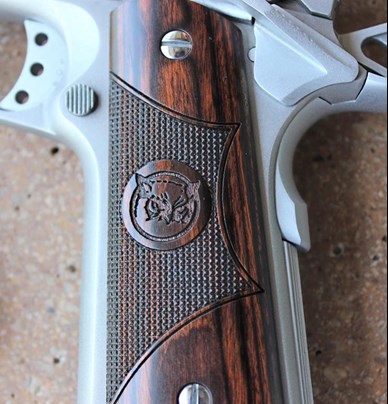 The blued eight-round single stack magazine is manufactured by Mec-Gar, an Italian magazine manufacture known for high-quality products. The pistol ships with one magazine, but I lined up two more for this review. All three magazines proved to be easy to load, reliable and dropped free of the grip when the magazine release was pressed.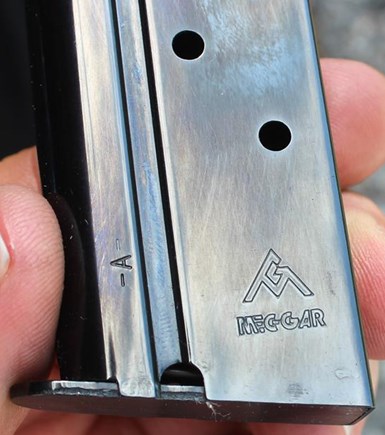 It's not uncommon for all-steel pistols, including 1911s with tight tolerances like this one, to need a break in period in order to get everything settled in and running smoothly. At the very beginning of the range test, the Eagle XL exhibited a slow slide. Even though it was chambering, firing and ejecting properly from the get go, the slide would hesitate for half a beat before slamming forward into battery again after a shot was fired.
This hesitation only lasted for about the first half of the first box of ammunition. After that, the pistol cycled properly for the rest of the test. All of the controls worked smoothly and reliably. There were no ammunition issues. Loads, from practice to hunting grade, all ran reliably without any malfunctions. With its longer slide and an unloaded weight of 45 oz. with an empty magazine, the pistol's felt recoil was comfortable to work with when firing relatively mild (by 10 mm standards) practice loads and intermediate defense loads. However, the full-power hunting loads were stout and will give shooters a good workout.
Using a 6" barrel, instead of the more typical 4 to 5" barrel, is supposed to increase ammunition performance. How much of an increase depends on the ammunition fired. Ammunition velocity was checked using a Lab Radar chronograph for 10 rounds. Accuracy testing consisted of five, five-shot groups fired from the bench at 25 yards.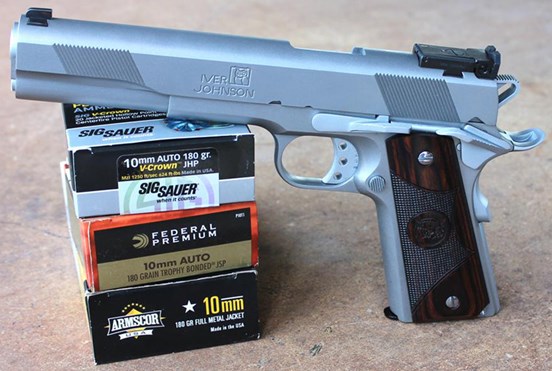 Armscor USA 180-gr. full-metal jacket ammunition is a practice-grade load listed at 1150 f.p.s. It turned in a best single group of 2.88" with a five-group average of 3.05". The velocity was slower than I would have expected with an average of 1108 f.p.s. SIG Sauer Elite Performance 180-gr. V-Crown jacketed hollow point is listed at 1250 f.p.s. This load gained a slight power boost with an average velocity of 1268 f.p.s., but it did yield the best accuracy with the tightest single group of 2.69" and an average of 2.82". The load that gained the most from the extra inch of barrel was Federal Premium's 180-gr. Trophy Bonded jacketed soft point. The velocity increased from the listed speed of 1275 f.p.s. to 1350 f.p.s. with a best single group of 2.74" and an average of 2.95".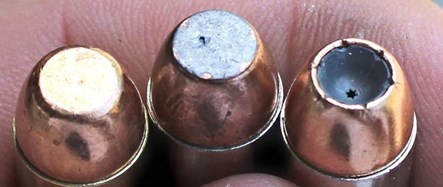 The Iver Johnson Eagle XL long-slide 1911 pistol chamber in 10 mm is a whole lot of pistol for what you pay. The look and design are classic 1911, the stainless steel is durable and corrosion resistant and the controls and sights are top-notch. The pistol was utterly reliable with all of the ammunition tested. And it's hard to argue with the flexibility and potency of the 10 mm cartridge. Long slides aren't for everyone. But if you are in the market for a semi-automatic hunting handgun, the Eagle XL has a lot to offer at a fair price.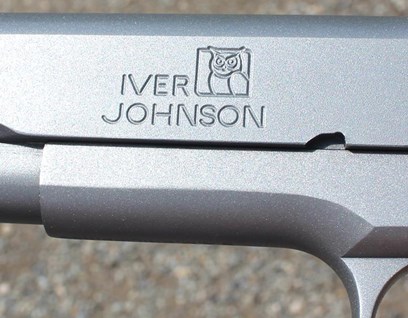 Specifications
Importer: Iver Johnson Arms
Manufacturer: Shooters Arms Manufacturers (S.A.M.), Philippines
Model: Eagle XL
Action: Single-Action Semi-Automatic
Caliber: 10 mm
Finish: Matte 416 Stainless Steel Frame and Slide
Front Sight: Dovetailed White Dot
Rear Sight: LPA "TRT" Fully Adjustable White Dot
Slide Serrations: Front and Rear, Angled
Ejection Port: Lowered & Flared
Barrel: 6" Chromed 4140 Steel, Linked
Recoil Assembly: Short Guide Rod with Single Round Spring
Slide Stop: Extended
Thumb Safety: Left Side, Extended
Trigger: 3-Hole Aluminum
Hammer: Skeletonized Combat
Grip Safety: Extended Beavertail with Memory Bump
Mainspring Housing: Grooved, Aluminum
Grips: Walnut, Double-Diamond Checkering
Grip Screws: Polished Stainless Steel, Standard
Overall Length: 9.50"
Height: 5.25"
Slide Width: 0.92"
Grip Width: 1.30"
Weight: 45 oz. with Empty Magazine
Capacity: 8+1 Rounds
Twist: 1:16" RH
Rifle Grooves: 6
Accessories: 1 Mec-Gar Magazine, Owner's Manual
MSRP: $1,020